You might already know that earning programs on crypto are a lot more profitable than interest in a bank. This brings us to an idea. What if we could push it to the next level and put all the free BAT you got from browsing the internet using Brave into a high-yield interest account?
We search the internet with one goal. To find the best earning programs and places to stake BAT for the highest APY possible, with one additional requirement – the platform has to be safe and have established publicity. We then compiled this list of the top 5 places to stake BAT. The list is curated from the lowest to the highest interest ANYONE can get. So we didn't take programs that require high initial investment into account. We assume you'll want to use the best platform, but it's good to have options.
We wanted to create a longer list with more than five places. However, there are not many centralized and decentralized earning programs that accept the Basic Attention Token (BAT). But here are the Best 5 places to stake BAT at.
5. Earn up to 3% APR on BAT using Crypto.com
Crypto.com isn't a perfect choice when it comes to earning staking your BAT tokens. That's why we decided to put it in the last place.
Yes, you can get a 3% APR, which is much more than some other platforms offer, but that's only under two conditions. First, you must fund your Crypto.com account with at least $4,000 and lock your BAT for three months.
You can get a 2% APR by locking your funds for three months without the initial stake. This is not that bad, but other options offer the same and higher yield without the need to lock your funds.
If you don't want to lock your funds and still earn interest with Crypto.com, you will get a 0.1% APR on your BAT tokens.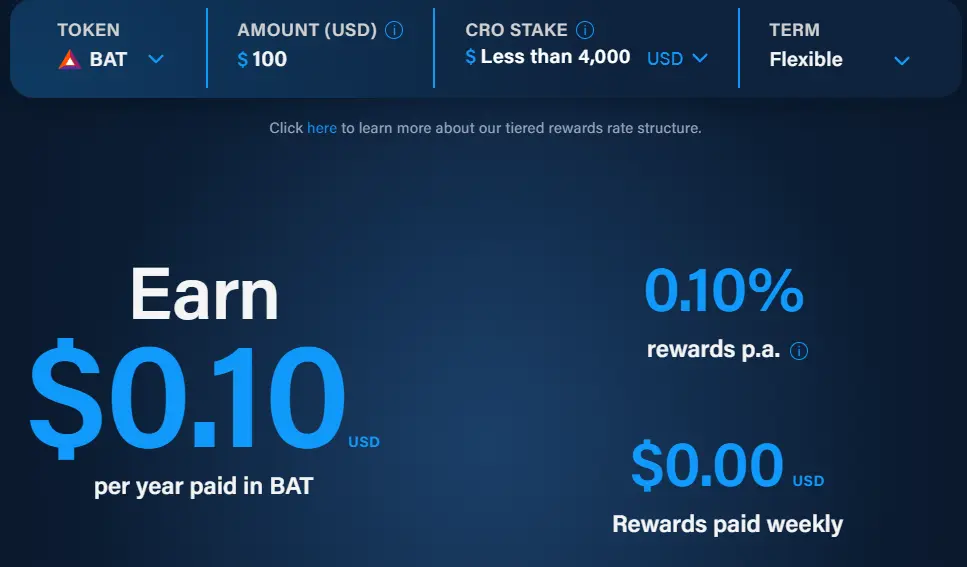 You can check all their earning percentages here.
4. Stake BAT at Binance for 0.44% APR, Flexible
Binance comes in last place with 0.44%.

Honestly, there are not many positives to say about this. The estimated yield is pretty crappy. The only positive is that you can have all your assets under the same roof, and you don't have to check many different sites if you already use Binance for your trading.
We can't take that you are not locking your funds as a positive since other platforms also come with Flexible earning.
How to Start Earning Interest on BAT on Binance
If you wish to start earning interest on BAT on Binance, register using the banner below to get 5% back on trading fees paid for ever.
Next, deposit your BAT by navigating to Fiat & Spot wallet, tapping deposit, and copying your BAT address.
Then you can simply send your Basic Attention Token over to Binance. Once it arrives, navigate to the earn section of Binance; depending on your device, it is located either in the top bar or in the right menu under "All."
Find BAT in the earn activity & select the amount you want to earn interest on, and you are done!
3. Use YouHolder to Earn 2% APR on BAT or Up to 365%
YouHolder offers a few different earning programs with a base of 2.02% APR on flexible earning. The downside of their flexible earning is that it isn't 100% flexible, but more like a 1-week locked earning.
Since your funds are open for manipulation, but your rewards are paid only at the end of the week. If you release funds before the end, you won't receive interest earned during the uncompleted week.
On BAT deposited to your account, you get the promised 2.02% interest. But they also offer two other programs to multiply your savings.
Earn higher APR with Multi HODL
One is called Multi HODL. Multi HODL is an automatic trading service that initiates a chain of loans for you. In this chain of loans, the money from the initial loan is used to purchase more crypto, which is then used as collateral for the following loan in the chain. This process is repeated up to ten times, depending on your setting.
In the case of crypto price growth, the value of your coin will multiply, and profits are automatically added to your account. In the case of a price decline, you will get your initial deposit back minus the factual loss.
Or up to 365% APR with Dual Asset
The second earning program is called Dual Asset. In this case, you are choosing a cryptocurrency pair and choosing a staking plan from one to five days. You deposit one side of the pair, and once the time is over, you get back one of the two tokens depending on the current market state. If the price of the paired coin is higher than it was, you get your deposit back + interest. If it is lower, you get the other coin + interest.
The dual Asset program promises 365% APR with the 1-day plan.

YouHodl recommends allocating about 70% of your crypto portfolio to the nearly risk-free savings account. You can put the remaining 20% into dual assets or multi HODL.
2. Earn 3.65% APR Interest on BAT using Gate.IO
Gate.io offers two ways to earn interest on your BAT. First is low-risk HODL & Earn, which gives you a guaranteed 3.65% APR with interest paid every up to ten days. With this activity, Gate lends your funds to others for up to ten days. You get your funds and interest back as soon as the borrower repays the funds.

Your second option to earn interest on Gate.IO is to choose the terms yourself. You can use the Lend & Earn program to lend your funds to others with your own set APR. However, if no one borrows your BAT, you won't get any interest back.
The second option might not be suitable for BAT, as not many people borrow this coin. At the time of the writing, only 0.02% of the available amount was borrowed.
But Gate.IO is focused on smaller coins not every platform has. Thus, you might want to check their earning options if you have other smaller coins.
1. Earn up to 6% APR on BAT on BiTrue (flexible)
We were surprised to see a 6% flexible earn on BAT on an established and popular platform. We thought we would find 3% at max. But here we are, presenting BiTrue, which offers 6% APR on BAT without KYC needed.
However, 6% is only available to users who currently hold at least $10,000. But don't turn around yet, because BiTrue offers 5% APR for everyone.

The interest is paid daily, and you can instantly subscribe your interest back and let it compound. However, you have to be between the first one million tokens subscribed that day. The cap resets daily, but your tokens stay subscribed until you decide to take them out.
If you decide to register with BiTrue, you don't have to complete any KYC verification to start. Also, you can get up to $3,000 in rewards if you register using our link or use "QTAHVAA" as the invitation code. All the requirements to claim the rewards are listed on the landing page.
Conclusion
Although not many companies offer interest and earning programs on Basic Attention Token (BAT), we found the five best platforms where you can earn passive income on your earned BAT. Here's a final comparison of all five platforms:
| Platform | Type | Base APR | Maximum APR | Special |
| --- | --- | --- | --- | --- |
| Crypto.com | Flexible/3 month | 0.1% | 3% | – |
| Binance | Flexible | 0.44% | 0.44% | – |
| YouHodler | Flexible paid weekly | 2.01% | 365% on special | Multi HODL/ Dual Asset |
| Gate.IO | 10-day locked | 3.65% | You can set your interest | Lending |
| BiTrue | Flexible | 5% | 6% | – |
It is entirely up to you which platform you choose to stake your BAT. Although we base our articles on thorough research, don't forget to check all the platforms first and find the one that suits you the best.
And we hope that one of these platforms will be the right pick for you and will help you earn some nice interest!