You want to make a crucial trade and you need to make it now. But being locked out of your Binance account doesn't help the situation and can be frustrating. 
Can't log in to your Binance account is one of many errors you may encounter. This means that you can't anyhow manipulate your assets, confirm your transactions or buy more crypto. 
This article is focused on the possible reasons and solutions to Binance account login issues.
What is Binance
But let's first talk a bit about the biggest crypto exchange in the world – Binance. Binance is, with a few exceptions, available worldwide and the user base will be soon hitting 30 million.
With that many people, it is almost inevitable to not encounter any login issues. 
Apart from just being the world's largest cryptocurrency exchange Binance hosts over 600 different cryptocurrencies and projects and offers many great features. Like Binance Launchpad, NFT Trading, Staking, Futures with up to 20x leverage, and much more.    
With that said let's look at the reasons why you can't log in to Binance. 
Possible reasons for Log in Issues on Binance
You entered the wrong phone number/email when logging in to your Binance account
To log in to Binance, you must use the Email or Phone Number you used to register. If you do not remember your login details correctly you won't be able to log in to your Binance account. As there is no "reset email" button. 
Alternatively, you could have just mistyped.
Take special care when logging in with your phone number. As you must as well correctly fill in your country code or dial code. 
If despite all your efforts, you are unable to log in due to a forgotten email, you will need to contact Binance customer support for further assistance. 
You entered the wrong password when logging in to Binance
You could have entered the right email, but your password might be wrong. This can happen quite often when you have way too many passwords to remember.
If this error is not caused by mistyping you can always reset your Binance Account Password. But keep in mind that if you reset your password your account will be suspended for 24 hours.
This is of course for security purposes. You will get an email, saying that your password was reset, and if you have not requested this you should contact customer support right away. 
Also to always remember your passwords you can use any of the accessible password managers. Or you can write your password down.
You didn't receive a confirmation message or entered it wrong into Binance
When you made it through the login page and entered your email and password right you will then need to complete the two-factor verification. 
Depending on the situation, this could consist of entering an SMS code, email code, or both.
If you got the verification code make sure you are entering it right. 
However, if you have not received the text message the situation is a bit worse. This can be due to an overload of Binance's SMS verification system or an issue on your side. With your mobile operator. 
In both cases wait a few minutes and try again. If you are still unsuccessful you will need to contact support.
Your Binance account has been locked due incorrect password
Binance has a very clever security system, that will lock your account if you enter the wrong password more than five times. 
This system will also activate if your account was in contact with a scammer in any way.
Once your account is locked it is not just a temporary lock. To recover your account once locked you will have to contact customer support and explain what happened.

As this process is quite extensive rather next time check that you are entering the right login details.
It is a Binance login issue on their side
In some, quite rare, cases even when you are not entering any wrong information you still won't be able to log into your Binance account. That is simply because Binance is undergoing maintenance or there is a system error.
If maintenance is scheduled, Binance will usually notify you by email and post this information on its website and Twitter.
But soon after the maintenance is done you should be able to log back into your account. 
However, if no maintenance is performed, this may be a system error. In this case, you will also be informed, but not in advance. 
Also, if this error just appeared and no one knows about it yet, contact Binance customer support.
Binance really does its best and manages to fix all errors, including login issues, relatively quickly.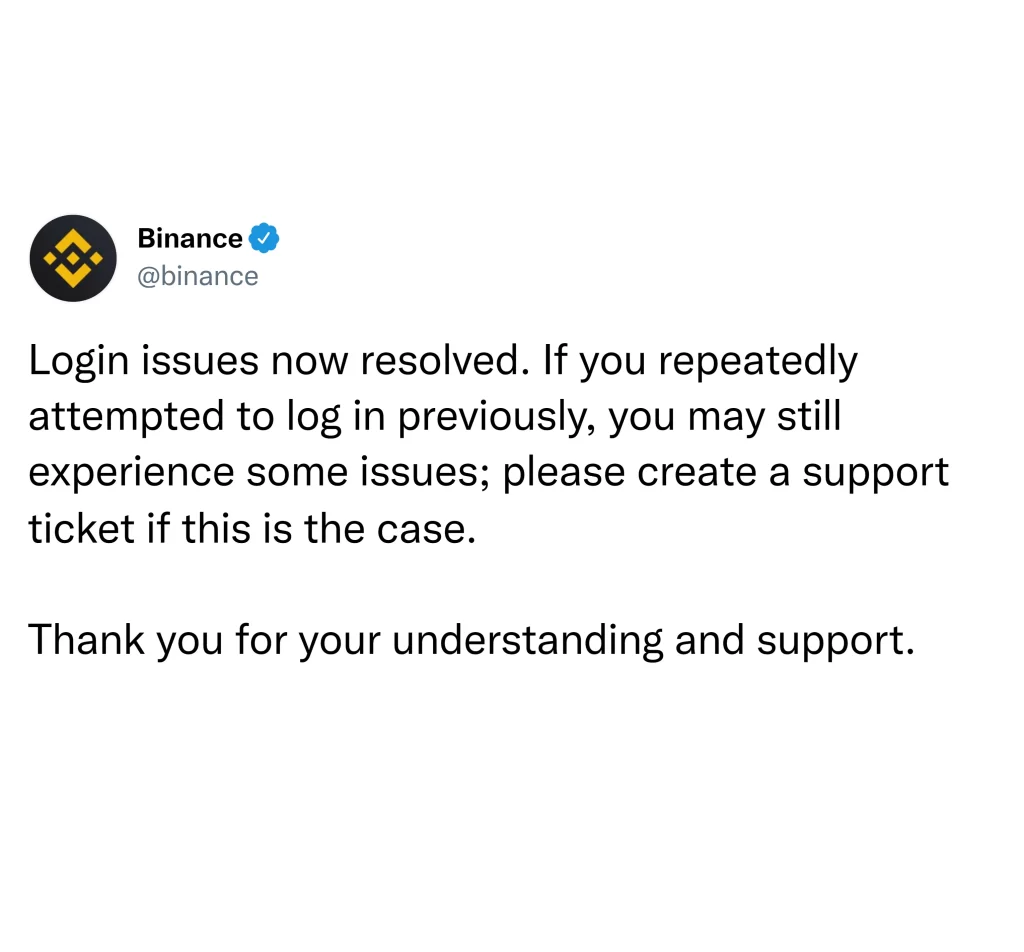 How to fix the Binance Account login problem
If you are experiencing any of the above errors and you cannot log in to Binance you are also probably looking for an easy fix.
There are a few different procedures you should take to solve those errors. 
Make sure you are entering the right login information
This is quite obvious. Double-check your login information. 
I can't tell you how many times it happens to me that I couldn't log in. Thinking that it was just a system error when in reality the capslock was on.  
Log in to Binance using different details
This doesn't mean stealing an account of your friend and login in with their details. 
As mentioned before you can either log in using your registered email or phone number. If logging in using your email failed use the phone number to sign in, and vice versa.
In many cases, there is an error with only one login method, and the other works. 
Try logging in on another device
Binance works on nearly every device you can think of. iOS, Android, macOS, Windows, Linux, and also every internet browser. 
If you can't get through the login page on Windows or your desktop browser try the mobile app and see if you can make it work.
However, the only advantage of using the Binance app on mobile is not the possible solution to the account login problem. But also:
Login to Binance by scanning the QR code
Using the Binance app on mobile phone has one huge advantage. Once you've logged in on your phone, you can just scan the QR code on another device and you'll automatically be logged in.
This is a really convenient way to access your Binance account without any login issues. As you don't need to enter any password or email. 
Just access the Binance log-in page on which the QR code will be prepared for you to scan it.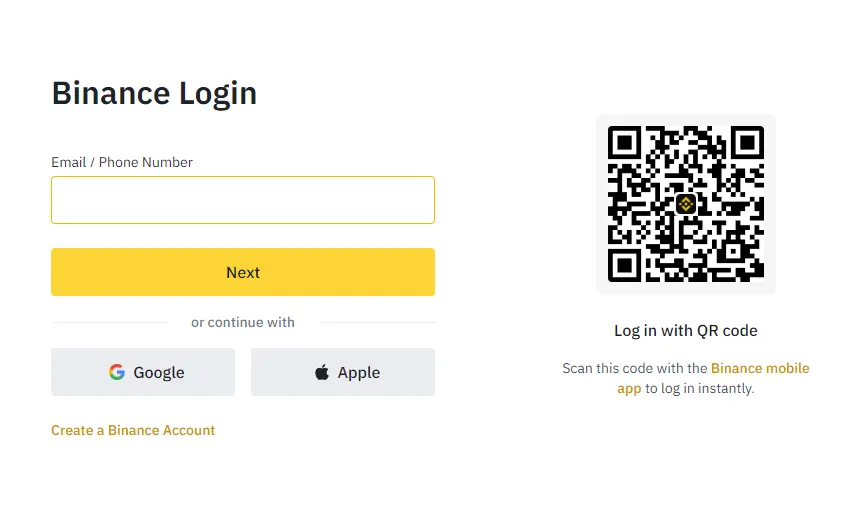 Clear your browser's cache
When you are using your browsers it saves up information and cookies as it goes. And this information can get corrupted sometimes, causing the log-in issue.
When you clear your cache all websites will have to re-download any possible corrupted files, fixing this error.
The process of Clearing your Cache may vary depending on which browser you are using. But it'll be more or less the same.
Open your preferred browser and access the History tab. Either from the top right menu or by using the Ctrl+H shortcut.
Select the "Clear browsing data" option.
You can choose a custom time range, but because we are looking to solve browser issues select "All Time".
Tick all the boxes, including Site Cookies and Cached images and files.
Finally, press the Clear Data button.
This process is probably going to take a while, depending on how often you clear your browser.
Now try logging back into your Binance account. If this method didn't fix your problem and you still can't log in to your account continue with this article for one last method. 
Contact Binance support if you still can't log in to your Binance account
If you have tried every mentioned method to fix this issue but still can't log in to your Binance account contact their customer support. 
If you are not logged in customer support can be accessed from this link: https://www.binance.com/en/chat
Try to explain your problem as detailed as you can so that support can help you. 
How to unlock Binance Account
Depending on what your Binance account was locked out for there are two ways to unlock it. Unfortunately, it is quite a time extensive and you will probably need to wait for a few days before using your account again.
First, try logging back into your account. 
Case 1: Your Binance Account was Locked Indefinitely
You would either be shown a message, that your account was locked indefinitely.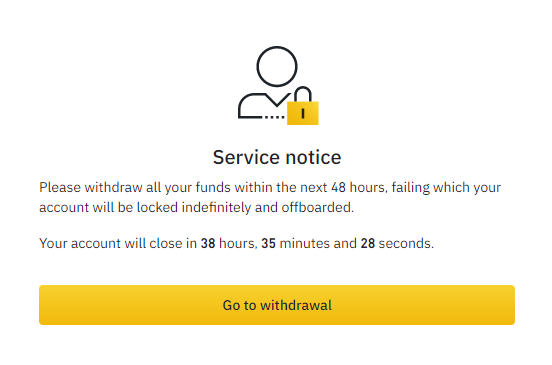 In that case, you will need to contact Binance customer support for more details. This usually happens, when you have somehow violated the terms of use. And often nothing can be done about it. But try talking to support about it. 
Case 2: Your account was disabled
The second case is far more frequent in association with Binance log-in issues. You will need to complete a simple verification process and upload your ID one more time. 
A message saying that your account was disabled will appear. And you can click the "unlock" button to unlock it.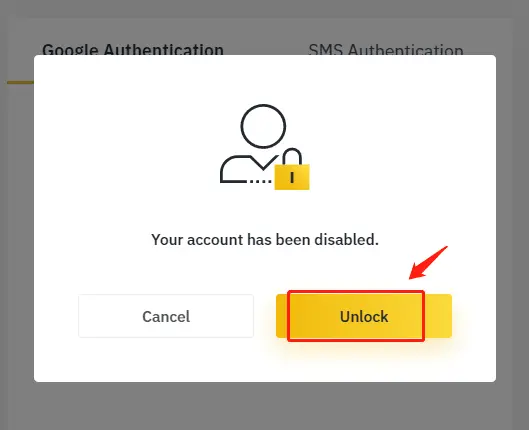 You will need to answer questions about your account. For example, how much is the approximate value of the assets in your account. After completing the questionnaire you will need to confirm your identity by uploading the ID. 

I don't think that needs to be highlighted. But your ID must be the same one you used when you registered. 
Your account will be unlocked after Binance process your request. 
Conclusion
In this article, we have shown you possible causes and solutions when you are unable to log in to your Binance account.
If you are unable to solve the issues yourself, don't be scared to contact customer support and explain to them in detail what happened. They will be happy to help.    
Once you can again access your Binance account you might be looking for a way to check that nothing is missing there. To access full transaction history you can follow or guide.