When you ask someone to name crypto networks they know, chances are that they'll name both Solana and Ethereum
Both these networks are extremely popular. A large majority of tokens exist mainly in the Ethereum ecosystem, but Solana has also gained millions of users worldwide, mainly due to its low fees and one of the fastest transaction speeds.
As the world of blockchain and decentralized finance (DeFi) grows, interoperability between different networks becomes increasingly important. Bridging networks allow you to access the benefits of both these networks. And not only these, you can bridge back and forth between dozens of networks.
In this article, we'll show you how to bridge Solana to Ethereum (and vice versa) in three different ways. Buckle up, and let's dive in!
How to Bridge from Solana to Ethereum
To bridge any two networks, you'll usually need to use a third-party service that allows you to seamlessly move your assets between the two networks.
Since those two networks are both fairly popular, you won't have an issue finding an online bridge that allows that. We'll show you the bridging process on two platforms – Allbridge & Portalbridge. And to top it up, we'll give you a tip on how to do that very cheaply using an online exchange.
You'll likely need two different wallets for all three methods. That's because Solana is not EVM compatible. Meaning you can't import the Solana network to MetaMask. So prepare a wallet with the Ethereum network on it – as MetaMask and a second with the Solana network. You can also use a multichain wallet that operates on both these networks, and you don't have to worry about this.
Bridge Solana to Ethereum using Portal Token Bridge
Portalbridge is a really good choice when it comes to bridging from Solana to Ethereum. It supports a wide range of tokens and has a fairly large liquidity, so you should be able to seamlessly move tokens from one network to another, no matter the amount.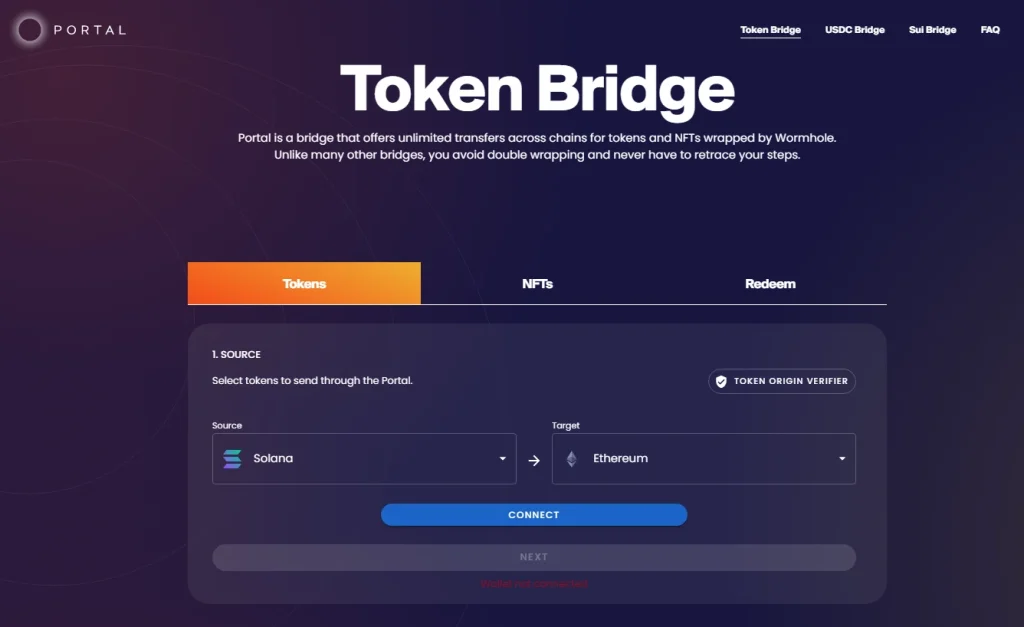 Visit the Portal Bridge website.
Select the two networks you want to bridge – in our case, it's Solana to Ethereum.
Connect your wallet. First, you'll need to connect your Solana wallet. Or the wallet that has the tokens you're looking to bridge, to be exact.
Fill in the number of tokens you want to transfer.
Now, you'll be asked to connect your receiving wallet. If that's the same wallet as before, you'll only need to switch the networks to the correct one.
Review the transaction and confirm it in your wallet. You should have the funds in about 5 minutes.
How to Bridge from Solana to Ethereum with Allbridge
Allbridge offers a simple solution to bridge dozes different networks together. To this day, Allbridge facilitated over 610 thousand transactions worth over $6.4 million (You can check the statistics here). Let's take a look at how this simple website can do the work for you.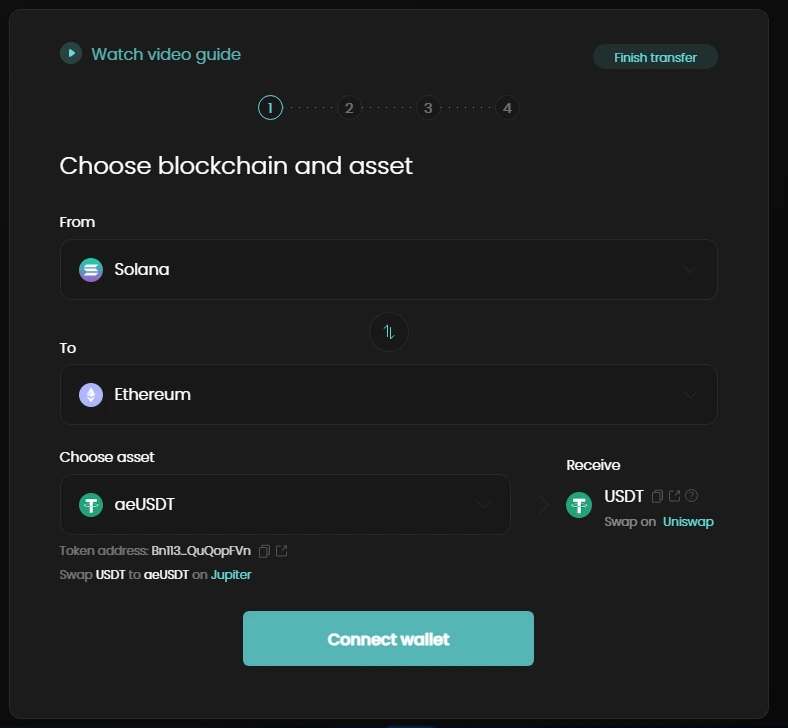 Visit the website of Allbridge.
Choose the "From" and "To" networks and select the assets you want to bridge.
Then connect your wallet. Depending on the corresponding network, you'll have different choices open. If you're starting from the Ethereum network, you can connect Metamask. If you are bridging from Solana, you'll need to choose one of the available multichain wallets.
Enter the address you want to receive the bridged tokens and enter the amount.
Confirm the transaction in your wallet, and you are all set!
Bridge Using a Centralized Exchange
Centralized exchanges (or CEX) have one big advantage. You can receive your tokens on whatever network and withdraw them on a completely different one without any additional fees.
For instance, we regularly receive USDT on the Ethereum network and withdraw it using the Tron network. And you can do that, too, using any tokens and any combination of networks.
Simply open your exchange account and go to your wallet. From there, retrieve your deposit address to the network you want to bridge from.
Then send the tokens to your CEX wallet and withdraw them using a different network.
That easy it is, and you don't pay any fee for the bridging tool.
What are the Bridging Fees for Solana
The fees to bridge Solana are really cheap. In fact, the Solana network is one of the cheapest networks out there, with an average transaction fee of $0.000025.
But it can climb up quite high depending on the second network. If you choose Ethereum as one of the networks, you can expect to pay around $10.
But that's just one aspect. On top of that, you'll pay a service fee depending on the bridge provider. Most bridges have around 0.3 to 1% service fee.
Conclusion
Bridging from Solana to Ethereum is an easy process that'll likely take you less than five minutes to do!
Depending on which route you choose, you'll possibly pay around $10 altogether.
This way, you can take advantage of both Ethereum and its wide arrange of tokens and applications and Solana and its fast transaction speed and one of the lowest fees on the market.