Are you ready to jump into the world of Axie Infinity and start earning your first AXS and SLP tokens? Well, to start playing, you'll need at least three Axies.
All Axies are minted to the blockchain as non-fungible tokens (NFTs) that can be bought and sold just like any other cryptocurrency. But to buy Axies there, you need to buy some tokens, bridge them to different ones and use a completely different wallet than MetaMask.
With all that steps, new users are often left confused. That's why we created this guide, which will show you where and how to buy your Axie Infinity creatures called Axies.
Summary
Get ETH from an exchange;
Deposit it to Ronin Wallet using a bridge;
Browse the marketplace and choose your first three Axies;
Buy Axies from the Marketplace;
And start playing!
How to buy Axies for Axie Infinity
1. Get yourself some ETH
Before you can buy your first Axies, you'll need to get your hands on some Ethereum (ETH).
Ethereum is the cryptocurrency used by Axie Infinity. But not in the form you'll get from an exchange. You'll later need to bridge it to another network called Ronin Network, the native network of the game. But one step at a time.
You can purchase ETH using fiat currency or other cryptocurrencies on any exchange. Buy a bit more than you might need right now because you'll have to pay gas fees multiple times; when transferring, when bridging, and even when buying your Axies.
Once you've bought your ETH, create a digital wallet built on Ethereum. We'd recommend MetaMask. Since the wallet is built-in into your browser, it combines great convenience and security. Finish by transferring ETH to your wallet.
If you need any help with this, here are two guides that will help you: A step-by-step guide to Creating a MetaMask wallet and How to find MetaMask wallet address.
2. Set up Ronin Wallet and Bridge ETH There
Next up, you'll need Ronin Wallet. Ronin wallet is the only crypto wallet to interact with the Ronin network, a side-chain developed by Sky Mavis to handle all Axie transactions.
You can get Ronin as a browser extension or mobile app for Android and iOS. It'll be much more convenient to go with the browser extension, but the mobile app is also a choice.
As both of these wallets are connected to different blockchains, you can't simply send your ETH from one wallet to another. You must bridge your Ethereum to the Ronin Network.
To do so, visit the Ronin bridge app and tap "deposit."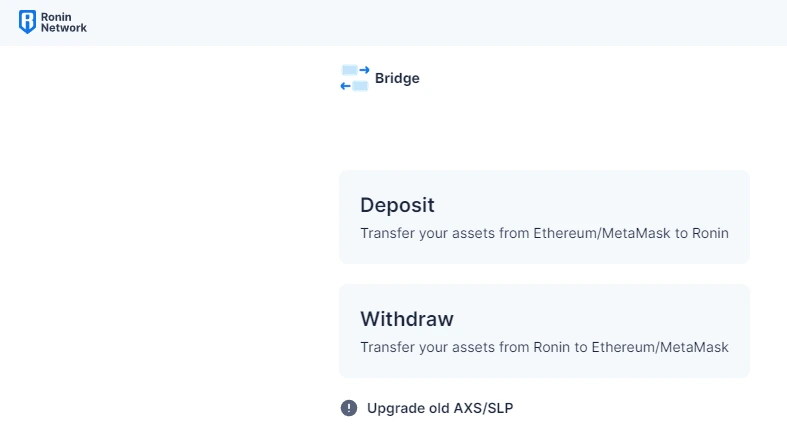 Next, connect your wallet to the website and select to bridge the Ethereum network to the Ronin network.
Paste in your Ronin address, select the number of tokens you want to bridge, and confirm the transaction.
Both of these networks are capable of processing a lot of transactions per second, so your tokens should arrive shortly.
3. Get your Axies!
The game requires you to have at least three Axies to be able to play. It can be a hard task to assemble a good team as a first-timer. If you are unsure how to build your team, check out our article on Best Axie Infinity Teams for Beginners.
Once you have found out what makes a good Axie Infinity team good, visit the Axie marketplace and connect your wallet.
Next, select "Axies" from the left sidebar to browse only Axies.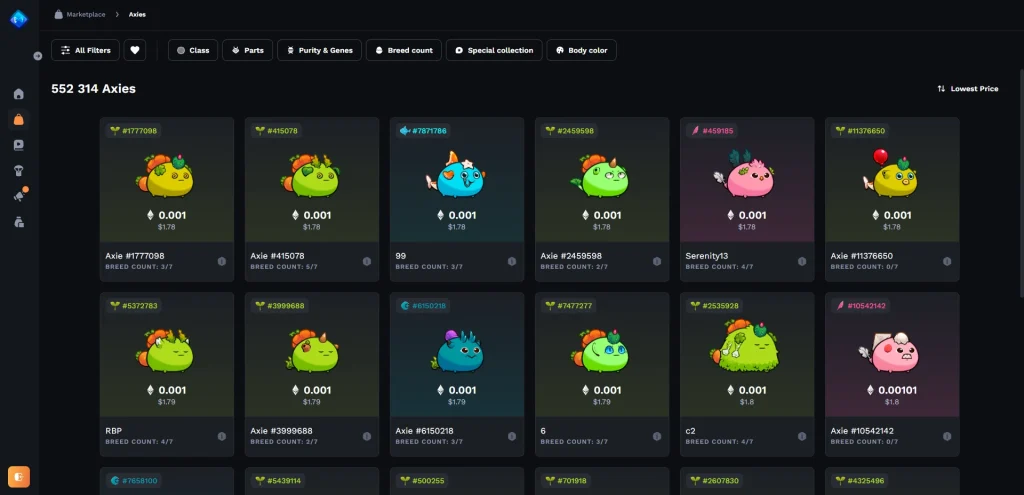 You can also use filters to find the perfect creatures for your team. If you are not sure what you want, we recommend turning at least the filter to see only adult Axies on.
As a beginner, it's also better to look only for axies with 6 purity. 6 purity means that the Axie has all body parts in the same class. With that, you don't need to think too much about combos.
And to finish, click the Axie you want to buy, tap "buy now," and confirm the transaction in your wallet.
Once you have three Axies, you're ready to start playing!
Conclusion
By following these steps and setting up your Ronin Wallet, and bridging your ETH, you can become a proud Axies owner in just a few minutes.
But do not overthink the process too much. Even the best team depends on your strategy and skill. The more you play, the more you learn. Have fun!