In this Picoworkers review, you will find all the information you might need to start earning money online. What are the pros & cons of Picoworkers, how much can you realistically earn with Picoworkers, and how to maximize your earnings.
Please note, that Picoworkers has officially changed its name to SproutGigs. However, the functionality remains the same. So don't spook out if, it redirects you to a page called SproutGigs.
I have used Picoworkers for about one year. During that time, I learned a lot of useful tricks and tips to speed up my work and maximize my earnings. Since I do not use Picoworkers anymore because of the lack of time, I can share my secret tips & tricks with the world. With what even YOU can earn a lot of money by working a few hours a day.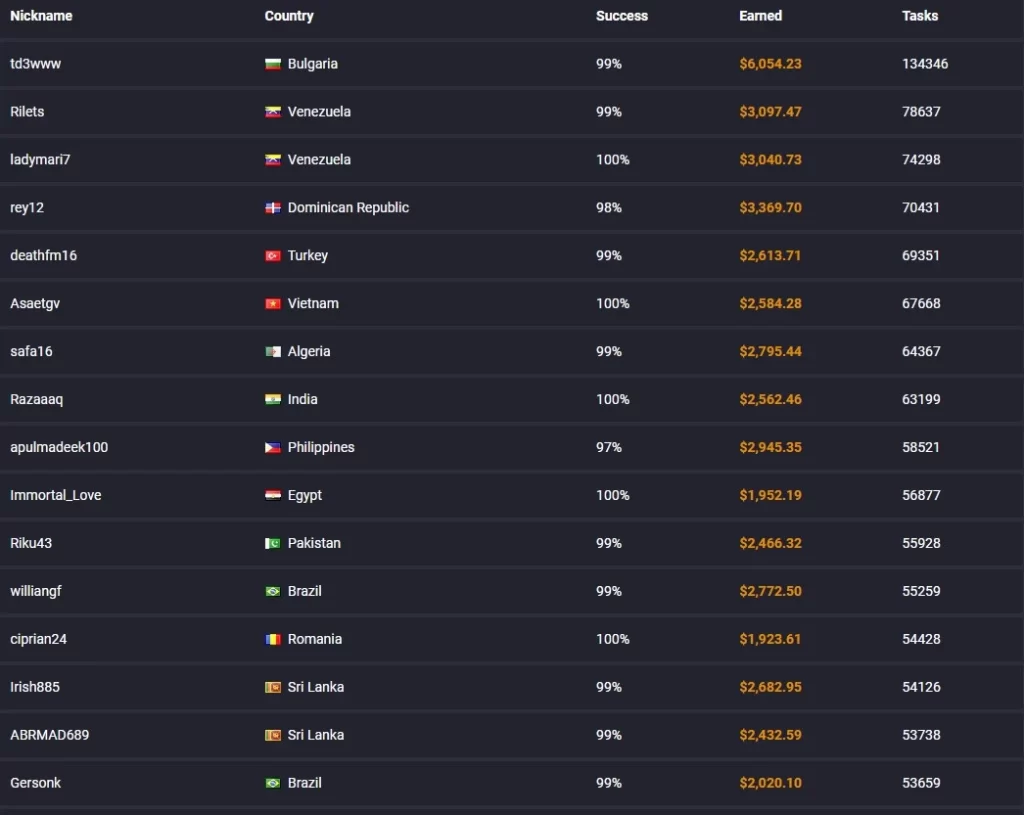 This is how much the best workers earn, and this is how you can too. To be perfectly honest to hit that much, you will have to give it a lot of time. But once you have incorporated it into your daily routine you have won! So let's review Picoworkers! 
Picoworkers Review – What is Picoworkers
Picoworkers is a genuine internet marketplace that links freelancers with employers. It acts as a middleman, allowing businesses to hire employees to complete everything from little tasks to ongoing projects. The number of freelancers has increased a lot recently, and so has the popularity of this platform. 
In the chart above, you can see how the number of people freelancing grows over time. And that shows only the US freelancers and only on a freelance platform called Upwork, which is one of the largest traditional freelance platforms out there. And the internet is still evolving, and with it, people are finding that it is possible to make money online realistically. So we can expect even more growth in the future. 
Particularly when Covid-19 started, the freelance market experienced a big jump. 
Besides already mentioned Upwork and Picoworkers, there are many other freelance platforms. Such as Freelancer, Fiverr, or PeoplePerHour. But let's talk about how Picoworkers work.  
Picoworkers is not like other freelance websites. It will let employees complete one time small projects, without any bidding.
There is no need to persuade an employer to choose you for their project. You find a job you like and fill it out within minutes. Then you get paid.
Also, there are no requirements for you, as a freelancer. So anyone around the globe can start earning almost immediately. 
Similarly, if you are an employer, you can fastly sign-up and start using Picoworkers to employ large numbers of freelancers to complete your small task.
Employers and Employees on Picoworkers
From now on, we'll be looking at how things work from an employee's perspective only in this Picoworkers review. On how to maximize your potential on the platform.
But before that let us have a few words on how being an employer works on Picoworkers. 
Employers on Picoworkers
The employer's role is pretty straightforward. He or she can list a job. Anything that needs to be done but a larger quantity of people. Want to boost your YouTube views? Great, you can pay freelancers to do so – to engage with your content, comment, and share, or just watch. Or want to get seen on Reddit? You can post an Upvoting job, etc… 
List your job and once the job is completed employer can review the tasks and rate them as satisfied or dissatisfied. Once the task is rated as satisfied the funds are released for the freelancer. 
How to post a job on Picoworkers
Posting a job is pretty straightforward. First, you will need to deposit money – freelancers won't work for free! 
Then in the top header switch your profile to the employer. Once there you can post your first job.
The first thing you have to do is to select a region and countries you want to exclude from doing your job. That's done if you, for example, are posting an offer to browse your website and you don't want visitors from a certain country.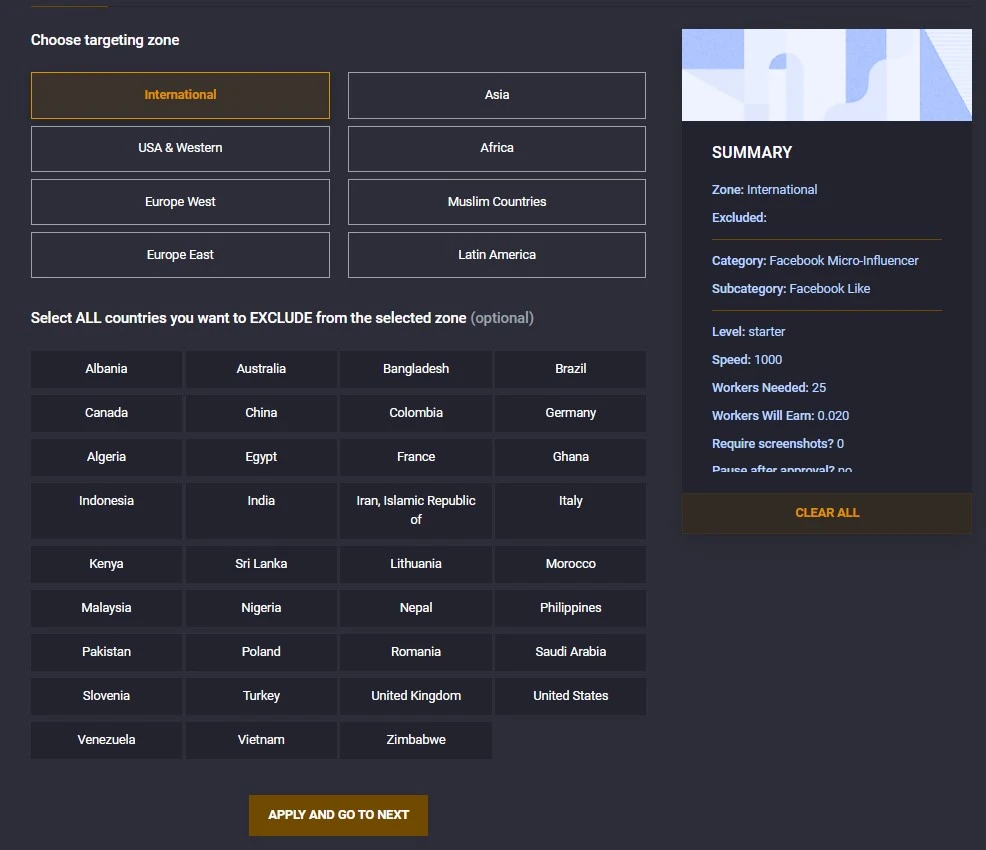 The next step is to select a job category and sub-category. When you click through the job categories the details of your listing will automatically update. Especially the estimated price of the listing.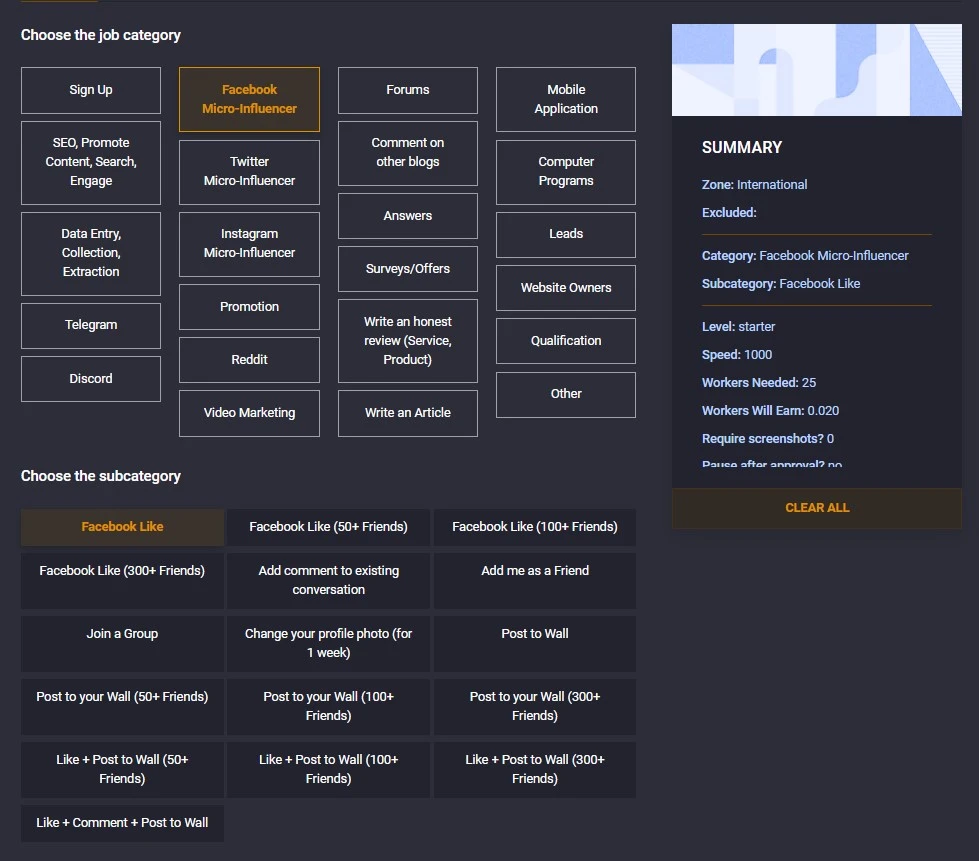 The third step is solely up to you. You have to make your job easy to follow and attractive for workers. Write your short and simple job title and job description. 
Then describe the steps that need to be done and the proof you require to rate the job satisfactorily. 
If your job requires visiting external links I recommend using link shorteners with trackers. It will give you more control over the completion of the work.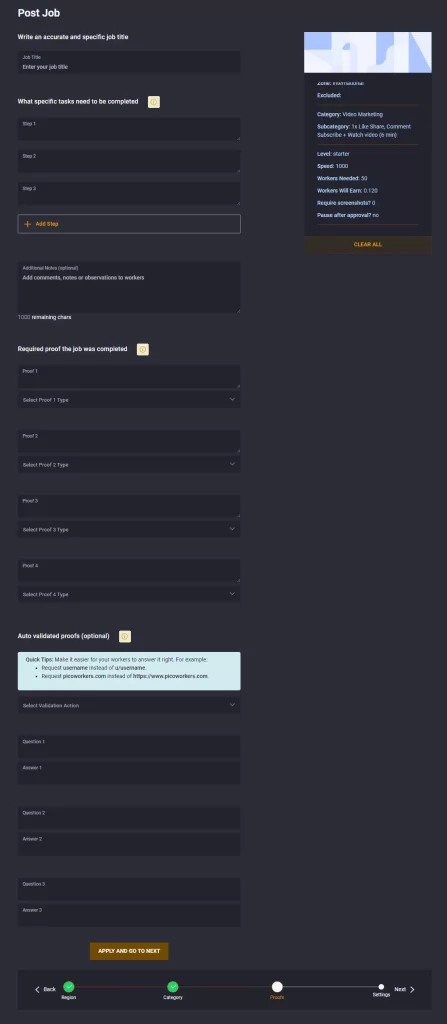 The fourth and last step is Job Settings. We will get through all the settings together.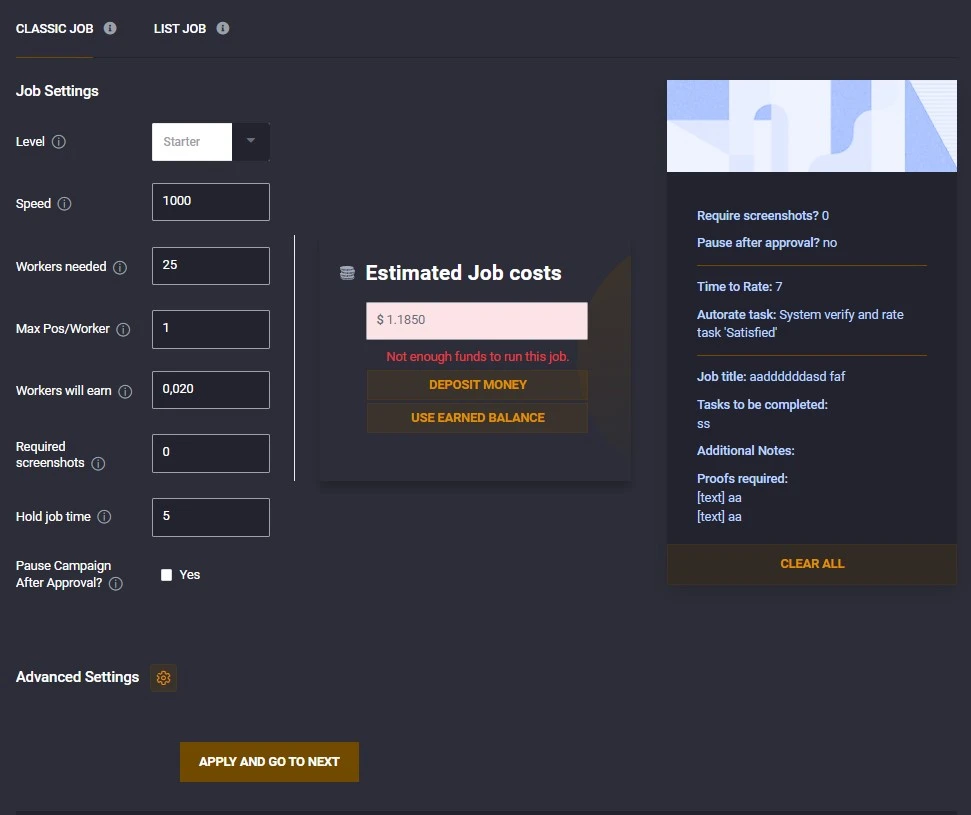 Workers level – select how "experienced" workers that do your job needs to be. Employees get level points by successfully fulfilling jobs. Task costs 25% more for advanced level and 50% more for expert level. 
Workers needed – How many total freelancers do you want to complete your task. The minimum is 25, and as far as I know, there is no maximum number. For instance, if you want your Reddit upvoting task to be completed by 100 people, enter 100.
Max Pos/Worker – How many positions can one worker take. That is, how many times one person can complete a given task. Most of the time it will be set to 1 because you don't want one person to complete your task multiple times.
Workers will earn – Enter the value of the task. The more you are willing to give the faster the task will be completed. 
Required screenshots – The more screenshots you require in your proof the more you will have to pay. For example, if you require one screenshot you will have to pay at least $0.05 per task. 
Hold job time – Set for how long a worker can secure their place. Adjust it with enough time you think workers can complete and submit the task. 
Under Advanced options you will also find settings for rate time – how long do you need to rate the task or you can set auto task rating using PCODE.
The Picoworkers team has also created a video tutorial that walks you through the steps of posting a job.  
How to earn on Picoworkers
We've already covered in this review how Picoworkers work and what it is. Now it's time to earn a good amount of cash for ourselves.
Types of jobs 
Jobs can be divided into two categories on Picoworkers. 
Small tasks
Ongoing project
As for the second type, you don't see many of these jobs. Ongoing projects require a specific skill set. Honestly, in a year of using this platform, I haven't personally encountered a single task that could be classified in this category. 
It can be jobs like writing a blog article for someone, editing photos, etc. But these types of jobs are not really common on Picoworkers and employers look elsewhere for this type of work – for example, the aforementioned Upwork or Fiverr. 
But what can be found on Picoworkers can be classified into smaller categories. Let's go through them.
Engagement-based tasks
Usually easiest to perform. Requires very low effort, but these tasks are also the lowest-paid ones. You can be instructed to:
Upvote a Reddit post 
Watch a YouTube video
Like a Facebook post
Visit a website or perform a Google search for a specific keyword such as "Picoworkers review"
Writing-based tasks
Requires more effort than just mouse clicking. But still easy to perform and better paid. But these are a bit tricky sometimes because the job poster may not like your comment and will evaluate it as "not satisfied". 
Post a comment on social media posts like YouTube videos, Facebook posts, or Reddit posts. 
Write a blog comment on a specific article, this one will usually be associated with visiting the website first.
Provide feedback on a product, service, or tool.
Tasks that involve Registration
Often you will be asked to register for some online service. Usually, the employer will get some referral bonus off of you, from which you will be paid. These are usually really well-paid and easy to perform.
Download-something tasks
This will probably be one of the most widespread categories. You will be asked to install software, an app, or a web extension. 
Usually, you will have to download a mobile game, play it for a while and then get really well paid.
Register for free trials
The highest-paid category. However, you will have to use your credit card information to register for the given free trial. I have personally never done any task in this category.
If you decide to do these tasks, don't forget to cancel your subscription after completing them!
Use Picoworkers as a freelancer
Register on the platform
Picoworkers is completely free to join for everyone around the world. First, you will need to sign-up. 
That is really straightforward. Just head here, fill in your name, email address, nickname, and password, after that click sign-up. Once you verify your email address you can start earning! 
Fulfill your first task
If you have done everything right you will land on a page looking like this.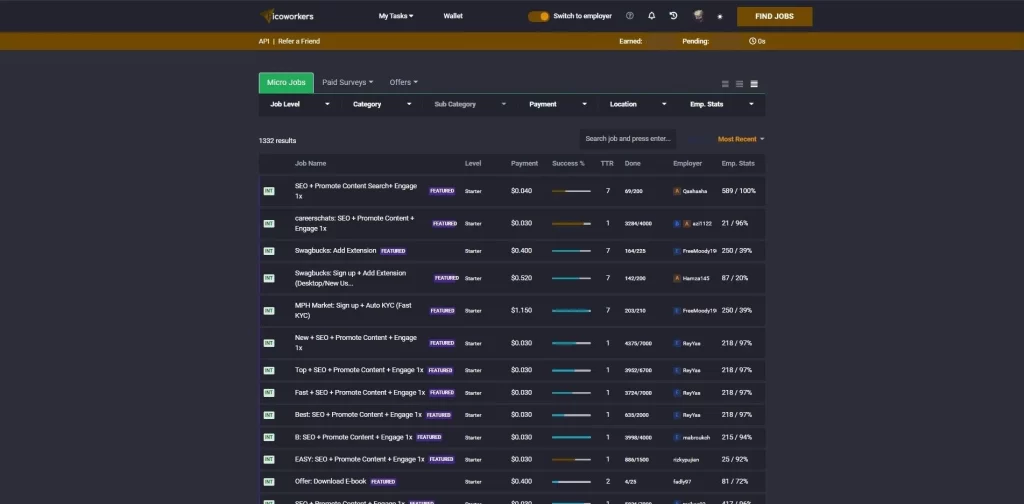 I admit it can be a little confusing at first. But that's what this Picoworkers review is for. We will walk through everything together.
Now let's focus only on this main page, where we will find a list of all tasks available. 
Here you have the option to filter jobs on certain criteria:
Job level – We have discussed job level before in the context of creating your own job offer. In this way the employer limits who can do his tasks. In the beginning, you will only be able to do the starter level. Later, we'll explain how you can earn experience points and unlock more levels. 
Category – If you are interested only in a certain category you can select it there. 
Subcategory
Payment –  See tasks only in a certain price range. 
Location –  See only tasks that are allowed in certain regions. 
Emp. Stats – There you can find certain sorting options in terms of employers. 
On each task, you can see some basic information about the task. You will see more detailed information after you select a task you wish to do.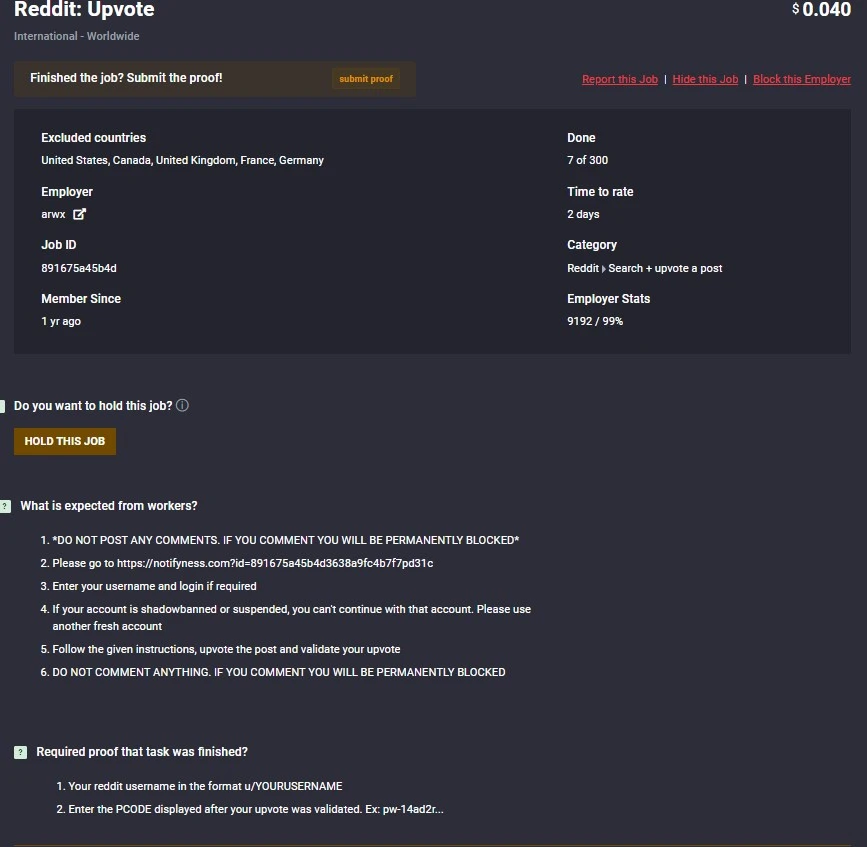 On there read carefully every piece of information. You don't want to get rated as "dissatisfied". Because there is something called "Temporal success rate". Your success rate has to be in all situations higher than 75% – if your task is pending it is counted as dissatisfaction. So you will be able to perform fewer tasks at any given time.
How to level up your Picoworkers account
You get points for nearly any activity on the platform. As you can see the rules below: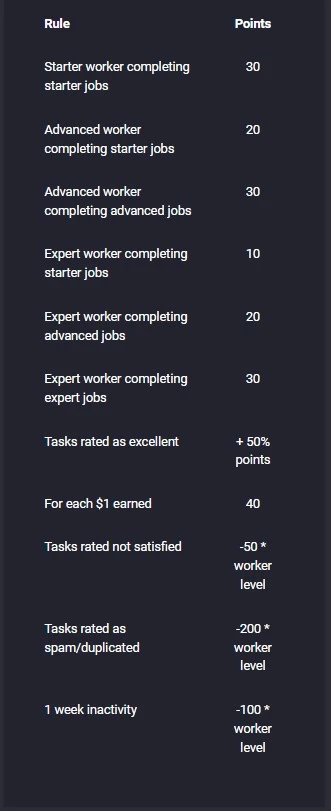 The level of tasks available to you is determined by your worker level. The higher your level, the more you can earn. In order to maximize your point earnings, you need to focus on not skipping too many days when you work. And at the same time, perform all tasks properly – you don't want to get rated as "not satisfied".
But the worker level is not something you should focus on. Since most jobs are open for everyone.    
How to withdraw your earnings on Picoworkers
First, get to know the platform properly, which this Picoworkers review hopefully helped you. After you earn at least $5 you are eligible to withdraw your earnings. And there are a lot of options to choose from. You can withdraw to:
Airtm
PayPal
Skrill
Uphold
Or in form of Litecoin
But first, you have to meet other conditions. 

"Your task interval timer must be 0"
Task interval means, that every time you submit a task you have to wait a given time before completing another task. If your task is rated as satisfied your timer will reduce by 10 seconds. But if your task is rated as dissatisfied you will get a 20-second penalty.
There is an 8% processing fee on every withdrawal.
Also as the image said, withdrawals are processed within 10 business days. But it usually takes about half of that. I had my earnings the majority of times in 5 days.
Maximize your Picoworkers earnings
Now it's time for what I promised you at the beginning of this Picoworkers review. My personal TIPS & TRICKS to maximize your earnings.
The best thing you can do to maximize your Picoworkers earnings is to only choose tasks with low time to rate – 1 or 2 days max. Because as we disclosed earlier – you have to keep your Temporal success rate higher than 75%. If the task evaluation is pending, it is counted as "not satisfied" in the success rate.
Also, levels are not as important as they might seem. Because the vast majority of tasks are open to everyone. But sometimes you can meet some really well-paid Expert level tasks. And it is good to be able to complete them.  
You should focus on tasks that you can get done quickly. Such as Reddit upvotes – open the URL, screenshot, send proof, and done. But I recommend creating a separate Reddit account for this purpose. Reddit may eventually ban you from doing this.
Complete as many tasks as possible per day. Only this will ensure that you maximize your earnings!
 Withdraw your earnings wisely. Every withdrawal is another 8% fee. Plus if you want to withdraw in Litecoin watch the token price. As your $5 can be a different amount of LTC every moment.
Conclusion
In this Picoworkers review, we've discussed every aspect of this site. For some final words – Picoworkers is a legit freelancing site, that gives everyone the opportunity to earn some decent cash online. 
As for the question: "Is Picoworkers worth it?" It rather depends on the country you live in. If you live in a rich country, there are plenty of alternatives to use your time. And maybe earn more in the process. But for third-world countries or teens who don't have the opportunity to go to a regular job, this is definitely a great option. 
But as I said in the article about blockchain games. If you have nothing better to do and would rather watch Netflix then it's worth it.  
But if you did not like Picoworkers and even this review did not convince you, you can also try other low-competition freelance sites. Sites where all beginners have a chance to catch some pretty solid projects.
And if you like doing small, jobs where you don't need to think you can also check out Noise.Cash. A site to earn money by chatting with other users.
FAQ
What is Picoworkers? 
Picoworkers is a genuine internet marketplace that links freelancers with employers. It acts as a middleman, allowing businesses to hire employees to complete everything from little tasks to ongoing projects.
Is Picoworkers legit and genuine? 
Yes! Picoworkers is legit. You can check on Picoworkers how much users have already earned. Spoiler: Some of them have already made over $5,000! 
Picoworkers/Sproutgigs Verdict
The final verdict is NOT BAD. And there is a simple reason for that.
Picoworkers, currently named Sproutgigs, used to be great. However, in recent months the site has been flooded with more and more fiddly tasks and people.
It is a good choice for someone, with a lot of free time. After all, if you do hundreds of Reddit Upvotes a day, you will earn some dollars on the side. But not as an ultimate wealth hack.