Due to the great boom in blockchain technology in recent years, society has almost split into two, or rather three camps.
Those who don't care about the technology and the other two sides that either hates it or love it. Although there are many things you could hate the industry for, a lot of people choose the wrong way to express their disagreement.
Fortunately, extremely fungible tokens or EFTs are not one of them. It's a movement that expresses their disagreement in a peaceful way by providing hundreds of interesting art pieces completely for free.
In this article, we'll answer the questions of what are extremely fungible tokens, how they differ from NFTs, and what drives participants of this movement.
What are Extremely Fungible Tokens
Non-fungible tokens (NFTs) are digital and unique tokens stored on a blockchain. Each NFT has unique attributes that distinguish it from all other NFTs and make them non-interchangeable.
On the contrary, extremely fungible tokens don't bear any of these characteristics. It's a movement organized by people that are concerned about NFT technology.
And ETFs were created to support this anti-NFT movement by providing their own view that opposes all the characteristics of non-fungible tokens.
EFTs do not utilize blockchain technology;
All EFTs are the same and are copyable;
They are 100% free, with the possibility to directly support the creator;
You can use EFTs as you'd like under the CC 4.0 license. That entitles you to use them for non-commercial use with proper attribution.
What Drives the Participants of Extremely Fungible Tokens
You could say that the participants of extremely fungible tokens (EFTs) hate NFTs. After all, that's what they say on their official website.
We all hate NFTs.
Their hate is structured around several worries related to non-fungible tokens and their technology. Thats mainly:
NFTs hurt real artists. Whether their work doesn't get that much recognition compared to NFT "art," but also so many artists were hurt by people stealing their art to sell it for NFTs.
NFTs are bad for the environment. As you may know, what makes each NFT unique, is that this uniqueness is written on the blockchain. The blockchain works as a computer network that verifies these entries, which costs a lot of energy.
NFTs are hard to understand, making them intimidating for newcomers.
NFTs are often hardly pushed by celebrities and influencers. This can artificially drive the price up. Once the bubble pops, many investors, who don't have such deep knowledge about the technology, lose their money.
Popular Extremely Fungible Tokens
EFT is a movement, not an existing technology. Because of this, this movement is centered only around the official website, Extremely Fungible, and artists who decided to participate by providing their work for free.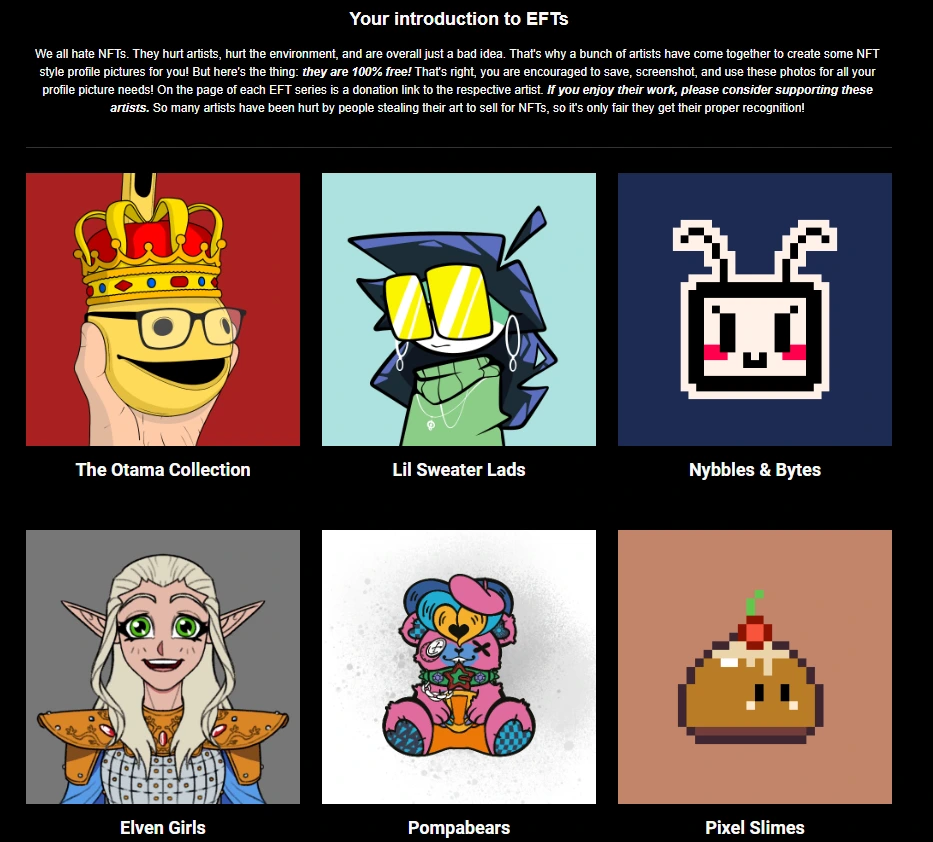 When you look at these artworks, it looks exactly like something another artist would sell for 0.5 ETH each. That's why it became quite popular. Some popular EFTs collections include:
We've stuck a link to each collection so you can check it out yourself. Our favorite? Pixel Slimes are really cute!
Conclusion
EFTs are a peaceful way to express your disagreement with non-fungible technology. You can think of extremely fungible tokens like a free photo bank. You can download and share one of the dozens of free artworks that resemble NFTs.
Of course, if they became trendy, your new profile picture with a cute slime from the Pixel Slimes collection won't be unique. But if that's the price to pay for saving nature, supporting original authors, and saving money, why not.