If you want to see your recent Harmony (ONE) Transactions in MetaMask or do a new one, you will need to manually add the Harmony network to your MetaMask Wallet. 
Harmony Mainnet is built on the Ethereum network, so there is no need to use other versions of the Harmony ONE token. As is the case with TRX. 
But there is one catch when adding Harmony to MetaMask. There are different versions of this network, also called shards, and you need to choose the right one.
So stay with us to learn How to add Harmony to MetaMask and have it properly set up. Let's dive in!
What is Harmony (ONE) and is it Compatible with MetaMask
Harmony (ONE) is a fast and open blockchain that was initially launched on Binance Launchpad in May 2019. I was built on three pillars – Scalability, Security, and Decentralization. And it aims to provide fast and low-cost transactions, with 2-second transaction finality and 100 times lower fees, compared to Ethereum.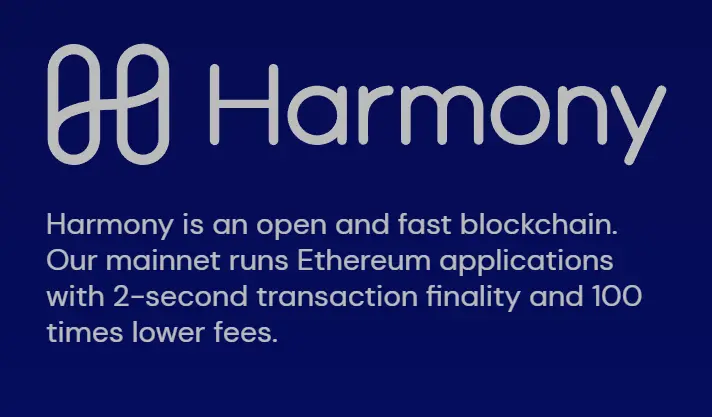 Since its initial launch, many great projects was built on this ecosystem. For instance Crypto Royale. A Play-to-Earn, Free-to-Play battle royale game. 
And more and more developers are building on this network. And maybe that's why you came across this tutorial. In conjunction with one of your favorite projects. 
And fun fact. Do you know why is the blockchain called "Harmony"? Harmony is beautiful music created when we sing in different notes but it still resonates. Which is supposed to point out how well this Blockchain works or is supposed to work.  
But let's get to the important stuff now. Can Harmony (ONE) be added to the MetaMask wallet and how to do it? 
First thing first. Yes! MetaMask is fully compatible with the Harmony mainnet. And here is how to do it!
How to add Harmony (ONE) to MetaMask
Step 1: Download Metamask
First thing first when adding the Harmony Network to Metamask you will need your version of Metamask installed. Metamask is available for smartphones and as a browser extension. If you need any help with the creation process of your wallet you can follow this guide. 
Step 2: Click Add Network
Now it's time to add the Harmony Network to Metamask. Harmony doesn't come prepacked with your wallet, thus we need to do it manually. To do so open your Metamask extension, click on your profile picture, and tap "Add network".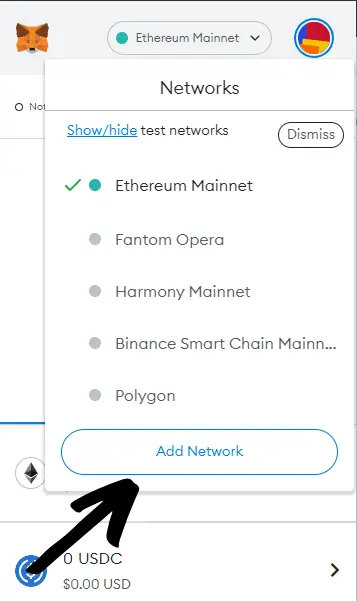 Step 3: Add the Harmony (ONE) Network Details
A new window will pop up where you need to fill in the network details or in other words Harmony One Contract Address. Fill in: 
Network Name: Harmony Mainnet
New RPC URL: https://api.harmony.one
ChainID: 1666600000
Currency Symbol: ONE
Block Explorer URL: https://explorer.harmony.one/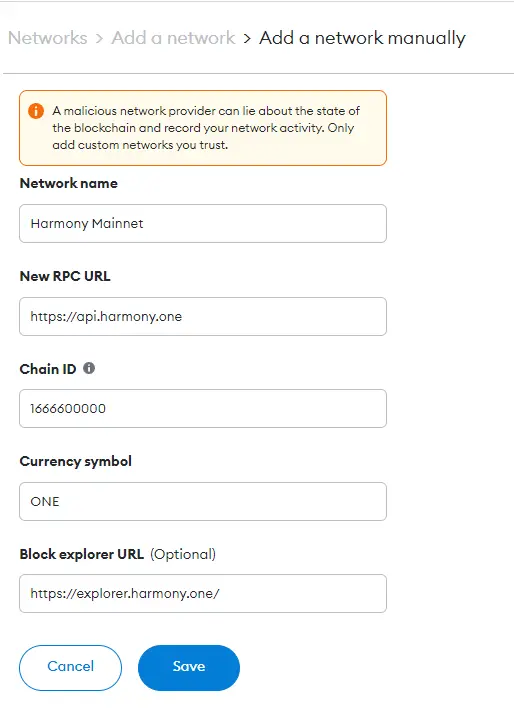 These details are not hard to find on the internet. Each network has its own details, and they can usually be found in the official documents of that network. You can find Network details for Harmony Network here.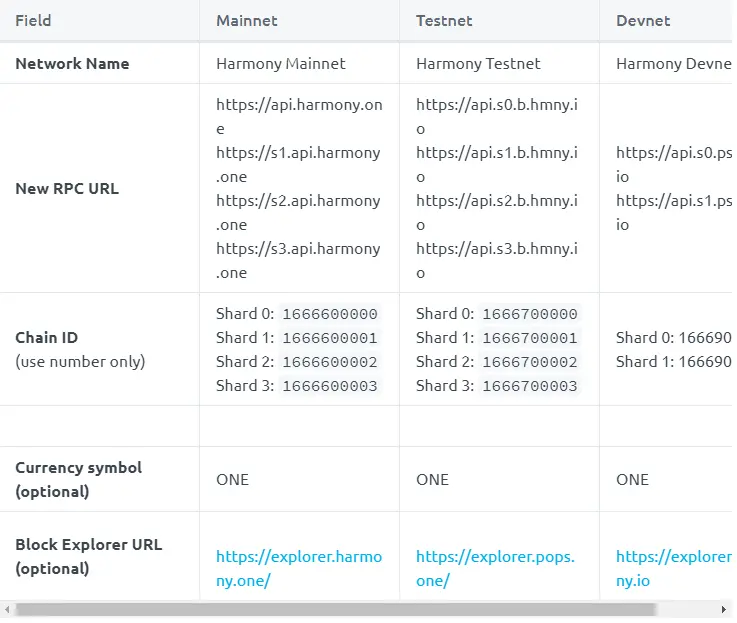 But as you can see there are different Network options. So how to choose the right one? 
First thing first you always want to choose the "Mainnet" network. As Testnet is made only for testing, coins on Testnet have no real value.
But if we go down a few lines you can see a few options, the so-called shards. 
Network Sharding is a method to increase transactional throughput by spreading out the workload across a few different networks. In this case, Harmony has four different Shards. 
We came into an issue with Harmony Shards in one of our previous articles, where we tried withdrawing ONE to Binance.
Fortunately, it's pretty easy to figure out what network shard to use. As exchanges and therefore most users will use Shard 0. And staking also takes place on this shard.
So in a conclusion always use the RPC URL and Chain ID of Shard 0, and you are good to go. 
Conclusion
This is how you can easily add Harmony Network to MetaMask. 
Adding the Harmony (ONE) is a one-time process. A newly added network will always be in your wallet from now on. And you can view your ONE transactions by switching the network from the top drop-down menu.
This process is also similar to adding any other Network, for instance, the Binance Smart Chain or the AVAX C-Chain.