Hardware wallets are one of the safest ways to protect your precious cryptocurrencies. But in the world of crypto, there are thousands of devices and products to protect, manage and spend your assets. Thus which one to choose?  
When it comes to hardware wallets one brand certainly stands out. And that's the SecuX wallets. This is not only because of its features but also because of the increased security and the number of supported coins.
This article will review one of their flagship wallets – SecuX W20. But we'll also quickly review the differences between SecuX W20, V20, and W10. Let's dive in! 
Who is SecuX
SecuX Technology Inc. is a blockchain security company based in Taiwan. SecuX was founded back in 2018, with its first wallet commercially launched in 2019. Including our reviewed SecuX W20. Together with the V20, offering extra luxury features for demanding users.
All the wallets of this Taiwanese company have become very popular. Now let's take a look at why by looking at their features. 
SecuX Hardware Wallet Features
Some of the features that the SecuX W20 has are truly unique and not found in many hardware wallets. Offering truly an unusual experience with extra luxury.
Large Touchscreen
You won't have to squint at the screen to see what settings you're tweaking or what the coin you clicked is and what is its value. As SecuX W20 comes with a big, 2.8-inch LCD Color touchscreen.
Which is the ideal size so that the wallet does not lose its storage capacity while being accessible to all users. It comfortably fits into a hand with dimensions of:
13 X 89 X 59 millimeters
62g
Rechargeable Battery
Even though it may seem like an obvious feature, many products in this category still don't have a rechargeable battery. Such wallets are then exclusively used only connected to a computer via USB. However, this is not the case with SecuX wallets. 
SecuX W20 comes with a rechargeable Lithium polymer 600mAh battery for up to 7 hours of continuous use and at least 3 months of idle time. Therefore plenty of usage time while on the go, away from the Micro-USB connector, which is used for charging.
However, for security purposes, the battery cannot be replaced. So treat it nicely! 
Bluetooth Connectivity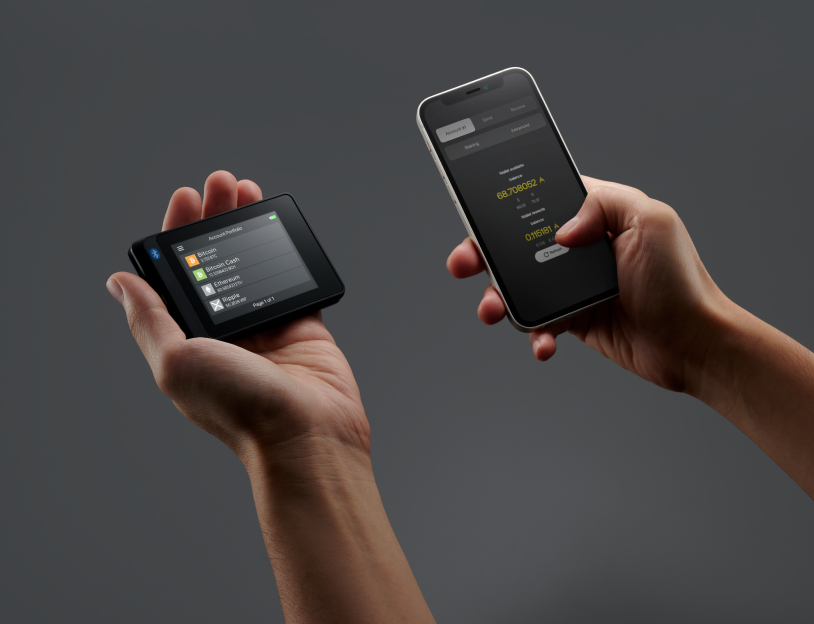 You may not think this is a necessary feature. But it's another element of convenience and luxury that speeds up transactions without the need to connect your wallet via a USB cable.  
I'm sure some of you are now wondering if this compromises the security of your hardware wallet. It doesn't. All SecuX W20 wallets come with a built-in security chip that ensures that your private keys remain protected during transactions. Bluetooth 5 also contains encryption, that encrypts all the sensitive data while transmitting.
An added plus to security is the fact that every transaction requires you to enter a password. 
Compatibility
SecuX W20 supports all the operating systems you can possibly think of. Thus, there should never be an issue with incompatibility. 
The wallet is compatible with:
Computer with either Windows, Mac OS, Linux, and Chrome OS.
iOS and Android devices through a mobile app. 
However, SecuX doesn't feature any computer application. A website called SecuXess is used to control your wallet.
Security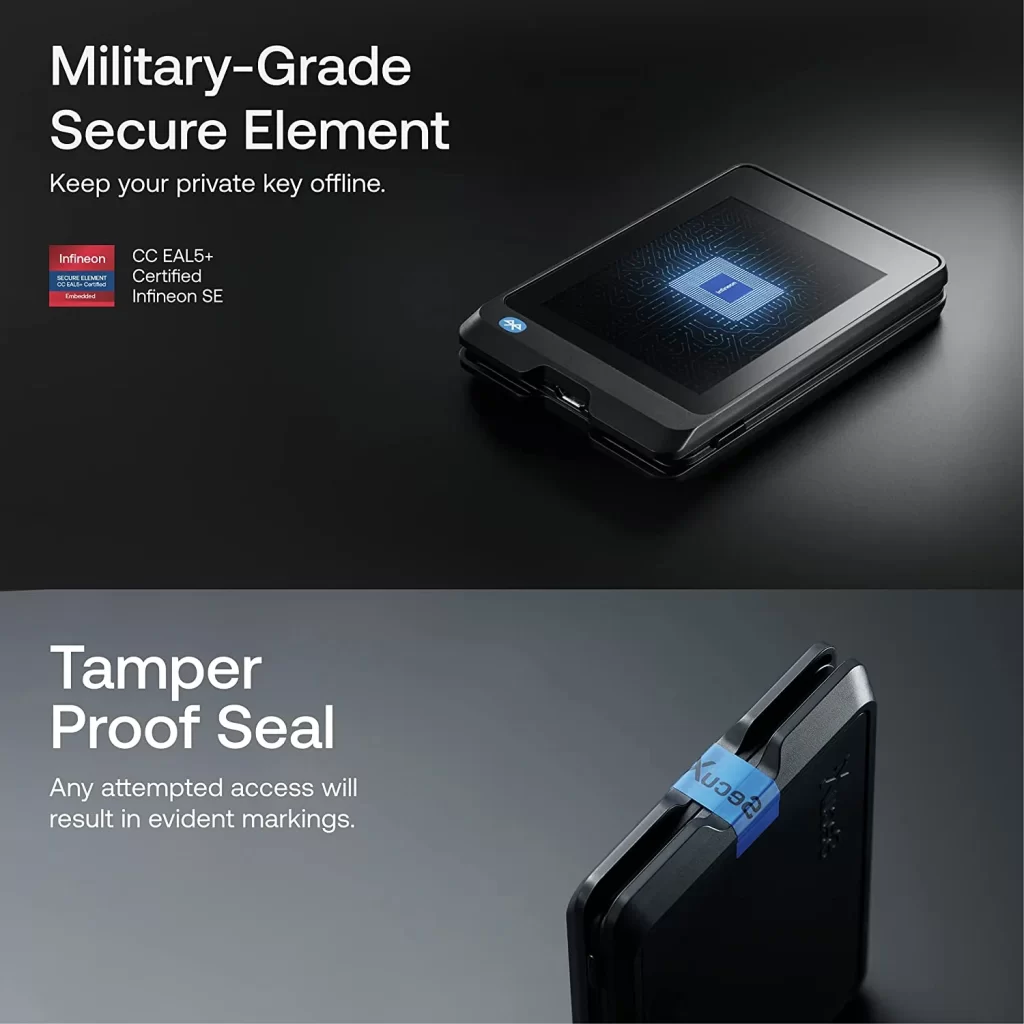 Having a big touchscreen or Bluetooth connectivity is cool. However, the biggest question while picking up the right hardware wallet is security. After all, this is why you are choosing a hardware wallet, because you want to have your coins secured. Let's take a look at some of the security features.
All SecuX wallets are equipped with an Infineon SLE solid Flash CC EAL5+ Secure Element chip. Which is used to keep in safe your personal PIN code and Private key. It is even equipped with a self-destruct function when exposed to light. That's in case someone wants to steal your data by taking apart your wallet. 
As stated before transactions made via Bluetooth are safe due to both Bluetooth 5 encryption, 2-factor authentication required to make the transaction, and due to the Infineon SLE chip.
SecuX wallets are compliant with BIP32, BIP39, and BIP44 Protocol standards. This means that SecuX generates safe standard 12, 18, and 24 recovery phrase word sets, that are compatible with any software or hardware wallets that use these protocol standards.
The boxes containing the hardware wallet itself are sealed with tamper-resistant labels. These are specially designed stickers that ensure that the box cannot be opened in such a way that it is not obvious that it has been opened.       
Supported coins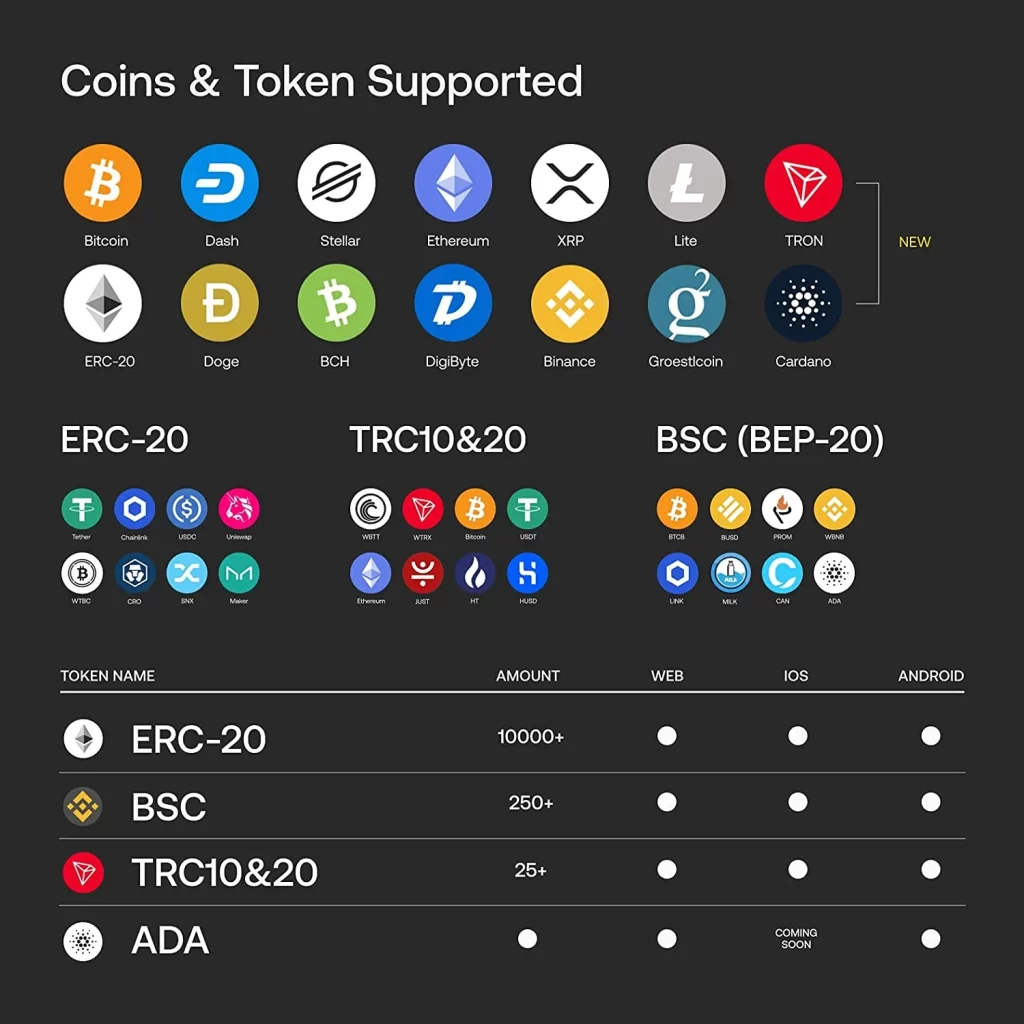 Having a wallet that supports a large variety of crypto coins is a must. This will ensure that you don't have to hold back on your investments and own dozens of devices to store your cryptocurrencies.
And that's exactly what SecuX wallets do, including the W20 version. 
SecuX W20 can securely hold over 1 thousand coins. From the more mainstream ones that are already the norm like: 
Bitcoin (BTC)
Bitcoin Cash (BCH)
Ethereum (ETH)
Litecoin (LTC)
Ripple (XRP)
Binance Coin (BNB) 
Dogecoin (DOGE)
Tron (TRX)
However, what is no longer the norm and is rather a great exception is the support of all ERC-20 Tokens. Thus tokens that are built on the Ethereum network. All of them! After all, the more the better when it comes to coin support for software and hardware wallets. 
The full list of supported coins (except ERC-20) can be found here. 
Price and packaging box content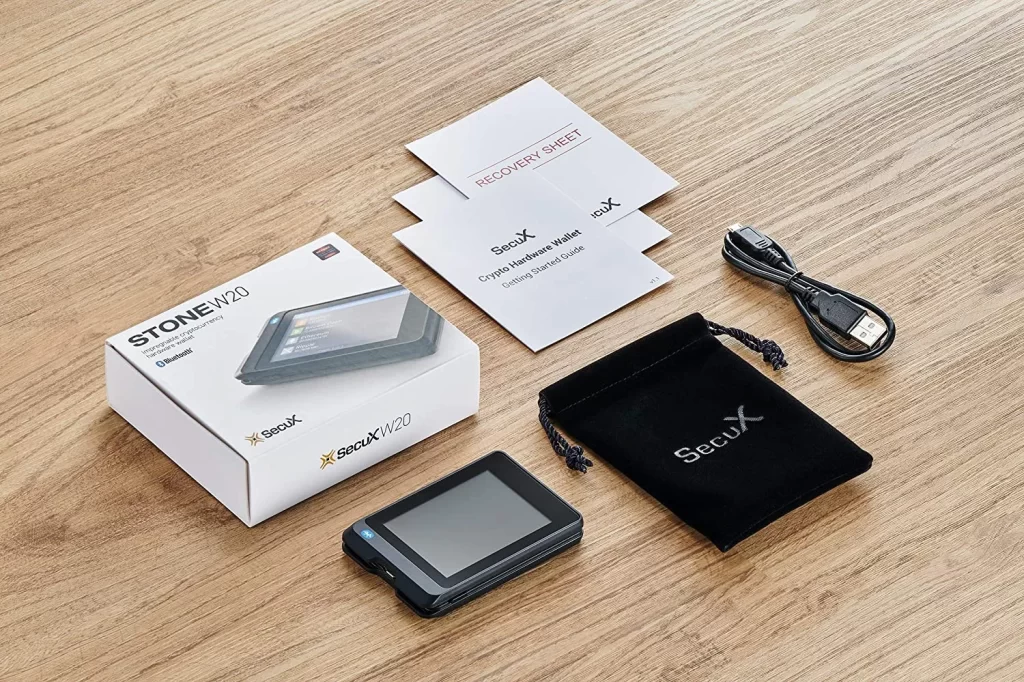 The price tag of hardware wallets can vary a lot. However higher price tag does not ensure wallet quality. But thankfully SecuX W20 won't cause you to go bankrupt.
SecuX W20 comes just for $119. But if you use my link below a 15% discount will be automatically applied. The 15% off applies to any SecuX product, not only the W20.
In the packaging box you will find:
SecuX wallet
One Micro-USB cable
One carrying pouch
A guide
Two Recovery Sheets
You can write down your generated 24-word recovery phrase into the recovery sheet. 
SecuX W20 can be bought at the official site store. You should always buy a wallet from the official, certified retailer. Otherwise, you may receive a wallet infected with malware.
How to set up the SecuX W20 wallet 
My SecuX W20 wallet was delivered pretty quickly. And perfectly sealed as advertised, with temper-resistant labels on both the box and the device itself. The device setup process was pretty straightforward.
First, you will need to press and hold the power button for about 2 seconds, until the screen lights up. 
The included instructions said to put the wallet on the charger for at least 2 hours before starting it for the first time. But mine came charged to about half and the setup went fine. 
You will receive a warm welcome and a "Get started" button underneath. Hit that and enter your 4-8 digit PIN. You will need to enter your PIN one more time to confirm it. And then create a name for your device. The name really doesn't matter at all, it is only for you and for recognizing the device when using Bluetooth. 
The next step is the most crucial one. You will need to write down all 24 words of the recovery phrase. The device will show you 6 words at a time. 
I did this step for about a quarter of an hour just to make sure I copied everything correctly and in the right order.
As the last step, you need to confirm your recovery phase. And your wallet is ready. 
You can now start using your wallet. You can control some parts of your crypto assets from the wallet itself. However, for far better management of your crypto portfolio, there is a Mobile app and a Desktop app called SecuXess. Let's take a quick overview of the application.
SecuXess; Manage Your Assets with Ease
SecuXess is a convenient and secure way to manage your Crypto Assets.
The first time you connect your SecuX wallet with SecuXess, you'll be welcomed and must accept the terms of use. Then you can move to the app itself.
The dashboard contains a Getting Started guide full of interesting and useful materials. This is really good not only if you are starting out with crypto but also for crypto veterans using the SecuXess app for the first time.
What is really lovely to see as well is the option to create multiple accounts under different networks. For instance, you can create 10 accounts under the Ethereum network but keep only one under the Smart Chain.
SecuXess is integrated with Changelly, so you can easily buy crypto directly from your wallet.
In conclusion, I really like SecuXess for its elegance and ease of use. Because there is not much to get lost in. While it lacks some advanced features for tracking your portfolio, it excels in simplicity.
SecuX V20 vs W20 vs W10
There is not much difference between V20 and W20, nearly none to be honest. The only noticeable difference is in the wallet dimensions. V20 is a little bigger with a circularly shaped screen. The price is almost similar too. For Micro-USB haters, the V20 already has connectivity via USB-C.  
On the other hand, SecuX W10 is a more budget-friendly version of this wallet. SecuX W10 comes with a retail price of $69. However, it does not feature a battery and Bluetooth connectivity. It leaves you with only one option to use the wallet and that is via Micro-USB. Which is pretty standard with all hardware wallets, so it's not such a big deal. In short, it doesn't have the luxury features of its two brothers. 
If you want a full comparison, you can check our article aimed at a complete comparison of SecuX Wallets. You will find out what model has the best features and what is the best value for your money.
Conclusion
I have been using the Trezor wallet before. But I have decided that I want to try something more futuristic, with more luxurious and security features. Thus, I decided to go for the SecuX W20 wallet after seeing a video about it. And no regrets. 
If I had to pick one feature that I really love it's the gorgeous, big, clear touchscreen display. Is this necessary? No. Nor does it make your job any easier. After all, you don't use a hardware wallet every day. But I like it. 
And the amount of supported coins is simply enormous. I have yet to come across a situation where I found out that SecuX doesn't support my chosen cryptocurrency. 
However, what some take as a disadvantage is the support of Micro-USB instead of the more widely used USB-C. 
Which I personally don't mind, since I'm an apple user and don't own many devices on either USB-C or Micro-USB. So as a result, the cable I received for the wallet stays with it.
Can I honestly recommend the SecuX W20 wallet? Very much yes. Great security features, a big list of supported crypto coins & large touchscreen makes this wallet a great purchase!
SecuX W20 Verdict
The SecuX W20 wallet offers the biggest luxury you could ever ask for from a Hardware Wallet. Still, this wallet is more affordable than models from competing brands like Trezor or Ledger, which offer slightly less.
The only disadvantage we could come up with is missing USB-C compatibility. Which, on the other hand, is compensated by the possibility of a Bluetooth connection.
In conclusion, we can highly recommend this wallet, if you are looking for something slightly more. And with the 15% discount, it is a MUST HAVE situation.