After a few days, you finally choose the right NFT to join your collection. Your crypto wallet is filled with crypto, and you are ready to make the purchase or to sell your image. But then, all of a sudden, an error message.
You Declined the Action in Your Wallet
And you are not the only one who is getting this error on OpenSea, and you didn't do anything wrong. It's rather a miscommunication between OpenSea and your wallet.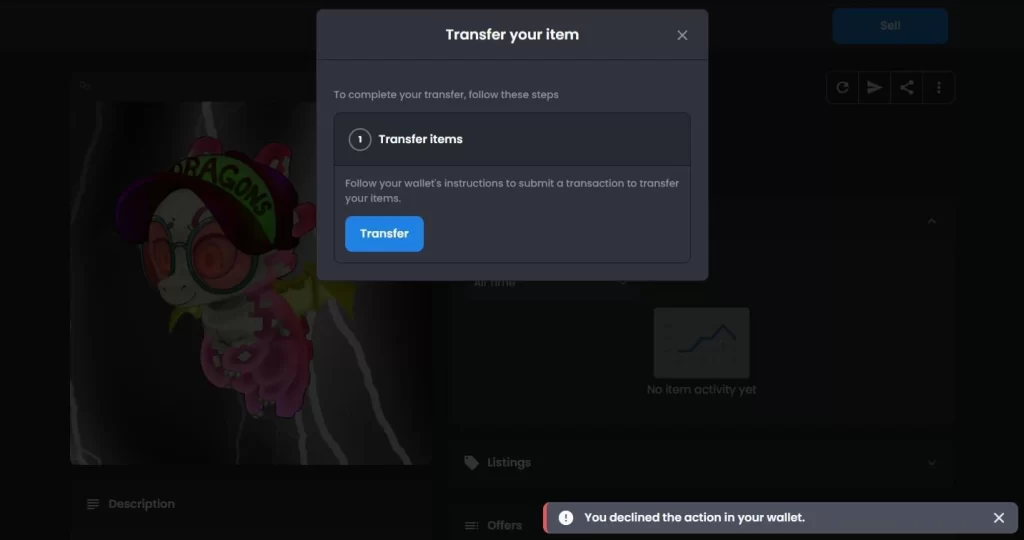 This quick guide will teach you how to fix the "you declined the action in your wallet" error on OpenSea.
What's the "you declined the action in your wallet" Error on OpenSea
When this error appeared to us, we also haven't got a clue as to what this error message meant. We were logged in OpenSea, with an adequately unlocked wallet. So we checked the developer's console and network activity using the Inspect option.
And then, an error appeared: Authentication error: Unknown Ethereum address.
So that doesn't help to solve our issue, but it kind of says what the issue is.
It seems like there is just miscommunication between OpenSea and our wallet. From time to time, this type of error can happen on almost every platform that uses a crypto wallet; we saw it on MetaMask with no keyring found error or on Yoroi with a decryption error.
Also, it's probably not an error on your wallet's side but rather OpenSea's or your browser's fault. As the browser might try to save some time and space and use a cached version of the website, causing error.
Fixes for the "you declined the action in your wallet" error
Solution 1: Clear Browser Cache and Cookies
When you are using your browser, it saves up information and cookies as it goes. And this information can get corrupted sometimes, causing the connection issue.
When you clear your cache, all websites will have to re-download any possible corrupted files, fixing this error.
Clearing your cache may vary depending on which browser you are using. But it'll be more or less the same.
Open your preferred browser and access the History tab. Either from the top right menu or by using the Ctrl+H shortcut.
Select the Clear browsing data option.
You can choose a custom time range, but because we are looking to solve browser issues select All Time.
Tick all the boxes, including Site Cookies and Cached images and files.
Finally, press the Clear Data button.
Depending on how often you clear your browser, this process will take a while.
Solution 2: Properly Lock your Wallet and Login Again
If clearing your browser cache didn't fix the issue, try locking your wallet and logging in again.
However, try to do it the harder way by hard resetting your browser. You need to open your task manager, find your browser and end the task.
To open windows tasks manager, you can press and hold the CTRL, Shift, and ESC keys simultaneously. Or you can try the well-known keyboard shortcut CTRL + Alt + Delete.
Once you close your browser, your crypto wallet will lock itself, and you can log in again.
Solution 3: Use Incognito Mode
The incognito mode will fix the cache and cookie issues, as well as any possible conflict between your extensions.
To do so, you need to enable your wallet extension in incognito mode, as it's not available by default.
Whether you use Google Chrome, Brave Browser, or any other browser, you'll find this option in the settings.
Go to settings -> extensions -> and find your wallet. Then switch the toggle to "Allow in Incognito."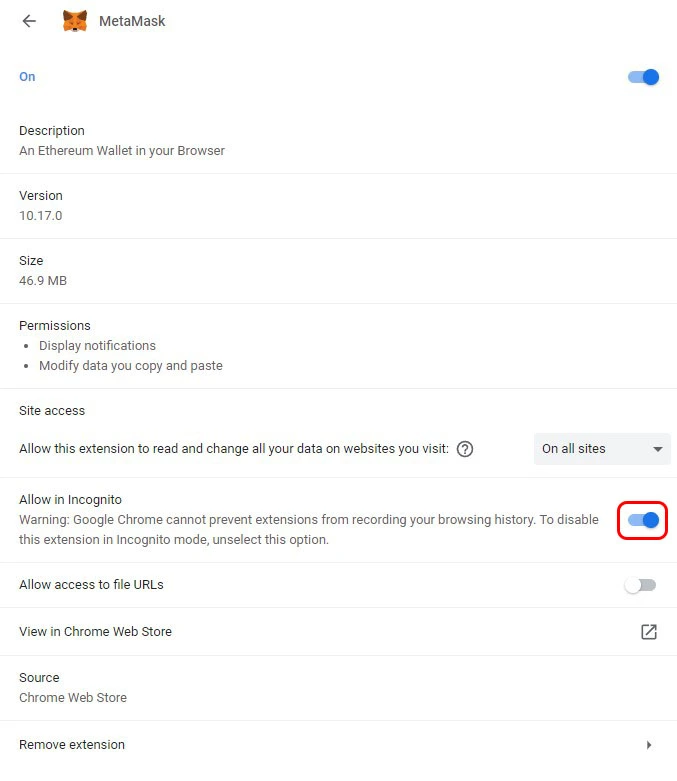 Then open a new incognito window, go to the OpenSea website, and try posting the same item again. This should probably fix the you declined the action in your wallet error.
Solution 4: Contact OpenSea Support
If the issue persists after trying all the above fixes, only contacting OpenSea support is left to try. This'll likely take some time.
As we speaked with the community, it seems that OpenSea doesn't like to admit mistakes. When there is an issue with your NFTs or account, they are communicative, but users were waiting for multiple days for an answer about an error.
Arm yourself with patient and open a new support ticket or contact the support via email.