Although we are saying this at the beginning of almost every guide. But Bitgert (BRISE) is yet another fantastic project with a bride feature ahead that actually makes an impact on the crypto ecosystem.
Or mainly the BitGert blockchain does, offering near-zero gas fees and high-speed cross-chain transactions.
In this article, we'll teach you how to stake your Brise tokens and how to maximize your Brise yield.
What is Bitgert (BRISE) Token
Although Brise was initially built on BNB Chain, the most utility comes from the Bitgert blockchain (BRC-20), which was presented in 2022.
This network is really something revolutionary. The gas fee is $0.0000000000001 per transaction while offering one of the fastest cross-chain solutions with up to 100,000 transactions per second.
Brise token is used to power this network and reward users for their contributions. The staking rewards are paid from a buyback mechanism.
Bitgert buys back 5% of every transaction fee. 3% is directed toward marketing, and 4% toward staking rewards. The rest is burned to make the token more attractive to hold.
The Brise goal is to become a global payment solution in the form of a peer-to-peer (P2P) service.
Benefits of Staking Brise tokens
Bitgert offers really attractive APYs, which go up to 45%. But there is a downside. BRISE doesn't offer flexible staking, and you are required to lock your funds for a set period of time.
However, locked staking provides more security to the network, and loyal users are generously rewarded.
It also motivates users to hold their tokens rather than selling them.
How to Stake BRISE Tokens
Although many centralized exchanges offer BRISE in one or more trading pairs, staking for rewards is enabled only through the official Bitgert staking portal.
To stake your BRISE tokens, you must buy some tokens first, send them over to your MetaMask wallet and head to the staking portal. To finish the process, select the staking amount and locking period and confirm the transaction. Let's take a look at how.
1. Buy BRISE Tokens on an Exchange
There are currently over 20 market pairs available featuring BRISE. And several handy tools will tell you which coin is listed where and in which trading pairs. One of the most popular ones is CoinMarketCap.
CoinMarketCap is a price-tracking website for nearly every cryptoassets, currently listing over 23,000 coins and tokens.
CMC curates the most important information about every coin and token, including its price and trading volume, information about supply, contract address, a quick summary of the token's utility, and a list of purchasing options (market pairs).
So first, head to the CoinMarketCap page dedicated to the BRISE token and scroll down a bit to a section called "Bitgert Markets."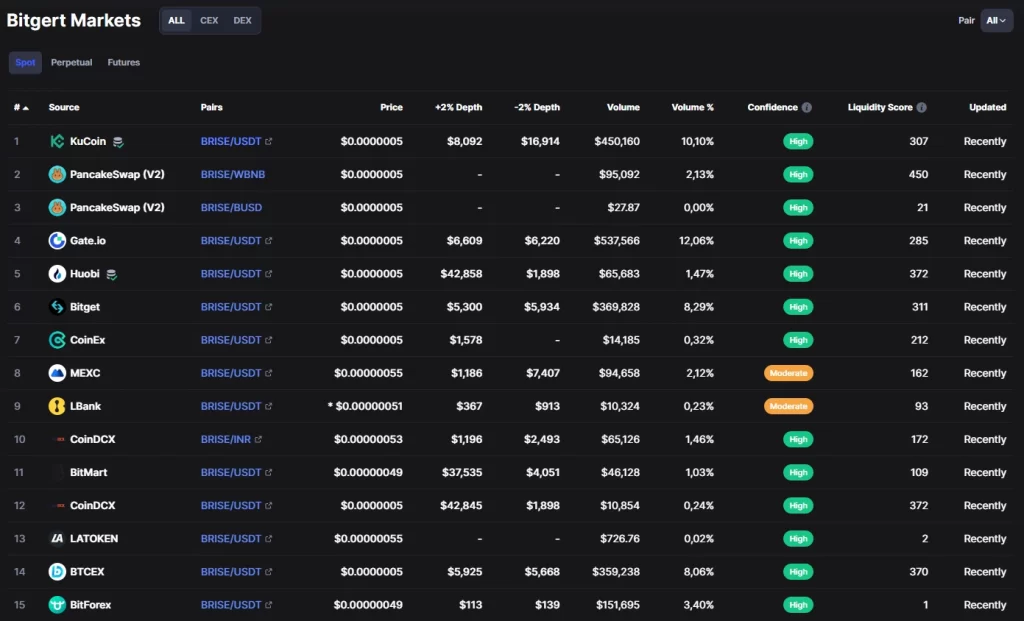 If you have an account on any of these exchanges, you've saved yourself a few minutes. In the other case, there are two routes you can take.
If you own USDT, we'd recommend creating a KuCoin account, as it doesn't require KYC and exchanging your coins there.
The second route is when you don't have USDT stored somewhere. In that case, you'd need to create an account on any of these exchanges and verify your identity. This includes KuCoin, as KuCoin doesn't enable FIAT trades for non-verified users.
But note that KuCoin is not available in the US; you can check the complete list of supported countries here.
2. Send Bought Tokens to MetaMask
Staking BRISE is possible via both BNB Chain and Bitgert network. It's only up to you, whichever network you choose.
Choosing the Bitgert network will be cheaper, but it provides less utility. With Smart Chain, you can easily swap your tokens to whatever coin you'd like and send it to any exchange. That's not possible with the Bitgert network, and you would need to use a cross-chain bridge that comes with additional fees.
Also, your exchange may not support this network, so it will be decided for you. But if it does, you need to import the Bitgert network to MetaMask first. To do that, click on your profile picture in the extension and tap "Add Network."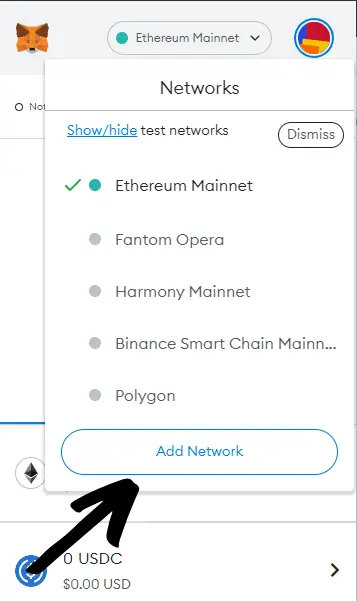 A new window will pop up where you need to fill in the network details. Fill in: 
Network Name: Bitgert Mainnet
New RPC URL: https://rpc.icecreamswap.com
ChainID: 32520
Currency Symbol: BRISE
Block Explorer URL: https://brisescan.com
After hitting save, the Bitgert network will be automatically imported, and we can continue with the process.
Move your cursor on your account name in the top part of the extension and tap to copy your wallet address. Your wallet shares one address, so you don't need to be afraid of copying the wrong thing.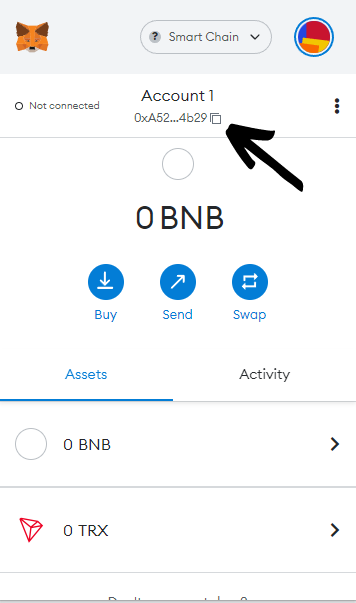 Now go back to your exchange, you used to buy BRISE. You now need to find a crypto withdrawal option. Once there, paste your MetaMask address to the recipient field, select the amount of coins you wish to withdraw, and hit send.
As a network, you can either select the Bitgert Mainnet or Binance Smart Chain, whichever you decided to use.
3. Go to Bitgert.finance and Connect your Wallet
Open your browser and visit the official BRISE staking portal at bitgert.finance.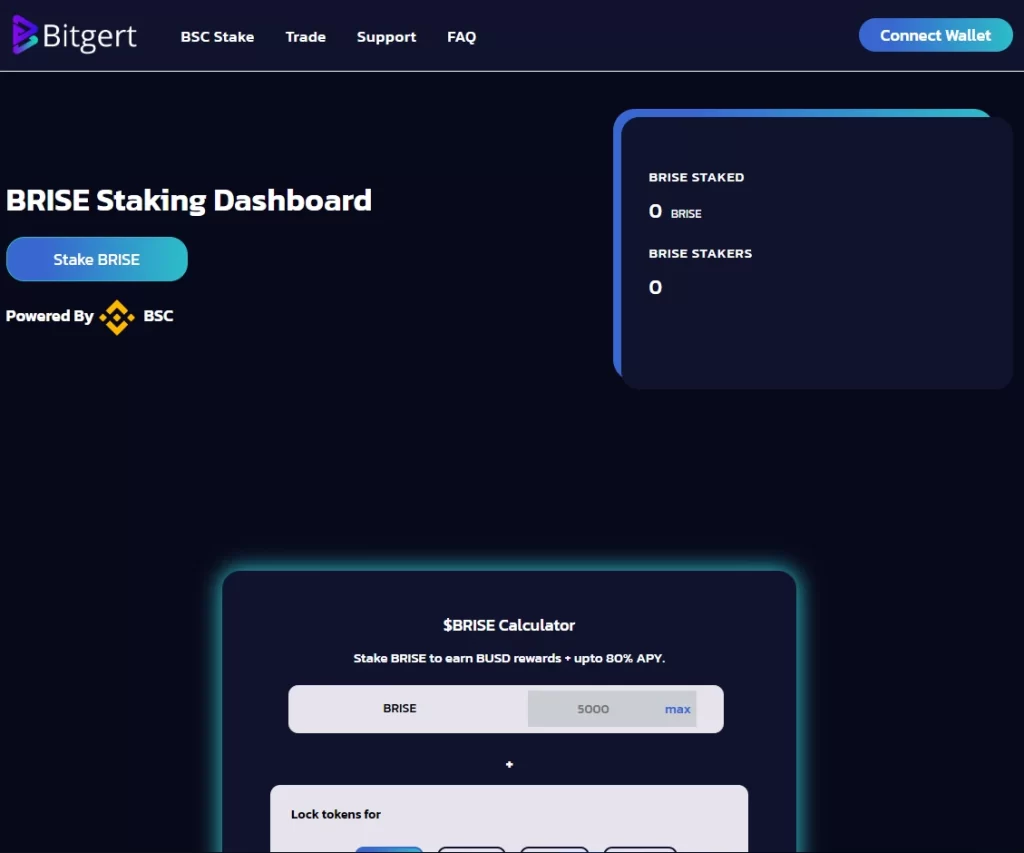 Once you arrive there, you'll see some basic information right away.
But you need to connect your wallet first. That's, as you might have guessed, done using the "Connect Wallet" button in the webpage's top right corner.
Once you tap it, you'll be two options, MetaMask and WalletConnect.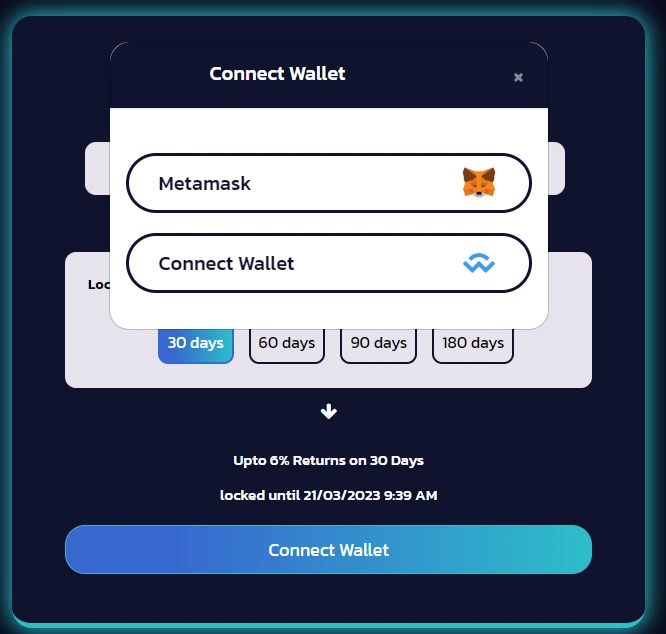 WalletConnect is a secure open-source protocol that allows your wallet to connect to and interact with Decentralized Applications (DApps) and vice versa. WalletConnect is used to connect solely mobile wallets, like TrustWallet, to dApps.
But if you have been following the steps through this guide, you should have your tokens on the MetaMask wallet. Thus choose the first option and approve the connection in the pop-up notification window.
4. Select BRISE Staking Amount and Lock-in Period
Once you connect your wallet, proceed by clicking the "Stake BRISE" button. This will take you down on the website to the staking settings.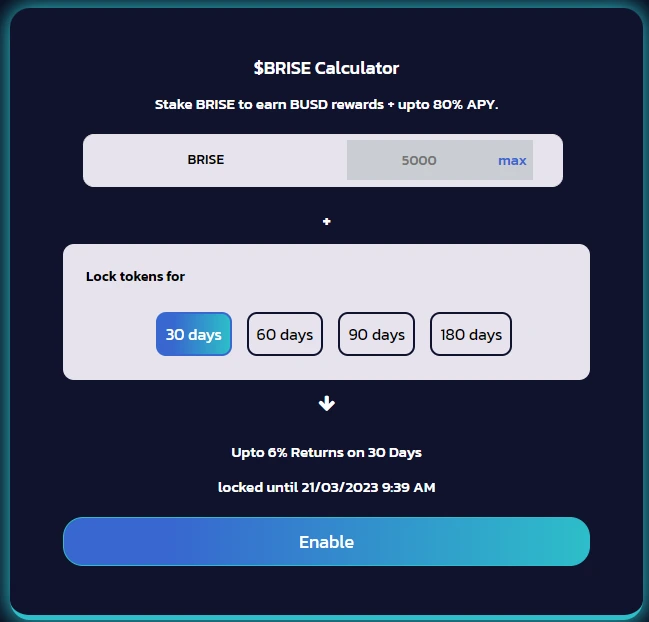 Now you can select how much BRISE you want to stake and for how long you are willing to lock your tokens.
The longer the lock-in period, the higher the rewards. But you can't use your assets while they are locked. This potentially means losing an opportunity if a big price move happens, etc.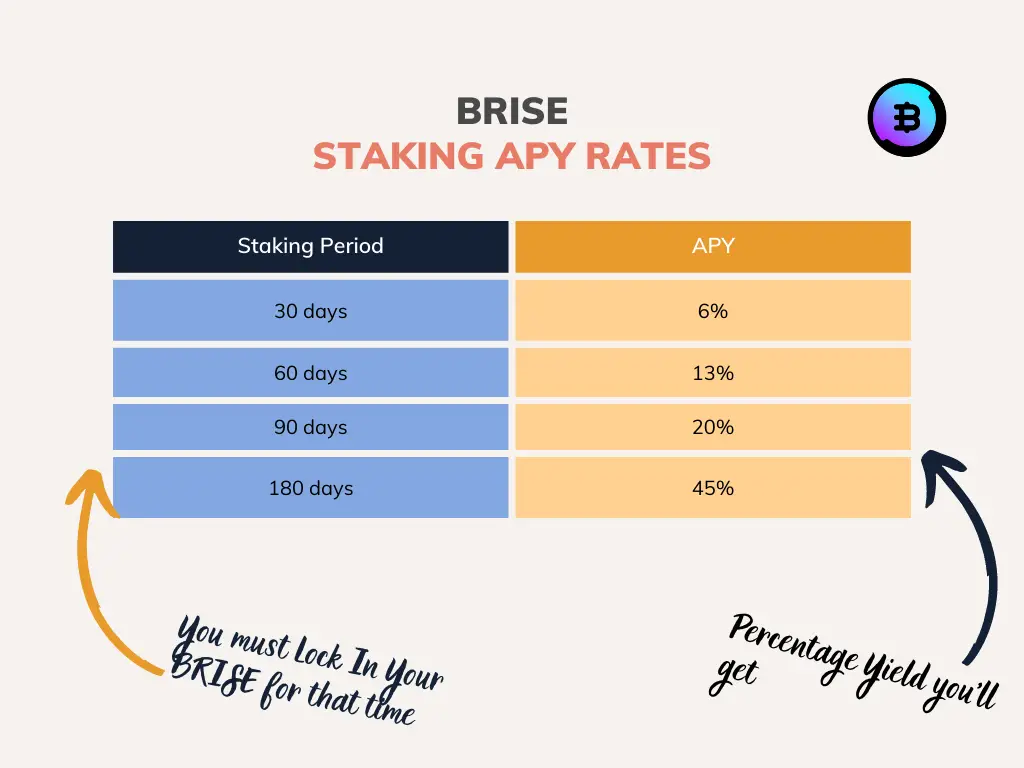 Once you're done, tap the "Enable" button at the bottom.
5. Confirm the Transaction in your Wallet
The last thing that is left to do is to confirm and approve the transaction in your wallet. Once you tap "confirm," your BRISE tokens will be sent to the staking pool and locked for your selected time.
The collected rewards are not automatically sent to your wallet. To get your BRISE rewards, you need to revisit this page, and at the bottom, you'll see all your staking terms. And beside each of the staked amounts, you can tap "harvest" to collect the rewards.
What are the Risks Involved in Staking BRISE
The most significant risk coming from staking, and not only from staking BRISE, is the fact that you've locked your tokens for a specific amount of time.
During that time, anything can happen at the market. The price can tank drastically or grow by hundreds of percent. But you can't do anything with your tokens.
Some earning programs allow users to unstake earlier without getting the rewards earned during that time. But BRISE is not one of them, and you are required to wait.
Conclusion
Staking your excess BRISE tokens is a great way to earn rewards passively while helping to secure the network.
To stake BRISE, carefully follow the steps outlined in the article.
Bitgert (BRISE) offers some really great features that can change the crypto industry. This can possibly mean an increase in the usage and value of BRISE tokens. But we'll see what the future will bring.