Are you tired of constantly checking crypto prices and worrying about missing out on important wallet transactions? Trust us when we say we know the feeling. Keeping track of the crypto market can be overwhelming and time-consuming.
The crypto market is known for its volatility, and prices can change rapidly, leaving you missing hundreds of opportunities.
Although, you can monitor your crypto transactions by refreshing the block explorer every minute or keeping track of the latest price trends by covering yourself with charts. With the increasing number of crypto wallets and transactions, keeping track of everything can be a headache.
Or you can try one of these tools and software to monitor crypto prices and receive notifications about incoming and ongoing crypto wallet transactions.
These tools will help you keep a general overview of the market while leaving you with a ton of free time. Let's dive in!
Monitor Ethereum Transactions directly in Block Explorer
Etherscan is a popular Ethereum block explorer that allows users to view details about crypto addresses, blocks, smart contracts, and more.
It's basically an essential resource for anyone who wants to stay informed about the Ethereum network and its development.
But apart from the set of tools tailored to watch everything around ETH, you can also opt-in to get an email notification every time you or any other ETH address receives crypto.
To turn this feature on, you'll first need an Etherscan account. Create one and head to your account overview.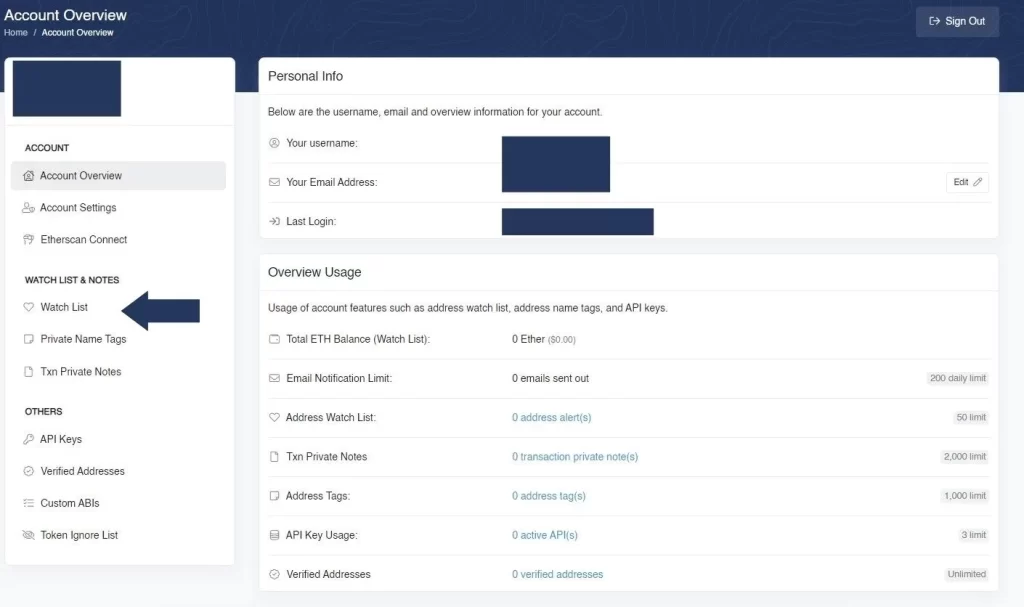 In the right bar, you can see a bunch of different options, including "Watch list" with a little heart icon next to it.
But before you tap on it, check the overview usage section. There you can see that the address watch list can hold up to 50 ETH addresses, and you are limited to 200 email notifications a day.
This means that this tool might not be the best pick for you if you wish to track huge addresses that send or receive thousands of transactions every day. But it'll be just enough to follow your own wallet and get notified once a transaction is confirmed.
Now it's time to visit the watch list. In the top right corner, you'll see a "add" button, where you can paste any ETH address from which you wish to receive notifications.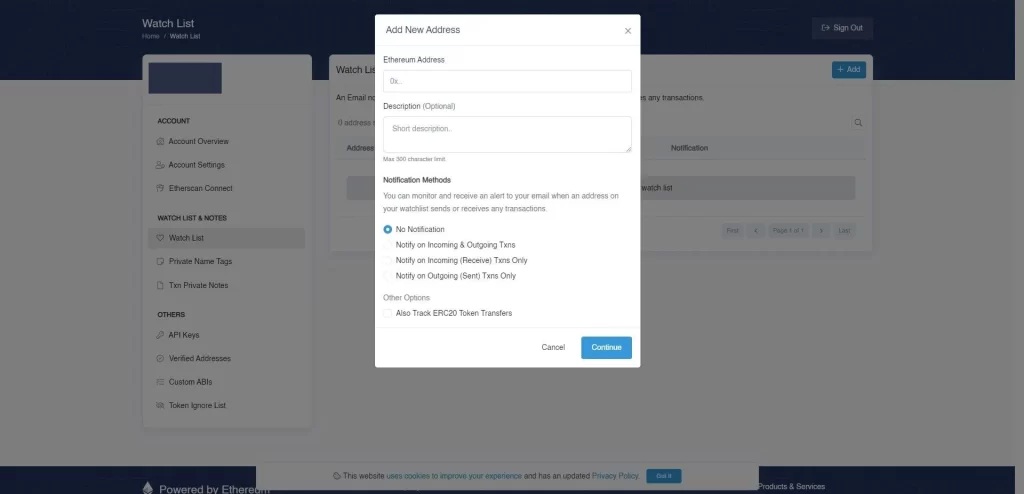 It's also a good idea to add a short description, so you know from which address the notification is coming.
The notification methods section refers to setting conditions under which you'll receive a notification.
Defaulty, the option "also track ERC20 token transfers" will be unticked. If you tick that option, you'll also receive a notification about other tokens the wallet might own.
That comes in handy, for instance, in case you regularly play blockchain games. Or regularly receive rewards to your wallet.
Monitoring transactions on your ETH wallet using this simple tool is also useful if your wallet gets stolen. That way, you can be notified whenever a hacker or scammer makes a transaction. 
5 Handy Tools to Get Crypto Price Alerts and Wallet Notifications
We really like the option to opt-in for notification directly in the block explorer. It's really convenient since you are using the block explorer anyway to check on your transaction.
But monitoring crypto transactions or price movements and receiving email or other notifications can be a lot more complex, setting sets of rules to always stay informed.
We'll now show you five handy tools that will allow you to stay in action by setting complex monitoring rules. But no need to be scared, these tools stay easy to use, and, spoiler alert, they all offer a free version.
Cryptocurrency Alerting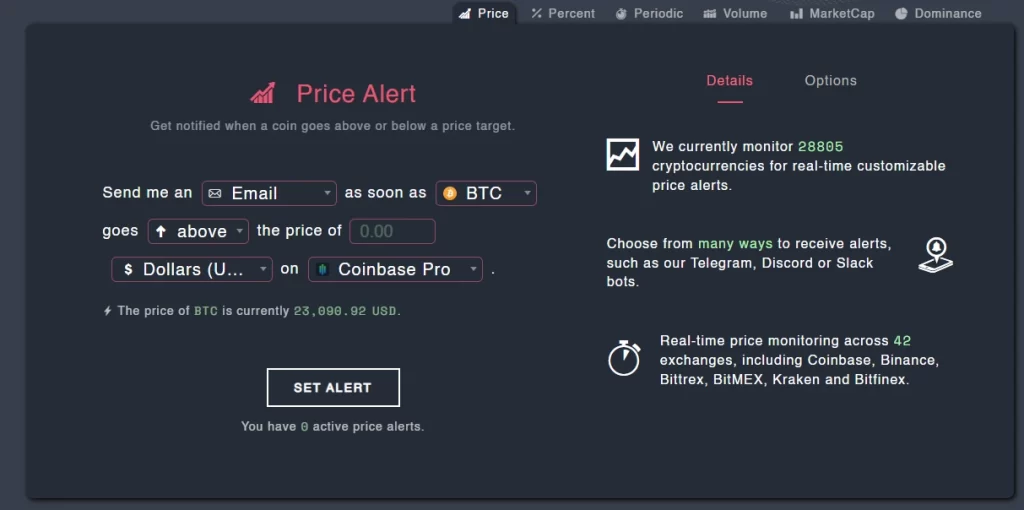 Cryptocurrency Alerting is an all-in-one tool for monitoring cryptocurrency prices and receiving alerts about price changes, wallet changes, or new crypto listings.
It allows users to set up custom alerts for specific cryptocurrencies and receive notifications via email, SMS, or push notifications.
This tool is designed to help cryptocurrency traders and investors stay informed about the latest price movements so that they can make informed investment decisions.
As you might know, crypto prices vary a bit across different exchanges. And many are making money out of this by buying crypto on one exchange and selling it on another one. That's called crypto arbitrage, and Cryptocurrency Alerting can help you with that, as you can monitor real-time prices across more than 40 exchanges.
When it comes to crypto alerts, you can get notified about when a coin goes above or below a price target or when a coin changes in value by a specific percent.
But it doesn't end there, you can also be alerted periodically, let's say every day at 6 pm. Or be notified about trading volume, market cap, or Bitcoin's market dominance.
You can also monitor new crypto listings, trending coins, or your own and others wallets.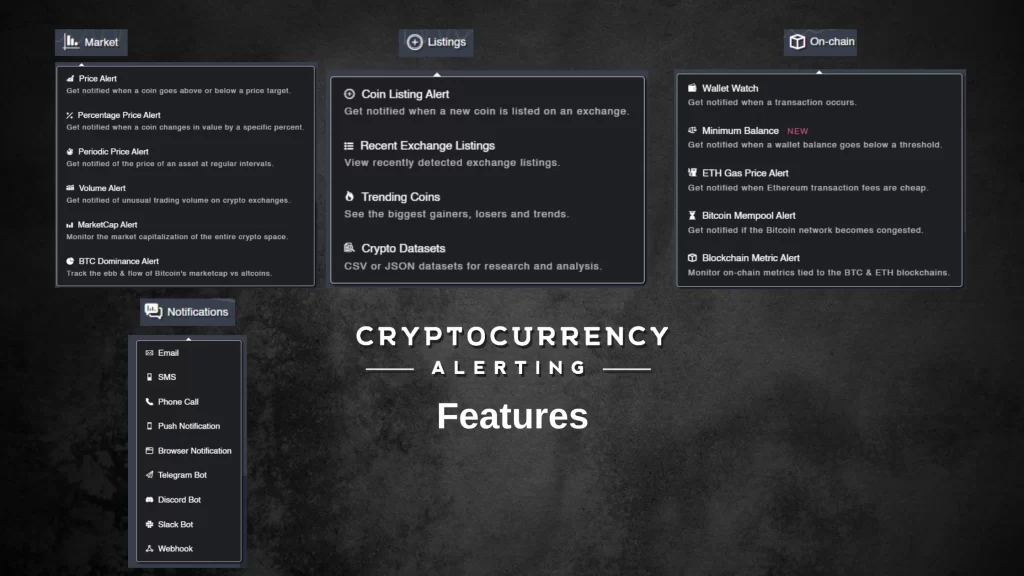 Cryptocurrency Alerting comes free with up to 3 alerts. After that, you'll have to upgrade for as low as $3.99 a month. But we think it's worth it, given the number of features.
Bitcoin-alerts.live
Now let's dilute a complex tool like Cryptocurrency Alerting with something really simple.
Bitcoin-alerts.live will keep an eye on a crypto transaction for you. 

It's a really simple tool where you input your transaction ID and email address, and once your transaction gets confirmed, you'll receive an email notification.
No subscription fees needed, and it is very handy when you need to stay informed about an important transaction.
Blockonomics.co

Blockonomics.co is another fairly easy-to-use service that lets you monitor your or any other bitcoin wallet.
This tool is completely free, without any restrictions. And offers a simple wallet watcher, including a history and transaction fee overview.
However, Blockonomics are more known for its e-commerce features. Using their service, you can start accepting crypto on your WordPress site or anywhere else, for instance, on Twitch, by embedding their widget.
Coinwink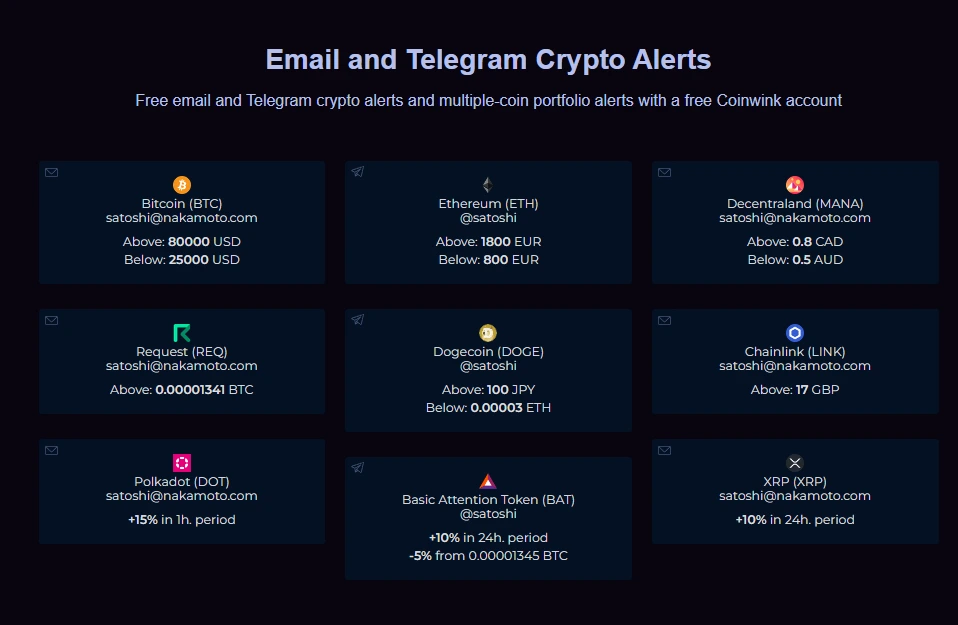 Coinwink is a simple crypto alert tool that can alert you through email, SMS, or Telegram.
With Coinwink, users can monitor prices in real-time, set up price thresholds, and receive alerts whenever a cryptocurrency reaches a certain price level or move by a set percentage.
Coinwink is partnered with CoinMarketCap to ensure the credibility of its data.
You can use this tool with up to 5 coins completely for free. If you want more than that, you'll have take a paid plan that starts at $8 a month.
Exchange's Built-in Price Alerting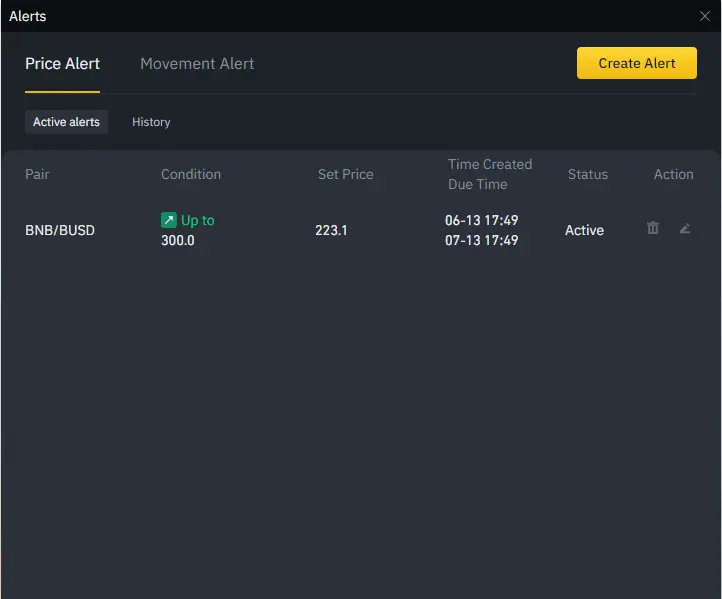 As last on the list, we would like to give you a quick overview of a few tools that come completely for free. And that's no other than built-in alerts in your exchange.
As far as we know, nearly every crypto exchange has its own option to set price alerts. However, it's important to acknowledge that these tools won't usually send you an alert outside the exchange.
You'll have had your exchange turned on all day in order do receive the notification. Or, if the given exchange also has a mobile app, you can receive a push notification.
Secondly, they often don't come with much customization options. So if you want to be alerted about percentage movements, volume movements, or crypto whales withdrawing crypto, these alert tools won't suit your purpose. 
You can usually turn on these price alerts directly on the market page of the given trading pair. You also can check our guide on setting price alerts on Binance.
Conclusion
Staying informed about the crypto market and keeping track of your investments has never been easier.
We've tried bringing you a quick overview of as many crypto-tracking tools as possible. But as we found out, there aren't that many worth mentioning.
These alert tools, we mentioned, all have slightly different settings and features, so you can set what's suits you the best. From more complex tools like Cryptocurrency Alerting to the simplest price alerts directly in your exchange.