Binance Learn & Earn program offers from time to time interesting crypto-related courses with sweet rewards in the end. 
This time Binance introduced the Learn & Earn What is TrueFi (TRU) with 10 TRU as the reward. That's equal to about $0.45 at the moment. 
All you need to do is to answer 13 simple questions and redeem your reward.
Of course, you need to have an active Binance account. You can open your account through this banner.
And the TrueFi (TRU) Learn & Earn Binance promotion is accessible on this link. Now let's look at the TrueFi (TRU) quiz answers.
This TrueFi (TRU) Binance promotion runs from the 9th of November 2022. Once you sign up using the upper link, you can access it. If you answer all 13 questions correctly you will learn a $TRU token reward.
Please note, that your questions will be in a different order.   
---
What is TrueFi's native token?
Answer: TRU
What benefits does TrueFi offer its users?
Answer:  All are correct.
What is not a function of the TrueFi credit protocol?
Answer: Collateralized lending
How can TrueFi lenders exit their loan position in a TrueFi pool or portfolio?
Answer: Exist liquidity differs depending on the opportunity, based on specifications set by the manager
TrueFi's mission is to build what?
Answer: The world's most transparent and effective financial infrastructure to support the global credit market.
What are the benefits of launching a financial opportunity on-chain using TrueFi?
Answer: All are correct.
Approximately how much in unsecured loans has TrueFi originated between November 2020 and December 2022?
Answer: $2 billion
Who can loan into TrueFi pools and portfolios?
Answer: Each pool and portfolio has its own lender selection criteria, set by the manager
Besides Ethereum, what other blockchain does TrueFi support?
Answer: Optimism
What benefits does TrueFi offer its users?
Answer: All are correct.
TrueFi's native token is used to facilitate:
Answer: All are correct.
What protections do TrueFi lenders enjoy against loss of capital on the protocol?
Answer: All are correct.
How can lenders generate yields on TrueFi?
Answer: All are correct.
---
Bottom Line
Once you submit the last answer to this Binance TrueFi (TRU) quiz you will get a badge saying that you have successfully completed the quiz and your rewards will be granted in 48 hours.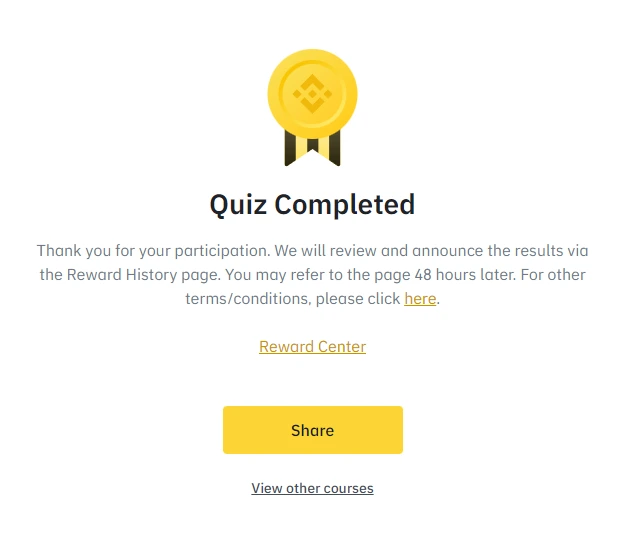 We, at Help With Penny, focus on providing accurate information for everyone. That's why we also make easily accessible answers to many Crypto Quizzes.
Read Further
Coinbase the Graph Quiz Answers: Learn & Earn $4 GRT
Binance What Is BurgerCities (BURGER) Quiz Answers
Coinbase AMP Quiz Answers: Coinbase Learn & Earn Answers
Binance Crypto Wodl Answers: What are current WODL answers?