Gate.io is a crypto exchange established in 2013, consistently ranking among the top 10 exchanges. What Gate.io really excels in, in our opinion, is offering pleasant interest on smaller coins.
If you have chosen Gate.io as your to-go exchange, you might have been promoted to create a fund password before you can use your account.
And if you haven't yet, this is the right time. We have got a link for you, with which you will get 10% back of your trading fees on all spot pairs and 5% on futures.

As any other exchange, Gate.io is trying to make its platform as secure as possible by implementing multiple additional security features to protect your account, including the fund password.
At the beginning of this article, you are going to learn what is the fund password and then we'll look at how to set it or possibly reset your fund password if you forget it. Let's dive in!  
What is Gate.io Fund Password
A fund password is an additional password that protects your funds from leaving your account. You are prompted to set one once you create your account. It is a different password that you use to log in. That's why it might be easy to forget it.
As the name might tell, it is used when you are trading or trying to withdraw your funds.
Once someone tries to do one of the password-protected activities, the fund password triggers a cascade of security measures that try to eliminate most of the malicious activities on your account. This include:
Yes, it's a pain. However, so many security features are needed to ensure you won't lose your cryptocurrency. After all, storing your assets on exchanges isn't as secure as hardware wallets, and crypto is still young, and many crypto scammers are very inventive.
Now that you know what the fund password is, let's look at how to reset it.
How to Reset the Gate.io Fund Password
If you forgot your funds password, it is a lot easier than resetting the trading password you can find on KuCoin. You can do it yourself from the settings. Let's see how.
1. Visit the "Security Verification" Setting menu
The first step is to log in to your Gate.io account and move your mouse to the profile icon in the top right corner. A new drop-down menu will appear, then select "Security Verification."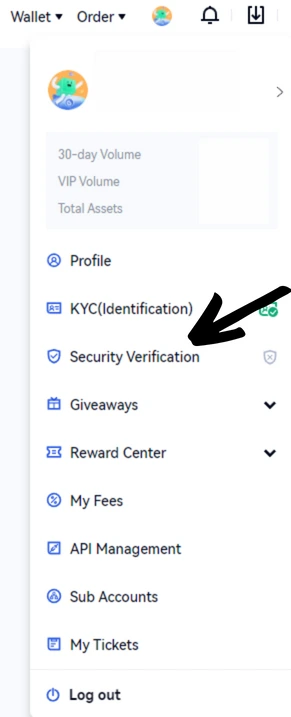 2. Click "Change" Besides the Fund Password Option
On the security page, you will see various settings regarding your account. Here you can change your Google authenticator, change your phone number, email address, and other things, including setting your fund password. Scroll down until you see "Fund password," and tap "Change" next to it.

3. Reset or Set a New Fund Password
Now you have two options. If you remember your current fund password, you can change it by filling in the windows and requesting an email code.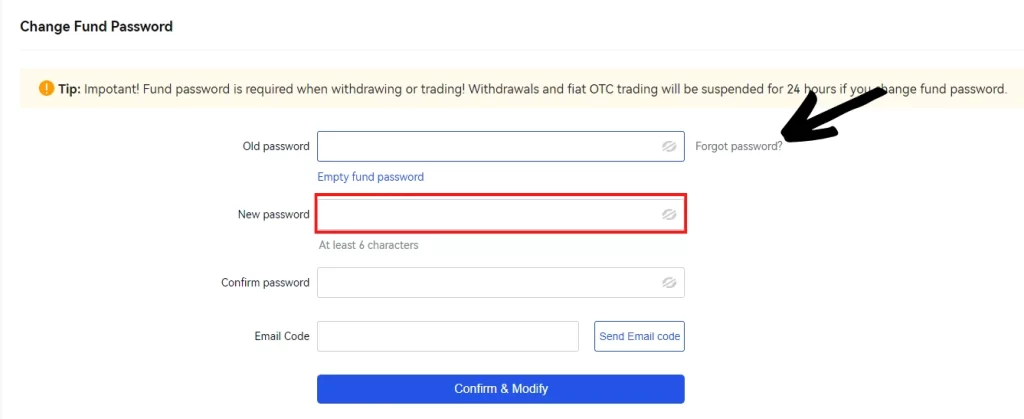 If you forgot your fund password, tap "Forgot password?" beside the first window. It will take you to a new page.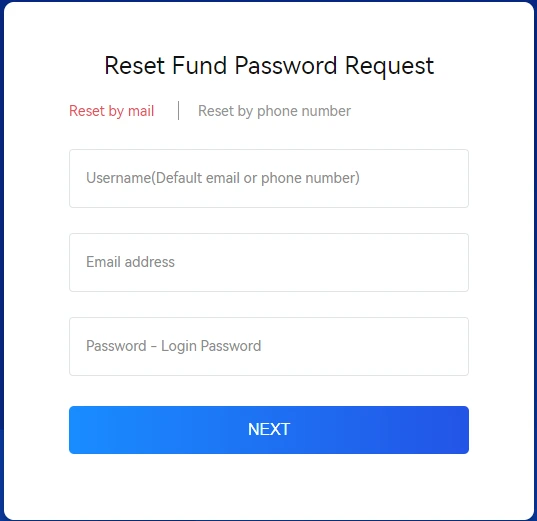 By filling in your email and login password, you can request a reset of your fund password. Once you tap "next," an email will be sent to your address with a reset link.
Conclusion
The Gate.io Fund Password is one of many security measures ensuring that no one but you can use your funds.
Gate.io will prompt you to set it once you open your account. Set something simple to remember but not simple to guess. E.g., a simple number sequence or using the same numbers as in your account password is not adequate. 
But if you happen to forget your fund password after all, you can easily reset it by filling out a simple form and entering your account password and email address.