Kraken is one of the biggest cryptocurrency trading platforms, with millions of users worldwide. Currently ranking third right behind Coinbase in terms of the trading volume.
But despite all the fantastic positive features, you might be looking for a way to delete your Kraken account.
If you no longer want to use Kraken to trade cryptocurrencies, this article will guide you through the process of How to Close your Kraken Account in just a few steps.
Unfortunately, there is no way to temporarily deactivate your account, as is common with other platforms such as Bybit. You should think this decision through, but let's look at the guide!
How to Delete your Kraken Account
There are two different ways you can take when closing your Kraken account. For the easier way, you will have to be able to log into your account.
But don't worry if you forgot your password or need to close the account for your loved one. Kraken, fortunately, provided a way to do that too.
How to Delete a Kraken Account without Password
To delete your account without knowing your login details, you must contact customer support through a special form.
This form can be accessed on their website. Here is the link.
Once you access the form, you'll see a few open windows for you to fill.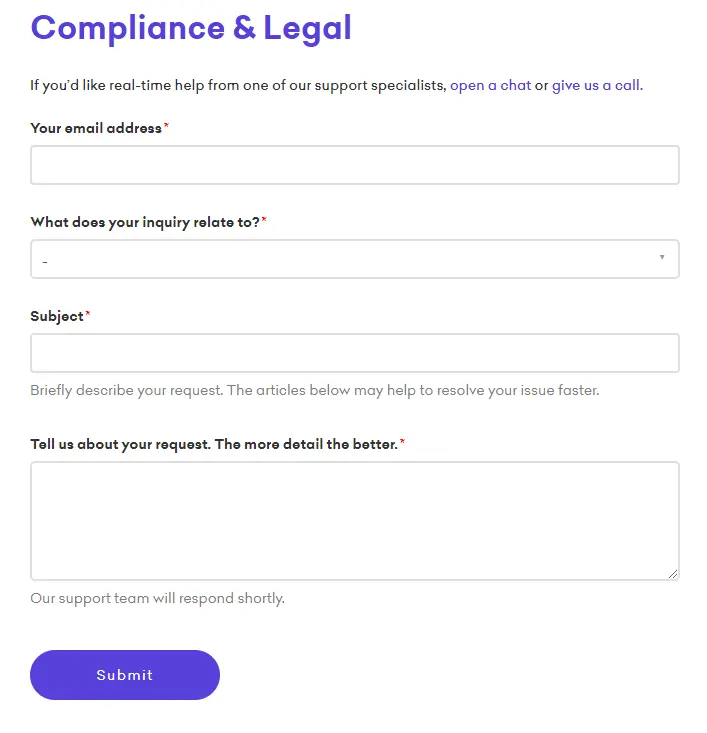 Now let's take a look at how to fill in this form.
1. Enter your Email address
First, enter your email address. Since you can't access your account, we hope you can still access your email.
Thus, enter the email address you used to open your Kraken account.
3. Select "Data storage"
You can select whether your request relates to Compliance or Data storage in the second window.

Select the second option since you want all your data Kraken stored deleted together with your account.
4. Enter the Right Subject Line
You should choose something that will describe your problem as your subject line.
"Account & Personal Information Termination Request" should be ideal; paste it in. This will make sure both your account and associated information are terminated.

Because Kraken not only collects account information but also personal information for other purposes, such as marketing.
5. Explain which account you want to delete
In the request, explain which account you want to close. Write something similar to:
I would like to request a permanent deletion of my Kraken account under the email address: example@gmail.com.
Apart from explaining which account you want to close, don't forget to include information about why you can't request it through your account. That you forgot your password and can't reset it because…
But no need to overexplain. Kraken's customer support will contact you with additional steps or information they require.
6. Wait for Customer Support to Get Back to You
Once you submit your Kraken account deletion request, you should wait for customer support to respond.
This might takes days, so don't worry that they forgot about you.
Once they get back to you, you'll be instructed to provide proof of identification. You'll need to send them your ID or another government-issued document that was used to verify your account. Once they verify that you are a person authorized to delete the Kraken account, your account will be closed, and all the stored data will be deleted.
How to Close your Kraken account with Password
To permanently close your Kraken account, when you can log into your account, the process is a bit easier. You need to click a few buttons and fill in a few details about your account, which will get your account deleted.
Since it's a lot easier process, it won't need separate chapters. Let's take a look at the steps!
Sign in to your Account
Get to the Support Center using this link.
Tap the "Contact Support" button, which can be found in the top right corner
Select the Submit a ticket request button.
Select General/Other as the request category
And finally, select the "Close Account" category
Once you get to the last step, you'll be asked to fill in some details about your account. If everything goes through correctly, your Kraken account will be closed in one to three days.
Can you create a new Kraken account after deletion?
Yes, you can! And you can also have multiple Kraken accounts at once. This is unique for a crypto exchange, allowing you multiple accounts.
This allows you to have multiple accounts for multiple trading strategies, one for your trading bot, etc. However, you can't link your accounts as sub-accounts. So you must deposit money into every one of them.
Conclusion
To permanently close your Kraken account, you'll have to create a new support ticket and wait for them to process your request.
If you still have access to your account, this process will be faster. Your account can be deleted without knowing the password, but you must confirm your identity.
Don't forget to withdraw all your funds and export trading history, if needed, and you are good to go!
Read Further
How to Permanently Delete Pi Network Account