KuCoin is one of the biggest crypto exchanges in the world, with millions of users worldwide. These users love minimal trading fees and the option to use KuCoin without completing KYC verification. 
Without KYC, your account is limited by a withdrawal limit set to "only" 1BTC per day.
However, if you lose your crypto without your account verified, there is not much you can do. That's why KuCoin has added multiple extra security features to protect your account. And one of these is the Trading Password.
At the beginning of this article, you'll learn what a trading password is, and then we'll look at how to set it or possibly reset your trading password if you forget it. Let's dive in!  
What is KuCoin Trading Password
Trading Password is a 6-digit number you set and is used to enhance the security of your account.
Before you dive into trading, you'll be asked to input a trading password of your choice. And remember it well because you'll have to enter it before every withdrawal, API change, and other trading-related activity. 
The trading password then triggers a cascade of security measures that try to eliminate most of the malicious activities on your account. This include:
Yes, it's a pain. However, so many security features are needed to ensure you won't lose your cryptocurrency. After all, storing your assets on exchanges isn't as secure as hardware wallets, and crypto is still young, and many crypto scammers are very inventive.
How to Set a New Trading Password
You can either wait till KuCoin starts asking for a trading password or create it through the settings. Here is how: 
1. Go to Account Security
The first step is to log in to your KuCoin account and move your mouse to your account initials in the top right corner. A new drop-down menu will appear, then select Account Security.
2. Click on "Configure" beside the Trading Password option 
On the security page, you will see various settings regarding your account. Here you can change your Google authenticator, change your phone number, email address, and other things, including setting your trading password.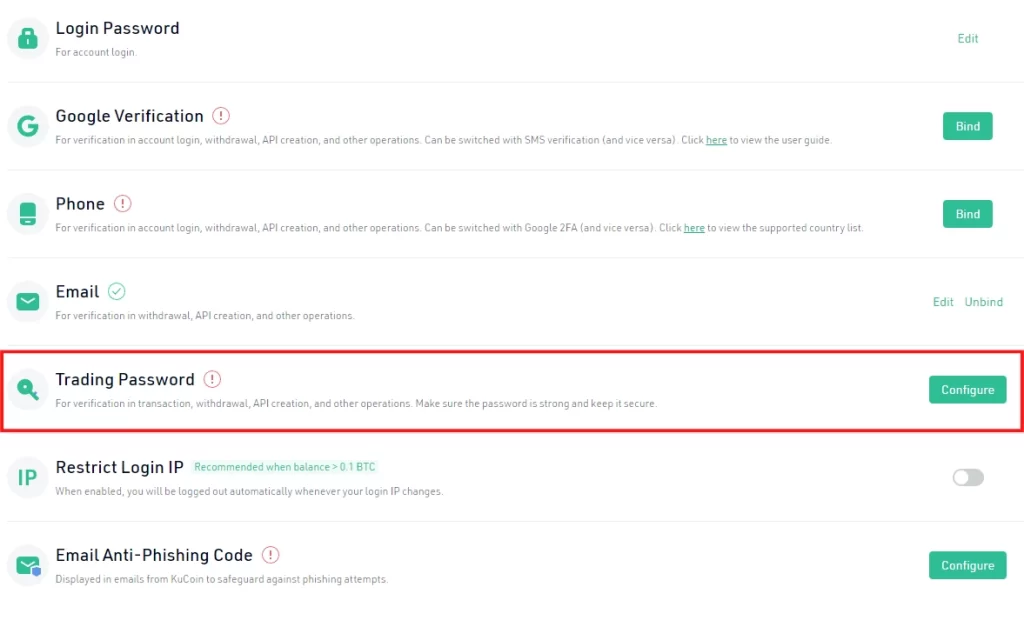 On the right side, next to Trading Password, select Configure. 
3. Enter an Email Verification Code
KuCoin will prompt you to enter a verification code from your email first.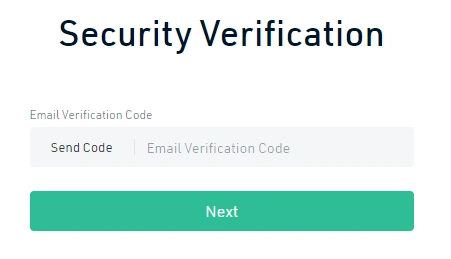 Open your email client and copy the code. KuCoin's emails tend to fall into the spam folder, so check there. If the code doesn't meet your email address, you can request the code again in 60 seconds. 
Please note that you must tap the "Send Code" button first; the code isn't sent automatically. 
4. Set your KuCoin Trading Password
Now enter the 6-digit code of your choice and confirm it.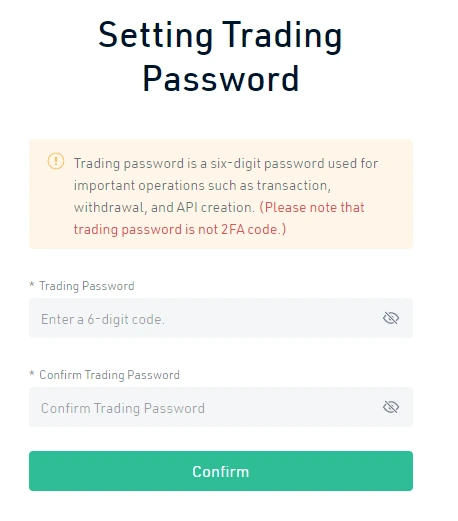 Your Trading Password should be something you can easily remember but not something totally obvious to guess – for instance, trading password "123456" would be totally inadequate.
Hit "confirm," and you are all set!
How to Change Trading Password on KuCoin
The process of changing your trading password is the same as setting a new one. Only instead of "Configure," your button in the settings will say "Change" or "Set." So refer to the steps above.
Also, when changing your trading password, you must know your old one. You'll have to confirm it first. But if you forgot your trading password, here is how to reset it:
How to Reset your KuCoin Trading Password, if you Forgot It
Did you forget the six-digit code you were asked to remember? Happens to the best of us. The good news is that it is easy to request a reset of your forgotten trading password; the bad news is that it can take days to reset as the staff has to check your identity manually.
When you are asked to fill in the code again, there will be a "forgot trading password" button in the bottom right corner. Tap it.    
You'll now be taken to a separate page consisting of two steps. Security Verification and Identity Verification. 
First, complete the security verification, which consists of entering an email verification code, sms verification code, and google verification, if you also have that set up.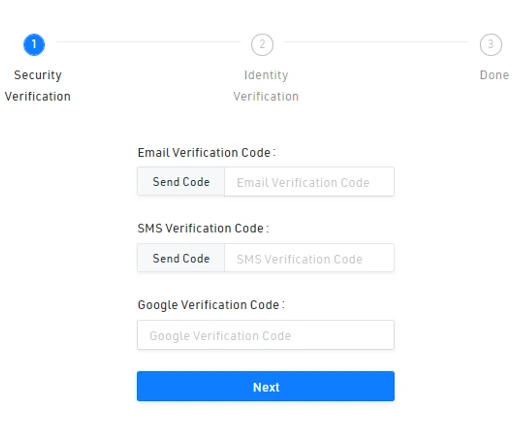 In the second step, you must enter pictures of yourself and your ID. It is important to enter the documents you used during the initial identity verification during KYC.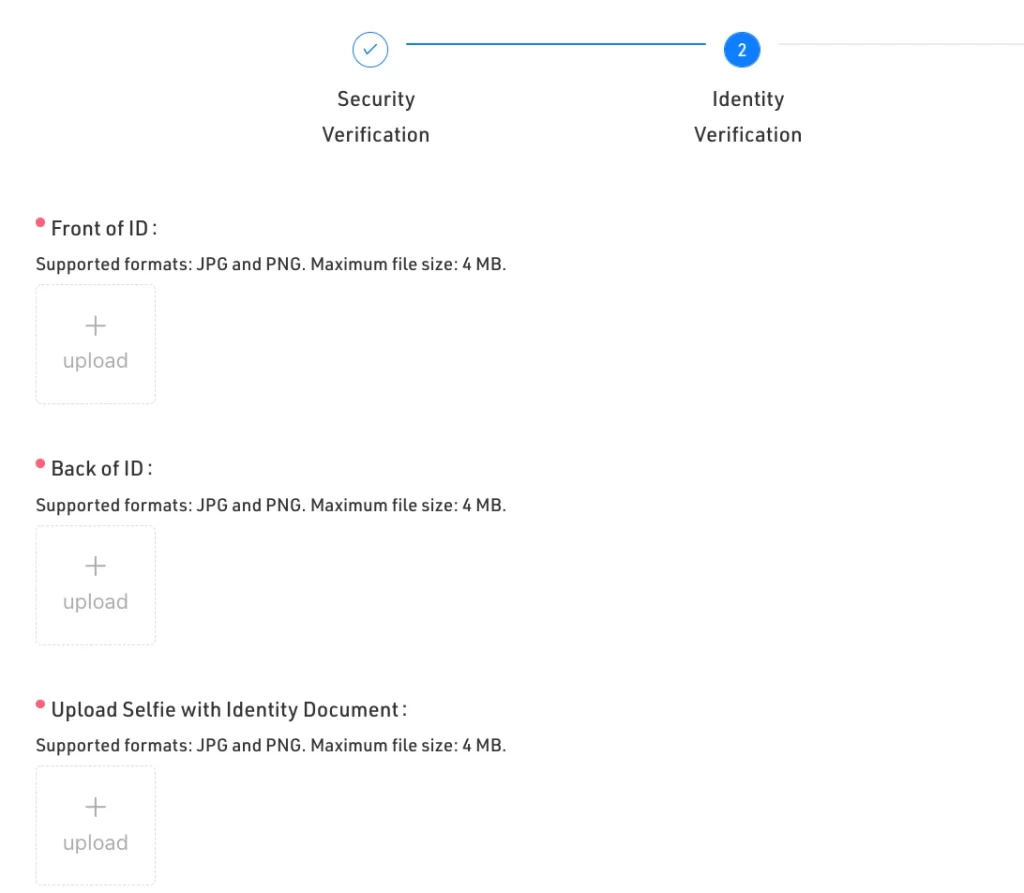 After resetting your trading password, your account will be temporarily closed for 24 hours. Thus, depending on how quickly Kucoin verifies your identity, your account may be closed for several days.
Conclusion
The six-digit KuCoin Trading Password is one of many security measures ensuring that no one but you can use your funds.
KuCoin will prompt you to set it once you start trading, or you can set it yourself using the account security menu. Set something simple to remember but not simple to guess. E.g., a simple number sequence or using the same numbers as in your account password is not adequate. 
But if you happen to forget your trading password after all, you'll have to confirm your identity and, in the worst case, wait a few days before using your account again.