Kava is significantly contributing to the advancement and growth of the DeFi industry and already charmed thousands of users around the world. 
By adding Kava Network to your MetaMask wallet, you'll be able to take advantage of all the benefits that this platform has to offer. This includes the ability to delegate your assets for up to 40% APY, as well as lending stablecoins for an additional source of income.
In this article, we're going to show you how to add the Kava network to your MetaMask wallet with just one click using ChainList. But don't worry, if you do not fancy connecting your wallet to third-party services, we'll also give you Kava RPC and chain details, so you can do it manually.
What is Kava?
Kava is a decentralized blockchain platform that leverages the speed of Cosmos with the developer capabilities of Ethereum.
This results in a highly scalable network that simplifies the deployment of applications for developers. That's also why there are already over 100 dApps built on Kava
That means that the Kava network is highly scalable and provides an easy way for developers to deploy their applications, as it's built with the same language as ERC20. That's also why there are already over 100 dApps built on Kava. And Kava raised $750 million for developer incentives. 
Kava features a native governance token called KAVA, which can be staked. Validators and delegators are rewarded with 37.5% of all KAVA emissions for securing the network. 
It's also a governance token that gives its holders the right to vote on governance proposals.
How to Add Kava to MetaMask
In this first method, we'll add Kava to MetaMask manually, using Kava Mainnet details. If you are doing this for the first time, you'll need roughly two minutes of time.
But the advantage of doing it manually is that you do not connect your wallet to any external service. Let's take a look.
Step 1: Unlock your MetaMask Wallet
The first step is to open the extension and enter your password to unlock your wallet.
If you have forgotten your password, you can reset it as long as you know your seed recovery phrase. 
Step 2: Set Up Kava Network on MetaMask
Once you successfully accessed your wallet, click on the network selector at the top of the extension.
This will bring down a new menu including all your available networks and a "Add network" button to add a custom network, like Kava. Tap that.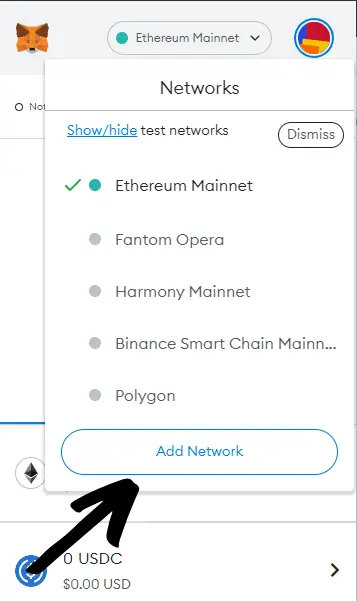 A new window will pop up where you need to fill in the network details. This includes the network name, RPC URL, which is like a communication point for blockchain data, Chain ID, Currency Symbol, and block explorer URL.
You also have two options here.
If you want to familiarize yourself with the Kava network first, you can import testnet. Testnet is a test environment for users and developers to test out new features, applications, and smart contracts without risking real cryptocurrency on the main network.
Simply said, you will get a free, worthless version of KAVA on the testnet to play with. If you want to find out more about testnets, you can check our guide.
However, in most cases, you'll want to import Mainnet, a fully functional, deployed version of the blockchain.
Kava Mainnet RPC Details
Network Name: Kava EVM Co-Chain
New RPC URL: https://evm.kava.io
Chain ID: 2222
Currency Symbol: KAVA
Block Explorer URL: https://explorer.kava.io
Kava Testnet RPC Details
Network Name: Kava EVM Testnet
New RPC URL: https://evm.testnet.kava.io
Chain ID: 2221
Currency Symbol: KAVA
Block Explorer URL: https://explorer.testnet.kava.io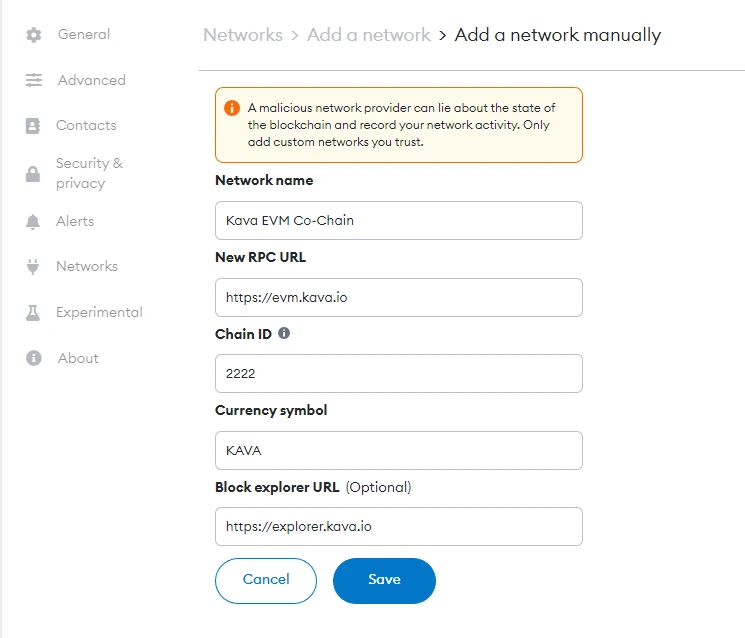 These details can be found in the official Kava guide, here.
And after hitting "save," KAVA will be imported to your MetaMask as a custom network.
Add Kava to MetaMask with One Click Using ChainList
Kava, like any other EVM-compatible blockchain, is included on ChainList, which collects all of the RPC details for easy importation of networks. It collects all of the RPC details and allows users to easily import networks to their MetaMask wallets.
To have your network imported automatically, with just one click, go to Chainlist.org. Once there, connect your wallet using the connect button in the top right corner.
Next, enter "Kava" into the search bar.
Locate the right network and tap "Add to MetaMask" under it. With that, the verified Kava Mainnet information will be added to your extension.
Bottom Line
The Kava network has the potential to bring significant improvements to the crypto industry.
As a standalone blockchain, it offers a unique set of features by combining the best from Cosmos and Ethereum networks.
To integrate Kava with MetaMask, you can add it as a custom network by manually entering the RPC details or using Chainlink to import it automatically.
Once added, you can easily transfer tokens between wallets or bridge your Kava tokens back to Ethereum. This makes it convenient for users to access their tokens on either network without any hassle.