Maybe you are looking for a way how to send AVAX from Binance to Metamask to deposit it to your favorite Play-to-Earn game built on Avalanche. Or you just want to have your coins saved somewhere safer than on an exchange, but don't own a hardware wallet (which you can also build from any USB stick you got at home). 
For whatever reason, you want to send AVAX from Binance to Metamask and vice-versa this guide is right for you. 
In this article, we will look into how to send AVAX from Binance to Metamask either via the BNB chain network or via the AVAX C-chain network. Let's get to it!
How to send AVAX from Binance to Metamask
Go to FIAT & Spot wallet in Binance
First thing first have both your wallets ready. Metamask wallet can be created within seconds following this guide. And Binance is also very easy to create but more time-consuming since you have to complete KYC (Know your customer) verification. But I suppose you have your Binance wallet ready since you are looking for a way to send crypto from Binance to Metamask.
Now in the Binance app, tap on the small wallet icon in the top right corner and go to "Fiat & Spot." The Spot wallet is the only one you can withdraw from. Thus, If you have your AVAX in for example Margin wallet, you will need to transfer it to Fiat & Spot and then proceed to withdrawal.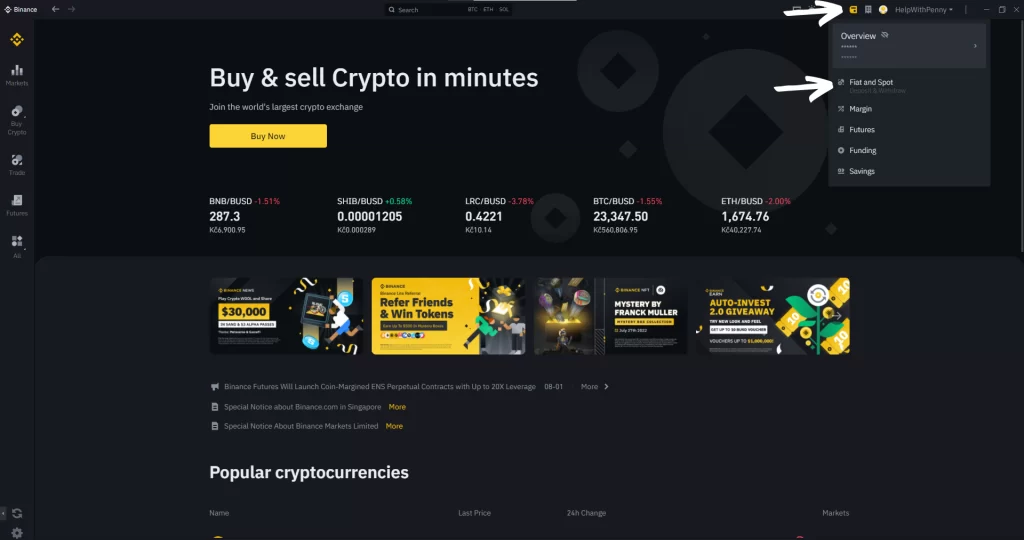 Fiat AVAX (Avalanche) in the asset list
You will now be able to see the asset list, featuring all crypto coins and tokens you own, but also all the cryptocurrencies available on Binance. In the given search bar, search for AVAX or Avalanche.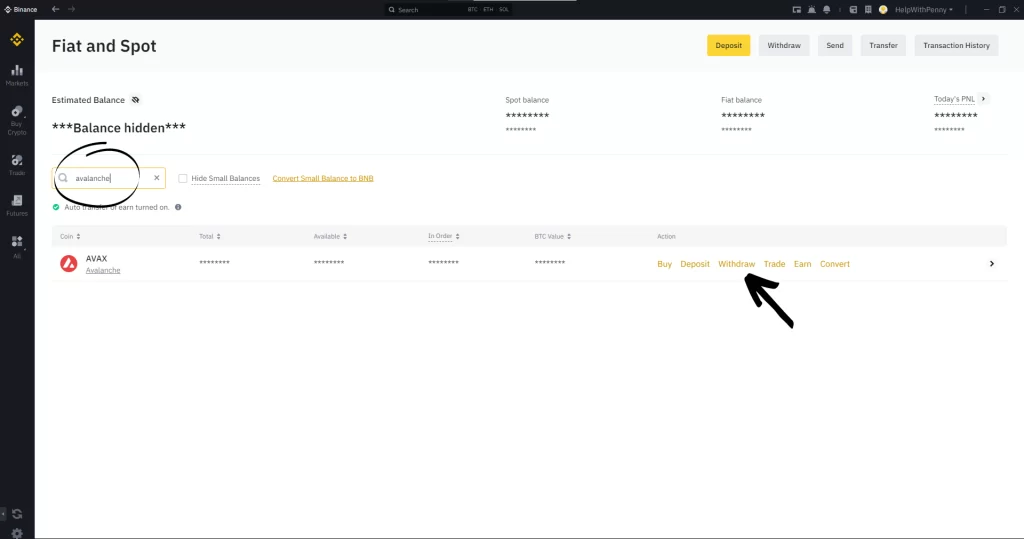 Once you've located AVAX, you can notice the withdrawal option immediately away. Now tap "Withdraw". 
Fill in transaction details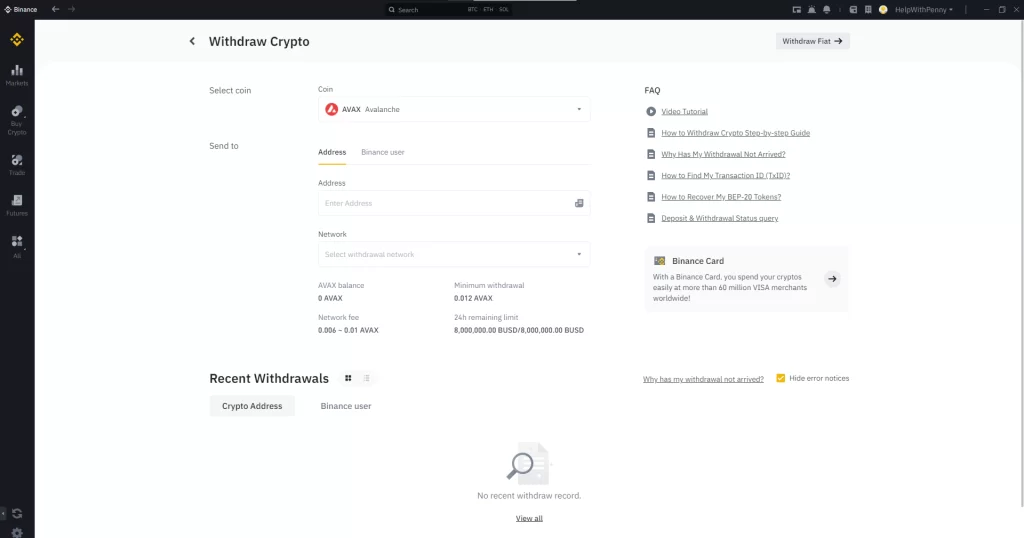 To send AVAX from Binance to Metamask you will need to fill in this small window that popped up. Now it is time to go to your Metamask wallet extension and copy your address. All your assets on Metamask share the same address.
No need to stress about changing to the right network just now. Just go ahead and copy it. I will show you have to add the Binance Smart chain network or AVAX C-Chain and AVAX to Metamask in just a second.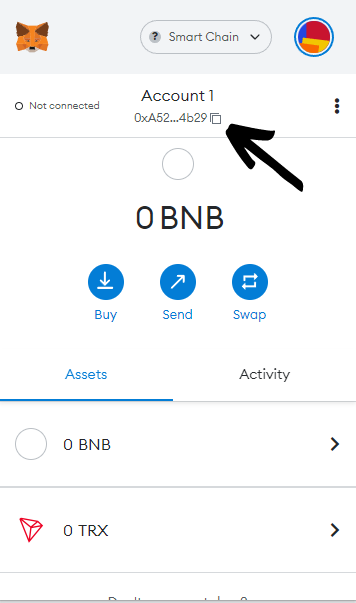 Select network
As for the network, here you have two options. You can either select BEP-20 (or Binance Smart Chain network) or AVAX C-Chain as a network. But you cannot select AVAX native network.

Why is that? Since Metamask is an Ethereum-based wallet, it can only hold Ethereum-based tokens. And BNB chain and either AVAX C-Chain are built with the same programing language and are quite similar to the Ethereum one, thus it can be added to Metamask.
Select the network according to your needs. For example, if you want to use your withdrawn AVAX to any Play-to-Earn game, select the network according to the one that the game deposit system allows.  
You can find a guide for adding both Binance Smart Chain and AVAX C-chain here.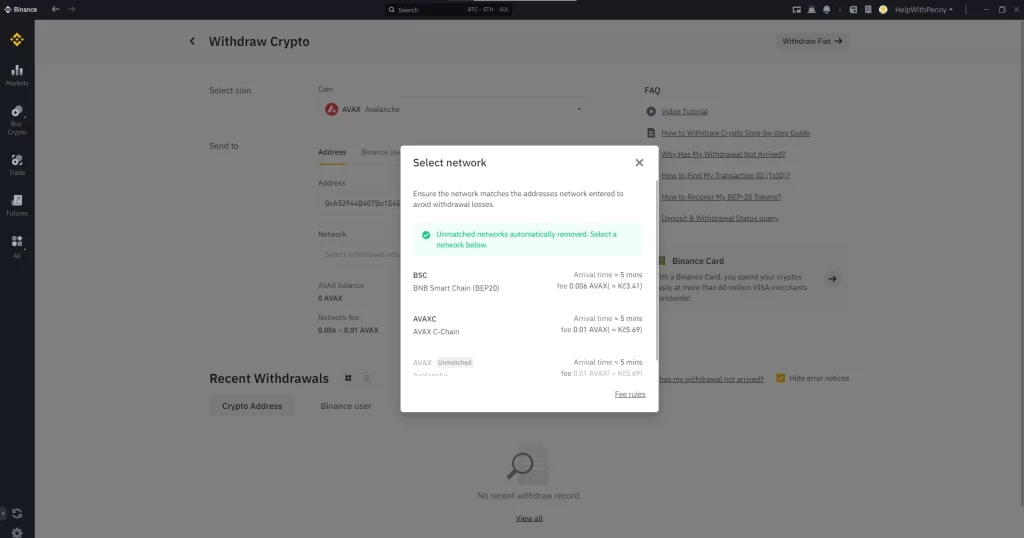 Withdraw AVAX from Binance to Metamask
After you have selected your network the last step is to enter the amount of AVAX to withdraw from Binance and click withdraw. The minimum amount to withdraw AVAX from Binance is 0.012 AVAX.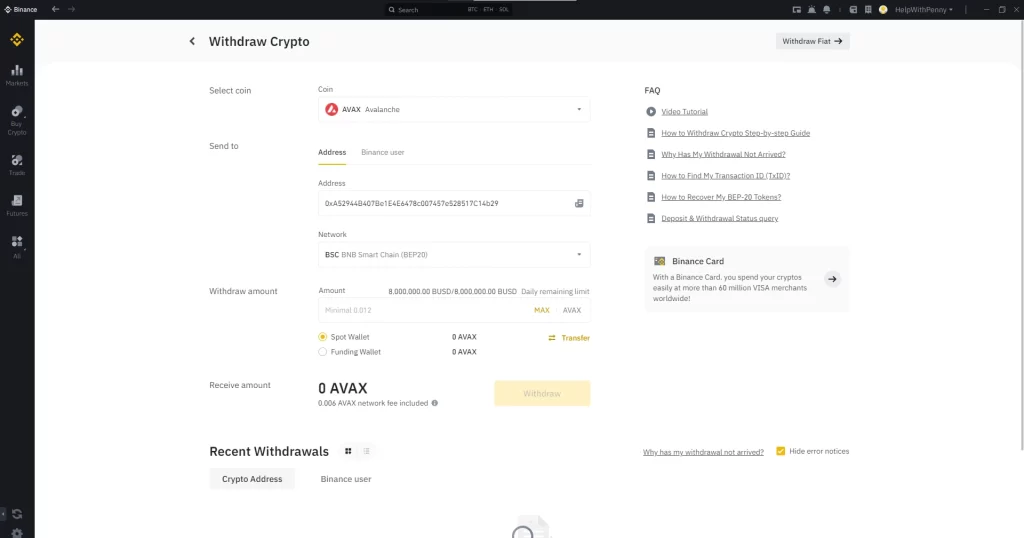 Metamask requires 15 confirmations to add the tokens to your balance. This can take some time, no need to panic if your transaction is taking a little longer than a few minutes. If you are wondering why is your transaction taking so long there might be a few reasons which you can read about in this article. 
In the meantime, you want to add the BNB chain to Metamask and also add AVAX as a custom token to Metamask. To add AVAX to Metamask simply copy the contract address from the CoinMarketCap and paste it into the "Import tokens" option inside Metamask while having Binance smart Chain selected. How to guide for both adding a BNB chain, AVAX C-Chain and a custom token can be found here. 
How to send AVAX from Metamask to Binance
Find AVAX in the asset list of Fiat & Spot wallet
The first few steps are pretty similar to the process of sending AVAX from Binance to Metamask. Find the Avalanche coin in the asset list of the Spot wallet and instead of "Withdraw" hit "Deposit".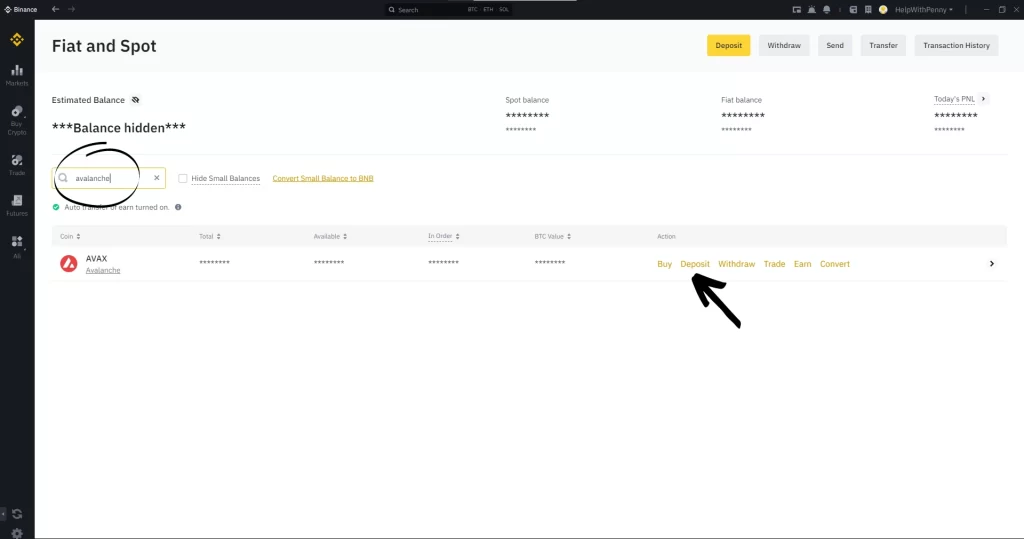 Fill in transaction details and select network
You will see a similar table as in the previous example. But first, we need to select the network through which we will deposit our AVAX. Again select either the BNB chain or AVAX C-chain, depending on which chain you have your AVAX tokens stored inside the Metamask.
If you happen to make a mistake it's not such a big deal. Since in Binance both addresses are identical. So as a result you can choose any network from these two.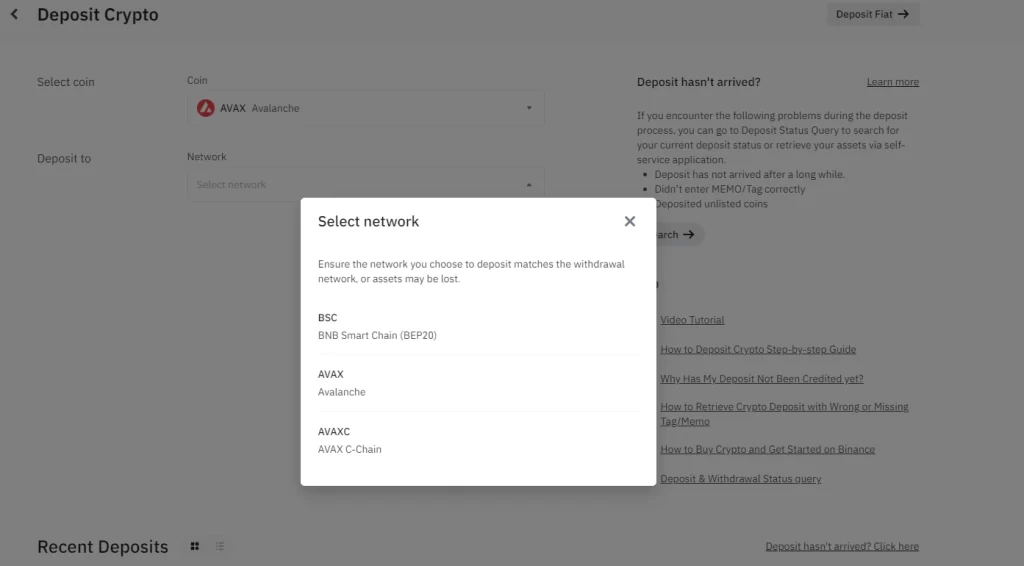 Send AVAX from Metamask to Binance
Copy the address Binance gave you. Launch your Metamask extension and change the network to BNB chain or AVAX C-Chain, to whatever you have your AVAX coins on. Now select AVAX from the asset menu in Metamask.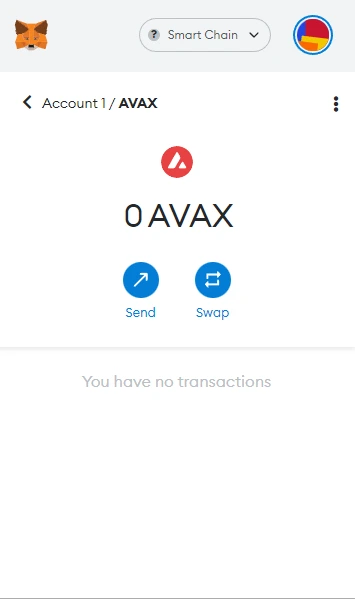 Tap "send" inside Metamask and paste the wallet address you have copied in Binance in order to send AVAX from Metamask to Binance.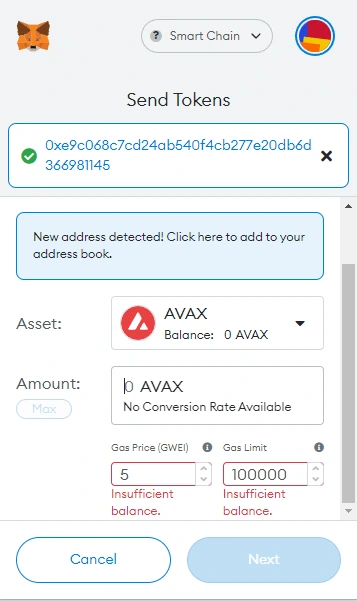 This table may scare you a bit. But no need to worry. Just fill in the amount of AVAX you wish to send from Metamask to Binance and keep the rest as it is. Here you can set different gas rules if you wish. But if you do not know what you are doing it is now recommended. Changing this may result either in paying a huge amount on gas fees or your transaction won't even get sent because you set the gas limit too low.
Now what's left is the same as with sending AVAX from Binance to Metamask. Waiting for the 15 or 12 network confirmations, depending on what network you chose.
After the transaction is confirmed you will see your new AVAX balance in the Spot wallet, to which we were depositing. 
Conclusion
Sending either AVAX from Binance to Metamask or sending AVAX from Metamask to Binance is a straightforward task. The transaction time for Avalanche is approximately 5-15 minutes depending on various factors. You can monitor your transaction on a block explorer: BNB chain explorer & AVAX chain explorer.
After you have obtained your AVAX to Binance you can easily convert it into the FIAT currency of your choice. Or to any other crypto coin, as on Binance, there are a lot of different trading pairs for AVAX. To find or check a full transaction history of your Binance account you can check a guide here.
The only thing that may surprise you a bit is the choice of network you send AVAX over. Always match the two networks – senders network with receivers network and you should be fine.