To properly close the year 2022, MetaMask launched its own bridge aggregator to help you find the best route to move your tokens from one chain to another.
Bridging offers a solution to bring all your tokens together. However, not all tokens can be bridged smoothly. Sometimes you have to work your way through a number of dApps to find the one that offers the combination of networks you need.
MetaMask solves this issue by offering this service right in your wallet.
This article will introduce you to the MetaMask bridge and how to use it to find the cheapest bridging route. Let's dive in!
What is a Blockchain Bridge
At its core, a blockchain bridge serves as a decentralized link between two or more separate blockchain systems, allowing them to communicate and exchange data with one another in a secure and transparent manner.
The key advantage of blockchain bridges is that they enable the transfer of assets and tokens across different networks without the need for third parties that would exchange them.
This means that you can seamlessly access and utilize the features and functionalities of multiple networks.
This means, for instance, that you can use a token on one application using chain A, then bridge and use the same tokens on a second app that uses chain B.
How to use MetaMask Bridge
The bridge is accessible through MetaMask portfolio dApp.
The portfolio app offers a simple overview of your holdings and gives you multiple options to utilize your tokens. You can buy, swap, bridge, or stake your tokens there.
As the MetaMask Bridge is currently in beta version, it offers only four networks between which you can bridge your tokens. The available networks are:
Ethereum
Avalanche
Binance Smart Chain
Polygon
In terms of tokens, this beta version currently supports bridging of up to $10,000 per transfer of common stablecoins and native gas tokens. Now, let's take a look at how to use it.
Step 1: Unlock your MetaMask Wallet
First thing first, open your MetaMask extension from the downloaded extensions in the browser and unlock it using your password.
In case you have forgotten your password, you can reset it as long as you know your seed recovery phrase. 
Step 2: Visit MetaMask Portfolio dApp
The second step is to visit the portfolio application.
For some weird reason, there is no shortcut button located in the wallet extension. Thus you'll have to visit the website manually by searching for MetaMask portfolio or opening this website: portfolio.metamask.io
Your wallet should automatically connect to the dApp, and you should land on the portfolio overview page.
What's really good is that this portfolio app, apart from showing your holdings, also has a tab for browsing your NFTs. But that's for another time.
Step 3: Switch to Bridge
You can see all the available applications in the left pull-out menu.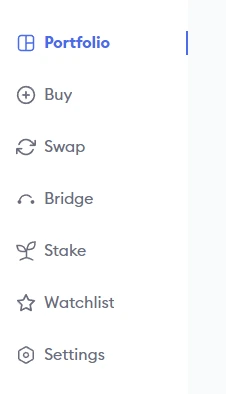 Since you want to bridge tokens using MetaMask, select "Bridge."
Step 4: Select the Network you are going From and To
Once you get to the bridge page, it will look something like this: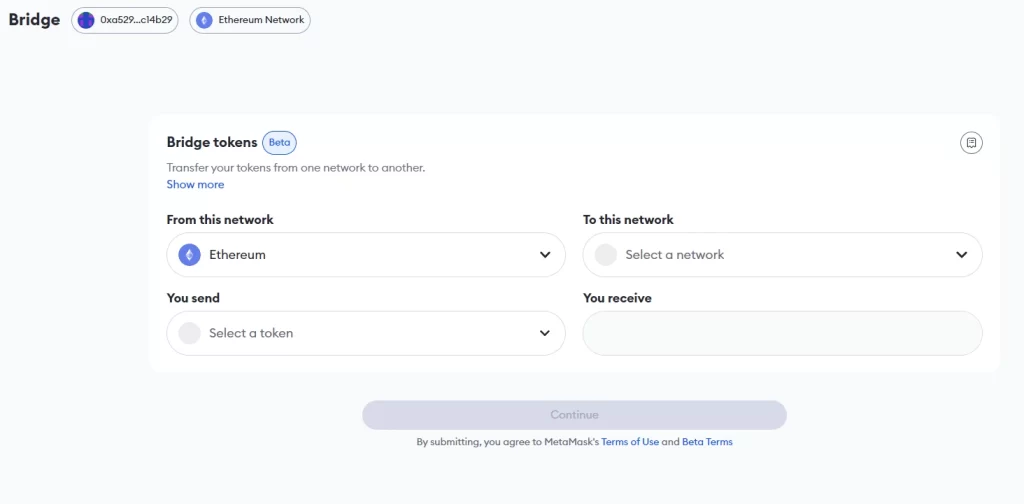 If we go through the screen, you can see in the top right corner there is the currently selected MetaMask account and currently selected network.
You should change your account now to the one you want to bridge. But you can leave the network setting for now, as the app can change it automatically if it happens that you have the wrong one selected.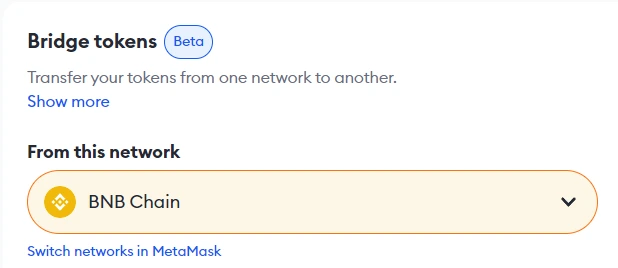 You can tap the "Switch networks in MetaMask" button, and it will open the extension for you, asking for approval.
If we move to the bridge tokens window, you can select the "from" network and the "to" network here.
Here you can select one of the four currently available networks: Ethereum, Avalanche, BNB Chain, or Polygon.
Step 5: Select the Token you Wish to Bridge and the Amount
Now, under the network selector, select the token you want to bridge.
For instance, you might be looking to bridge USDT from the ETH network to the Polygon network.

Don't forget to fill in the amount and leave a bit of room there for gas fees.
Step 6: Select a Bridge Provider
MetaMask is directly integrated with multiple bridge aggregators to offer you the best bridge routes. That's a great way to save some money.
By clicking continue, MetaMask will show you the cheapest aggregator first.

You can tap that little arrow on the right side to view the overview of the transaction. There you can read what the estimated gas fee is and what is the total amount you have to have in your wallet in order to proceed.
If you don't like that provider for some reason, you can tap the "Choose a different quote" in the top right to select one from the remaining options.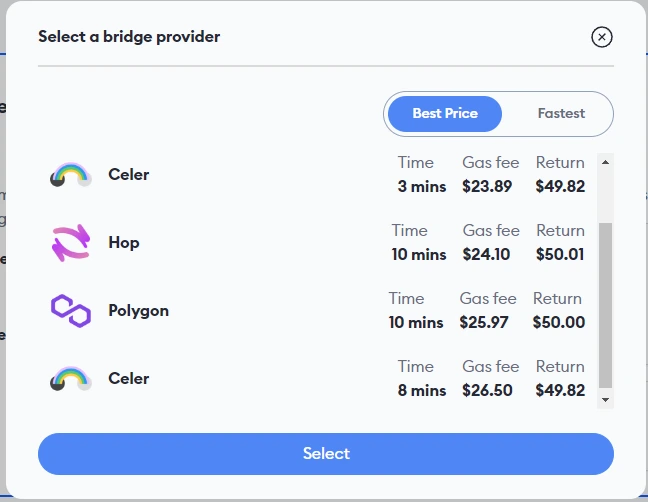 These providers vary in gas fees but also in transaction time.
Step 7: Confirm the Transaction
Once you set the correct tokens to bridge using MetaMask and chose the right bridge provider, you can move to confirm the transaction.
You'll need to sign the transaction and then carefully wait until the bridging process is finished. This will probably take around that estimated time, and rarely take longer. You can also watch the process using a block explorer.
Don't forget that you'll receive your tokens on the second chain. So make sure to switch networks in MetaMask and verify that assets are present. You might possibly need to add the tokens on the second network to be able to see them.
Conclusion
MetaMask Bridge is a great addition to this already very powerful non-custodial wallet.
It enables you to seamlessly move tokens from one network to another while paying the lowest fees possible.
But unfortunately, this beta version only features four networks now. But we can indeed look forward to more being added soon!