We can all agree that any account verification can bring trust and recognition to your personal brand or to you. And that's no exception on OpenSea.
The top projects and NFT creators on OpenSea are always verified and easily recognizable among others. So why not get this verification blue checkmark for yourself on OpenSea too?
In this guide, you'll learn how to get your profile and collection verified on OpenSea, so you can level up your entrust.
Why Consider Getting Verified on OpenSea
Why should you even care about OpenSea verification?
First, if you're an NFT creator, you'll more likely sell your NFTs. Having the blue checkmark, OpenSea says that you're an authentic creator and the content belongs to you.
You can either verify your profile or your collection.
A blue checkmark beside your profile name means that your account has been verified for authenticity.
And a verification checkmark on a collection means that the collection belongs to a verified account and is somewhat really interesting or performs greatly in sales.
Additionally, you might get far better deals and have your bids accepted even at a lower price.
OpenSea Account Verification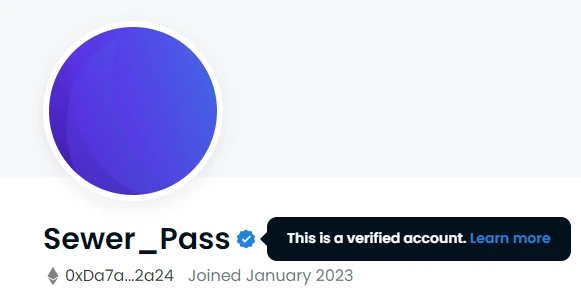 Collection verification is open only to verified creators, so let's check the requirements for getting verified for your individual account and how to apply for it.
Account Verification Requirements
To be eligible for account verification, you have to own a collection with at least 75 ETH of volume sold
Your OpenSea account must be fully configured with a username, profile picture, and verified email address.
You must have a connected Twitter or Instagram account.
You also must obey OpenSea rules and not previously violated the terms of service.
Finally, getting your account verified on OpenSea requires a bit of luck. As OpenSea's customer support team carefully examines each profile and application.
But you can push your luck by having your connected accounts (Instagram and Twitter) verified or having a long and busy trading history with OpenSea.
Also, note that OpenSea reserves the right to decline to verify an account for any reason or offer the verification even to accounts that do not meet certain criteria.
How to Apply for Account Verification
Once you meet all the criteria, OpenSea will send you an email, or you can see a "Apply for verification" banner on your profile page.
Once you tap it, you'll be redirected to a short form to fill out.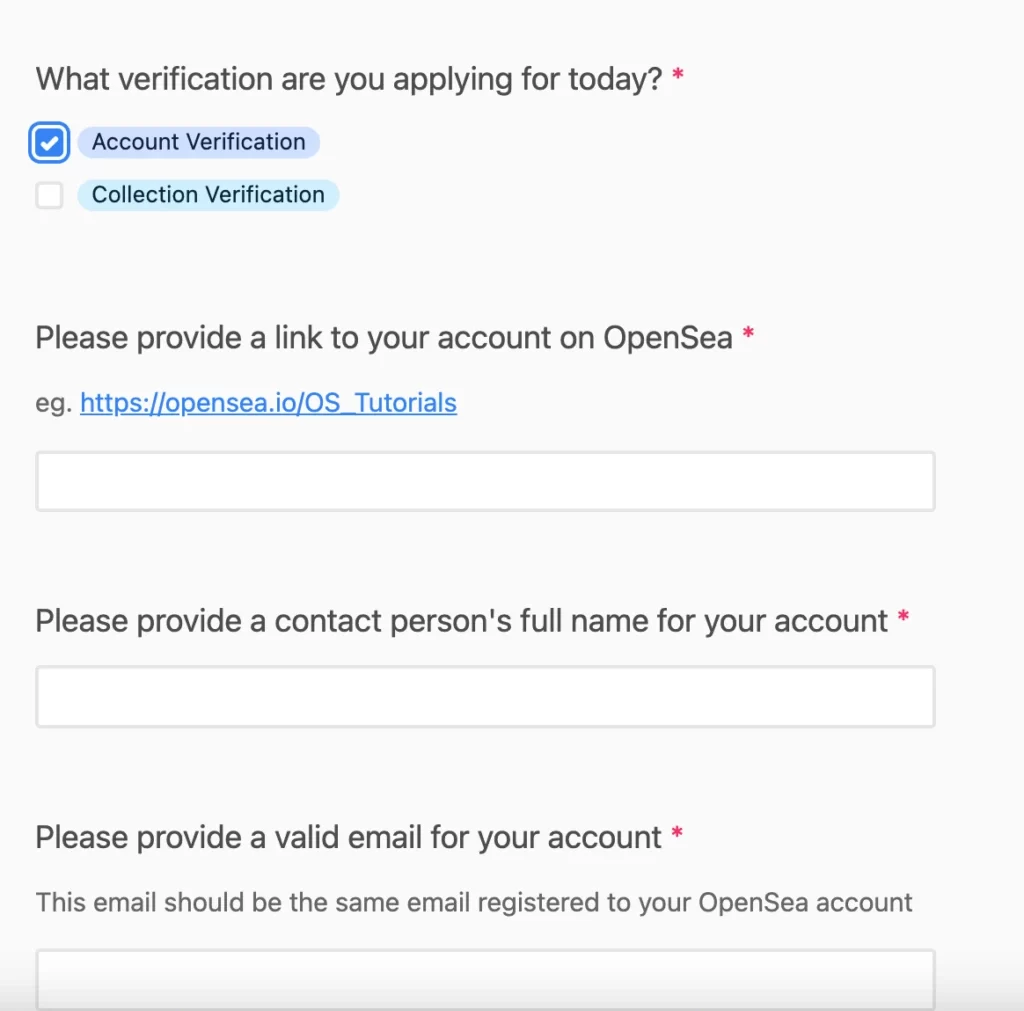 After submitting, your application will be handed over to the support team, which reviews your request within seven days.
The mandatory information, like connected social profiles or username and profile picture, will be locked for security purposes once your account is verified. If you wish to change them, you must contact the support team.
Additionally, having your OpenSea account verified doesn't mean that you no longer need to obey the rules. If you violate the terms of service or if you no longer meet the eligibility criteria, you can lose your verified status.
OpenSea Collection Verification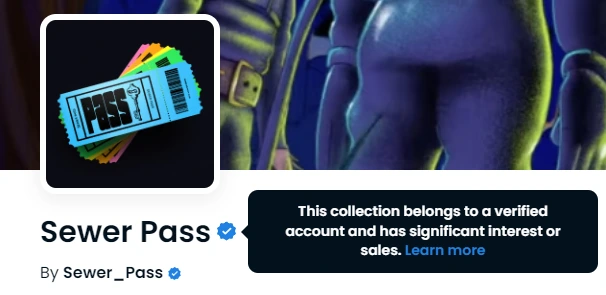 A collection verification has slightly different requirements and also serves another purpose, as was discussed at the beginning.
Eligibility for Collection Verification
The requirements for collection verification on OpenSea are slightly modified and include the following:
A collection that belongs to a verified creator must have at least 75 ETH of volume
Your collection must also be fully configured with a title, banner, and logo.
Your connection must have a connected Twitter account or Discord server. This usually means a different profile than your creator's.
All collection items must be minted. So you can't use the lazy minting, that doesn't cost any gas fees.
Finally, you must prove that the work is original.
However, as with profile verification, it requires a bit of luck. Compliance with these requirements does not guarantee that your collection will be verified.
How to Apply for Collection Verification
To apply for the verified badge, navigate to your collection page and tap the pencil icon to start editing your collection.
Then scroll down until you find a "Apply for a collection badge" heading and tap that. You'll then see all the criteria once again, and if you meet all of them, you can request a collection verification.
OpenSea's support team will review your request, and you'll get a response within seven days.
As with profile verification, OpenSea reserves the right to decline any application for any reason.
Also, note that OpenSea can't verify collections that are strongly inspired by existing verified collections.
How to Get Around OpenSea Verification Requirements
There are some cases where OpenSea will offer you to get either your account or collection verified. These are cases where you don't need to comply with one or more standard requirements. Typically you don't need to have 75ETH plus in trading volume.
This include:
Collection and account verification that have a high risk of impersonation
New collections created by existing verified accounts with an existing verified collection
Collections and accounts with over 1 million social media followers
Collections from accounts that have an official partnership with OpenSea. Partners are usually great personalities or companies like Coca-Cola, Reddit, or Mike Tyson.
Conclusion
To get the little blue checkmark beside your name or the name of your collection, you must meet a number of requirements.
Once you become eligible, you can apply for verification, and the support team will review your application within seven days. However, meeting the requirements does not guarantee that your account or NFT collection will get verified. As OpenSea reserves the right to decline an application for any reason.