When I first started playing around with crypto, I was too afraid to actually invest in it, so I started with crypto faucets. And CoinPayU was one of the first crypto faucets I used regularly. My first withdrawal from the site was 115 DOGE in January 2021.

I was with CoinPayU nearly from their start. And over time, it helped me to shape my opinion on this multi-coin faucet website.
And well, the fact that CoinPayU currently has nearly 5 million users worldwide can give you a hint that this faucet may be onto something.
You can watch four different ad types for crypto, complete offers, claim faucets, or even unleash your creative soul and write articles. If your article is cool enough, you can win up to 60,000 satoshis, and this contest repeat quarterly.
In this CoinPayU review, we'll take a closer look at all the features this platform has to offer and also give you some tips on how to maximize your earnings.
What is CoinPayU
CoinPayU is a Paid-To-Click (PTC) site that will reward you for viewing ads.
If you're new to this concept, PTC sites work something like this:
You click on an ad.
This ad is usually a website. It's not a video ad, it will essentially open a website.
A timer will start running, usually from 10 to 60 seconds long. You don't need to be active on the site, just have it opened in an active window.
Once the timer is over, you're rewarded.
It was launched back in 2019 with the mission of "Freedom to crypto for people from worldwide." And since then, it grew substantially.
Similarweb, an online tool for website analysis, estimates that it gets over 11 million views every single month. But we can get more accurate numbers from the CoinPayU homepage, which reports nearly 5 million users who get paid nearly 2 million times. Not bad.
How to Earn on CoinPayU
There are multiple earnings opportunities that CoinPayU offers. Most of them are based on the same principle.
But all the options are open for everyone, but they differ a bit in how much money you can make. These include:
Watching paid ads in 4 different formats
Completing Offerwall and Surveys
Claiming faucet once an hour
Claiming Airdrops
Writing stories for competitions
Let's now review every one of these options separately.
Paid Ads
CoinPayU is a PTC site, so watching ads is the main earning opportunity you got. It certainly pays the most and consistently.
But one important thing to keep in mind before we proceed further. Don't make wrong assumptions that you'll make thousands of dollars a month. There's no crypto faucet or PTC site that can do that for you. It still requires a lot of patience.
On CoinPayU, there are four different types of ads you can watch: Surf ads, window ads, article ads, and video ads.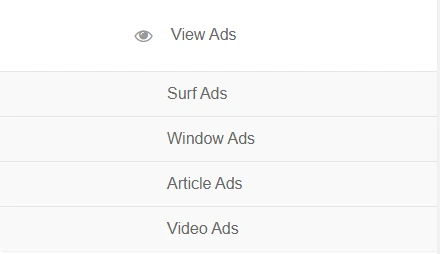 Both surf ads and window ads will take you to view a certain website. With article ads, you'll be taken to read some articles, and video ads are, well, video ads.
Simply click on the ad type you want right now, and you'll be taken to a list of all available ads.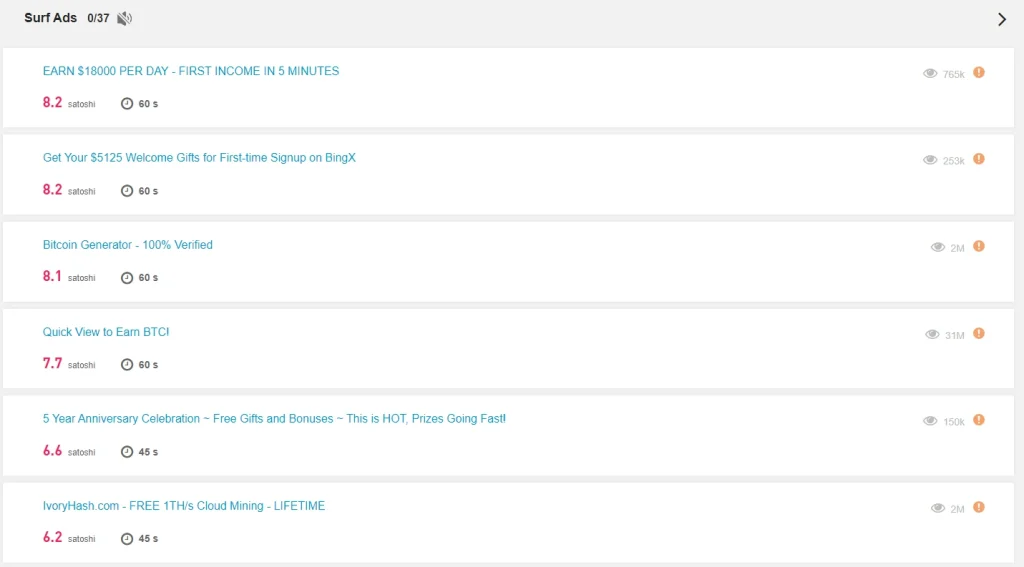 You can see how many ads are available for you today, how much you will earn for viewing the ad, and how much of your time it will take. On the right side, you also see how many people have already seen the ad, and you have the option to report the ad for whatever reason.
You won't usually need to report an ad. As there are thousands of people viewing the ad before you, a malicious ad won't usually last long. But it happened to me a few times that the ad started downloading a file without asking, and that was a great reason for a report.
Surf Ads are great to click away when you are still busy. With this type of ad, you don't have to be on the website for the countdown to run. You can just open any surf ad and switch back to whatever other tab you want.

The timer is running on the CoinPayU page, not on the ad page, so you'll know when the timer has finished, and you can just close the ad window.
With Window ads, it works a bit differently. You're still viewing a webpage, but the website needs to stay in an active window. There will be a progress bar running at the top, and once it's over, you can close the page.
You can actually game the system if you got two monitors. The way window ads work is they 
track whether your cursour is on the page. If you have two screens, you can put CoinPayU on 
the second one, watch an YouTube or even write your essay on the first monitor and just keep 
your cursor howering on the ad page.  
There are not usually many article ads available. Article ads only show official articles from the CoinPayU team or partnered companies. You don't have to read it through, just stay on the page for 15 seconds to collect the reward.
And last ad format is video ads. It works similarly to surf ads. Choose an ad, and it'll open a YouTube video for you. The timer is running on the CoinPayU window, so you can freely click away or pause the video and just wait for the reward to collect.
Among these four types of ads, surf ads are the easiest to complete. This type also has the most ads available for you every day. But even though other ad types usually do not pay more.
Surveys and Offerwalls
CoinPayU is also partnered with other platforms to give you the most earnings options. Offerwalls are basically online platforms companies use to get their app or service in front of more people.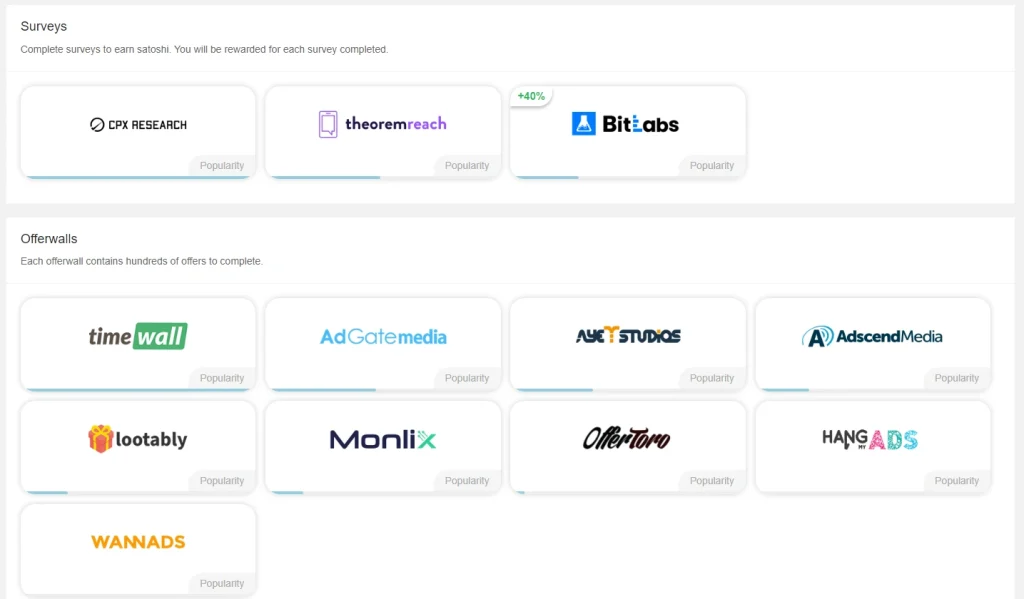 You can choose from a few different offerwalls. Once you open the one you want (or all of them), you'll see a bunch of offers you can complete and the reward you'll get.
These tasks will usually take you a bit more time than just a few minutes. Most of these offers will ask you to download a mobile game and play it to a certain level or register for some paid service.
On the other hand, these tend to pay very well compared to watching ads. For instance, 4.5k satoshis for signing up for an HBO Max plan.
In my opinion, it's a good strategy to monitor these offers every now and then and take any offer that you can complete.
CoinPayU Faucet
This is a relatively new addition to CoinPayU. With this, you can claim up to 8 different faucets every hour.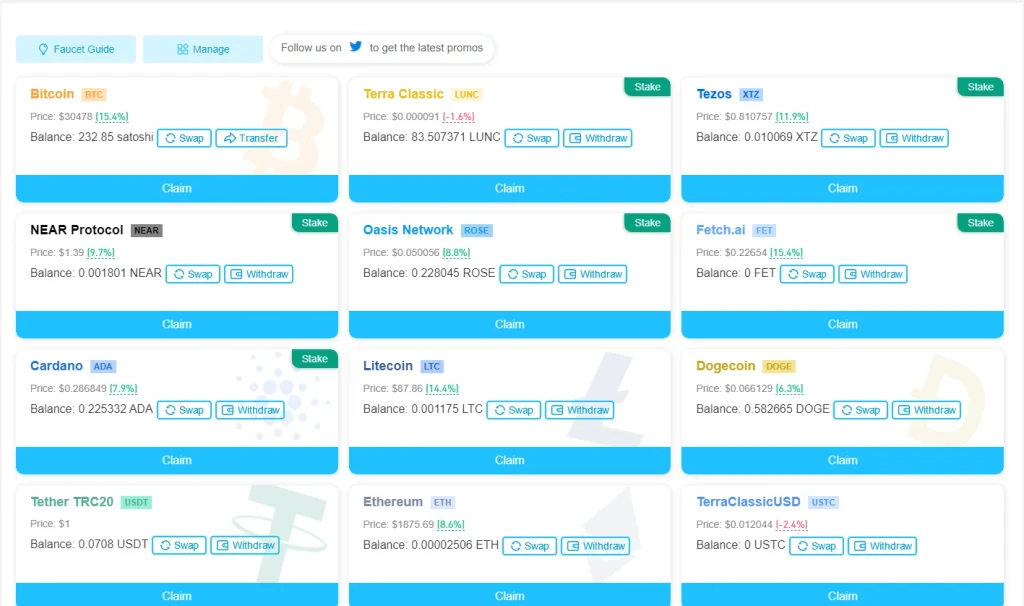 As a free user, you can't select 8 faucets, but only 4. Your selection will automatically reset daily.
Then click the one you chose and tap "claim." You then have to wait 10 seconds and complete the captcha to collect the reward.
Each crypto you chose has a separate timer – you can do that for each of them every hour. But the faucet claims are very low, in my experience. You'll have to collect it regularly to get to that withdrawal threshold. However, using the Bitcoin faucet may be worth it, as you collect satoshis to your main balance.
Claim Airdrops
Another method to earn on CoinPayU is to claim airdrops, or in the website's terminology, "catching a cat."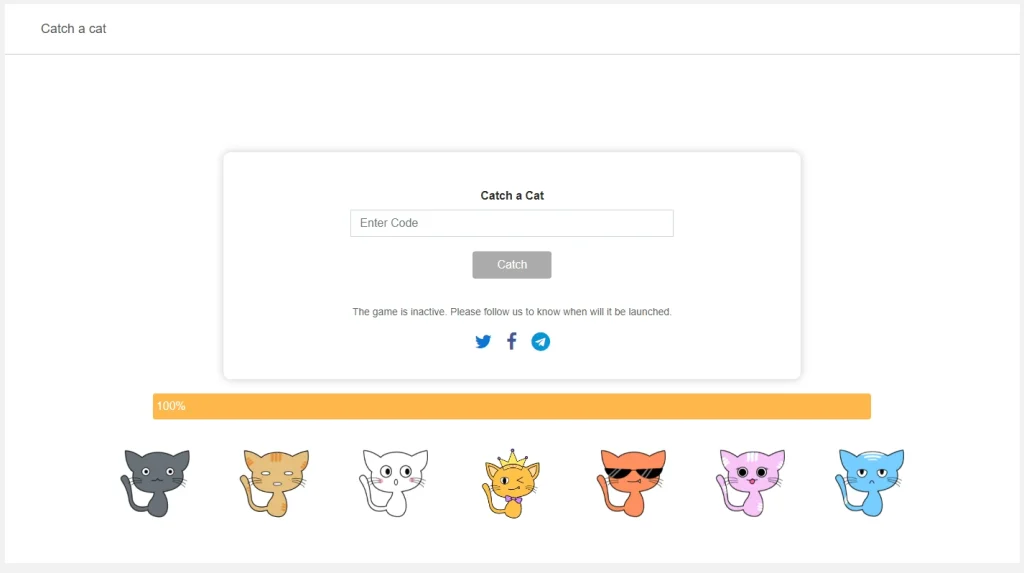 Usually, once a week, the CoinPayU team will publish a code for the game on their socials.
You just have to enter it to this page, and you'll be awarded satoshis. There're usually two varieties of cats you can catch, and one will give you a lot more than the other – that's the king cat you can see in the middle of the photo.
Win Writing Competitions
And last method to earn on CoinPayU is also relatively new. They launched their own article site similar to Medium. You can publish your own original articles on any topic, and if the judges think it's good enough, you can win up to 60,000 satoshis, which, at the time of writing, equals approximately 20 US dollars.
It's not much, but if you enjoy writing, you can try putting your skills to the test against others. You can also participate in the following competitions, as they repeat quarterly.

How Much Money can you Make on CoinPayU
As I mentioned in the beginning, PTC sites like CoinPayU are not about making thousands of dollars a month, and they'll never be. It's more about building your portfolio slowly, bit by bit. Which is great, as you can collect and withdraw coins and tokens you would normally never touch. Speculate more, and maybe it will bear fruit in the future.
But still, from my experience with, I wouldn't be afraid to say dozens of different PTC sites, CoinPayU always paid reliably the best.
And as on most PTC sites, there are also paid ways to boost your earnings – here, double, triple, or even quadruple your earnings.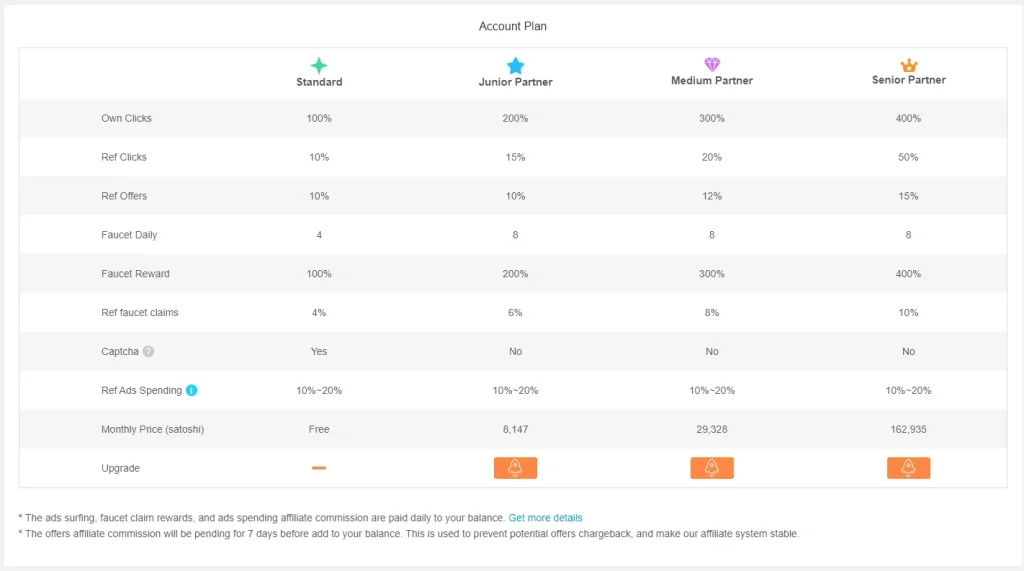 By upgrading your membership, you'll receive several benefits across all the platform's features.
I can't really tell whether it's worth it or not. I've always been a free user, so you'd have to test it yourself. If you decide to upgrade, be sure to give the platform time and properly use all of the methods to make sure you make your money back.
How do you Get Paid?
Everything you do on the platform will slowly accumulate your satoshi balance. Once you reach a certain threshold, you can withdraw that on-chain using over 25 different networks + Payeer and FaucetPay.
Payeer and FaucetPay are something like exchanges themselves from which you can convert your earnings straight to FIAT.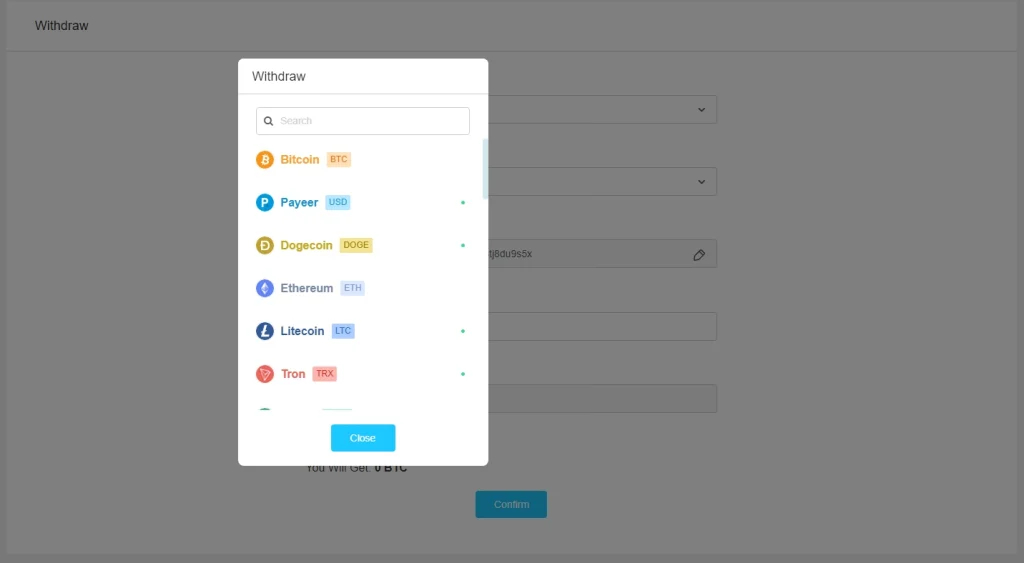 The minimum withdrawal differs across the networks, and the same applies to a fee that will be deducted from your withdrawal.
For instance, the minimum withdrawal for Bitcoin is set to 100,000 satoshis with a transaction fee of 0.00015 BTC. Bitcoin may not be the best. But to withdraw, for example, Cardano (ADA), you would only need 4,000 satoshis and pay a 0.2 ADA transaction fee (which is roughly 200 satoshi).
I think everyone will find a coin or token they would love to have and withdraw.
Tips to Maximize your CoinPayU Earnings
It's safe to say that everyone wants to earn as much as possible without leaving money on the table. In the last part of this CoinPayU review, let's focus on some tips and tricks to maximize your earnings.
What I really miss on CoinPayU is some kind of level system that would reward active users. These are very common across PTC sites but, unfortunately, not here.
With that said, the only and most effective method to really maximize your CoinPayU earnings is to claim everything every day.
When I first started with PTC sites, I incorporated them into my daily routine. I'd wake up, make breakfast and click all these different sites while eating.
That's probably the best way to ensure you don't miss a day without seeing those ads and claiming the faucet.
What I would also do is pause withdrawals when prices are high. The satoshi ratio changes all the time based on the token's price. For example, my first-ever withdrawal from the site was 3000 satoshis which got me 115 DOGE. Now, if you withdraw 3000 satoshis, you'll only get 13 DOGE.
The dollar value will be roughly the same, but it's better to accumulate your balance and withdraw all at once when the prices are low. This will also lower your transaction fees, as they are paid per transaction, not per volume.
Frequently Asked Questions about CoinPayU
Does CoinPayU really pay? Is it legit?
Yes, CoinPayU is 100% legit and will deliver any of your withdrawals. CoinPayU actually publicly shows any withdrawals made on this page. You can actually see that users are making withdrawals at every moment.
Can you use CoinPayU on mobile?
Yes, CoinPayU only recently released a mobile app, but only for Android devices. It works similarly to using CoinPayU on the web. It has over 5k reviews with an average of 4 stars.
Does CoinPayU have working support?
CoinPayU has an extensive FAQ section that will answer the majority of your questions. If it happens that you need help with anything else, you can contact the team by creating a new support ticket on their help desk.
Bottom Line
To conclude, this CoinPayU review it's a good and legit platform to grow your crypto wallet bit by bit.
It offers different earnings opportunities that may become a bit repetitive over time – it's all about watching ads. But if you don't mind this, I think you will be satisfied.
Let's now take a look at the rating on a point scale.
CoinPayU Review on a Point Scale
The thing with many different PTC sites and platforms is that they will generate little when it's free to use. Although it's surely true in this case, it's not as bad as it may seem at first glance.
From my experience, CoinPayU always paid reliably the best. And you won't meet many malicious ads or offers.
CoinPayU offers a few different ways to accumulate satoshis. But the primary method you'll utilize is watching ads.
What I don't like is that the platform offers only the basic features. There is no level system that would keep you motivated to keep using it. And the UI could also be better. You can find where to watch ads or claim the faucet, but some features are hidden.
User Interface & Experience