Bybit is one of the fastest-growing cryptocurrency trading platforms, with millions of users worldwide. Currently ranking 11th among exchanges with $439 million daily trading volume.
But despite all the fantastic positive features, Bybit remains a platform more for advanced traders. They will especially benefit from the high leverage of up to 100x.
If you no longer want to use Bybit to trade cryptocurrencies, this article will guide you through the process of How to Close your Bybit Account in just a few steps. But if you don't want to make the giant leap, you can also deactivate your account, which is reversible.
Account deactivation comes in handy to lock your account in case of a security breach, and it is not the same as permanently closing your account. But more to that later.
How to Deactivate your Bybit Account (non-permanent deletion)
After you deactivate your account, you won't be able to log in again. However, if you change your mind, you can contact customer support to recover it. Here is how to Deactivate your Bybit account.
This option is handy in the case of a security breach to protect your account. However, it isn't the same as account deletion we'll show you later on.
1. Log in to your Bybit account
First, head to the Bybit website. Either type in the URL or search for "Bybit" on google. Alternatively, you can get there by using this link: https://www.bybit.com/.
Now log in to your account. You can do that by entering your email or mobile number with your password. Alternatively, if you have Bybit mobile app, you can scan the QR code to log in automatically.
2. Open the "Account & Security" settings
To find the option to deactivate your Bybit account, tap on your profile picture and head to the "Account & Security" settings.
As you log into your account, you will land on the homepage. Now in the top right corner, you'll see a little profile icon. Tap on that.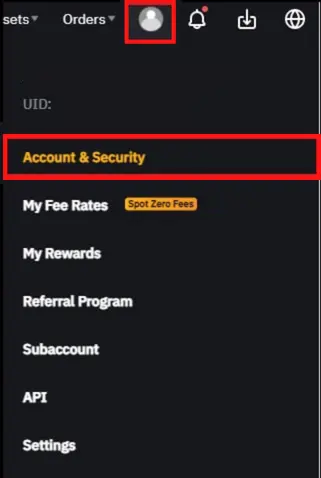 A small navigation menu with various settings, such as "My Fee Rates," "My Rewards," and last but not least, the "Account & Security" setting we are looking for. Click on that.
3. Scroll down to the section "Account Activities" and click the "Deactivate an Account" button
On the security page, you will see various settings regarding your account, including an option to close your Bybit account non-permanently.

4. Confirm your choice and Deactivate your Bybit account
Once you click the button, you will get a pop-up warning with the list of consequences.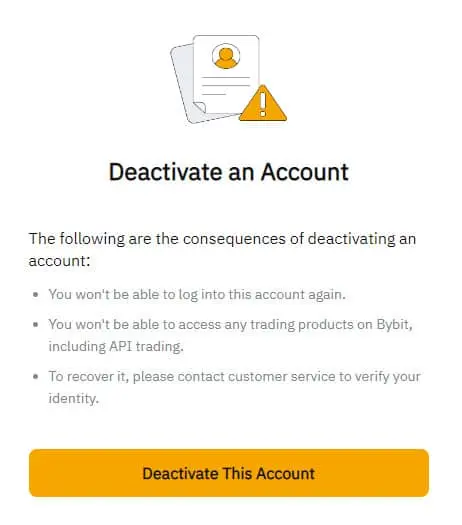 Once again, tap a button to "Deactivate This account." You'll now receive one last warning. But don't worry; if you ever change your mind, you can always contact customer service and reactivate your account.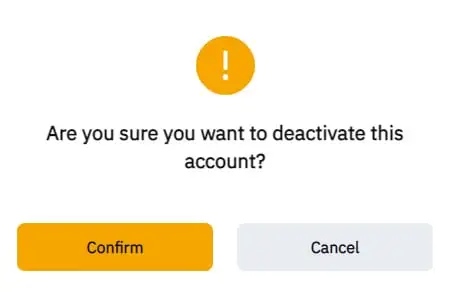 How to Permanently Delete your ByBit account
To permanently close your Bybit account, the process is a bit less straightforward. You will need to write an email and send it to customer support manually.
1. Open your Email Client & Create a New Email
This step is pretty straightforward. Open your email client and create a new email. Ideally, use the email address that is associated with your Bybit account.
If you don't have access to that address, change your email in the account settings first.
2. Enter the Right Email Subject Line
Paste "Account & Personal Information Termination Request" into the subject line. This will make sure both your account and associated information are terminated.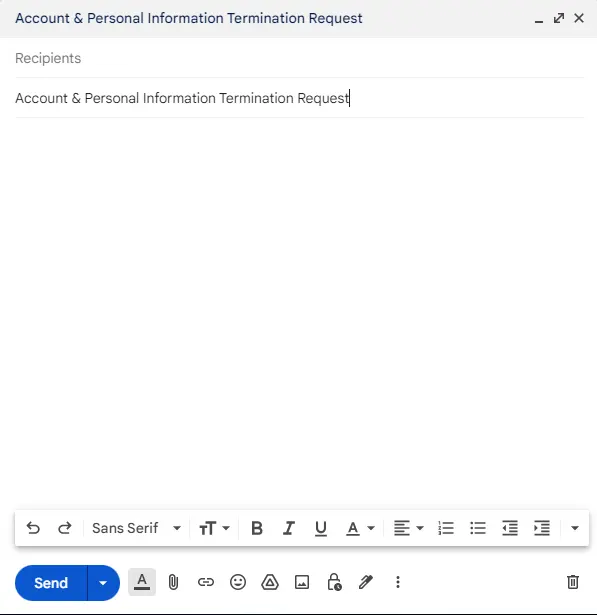 Because Bybit not only collects account information but also personal information for other purposes, such as marketing purposes.
3. Explain which account you want to delete
In the email, explain which account you want to close. Write something like: I would like to request the permanent deletion of my Bybit account under the email address: example@gmail.com.
Multiple things may prevent your account from being deleted. If this happens, Bybit support will inform you of the reasons. This can happen for reasons such as:
Your request can be denied under applicable law
Where they need to retain the information to comply with federal, state, or local laws or for accounting or tax purposes
Where they need to comply with authorities
Where they need to retain information to exercise or defend legal claims
Etc.
4. Send the email to support@bybit.com
Once you compose your email and include all the information, send the deletion request to support@bybit.com.
Make sure you are sending it to the correct email address. Also, the support team will contact you only from this address. Do not fall for any scam!
Your request should be processed soon; wait for a bit.
Can you create a new Bybit account after deletion?
Yes, you can. However, having two accounts at the same time is not allowed. Thus, ensure your termination request was completed before creating a new account.
Conclusion
You can select to permanently delete Bybit, your account, and all personal information associated with it or only lock your account (deactivate it), which is reversible.
To permanently close your Bybit account, you'll have to email customer support and wait for them to process your request.
Deactivating your account can be done in your "Account & Security" settings, which has immediate effects.
Read Further