You may have tried to send some cryptocurrencies recently but were surprised by the "MEMO" box on the withdrawal form. But what is Memo and is it required? 
Simply put, a Memo is used to identify transactions where your crypto address is just not enough. And it is required in order to receive your coins or tokens. 
But let's break down What Memo is in crypto transfer in more depth. 
What is Memo in Cryptocurrency
A memo is a term in the cryptocurrency world that refers to an extra feature that some cryptocurrencies and blockchains have. 
It is there to make sure that funds are sent to the right account.
A memo is especially used with exchanges, that have shared wallet addresses.  
For instance, Binance can give you the same wallet address for different coins, on some Blockchains that allow that. And also can give the same wallet address to multiple users. 
Binance has thousands of users, if they created a separate wallet for everyone on the blockchain it would get pretty expensive. Instead, they assign each user a unique Memo.  
A unique string of letters and numbers. 
Because, and this may surprise you, you have to pay on some blockchains to get an address created. 

As you can see, if I pop one of  "ours" XML addresses into the Block Explorer, this particular address contains over $28 million worth of XML. Which obviously is not ours. 
Is Memo required
Yes. A memo is required if you are sending cryptocurrencies that require it. You can't leave the window blank.
Or, you can, but your funds will be lost.  
So what happens if you don't fill in the Memo or miss fill it?
And the reason for that should be pretty obvious.
If you send your funds, leaving the Memo empty, the exchange, which uses a shared wallet, has no idea which customer sent them the funds.
Because there might be hundreds of others, that have the same crypto address.
It's not the case for personal wallets. They might give you the Memo because it is a standard on that particular blockchain.
But if you don't fill in your Memo with a transaction that goes to your personal PC wallet, nothing will happen. Simply because the wallet is not shared, and there is only one customer. YOU. 
Also, if you put in the wrong memo, the exchange could think that you are funding a different user, than you meant to.  
Which Cryptocurrencies have Memos
Fortunately, the list of cryptocurrencies that have a Memo is not the longest. So issues shouldn't happen that often. 
Not all cryptocurrencies have Memos or have the capability to have them. Because coins like Bitcoin or Ethereum and most other altcoins allow free wallets. So the exchange simply creates a unique wallet for every user. 
On the other hand, the coins that have Memos are:
EOS (EOS)
Stellar Lumens (XLR)
XRP (XRP) 
Cosmos (ATOM)
Hedera (HBAR)
Binance Coin (BNB) on the BEP2 network
All of these coins require you to enter the Memo when sending coins.
Also to not get confused, XRP has a different name for Memo. When you are sending XRP, you are asked to enter a Tag. But it is the exact same thing. 
How does Memo look like
One time see a Memo consisting only of numbers. But other times just numbers, or a combination of numbers and letters. 
Most of the time it is just a purely numerical Memo. But there are also Alpha-Numeric ones, which you can see in the table below. 
| Crypto | Memo |
| --- | --- |
| EOS (EOS) | Solely Numeric |
| Cosmos (ATOM) | Solely Numeric |
| XRP (XRP)  | Solely Numeric |
| Binance Coin (BNB) on the BEP2 network | Solely Numeric |
| Stellar Lumens (XLR) | Alpha-Numeric |
It is not necessary to know this. But it may be useful to know right away that you have the wrong Memo.  
How to use Memo in Crypto transfers
When you are giving someone your crypto address to a coin, that also requires a Memo, make sure to include both your address and the string of letters and numbers. 
Let's take a look at how to get your Memo and use it in your Crypto Transfers. After this "theoretical" part, we will show you the exact steps of how to get a Memo in Binance. 
The majority of times, you will be sending cryptocurrencies that require Memo it will look something like this: 
1. Log in to the exchange you want to send crypto to
2. Navigate to your wallet and find the button to "receive" or "deposit" crypto
3. Find the coin you want to receive
4. Now you should see your Memo right away
5. First, copy your address and paste it to the "senders" wallet
6. Come back to copy the Memo and paste it to the "Memo" field in the sender's wallet
7. Double-check your details and send it
Depending on the wallet and the coins, you are using, your coins should arrive in a few minutes. For instance, the average deposit time to Binance is just 30 to 60 minutes (if something goes wrong).  
To find your Memo in Binance tap on the wallet icon in the top right corner and head to overview.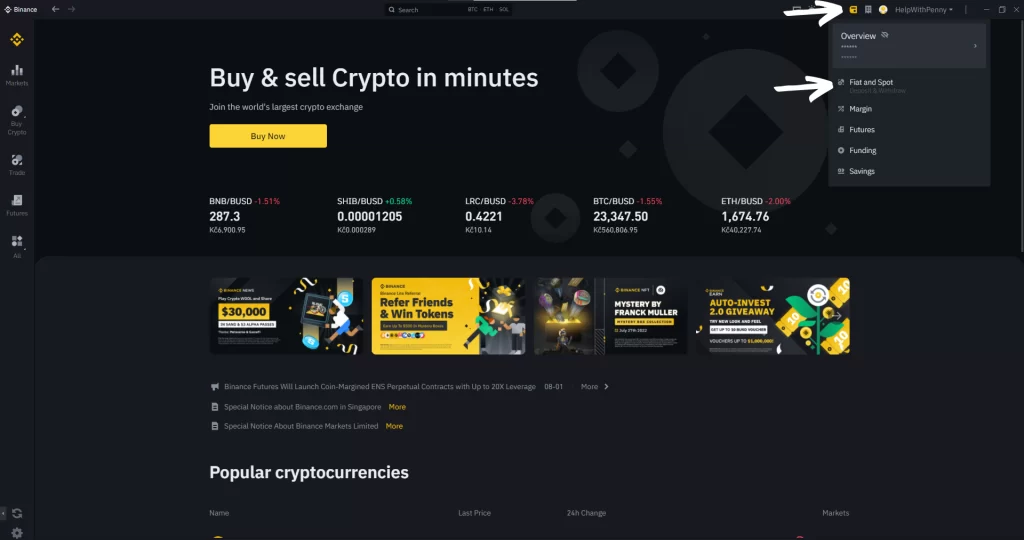 Now click on "Receive" and search for your coin in the list. Select it once you find it. 
Binance will tell you right away, that this particular coin requires a Memo.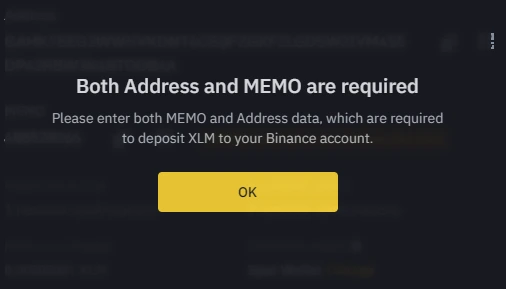 Once you confirm this warning, you will see both your crypto address and your Memo.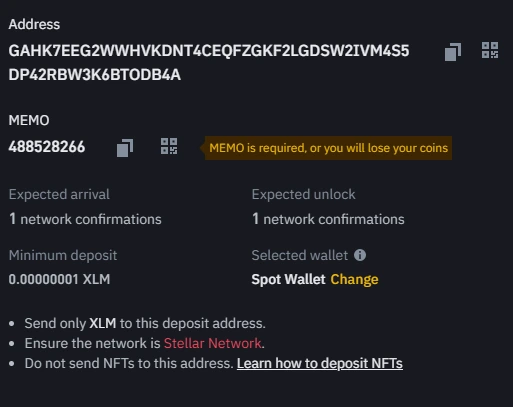 What wallets support Memo
Any exchange, that accepts cryptocurrencies, that requires Memos will generate it for you. This for instance includes:
Conclusion
Crypto Memo is an important part of some cryptocurrencies. Especially those where you have to pay to have your wallet created. 
The cryptocurrency exchanges then try to reduce their costs by assigning a single address to several or even hundreds of users. 
In order to know which user to credit with which funds, a unique identifier was needed. And so Memo was created. 
A string of numbers or letters, ensures you get the right funds. 
So don't forget to fill it in next time, when you send any cryptocurrencies that require it.