Have you heard about the Chrono.tech (TIME) token? It's been gaining a lot of attention lately and for a good reason.
TIME is the native currency of a well-known Australian blockchain company that offers high APYs on your crypto holdings.
However, If you want to get in the action, you'll need to set up an external wallet to hold your TIME tokens and redeem your rewards. And MetaMask could be the perfect solution.
In this article, we'll show you how to add a TIME token to your MetaMask wallet in just a few easy steps. Let's dive in!
How to Add TIME to MetaMask
Set up your MetaMask wallet and Unlock it
The first step is to create a MetaMask wallet or unlock it if you already own one.
Download the browser extension from the official website and follow the instructions. If you need help, we have a step-by-step guide on our website to set up your MetaMask wallet.
Once you have your wallet installed and configured, you can unlock it using your password. If you have forgotten your password, you can reset it as long as you know your seed recovery phrase. 
Ensure you are Using the Right Network
TIME token can be imported and used on multiple crypto networks. On ETHEREUM chain, BNB Smart chain, or Polygon.
What chain you need depends on what you want to use your TIME tokens for. But the principle is the same for all chains. Therefore, for this article, we will show you the import procedure on the ETH chain.
Also, the ETH chain is already imported on MetaMask. But you need to import both Polygon and Smart Chain manually to use it. Here are guides that will help you with that:
To ensure you are the Ethereum Network on MetaMask, open the network selector drop-down menu and switch your network to Ethereum.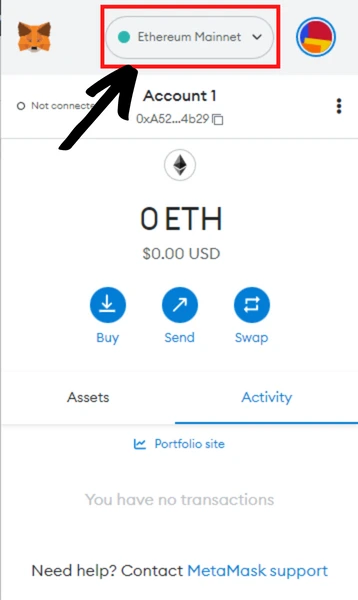 Select "Import Tokens" and then "Import Custom Token"
Once Ethereum Network is selected, scroll down in the Assets list and select "Import Tokens."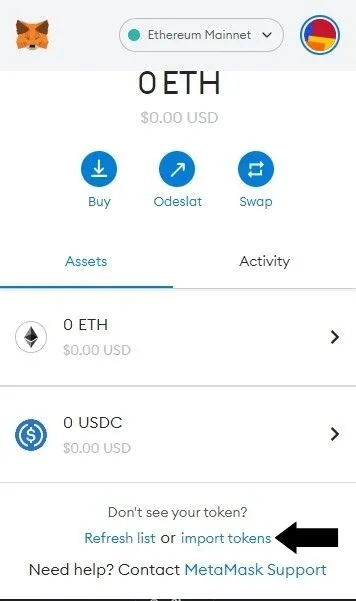 Then switch to the "Import custom tokens" view.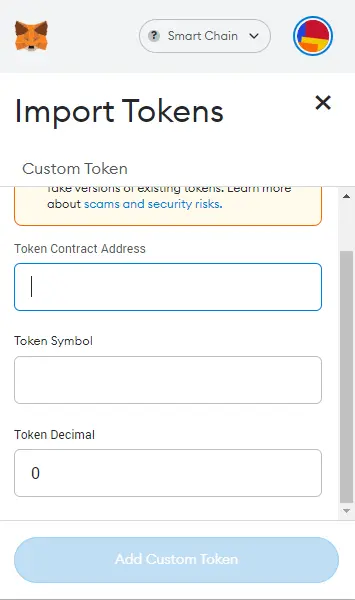 Copy the TIME token Contract Address
Now head to the TIME (Chrono.tech) page on CoinMarketCap. It is crucial to ensure that you get Token information from a credible source. And doing it through CoinNarketCap is one of the easiest and most reliable ways to obtain the contract address. It is essential to ensure that you get Token information from a credible source.
Find the section called "Contracts." Here you can either copy the Contract address and paste it into Metamask or have TIME imported to Metamask automatically by clicking the little MetaMask logo.
If you are importing TIME on another network, then ETHEREUM, you can see its contract address under the "More" button.
Import TIME to MetaMask as Custom Token
Once you've copied the TIME contract address, open the MetaMask extension again and paste it into the "Token Contract Address" field.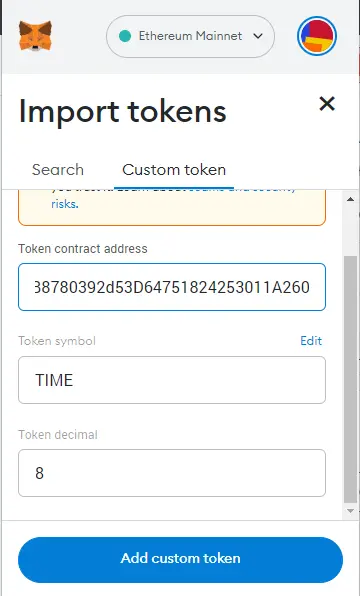 If you've pasted the correct contract address, other windows should be auto-filled, and TIME should appear as a token symbol.
Finish by pressing the "Add custom token" button. Once you've successfully imported TIME to your MetaMask wallet, it should appear as one of your tokens under the Ethereum (or other) network.
Conclusion
Congratulation! You've successfully added TIME tokens to your MetaMask wallet. By following the few steps outlined in our article, you can now quickly start using the TIME, Chrono.tech's native token in your wallet.
Now go ahead and start exploring all the possibilities that TIME token has to offer, or visit one of our other articles to become a crypto pro!