Did you know that the Brave browser has a built-in cryptocurrency wallet? Perfectly optimized for use inside your browser without the need to install any extensions. 
The Brave browser has been around since 2016. Since then, it has become a popular alternative to competitors like Firefox or Chrome for various reasons. Passing 50 million active monthly users and generating over $40 million in annual revenue. Especially for its privacy features – like tracker blocking and ad blocking. In addition to extra privacy, you are being rewarded for using the browser with the BAT token.      
The wallet came as hot news towards the end of 2021.
In this article, we'll take a look at all of its features and how secure Brave Wallet really is. Let's dive in! 
What is Brave Wallet
Brave Wallet is the first multi-chain crypto wallet built into your browser. Which ensures better performance of both wallet and browser and higher security. Since there is no risk of installing malware together with a browser extension.
Brave Wallet can be used to Buy, store, send and swap your Crypto tokens as well as to connect to various Web3 apps, such as Play-To-Earn games.
Especially on your phone, you were exposed to more danger. But no more. With a recent update, the wallet is also included in the iOS and Android of the Brave browser. Which makes managing your crypto portfolio really easy and accessible.
How to Set Up Brave Wallet
If you are already using Brave setting up your wallet is as simple as clicking the wallet icon in the top bar and following simple instructions. Let's walk through it together. 
*Click on the image to zoom in.
You can either create a new wallet or import your current one, including the Metamask wallet.
Now you enter a password. Password requirements are quite strict, so I would recommend writing down your new strong password somewhere afterward.
Rewrite your generated 12-word seed phrase. Once you confirm your backup code your wallet is ready.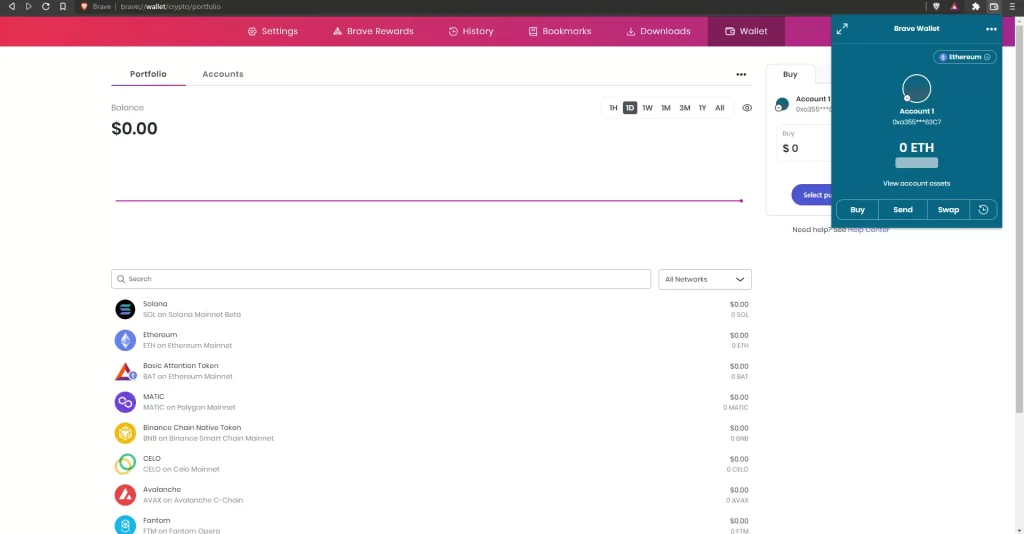 However, if you're not using Brave yet, you'll be adding one step. Download and install your new browser.
How Safe is Brave Wallet – Security Features
Open Source, no Extension Needed
The brave wallet is an open-source, non-custodial crypto wallet. The fact that the wallet is built into your browser is the biggest security advantage of this wallet. Because it eliminates many opportunities for phishing attacks. Attacks where the scammer lets you download a crypto wallet that is infected with malware. The moment you transfer money to the wallet, you lose everything. 
The brave browser itself will alert you to potentially dangerous websites and links. So not only are your assets safe but so are your data and other valuable information.
Brave also has no plan to make an extension of their wallet
Not Your Keys, Not Your Coins
You may have heard someone in the Crypto world say "Not Your Keys, Not your Coins". Because most wallets store your assets on their own platform, holding your private keys. Thus have the power to decide what to do with "your" crypto assets.
With Brave Wallet, you have all your private keys in control.
How to get your Account's private key in Brave Wallet
To obtain your account's private key navigate to the account you want to get a private key for.
Click the edit button (a small pencil icon). And on the screen that appeared tap "Private Key" and then "Show Key".
*Click on the image to zoom in.
Easy integration with a hardware wallet
The Brave wallet allows you to connect your hardware wallet like Trezor, Ledger, or SecuX easily. To do that navigate to your Accounts and hit "Import from Hardware wallet". You will be then walked through a few easy steps. 
Brave Wallet vs Metamask
Most often when choosing your new crypto wallet you will compare the Brave wallet with the Metamask extension. Since it is the most widely used cryptocurrency wallet ever.
Let's take a look at a quick comparison. 

Brave Wallet
Is Browser native, no extension needed. Also, no extension will be ever created.
Brave Wallet is open source, with no catches hidden.
Is not so widespread. But connect to DApps also on Solana, not only Ethereum.
Metamask
Requires browser extension to work.
Metamask is not an Open source wallet.
Offers more integrations with web3 applications.
Conclusion
To summarize the actual comparison of Brave Wallet vs Metamask both wallets are excellent choices. They are secure and serve the purpose of what crypto wallets are for. They will hold your crypto coins.
However, if you like to use web3 apps or play Blockchain games then Metamask will be a better choice.
But if that's not what you're after and you just want a functional and secure wallet then there's nothing stopping you from using Brave Wallet.