Nowadays, using social media in everyday life is not uncommon. Quite the opposite. However, it cannot be said that the current massive social networks like Facebook, Twitter, or Instagram give much weight to users' privacy. After all, they have control over all your data. And what is relevant or not is selected by an algorithm. Censoring anything that seems only a tiny bit off for the algorithm. And I'm sure you've had content flagged as inappropriate by Instagram, TikTok, or by YouTube even though there was nothing inappropriate.
Thus if you care a lot about your privacy and you don't want to deal with all the DO'S and DONT'S there are decentralized social media alternatives. And often these platforms can even pay you in cryptocurrency for using them.
In this article, we will look into the best decentralized social media platforms. As well as the benefits and drawbacks of using these blockchain social media. Let's dive in!     
Steemit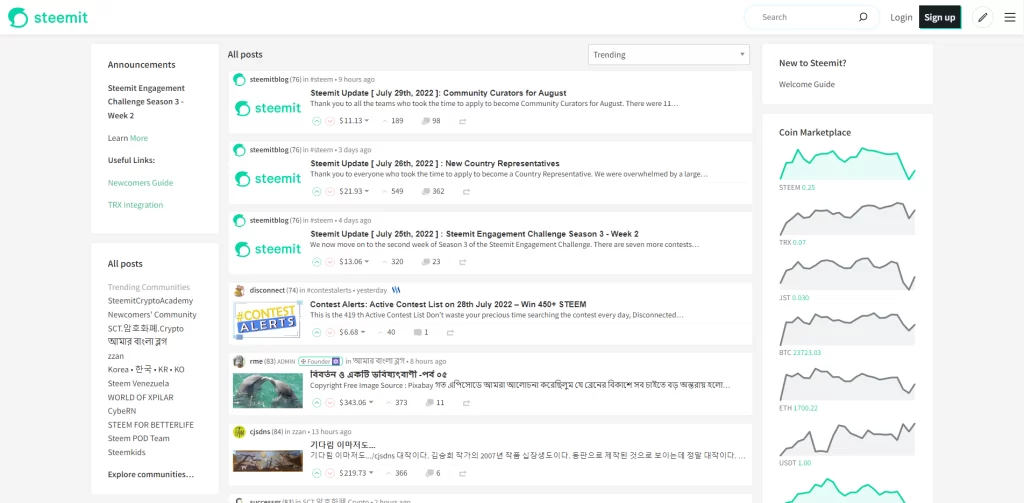 Steemit was one of the earliest decentralized social media networks, launched back in 2016. It combines blockchain technology with blogging and social engagement. 
Steemit as the name might suggest is based on the Steem blockchain network. This makes all the content published on Steemit part of the blockchain. Users are rewarded for their contributions with crypto tokens STEEM from the rewards pool. How big a part of the community rewards a user receives depends on the number of upvotes they get throughout their content. 
Over 1,2 million users on this decentralized social platform already split more than $59 million, according to Steem stats.
In 2020 Steemit was purchased by Tron's founder Justin Sun. That raised a lot of questions about whether or not this blockchain social media can keep its decentralization. But fortunately, no big fundamental changes were made to this alternative social media, and Steemit is still keeping its decentralization.     
Minds
If you like Facebook & Twitter Minds will be your next best friend. This blockchain social media platform is one of the largest with over 1 million users registered. The founder, Bill Ottman, and developers are trying their best to make Minds the biggest decentralized social media platform on the planet Earth.
Minds is built on the Ethereum network and users can be either tipped in Minds native token Minds or in ETH and USD. This gives everyone the opportunity to support their favorite content creators on this blockchain social media platform.
Minds allow users to tell the world anything they want. Including writing blogs, posting videos, and photos, or chatting with others through implemented video chat and messaging. In order to earn on this blockchain platform, all you need to do is to create interesting content and get tipped. Tips in the form of token Minds can be swapped on Uniswap for ETH.
Peepeth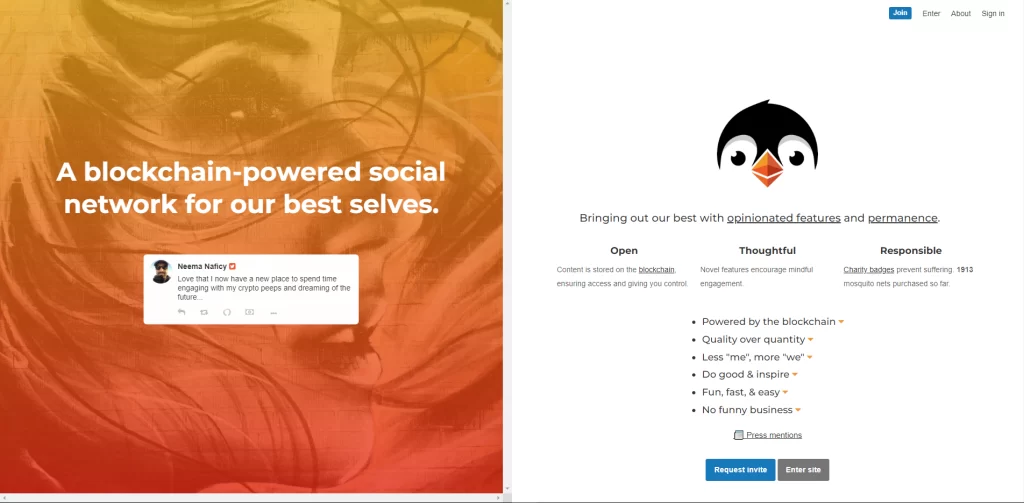 Peepeth is similar to blockchain social media to the previous one and it is really similar to Twitter. But don't be fooled by its appearance, Peepeth is trying to fight the evilness of social media. Because, as stated on about page of Peepeth "Social media is broken". But this blockchain media is not:
Going to invade your privacy or sell your data
Filled with trolls, bots, and harassment 
The feed of Peepeth is not manipulated by algorithms
Peepeth is based on the Ethereum network and every message you want to send to the world costs a few cents. But in exchange, these messages are uneditable and indelible. They are written forever on the blockchain.
Users can also receive tips from which 10% goes to the company. But Peepeth supports a great number of charities. So most of it goes to a good cause.  
This blockchain social media platform is quite new, released in 2018. And in such a short time, Peepeth hasn't yet managed to gain a large fan base. But that gives you a greater opportunity to make a greater connection with other users.
Twetch
Twetch is yet another blockchain alternative to Twitter. But this one carries with it some unique features. First of all this blockchain social network is not built on the Ethereum network, like other competitors but on the Bitcoin SV network. 
Twetch carries a great design and some really cool features. Like "Troll Toll", which is a way to fight spammers and online trollers. Instead of blocking all of these trollers users can choose how much it costs for a user to interact with them. 
Trolling just got expensive ?

Instead of blocking, Twetchers can now choose how much it costs for a user to interact with them using the command /trolltoll pic.twitter.com/5o1ljfy08T

— Twetch (@twetchapp) April 16, 2020
Also, no more follow-for-follow spam attacks, because users need to pay and are paid by the people who follow them.
Each follow will cost you/earn you $0.08 and each like your post gets will earn you $0.04.
To date, Twetch uses nearly 80,000 users, who split a total of  $1,5 million.       
Signal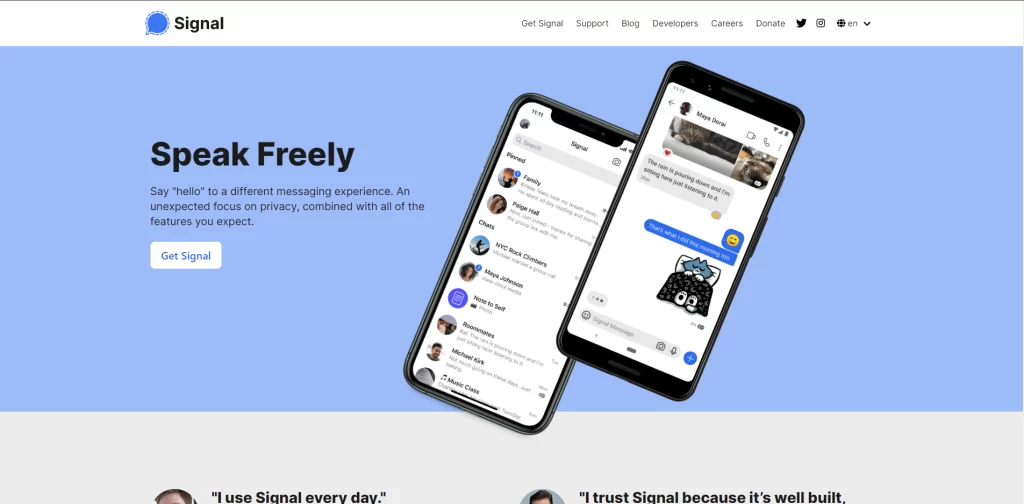 Signal is an encrypted instant messaging app, that allows its users to send texts with an extra layer of protection. This app is an alternative to WhatsApp or Telegram.
Even though this app doesn't directly feature blockchain it features anonymous payments in a cryptocurrency called MobileCoin. Signal's CEO Moxie Marlinspike is saying that MobileCoin is far more secure and privacy-focused than Bitcoin or other altcoins. A lot of it has to do with the fact that MobileCoin uses a mathematical proof called Bulletproofs to validate a transaction without revealing its value.
I have been using Signal personally for quite some time now. And it is really great. Available for computers and both android and iOS devices. It offers everything every traditional messaging app has but adds an extra dose of security and privacy. And 20 million people that use Signal are surely aware of that.
Pros & Cons of blockchain social media
Blockchain social media solves issues that traditional social networks may have. Including higher security breach risks and algorithmically curated feeds. Because even algorithms can be biased. Pushing a certain type of content at the expense of another.
Privacy protection and higher security
Freedom from censorship
Often including earning opportunities
On the other hand, it's not all beautiful and flawless. And the Cons of blockchain social media platforms are not negligible either. Above all, these platforms are dependent on cryptocurrency mining. And crypto mining requires a lot of computing power, using a lot of electricity.
At the same time, these alternative social networks are not for everyone. And they require a certain amount of knowledge. And in general, cryptocurrencies are often associated with controversy.
However, even if these platforms were beginner friendly it is not a good thing. Blockchain platforms are not that scalable and can't hold millions of users.
Conclusion
As Cryptocurrencies are rising in popularity so are these platforms. And it's not just because of the growing interest in this new technology, but also because people value their privacy and security more, which is related to scandals involving the selling of user data and the like.
These platforms are not only safer from hacker attacks but also nearly completely free of censorship. And I hope you got the idea of how these blockchain social media work and what is the perfect fit for you.