Saitama token recently migrated from V1 to V2, and with that, you have to add the new contract address to your Coinbase wallet and, if you own any, convert Saitama V1 to V2.
Saitama is a popular project built on the Ethereum blockchain. It's inspired by the popular anime character from "One Punch Man." Saitama aims to create a decentralized ecosystem that empowers users to participate in various activities within the crypto space.
Saitama token offers a sustainable model where users pay 0.2% tax, 0.1% of that is distributed back to users in the form of reflection, and 0.1% is burned to act anti-inflationary.
Coinbase wallet works a little differently than other similar wallets like MetaMask or TrustWallet. To have Saitama shown in your dashboard, you'll need to receive the tokens first. We'll show you how in a second. Let's dive in!
How to Add Saitama V2 to Coinbase Wallet
To add Saitama to the Coinbase wallet, you need to buy some on an exchange or send ETH over to your Coinbase wallet and swap it.
Step 1. Set up your Coinbase Wallet
First thing first, you need to have the wallet app installed on your device.
Open your favorite app store on your device and search for Coinbase Wallet. Note that Coinbase and Coinbase Wallet are two distinct – Coinbase is the exchange, and Coinbase Wallet is a non-custodial wallet similar to MetaMask.
Also, for that reason, after downloading the app and clicking "Create a new wallet," you won't have to register using your email or other personal information.
Simply accept the Terms of Service, choose a username and password to locally lock your wallet, and back up your recovery phrase.
Step 2. Buy ETH or Saitama Directly on an Exchange
Unfortunately, many exchanges do not list Saitama. The only two exchanges with enough liquidity that are worth mentioning are Bybit and Gate.io.
If you have an account on one of these exchanges, you can buy Saitama coins directly. In another case, it's not worth opening an account just for this purpose. And in that case, you can fund your wallet with ETH, bought on any exchange.
We recommend going with Binance for low fees, but any exchange will do. If you want to maximize your benefits from cryptocurrency exchanges, make sure to check out our page filled with the Best crypto discounts and Referral offers!
Then navigate your way through the exchange and buy ETH. Keep in mind that you will have to pay gas fees during the process. So buy a bit more than your intended value of Saitama is.
Step 3. Transfer Tokens to Coinbase Wallet
Now open Coinbase Wallet and tap "Receive" on the dashboard and select ETH as the network.
In both cases, you want to use the Ethereum address because, remember, Saitama is an ERC-20 token. Depending on your exchange, you can either copy your wallet address or see a QR code.
Then go back to your Exchange app and find a withdrawal button. Do not use any other network than ETH.
Step 4. Swap ETH for Saitama on Uniswap
Probably the majority of you didn't get Saitama directly and need to swap using Ethereum.
To do so, open the DApp browser on Coinbase and search for Uniswap.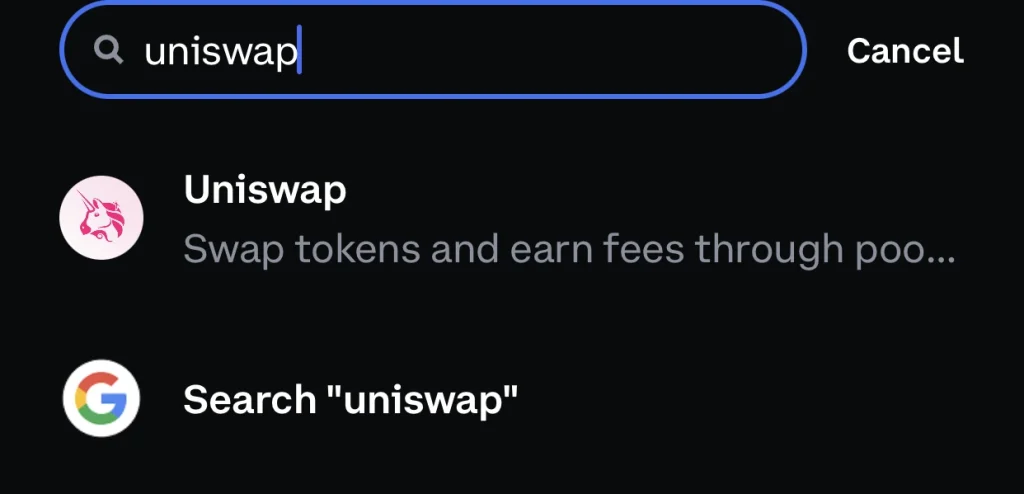 Then connect your wallet, and from the token selector, select ETH to Saitama swap. It's been a while since Saitama migrated from V1 to V2, so you shouldn't see two versions of the token, but to be sure double check the contract address.
Input the number of tokens you want to swap and confirm the transaction in your wallet.
Step 5. See Saitama V2 Tokens in your Coinbase Wallet
After swapping ETH for Saitama, the transaction should be completed in just a few minutes. After that, you'll be able to see Saitama in your Coinbase Wallet automatically.
How Migration from Saitama V1 to V2 Works
It's been a while since the migration started in May 2022. So by now, it should slowly be completed. However, many users still did not receive their V2 airdrop.
The migration is automatic. Every Saitama V1 holder should automatically receive version 2 of the token in a form of an airdrop.
You don't need to do absolutely anything. Unfortunately, especially Twitter is full of scammers telling people to contact support on a fake email address, etc. So avoid contacting anyone. All wallet addresses will be slowly airdropped V2 tokens with an equal value.
Bottom Line
Coinbase Wallet has a great feature and will automatically import any token to your wallet that has any balance.
Simply buy ETH on an exchange of your choice and send it over to Coinbase. Then using UniSwap, swap it for Saitama tokens.