Ethereum is no longer the only network for trading NFTs. Ethereum's dominance in the NFT space is slowly falling apart, as more and more people are switching to alternatives such as Avalanche or Polygon. And the main reason for that is the insane gas fees. 
And maybe you want to switch to another network too. For example, Avalanche. And that's why we have composed this list of 4 Best Avalanche NFT Marketplaces. All Marketplaces were evaluated primarily based on 3 criteria:
Daily Trading Volume
High trading volume may not be indicative of the usage of the NFT Marketplace. It may only be that a highly publicized collection is sold here once in a while. That is why we added the second criterion.
Frequency of new collections
On its own, again, it's not very telling. But in conjunction with Trading Volume, we can see how often new collections come out and how many are actually sold. 
User Experience
This criterion includes how easy the Avalanche NFT Marketplace is to use, what the terms of use are, and generally how it stands in terms of user reviews.
Before we show you the 4 Best Avalanche NFT Marketplaces, one thing must be noted. 
Even though we might show you the largest Marketplaces on Avalanche the whole ecosystem is still much smaller than on the Ethereum network. 
Thus if you are looking for a way, to reach the largest audience possible, this is not going to be the right choice. 
These Marketplaces will be the best choice for anyone with their own audience, looking for a way to save on gas fees. And your fans will appreciate it, saving on gas fees as well. 
Let's dive in! 
4. NFT Stars
NFT Stars not only support the Avalanche blockchain but also Ethereum. Even though it isn't the biggest NFT Marketplace it gets a decent amount of Ethereum traffic, bringing more exposure to your AVAX NFTs. 
NFT Stars offers interesting features, that other Marketplaces simply don't have. These include NFT Augmented Reality rooms, reward programs, and zero fees when selling for their native token – NFTS. Collaborations with celebrities are also an interesting feature.
In connectivity aspects, MetaMask, WalletConnect, and Coinbase Wallet are supported.
In terms of traffic, NFT Stars is definitely in the lower numbers. Founded in 2021 but quickly becoming a favorite of the AVAX NFT Marketplace. 
3.  YetiSwap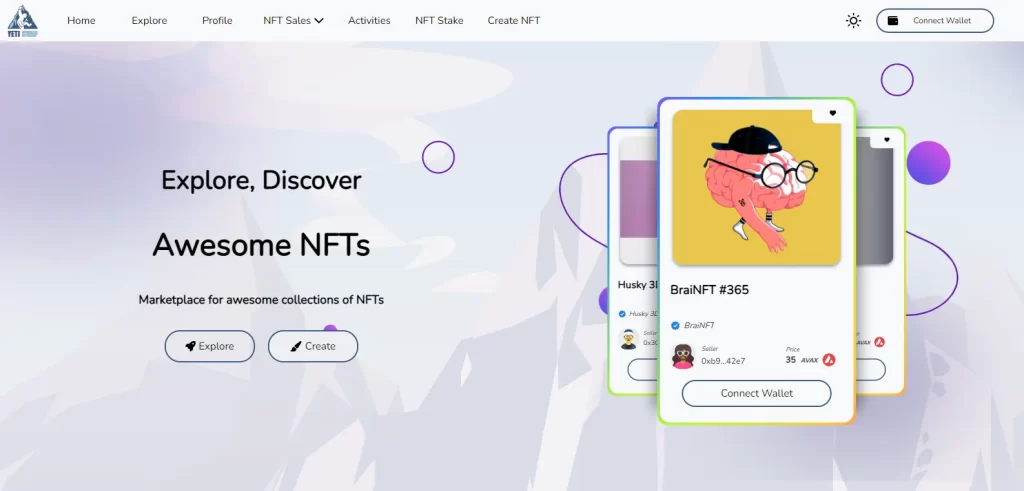 YetiSwap differs from other AVAX Marketplaces on this list. Because its primary function isn't being an NFT Marketplace.  
It is a Decentralized Exchange. Other DEXes you might know include PancakeSwap, or ViperSwap.
YetiSwap is pretty popular as a DEX, getting a good amount of traffic to its other functions too. The total trading Volume comes to $67 million.   
The UI is standardly looking, comparable to other marketplaces. Including filters and different sorting options.
A minor downside is the higher service fee of 3%. That's even higher than OpenSea fees. However, it doesn't matter if you choose to use their native token called YTS for payment. In April 2022 zero system fee was introduced, if using $YTS. 
And that's not the only advantage of using YetiSwap's native token. If you own $YTS, you're periodically airdropped new NFTs!
2. Kalao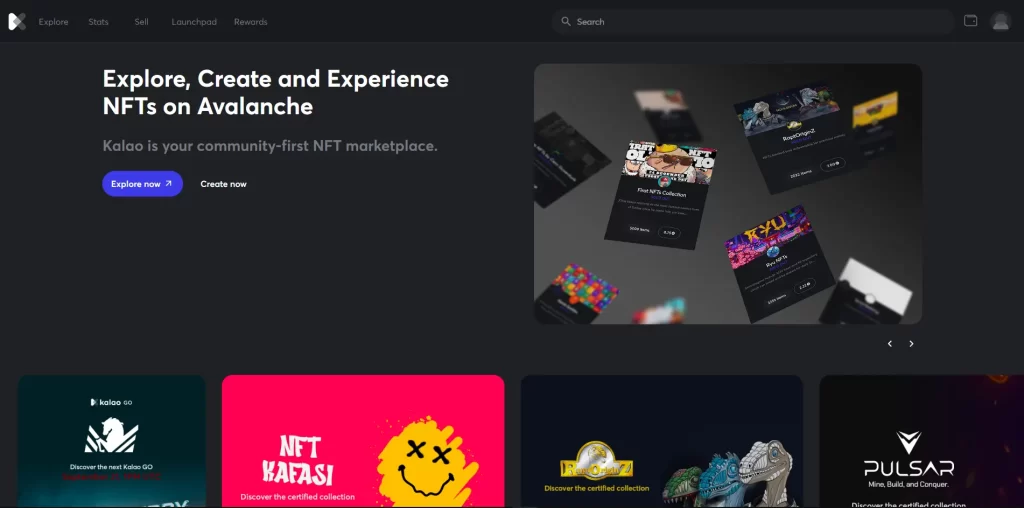 Kalao is an interesting, feature-rich project. Their goal is not only to become a major Avalanche NFT Marketplace but to build a complete NFT ecosystem. 
Kalao wants its users to experience NFTs in many different ways, with the intersection of NFTs, VR, and the Metaverse. 
As with any other NFT Marketplace Kalao also has its own native token $KLO. Kalao Token can be used for staking, or to reduce your service fee by 1.25% to 1.25%. 
The user experience on this platform is just great. You will feel in the center of the action. The UI is really clean and professional looking.
1. NFTrade
We decided to put NFTrade in the imaginary first place, even if it's not an actual ranking. And that's for a few simple reasons. 
NFTrade is the most popular choice among AVAX users. But also features cross-chain action supporting Ethereum, Polygon, Moonbeam, Binance Smart Chain, and of course Avalanche.
NFTrade also now features a zero percent service fee. Which is a promotion campaign, that might not last long. So what to wait for? List your NFTs there now, as this platform is open to everyone.
Similar to Binance, which recently opened its NFT marketplace to users. 
Conclusion
We put our heads together and came up with a list of our 4 favorite Avalanche NFT Marketplaces. The background in no way reflects the true value of these NFT Markets. Although we agreed that our favorite is NFTrade. 
More and more people are getting tired of paying astronomically high gas fees on the Ethereum chain. So we can assume that alternative NFT Markets will only grow. And it's up to you which one becomes your favorite.