Shiba Inu (SHIB) is one of the most popular meme coin out there. Although many consider SHIB just a "shitcoin" without real added value, others see a huge potential in it. Also, the developers of this coin, with the goal to increase the tokens' value and appeal to investors, started burning SHIB.
If you belong to the second group of people, you might be looking for a way to add Shiba Inu (SHIB) to MetaMask and start trading. Since SHIB is built on the Ethereum network, it's fairly easy to add it as a custom token.
This article will show you three steps to add SHIB to MetaMask easily. Let's dive in!
1. Ensure you are Using the Ethereum Network and Tap "Import tokens"
Typically, the first step would consist of importing a custom network to MetaMask, but since SHIB is an Ethereum-based token, we don't need to do anything extra and jump right into importing it as a custom token.
To start, ensure you have the right network selected. To select the correct network on MetaMask, open the network selector drop-down menu and choose Ethereum mainnet.
Now scroll down until you find an "Import tokens" button and tap it.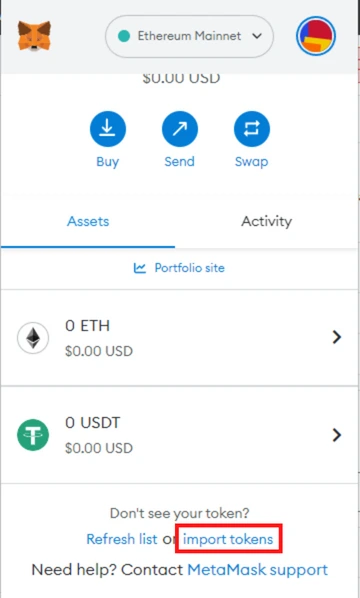 2. Find the SHIB Contract Address
We would have a hard time importing a token that isn't listed on CoinMarketCap. But since Shiba Inu is listed there, it makes our work much easier. Visit the SHIB token page on CMC and find the Contract address area.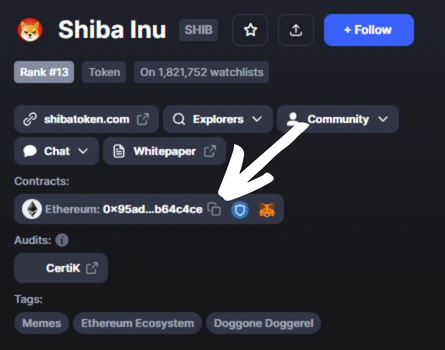 Now tap the little copy button beside the contract.
For the lazier of you, the contract address is: 0x95ad61b0a150d79219dcf64e1e6cc01f0b64c4ce
3. Import SHIB to MetaMask as a Custom Token
Once you've copied the Shiba Inu (SHIB) contract address, open the MetaMask extension again and paste it into the "Token Contract Address" field.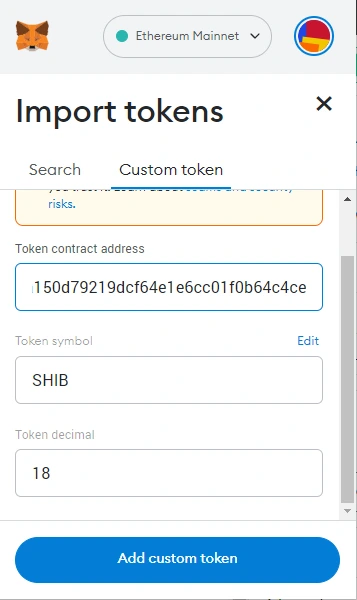 If you've pasted the correct contract address, other windows should be auto-filled, and SHIB should appear as a token symbol.
Finish by pressing the "Add custom token" button. Once you've successfully imported Shiba Inu to your MetaMask wallet, it should appear as one of your tokens under the Ethereum network.
Conclusion
SHIB is the native token of the Ethereum network, so you can add and deposit Shiba Inu to MetaMask using this network.
To do that, start by copying the SHIB contract address from a trusted source, like CoinMarketCap. Once you have the correct contract address, paste it to MetaMask using the "Import custom token" button.
After adding your token to MetaMask, you can use SHIB on various centralized and decentralized exchanges, including Binance or Coinbase.