Miner fees, also known as gas fees, are transaction fees paid by users to compensate miners for verifying and processing transactions on a blockchain network.
No one likes to pay fees, especially on some networks this fee can make up to tens of dollars. This can be frustrating if you only need to move your assets from one wallet to another.
But there are ways to avoid miners fees on Coinbase wallet and keep more of your crypto in your wallet.
In this article, we'll take a closer look at the Coinbae wallet miner fees, why this fee is so high, and give you practical tips on how to minimize them. Let's dive in!
Coinbase Miner Fees Explained
Whether you are using the Coinbase exchange account or their standalone Coinbase Wallet app, when sending cryptocurrencies from Coinbase, you are required to pay miner fees.
In short, gas fees are paid to miners as a reward for processing your transaction.
Firstly, a transaction cannot be processed without paying this fee. And secondly, you can usually choose how much you'd like to pay. The more you pay, the faster your transaction will be picked up by miners, and the faster it'll be processed.
As miners are somewhat picky about who to pick up from the mempool. You can check our article about crypto transaction times for more info.
You can see an estimated network fee prior to confirming the transaction.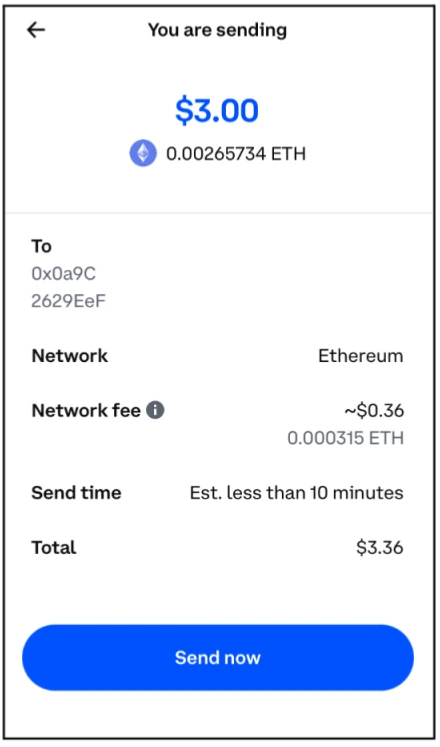 How high are Coinbase Miner Fees
The way these gas fees are charged differs between Coinbase Exchange and Coinbase Wallet.
Coinbase wallet, as a non-custodial crypto wallet, will charge you the real estimated miner fee without keeping anything for themselves.
But the exchange can, in some cases, charge an extra flat percentage fee on transactions, no matter the amount. This fee is set to 1%.
And sometimes, these fees can get really high. For instance, a Reddit user reported that a miner fee for $5 worth of BTC transaction was over $120. But there are ways to reduce that down.
How to Avoid Miner Fees on Coinbase
Although it's not possible to entirely eliminate these fees, you can highly reduce miner fees by sending your crypto the right way.
Firstly, you should always send your crypto during off-peak hours to reduce miner fees. It has to do with how transaction verification works.
Even though the crypto market is open 24/7, if you transact at the right time, there won't be that much competition in terms of gas fees, and your transaction will be picked up even when paying less. Otherwise, if you pay those low fees in the network peak, miners would prioritize transactions with higher fees, and your transaction might get stuck.
The early morning hours typically see the lowest trading volume. That's approximately between 1 to 8 am ET.
In contrast, in the evenings, the network can get busy.

Secondly, if you choose the right network for your transaction, you could save even more than 99% on miner fees.
Many coins and tokens exist on multiple chains. Take USDT as an example which is supported on more than 40 different networks.
If you hold your coins on Coinbase, it'll give you the option to choose on which network you need to send your assets.
| Withdrawal Network | Average Transaction Fee |
| --- | --- |
| Ethereum Network | $0.65 |
| Binance Smart Chain | $0.21 |
| Polygon | $0.018 |
| Solana | $0.000025 |
In this case, by choosing Solana Network instead of Ethereum Mainnet, you would save 99.996% on transaction fees. That's a significant cost-saving, especially for high-volume traders or those making frequent transactions.
Conclusion
Saving on miner fees is an important consideration for anyone using a crypto wallet. And even though the saving might not seem like much, after hundreds of completed transactions, it'll add up.
Although there are not many ways to avoid or reduce Coinbase miner fees, trading at off-peak hours and choosing the right network could save you a fortune (nearly).
You can also manually set the gas fee amount, but don't set it too low, as that may result in a longer confirmation time. You have to remember that transaction fees are necessary for maintaining the security and reliability of the cryptocurrency network.