MetaMask is probably the world's most used crypto wallet. It is a self-custodial wallet used to interact with the Ethereum blockchain.
And as you might know, a wallet is just a tool used to interact with the blockchain. That's also why your MetaMask wallet can hold multiple accounts that you can easily switch between.
You can also connect your Trezor or another hardware wallet as another account to MetaMask.
But maybe you want to switch to MetaMask's alternative or need to give up one account that was compromised.
Whatever reason you have to delete your MetaMask wallet or it's an individual account, this quick guide will show you all about it.
This article will teach you more about the proper approach to how to delete a MetaMask account or your whole wallet from your browser. Let's get started!
Can you Delete MetaMask Accounts
Unlike some other crypto wallets within the centralized sphere, MetaMask doesn't offer a simple log-out or close account solution. And many first-time crypto users might find it confusing.
That's because it's a non-custodial wallet. Simply said, that means that your private keys or seed phrases are not stored anywhere online but locally on your device. If you are interested in this topic, we have made an article that discusses how MetaMask Stores your Data that you can check.
Anyway, as a non-custodial wallet, there is no authority performing. That's why there is no one who can delete an account for you. In fact, you can't even completely delete an account if you want to.
A crypto wallet, including MetaMask, is just a tool to control and hold the addresses. And the addresses are immutable by the nature of blockchain technology.
Once created Ethereum addresses will now always be a part of the blockchain public record.
So the closest you can get to completely deleting your MetaMask account is to remove your wallet from your device and forget about your crypto address.
Which is a completely safe thing to do. As blockchain doesn't store any of your personal information.
The only thing you can find out from the blockchain and block explorers is what quantity and to what wallet was crypto sent. Or what wallet cryptocurrency came from.
But you can't find out who the wallet belongs to or other personal information.
But with one exception. There is one way to completely delete a trace of your account from MetaMask. That's with external accounts.
How to Delete External MetaMask Accounts
As stated before MetaMask accounts cannot be deleted for good by the nature of the blockchain and its immutability. You can uninstall the entire wallet and forget your private keys at best. We will give you a guide for that later on.
But you can delete external accounts. An external account is, for instance, an imported hardware wallet. 
You can connect your hardware wallet, like SecuX or Trezor, to MetaMask. And when you no longer need it to stay connected, you can delete the corresponding account. Which you should do instantly after your task is done.
Now, let's take a look at the process:
1. To delete your connected external wallet, start by tapping on the profile picture.
2. Then, from the list of available accounts, select the one you wish to delete.
3. Finish by clicking the three dots and the "Remove account" button.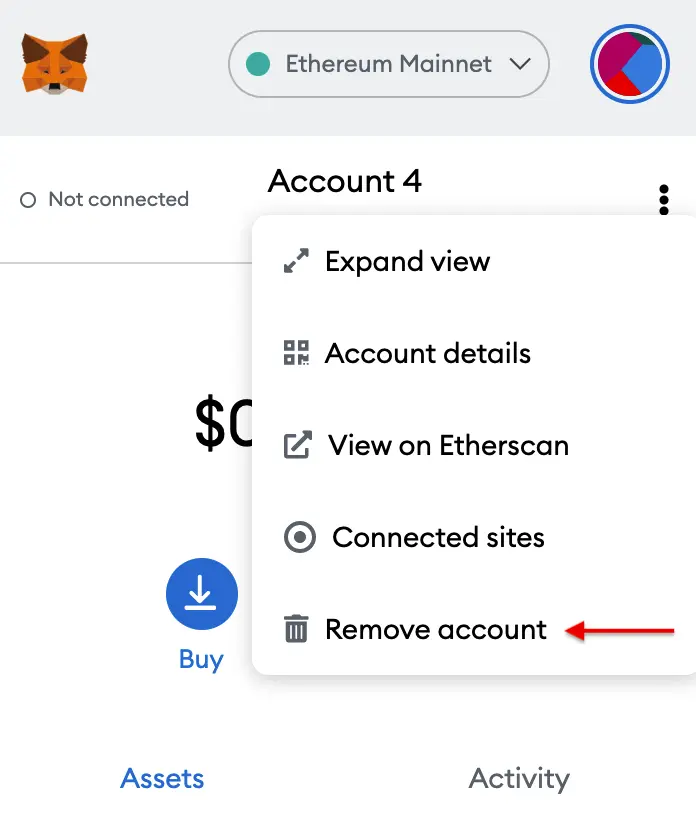 Don't worry, this will only delete your external address record from the MetaMask. The address will still be a part of your external device – whether you use Trezor, Ledger, SecuX, or any other brand. 
How to Delete MetaMask Wallet
Technically, if you forget your seed phrase and private keys, your wallet will become unusable. And that's the closest you can get to completely deleting your MetaMask wallet.
You can also uninstall the extension from your browser. Or alternatively, if you are using MetaMask on your mobile device, you can delete the app from it.
First, to delete the extension, click the little puzzle icon in the right corner of your browser.

Here you can see a list of all your extensions, including MetaMask. Click the three dots beside MetaMask and tap "Remove."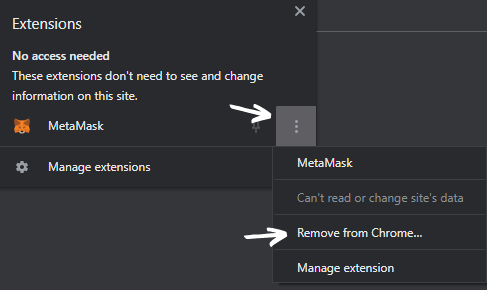 The exact button will vary depending on your browser. On Chrome, it's "Remove from Chrome," and on Brave, it's "Remove from Brave," etc.
If you ever change your mind after deleting the MetaMask extension and, technically MetaMask account, you can always recover it using your recovery phrase or private keys.
Or you can always create a brand-new wallet or even dozens and hundreds of new MetaMask accounts, as there is no maximum number of accounts you can create or own.
Conclusion
Today you have learned that because of the immutable nature of the blockchain, decentralized accounts cannot be permanently deleted. The moment you have created your MetaMask wallet your Ethereum address will be forever a part of the blockchain public record. 
However, you can delete external, imported MetaMask accounts. 
Also, you can delete the MetaMask extension from your browser or the mobile app from your device and forget about your Ethereum address. This will not limit you in your future actions at any point, as you can create an unlimited number of accounts.