Both Binance Smart Chain (BSC) and Avalanche Network (AVAX) experience explosive growth in popularity in recent months. Both come with some unique features and, most importantly, with dozen times cheaper transaction fees compared to the Ethereum network.
Project owners love endless opportunities, and the ease with which they can create, control and deploy their projects, and users primarily benefit from high transaction speeds and low fees.
And with a little help from this tool called cross-chain bridge, you can take advantage of both of these networks.
In this article, we'll take a look at how to bridge from BSC to AVAX easily. And we mean it, it won't take you more than 5 minutes to do!
How to Bridge from BSC to AVAX
To bridge any two networks, you'll usually need to use a third-party service that allows you to seamlessly move your assets between the two networks.
Since those two networks are both fairly popular, you shouldn't have any issue finding a cross-chain bridge that allows that.
We'll show you the bridging process on two platforms – AnySwap and Synapse Protocol bridge. And to top it up, we'll give you a tip on how to do that very cheaply using an online exchange.
The process is very simple because both Binance Smart Chain and AVAX can be imported to MetaMask as a custom network. Although you can't import the native Avalanche network, AVAX-C Chain, an EVM-compatible version of the network, will do the work for us.
So the first step is to import those two networks to MetaMask.
You can visit ChainList.org, which can automatically import any network for you to MetaMask. Or, if you don't trust a third-party website, you can manually insert network details. You can check both guides on how to add Avax-C Chain and BNB Network to MetaMask here.
Bridge BSC to AVAX Using AnySwap
The first way to bridge BSC to Avalanche is using AnySwap, probably the biggest cross-chain bridge. It supports a wide range of tokens and has a fairly large liquidity, so you should be able to seamlessly move tokens from one network to another, no matter the amount.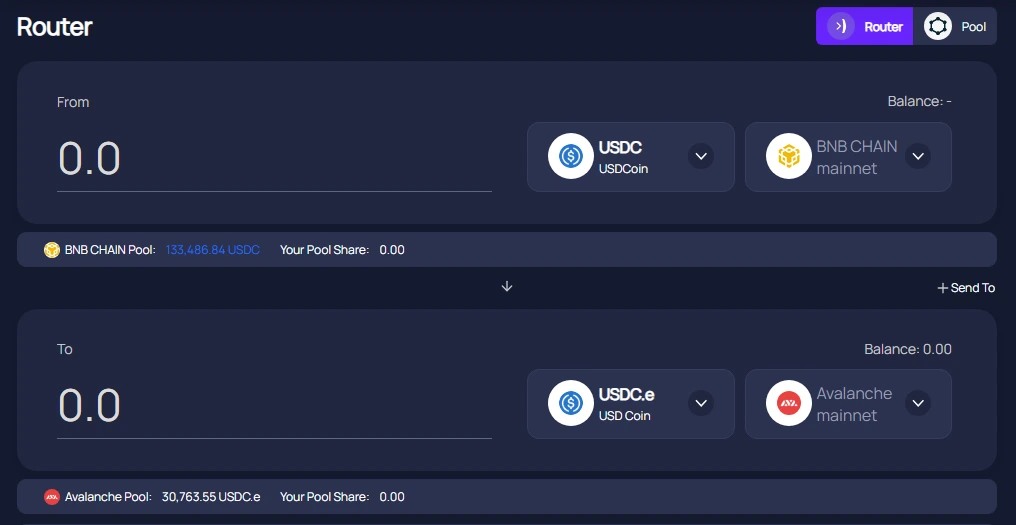 Visit the AnySwap website.
Connect your wallet using the button in the top right corner.
Once your wallet is connected, make sure to select the right network inside MetaMask. That's the one you are bridging FROM.
Configure the route – select from and to tokens and networks.
Although AnySwap is showing AVAX as the "Mainnet," it's actually C-Chain – > the one you can use with MetaMask.
You can check that by opening the network list and clicking the little gear icon beside Avalanche. You can see the API server for C-Chain there (https://api.avax.network/ext/bc/C/rpc).
Enter the number of tokens you want to bridge and tap "Swap."
Review the transaction and confirm it in your wallet. You should have the funds in about 5 minutes.
Bridge Binance Smart Chain to Avalanche using Synapse Protocol
We decided to list Synapse Protocol as a second option since it's another well-known crypto bridge. However, if you have a larger quantity to bridge, we'd stick with the first cross-chain bridge, as Synapse usually doesn't have that much liquidity – at the time of writing, the whole BSC Chain and all its tokens have combined liquidity of only $6,500.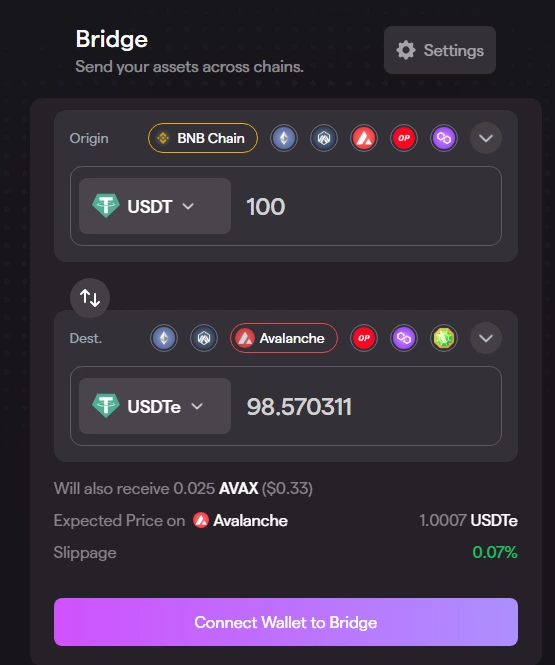 Visit Synapse Protocol.
Connect your wallet using the connect button either in the upper right corner of the website or inside the bridge form.
Set the origin and destination networks (BNB Chain -> Avalanche) and select desired tokens to bridge.
Synapse will give you the option to select the same token on both of these networks. However, that's not possible -> USDT with the same contract address doesn't exist on both of these networks. You have to select USDT -> USDTe, USDC -> USDCe, etc. It's still practically the same token, just with a different label.
Enter the number of tokens to bridge.
Confirm the transaction in your wallet. After a few minutes, the tokens should arrive in your wallet on the other network.
Bridge Using a Centralized Exchange
Centralized exchanges (or CEX) have one big advantage. You can receive your tokens on whatever network and withdraw them on a completely different one without any additional fees – you're not swapping anything. So the only fees you pay are network fees for the withdrawal.
For instance, we regularly receive USDT on the Ethereum network and withdraw it using the Tron network. And you can do that, too, using any tokens and any combination of networks.
Simply open your exchange account and go to your wallet. From there, retrieve your deposit address to the network you want to bridge from.
Then send the tokens to your CEX wallet using that network and withdraw them using a different network.
That easy it is, and you don't pay any fee for the bridging tool and also avoid one extra transaction fee for the swap.
What are the Bridging Fees for BSC and AVAX
The fees to bridge from Binance Smart Chain are actually pretty affordable.
Both these networks aren't the cheapest on the market (take Solana as an example with an average transaction fee of $0.000025), but the transaction fee averages at around $0.2.
But that's just one aspect. On top of that, you'll pay a service fee depending on the bridge provider. Most bridges have around 0.3 to 1% service fee.
Bottom Line
Bridging from BSC to AVAX is an easy process that'll likely take you less than five minutes to do, as we promised in the introduction!
All you need to do is to find a cross-chain bridge that has both these networks and connect your wallet. Then fill in the number of tokens you want to bridge and confirm the transaction.
For all this, you'll likely pay a maximum of $1 in transaction fees.
This way, you can take advantage of both Binance Smart Chain and its wide arrange of applications and Avalanche and its fast transaction speed (up to 4,500 transactions per second!).