Trust Wallet is a popular non-custodial wallet that allows you to connect to various DApps. I.e. Decentralized Applications, like PancakeSwap. 
However, to connect Trust Wallet to PancakeSwap you need to activate DApp Browser first. The DApp browser is a Trust Wallet-integrated Web3 browser that allows you to interact with various decentralized applications.
You can't use PancakeSwap on a normal mobile browser, like Safari or Chrome, as you will not be able to connect your Trust Wallet in most cases. And this is not the only reason why you should use the Dapp browser. It is a lot safer as well. 
In this article, we will look more into how to connect Trust Wallet to PancakeSwap. 
How to Connect Trust Wallet to PancakeSwap
Apart from using the integrated DApp browser, you have another option. You can also connect Trust Wallet to any decentralized application on your computer. There are three main methods, but we will look into the most convenient one.
After that, we will guide you through enabling the DApp browser and connecting your wallet in the mobile app.  
Option 1: How to Connect Trust Wallet to PancakeSwap on PC 
We have an entire article dedicated to using Trust Wallet on your computer, featuring 3 different methods. However, WalletConnect is the most convenient way to use PancakeSwap on your computer.
WalletConnect is a secure open source protocol that allows your wallet to connect to and interact with Decentralized Applications (DApps), and vice versa. 
This Protocol is supported by the vast majority of Crypto Wallets and most used DApps like PanckakeSwap, ViperSwap, or UniSwap. The full list of supported DApps can be found here.  
Where WalletConnect serves as a bridge, establishing a secure connection between your wallet and the DeFi app, such as ViperSwap. 
To connect Trust Wallet to PancakeSwap on a PC open PancakeSwap and choose WalletConnect as your wallet option. A QR code will appear, which you use to connect securely. 
In the Trust Wallet application head to settings and find WalletConnect. Tap on that and scan the QR code. After the connection is established you can use Trust Wallet on PancakeSwap on a PC.
For step by step guide with pictures kindly head to this article.  
Option 2: How to connect Trust Wallet to PancakeSwap on iPhone and Android
I must admit I expressed myself badly at the beginning of this article. The DApp browser is mandatory for android users to connect to PancakeSwap. 
The DApp browser was removed from the iOS version in June 2020 at it wasn't compliant with a new set of AppStore guidelines. Meanwhile, both the individual Decentralized Applications and TrustWallet have responded to this situation.
As a result, it is now possible to connect to PancakeSwap from TrustWallet directly using your browser. Also, TrustWallet created a built DApp browser, which acts as a separate browser using DuckDuckGo.
Before that, it was possible to bypass this sudden removal of the DApp browser. Using a special URL:  "trust://browser_enable". However, this is no longer possible either. So how to connect Trust Wallet to PancakeSwap on iPhone and Android devices? 
Method 1: Connect using the browser of your device
The first way is quite simple. Use your mobile browser to access the exchange. 
First thing first use your browser to access the PancakeSwap Exchange. This is done by typing "PancakeSwap.finance" in the search box.
As you land on the PancakeSwap homepage select "connect" in the top right corner. This will bring up a window with various connection options. 
You can in fact select WalletConnect again, and proceed as you would on a computer. But it's an unnecessary extra step, as you can link PancakeSwap to Trust Wallet directly.
So from the list of wallets select Trust Wallet. 
This will either open the AppStore in case you don't have Trust Wallet installed. Or your wallet app will pop up. 
Now, either your wallet will ask you for permission to connect. Or you will be taken to the aforementioned browser built into Trust Wallet, where you must click the "connect" button again. 
The last thing left to do is to confirm the connection. Congratulation! You have successfully connected your Trust Wallet to PancakeSwap. 
Method 2: Connect using an integrated DApp browser
The steps, in this case, are quite similar to the first example. However, it is mainly the first step that differs.  
To use the integrated DApp browser open your Trust Wallet. In the bottom bar, you will see a "Browser" tab. Clicking on this will bring up a search window that you can use exactly as you would use your native browser.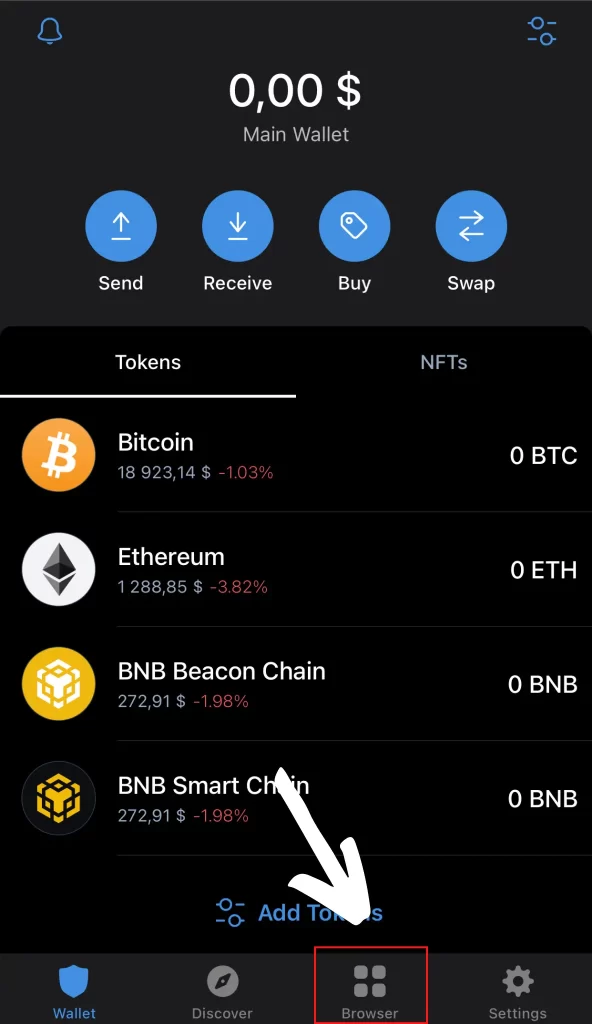 Type "PancakeSwap.Finance" into the search box. 
The difference between the first and second methods is that in this case, PancakeSwap will recognize that you are using the DApp browser and will prompt you to confirm the connection right away.
Which saves you a step or two and some time.
Conclusion
Trust Wallet is a user's favorite way to store and transfer cryptocurrencies. That's because of the wide variety of supported Decentralized Applications, including PancakeSwap. 
Connecting Trust Wallet to PancakeSwap is an easy process consisting of a few steps.
But if you are looking for more ways to use Trust Wallet on your computer we have made an in-depth article on 3 Methods to use Trust Wallet on a PC.