Yoroi is a simple, fast, and secure wallet made for Cardano (ADA) and Ergo (ERG). It's available as a browser extension for all popular browsers, with over one million downloads worldwide. And as a mobile app for both major OS – Android and iOS. And has a wide variety of features, including Cardano staking directly in your wallet.
Yoroi's team decided to add an extra layer of security in the form of a Spending Password. This article will introduce all the aspects of it and also answer the most asked question –  what to do when you forget your Yoroi spending password and how to change it or recover it. Let's dive in!
What is Yoroi Spending Password
During the initial setup of your Yoroi wallet, you'll be prompted to create a spending password. Spending password is an added layer of security, ensuring that no one but you can send crypto from your wallet if you accidentally leave it open on your device.
The spending password is a variation of the KuCoin trading password or just a fancy way to say "log-in password." Since you will be using this password to withdraw and send crypto from your Yoroi wallet.
An issue with your spending password can cause Decryption Error, which is quite common and easy to fix. Here, you can read a quick guide on how to fix decryption error on Yoroi, if you ever need to.  
Fortunately, even though Yoroi is a non-custodial wallet, without any registration, email, etc., you are able to reset your spending password if you forget it; here is how.
What to Do When you Forget your Yoroi Spending Password
The spending password is tied to the version of your wallet, not to your crypto address. Thus, you will have to remove your existing wallet account and reimport it using your seed phrase, which you should have safely stored somewhere.
Unfortunately, there is no way to see your seed phrase once you complete the initial setup. This is a real downside of this wallet. Thus, if you lost your recovery phrase, DO NOT REMOVE YOUR ACCOUNT and send your fund over to another wallet. 
Once you made sure you have your full, 15-word seed phrase, you can remove your account and import it again. 
To do that, click on the gear icon in the right bar.
You'll now see a few different tabs. Select the third option – wallet. 
Now scroll all the way down till you find a big red button with the label Delete and your wallet's name.

You'll get a message warning you, that if you don't know your recovery phrase, you'll lose access to your funds. Confirm the message and remove the wallet to reset your spending password. 
You'll now be on the same homepage, as when you were initially creating your wallet. However, instead of "Create Wallet," tap on "Restore Wallet.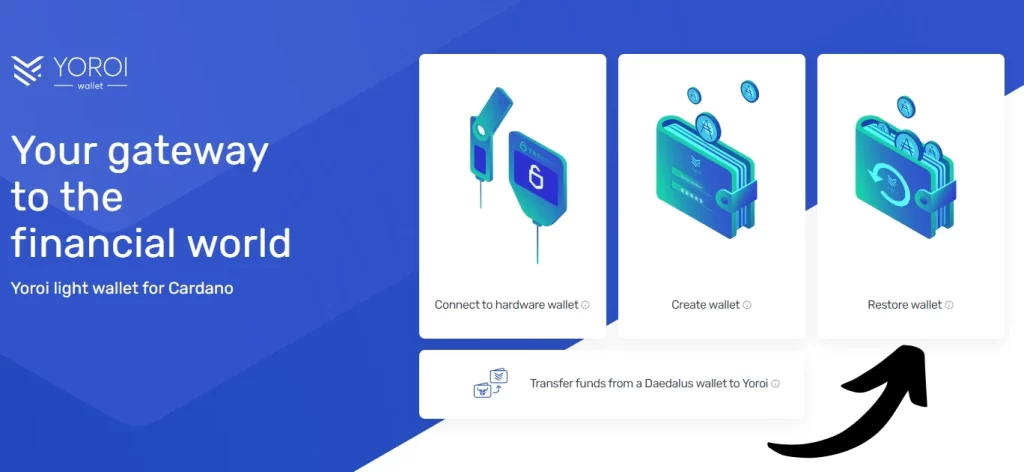 Now select whether you had Cardano or Ergo Wallet and how many words your recovery phrase has – standardly 15 words.
Give your wallet a new name, enter your seed phrase and create a new spending password. And you are all set! 
Also, the process is the same if you want just to change your Yorio spending password, you have to import your wallet again and set a fresh password.
For a more in-depth look at the features and functionality of this wallet, be sure to check out our complete Yoroi review.