As someone who has spent countless hours in the Axie ecosystem, we get the struggle. You have spent a considerable amount of money to get into the game, and now you're not even close to a return on your investment.
Many players find themselves in the same position, feeling frustrated and discouraged by their lack of progress, struggling to earn the games' primary currencies, SLP and AXS.
The problem is clear: earning SLP and AXS can be a challenging task, especially if you're against players that spent ten times more money.
But there are easy habits you can employ in your gaming sessions to significantly boost your progression rate. In this blog post, we'll explore how you can earn SLP and AXS in Axie Infinity and how to maximize your earnings.
How to Earn SLP in Axie Infinity
Players can now acquire SLP rewards only through the Arena mode (PVP).
Formerly, there were, in total, three ways to earn SLP, but they were discarded recently.
The amount of SLP you can earn depends on the number of Axies you own and, most importantly, on the player's matchmaking rating (MMR).
What is Smooth Love Potion (SLP)
SLP, or Smooth Love Potion, is an ERC-20 token mainly used to breed your companions, known as Axies. ERC-20 token means that it's built on the Ethereum network and listed directly on many different exchanges. That makes it all the easier to withdraw your earnings for fiat.
Formerly, there were three different ways players could earn SLP in Axie Infinity, but the start of season 20 brought a few different changes to that system. So keep in mind that Sky Mavis, the company behind Axie Infinity, can adjust the reward system of SLP and AXS further in the future.
How you No Longer can Earn SLP in this Season
Axie Infinity consists of two main game modes: Adventure or PVE mode and PVP Arena.
And it's the adventure mode that used to allow players to earn up to 50 SLP per day. In the PVE mode, you stand against waves of creatures that unfold the storyline of the game.
However, the adventure mode still plays an important role in your gaming experience. You can master different battle tactics or level up your Axies without spending your energy.
Similarly, daily quests no longer reward players with SLP for completion.
Limiting daily earnings is a healthy thing for the game's ecosystem, slowing down the inflation of the token and ultimately driving the price up. But Sky Mavis stated that the adventure mode SLP rewards might come back to the game in the future with some burn mechanics.
How MMR Works in Axie Infinity
Your matchmaking rating is based on your skills, so you are always matched with an opponent that is similarly strong.
There are two separate MMR systems. One for the normal season and the second for the off-season. In the past, once the season ended, your MMR transitioned to the off-season, and you played on the same skill level.
However, since the higher your MMR is, the higher your rewards are, it produced too much SLP, inflating the token.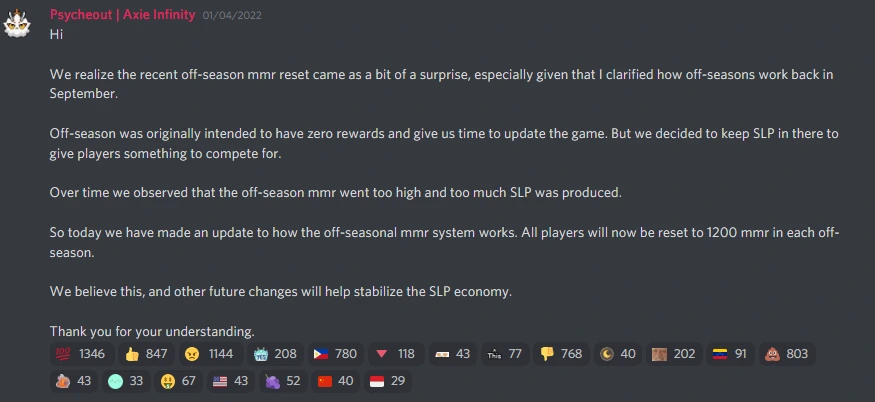 That's why the devs decided to reset both MMRs to 1200.
Seasonal MMR is used to rank players in the seasonal leaderboards, so you also compete for AXS. At the start of a new season, your MMR is reset to 1200.
Once the season is over, the game enters the off-season. During the off-season, players do not compete for rewards in the leaderboard, and your MMR will also reset back to 1200.
It's also worth noting that your MMR will always reset to 1200. 
Even if you had a bad season and dropped to, let's say, 800, with the start of the off-season or new season, your MMR will reset to 1200.
The higher your ranking, the more SLP you are rewarded with. The MMR scale goes from zero to infinity. But the maximum you can earn per win is capped at 14 SLP.
| MMR | SLP Reward per Win |
| --- | --- |
| 0 – 999 | 1 |
| 1000 – 1099 | 3 |
| 1100 – 1299 | 5 |
| 1300 – 1499 | 6 |
| 1500 – 1799 | 8 |
| 1800 – 1999 | 10 |
| 2000 – 2499 | 12 |
| 2500 + | 14 |
So ultimately, you want to stay above 2500 at all times to maximize your earnings. However, if you are just starting with the game, that's not an easy task to do without bigger investments.
Each game in the Arena Mode consumes 1 energy. That's where the number of Axies you own plays an important role.
Axie Infinity and Energy Capacity
Each adventure or arena battle costs one unit of energy. That's regardless of whether you win or not.
Once your energy is depleted, you can still play both game modes, but you won't receive any rewards.
Adventure Mode is played to level your Axies, and there is no meaning in continuing to play PVE once you are out of energy.
However, you can still play PVP even if you have zero energy to increase your MMR. That's especially good at the start of each season to get to the 2500+ MMR bracket as fast as possible.
How big is your energy capacity depends on Axies owned. The number of Axies also influences how fast your energy restores.
| Axies Owned | Max Energy Capacity | Energy Regeneration |
| --- | --- | --- |
| 3-9 Axies | 20 | 5 Energy Every 6 Hours |
| 10-19 Axies | 40 | 5 Energy Every 3 Hours |
| 20+ Axies | 60 | 5 Energy Every 2 Hours |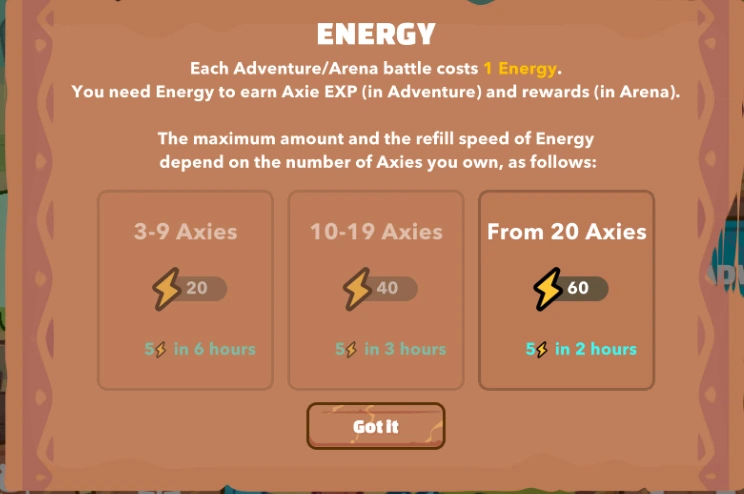 This means that, in theory, if you played 60 battles and won all of them at the highest rank, you could earn up to 840 SLP in one day.
How to Earn AXS in Axie Infinity
The Axie Infinity Shards (AXS) is the governance token of the Axie Infinity universe. It's as well used to breed Axies, but players who hold this token can also vote on the direction of the game's development.
Earning AXS in Axie Infinity is harder than earning SLP. Everyone playing the game, regardless of their skills or Axies in the army, can earn SLP. However, Axie Infinity Shards are reserved only for the best players during the season.
The leaderboard is composed based on MMR. And since the MMR is automatically reset to 1200 at the start of the season, everyone has a fair chance to get this reward by competing in Arena.
In order to earn as much AXS as possible, you'll ultimately need to stay in the highest earning bracket – above 2500 MMR.
But one change from previous seasons is that more players will earn AXS. In the past, only the best 1,000 players were rewarded. However, from season 20, Axie Infinity distributes rewards between 300,000 players, worth nearly 6 million dollars.
How to Earn More AXS
We can all agree that ranking on top of the leaderboard is hard. You'll likely receive AXS if you play actively, but not much.
That's why compound interest might be your best friend here.
AXS tokens can also be staked for around 60% APY. You can stake the token on many centralized exchanges, but you can also stake inside the official Ronin Wallet, which offers the highest APYs.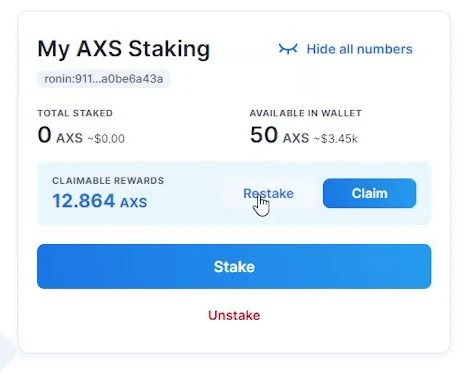 To do so, visit stake.axieinfinity.com, connect your wallet, and stake your tokens. The rewards are not claimed automatically, so you might need to visit the page once a day, a week, or monthly, depending on your preferences, to claim the rewards and keep the ball moving.
You can check our guide on staking AXS if you have any questions left.
How Much Can you Earn Playing Axie Infinity?
There is the most important question still left to answer. So how much can you expect to earn if you start playing Axie Infinity?
It all depends on several factors. You can easily substitute a lack of skill with more breeding, etc.
But if you utilize all the game aspects currently, you can expect to earn between $5 and $50 daily.
However, keep in mind that these figures are on an average basis. Your daily earnings might also fluctuate. Some days you won't be able to sell any Axies, while on other days, you might sell 10 of your creatures.
However, to earn consistently, you must stay committed to the game. For instance, deplete all your energy every day and breed regularly. Once you fully immerse yourself into the game, you can also try becoming a manager and getting your own scholars.
Conclusion
Axie Infinity has been around since 2018. Especially in recent years, the popularity of this play-to-earn game has grown tremendously. Therefore, it might be necessary for Axie developers from Sky Mavis to cut down earnings from time to time or discard some features altogether.
However, if you shape your perspective a bit, you can see a big opportunity for the game's growth. And many are still earning and cashing out thousands of Axie Infinity every week.