SecuX V20 and Ledger Nano X are both on the fancier side of crypto wallets. They both come with great security features, compatibility, and functions you would not expect to see on a crypto wallet. Yet, there is a long list of things both wallets do differently.
When it comes to hardware wallets, you don't want to underestimate any of these aspects, as it's about the security of your holdings.
In this post, we'll compare the main features of both models to help you decide which crypto wallet is best for you and your cryptocurrency portfolio.
SecuX V20 Overview
We got our hands on the SecuX W20 model in the past, so it wasn't surprising to see a great built quality with V20 too. After all, there are not many differences between the V20 and W20 models, apart from the size and the type of USB connector the wallet uses.
The SecuX V20 wallet is probably the only device with a unique octagon-shaped design with a very elegant brushed aluminum running along. The back of the device has black, rubber-like padding, so the device won't be sliding across your table.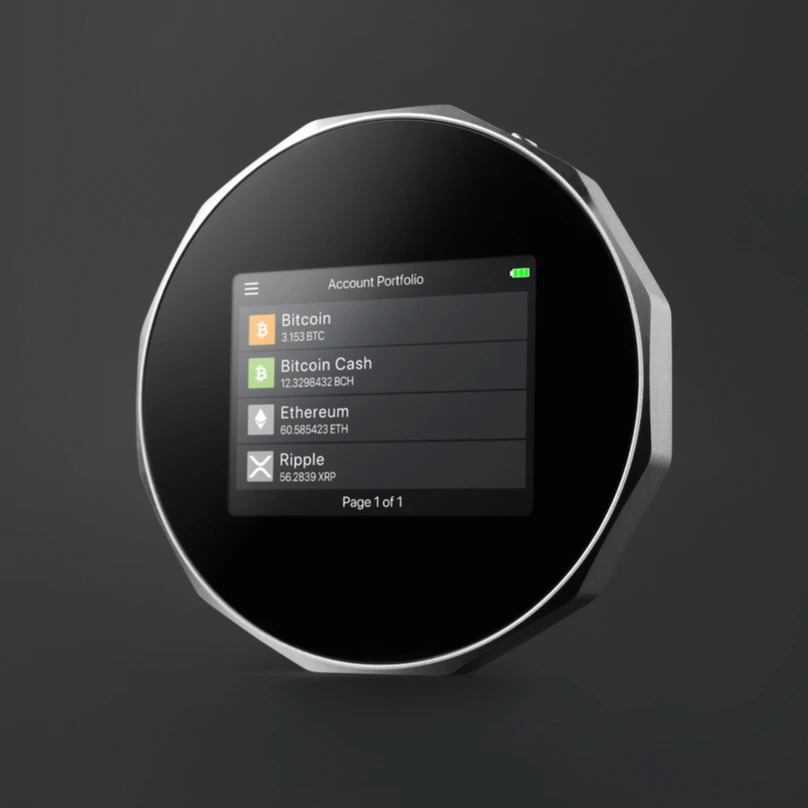 When we move to the front, it comes with a flat, 2.8-inch color touchscreen. The device does not contain any actual buttons (only a digital one on the touchscreen), and everything can be controlled from the device itself, whereas on other crypto wallets, you usually control it from your mobile phone or computer.
You'll definitely know that SecuX V20 is in your hands, as it weighs 120 grams, which is nearly four times as much as Ledger Nano X we're comparing it to.
When it comes to connectivity, there's a feature that may seem controversial at first, but once you try it, you won't want to go back. This device can be connected to your device by Bluetooth! Many can see it as dangerous, but it does not compromise the security of your wallet. As it uses the new Bluetooth 5, which is encrypted, and secondly, you'll always be asked to confirm your password.
It also has a USB-C type connector, so you can easily manage your portfolio through their SecuXess app or charge the 600mAh battery for up to 7 hours of wireless use.
And let's stick around security for a little bit. All SecuX wallets are equipped with an Infineon SLE solid Flash CC EAL5+ Secure Element chip. What this lush-sounding chip essentially does is keep your personal PIN code and private keys safe.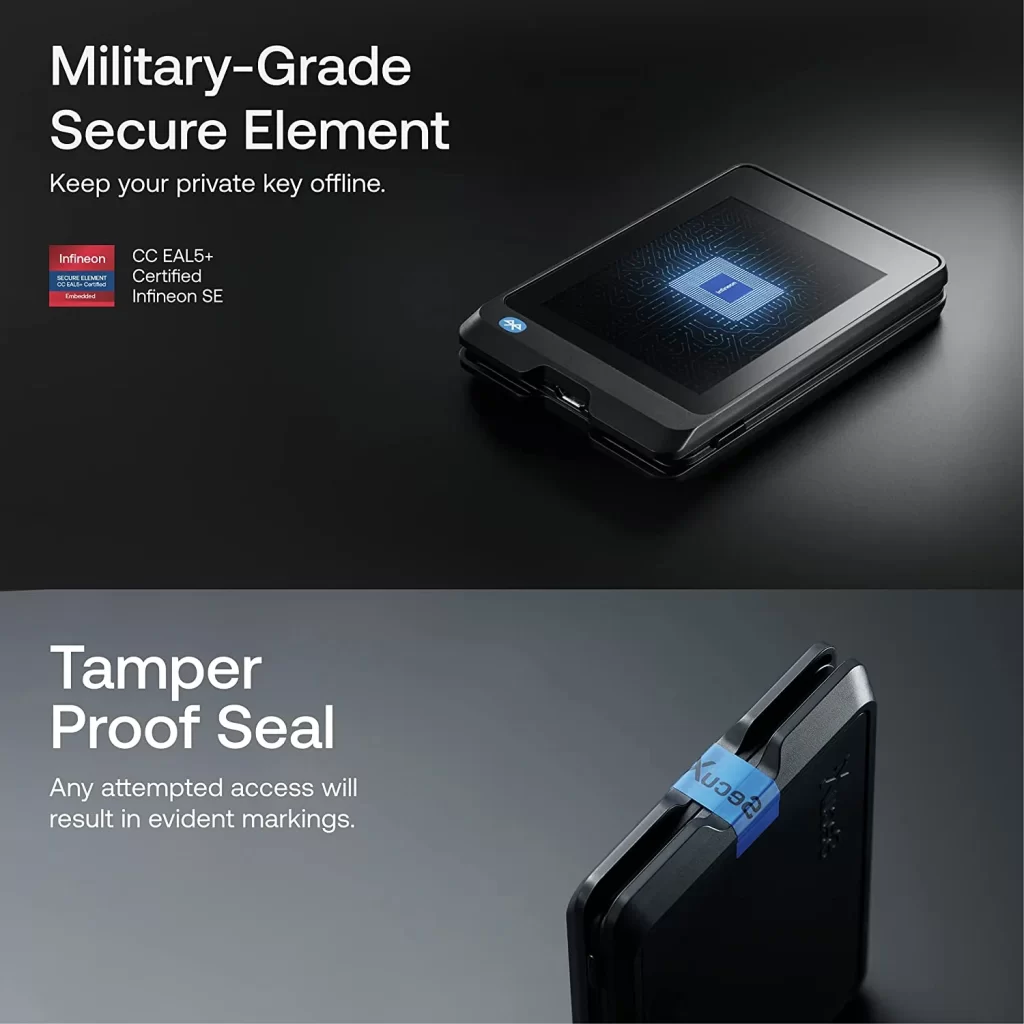 SecuX V20 also:
The wallet is equipped with a special component on the inside that will activate when exposed to light and self-destruct your wallet. That's in case someone wants to steal your data by taking apart your wallet. 
SecuX wallets are compliant with BIP32, BIP39, and BIP44 Protocol standards.
When you receive your wallet, it is equipped with tamper-resistant labels. In case someone wanted to alter your wallet during shipping, you'll know.
Another thing to look out for when choosing a crypto wallet is supported coins. All SecuX wallets support over 1000 coins and tokens plus all ERC-20 tokens and a wide variety of BEP-20 and TRC-10, and TRC-20 tokens.
SecuX V20 comes at $139, but you can get a 10% discount using our link, the discount will be applied at checkout.
SecuX V20 User Interface & User Experience
Having a reliable crypto wallet is definitely great. But if using it is a pain, it'll ruin your whole experience. So let's talk about that for a second.
The whole "Getting Started" process is very straightforward. You'll have to set a 4-8 digit PIN, which will hold your wallet locked and rewrite your recovery phrase. Pretty standard. We did this process in about a quarter of an hour.
You can do pretty much everything directly from the device. The screen is quite big, so there is no issue with that. However, it is not as responsive as you may be used to with smartphones. If you ever own any of the older smartphones, it used a different technology of touchscreen, and that's exactly how it feels using SecuX wallets. But that's not that big of a deal.
For an even better experience, SecuX allows cross-platform support. This means that you can manage your assets not only from the device but also via desktop, laptop, or mobile.
The app for smartphones is also great, it is pretty much like any other wallet app.
To use the wallet on your computer, there's an online app called SecuXess. The UI of the app looks a bit outdated, but it's very intuitive and easy to use. While it lacks some advanced features for tracking your portfolio, it excels in simplicity.
Ledger Nano X Overview
When we look at things in terms of appearance, Ledger Nano X is very inconspicuous. When the device is closed, you won't tell the difference next to a USB stick. Which is not necessarily good or bad things, it comes down to a personal preference. While some like to keep their holdings as hidden as possible, others may like something that more represents their actual portfolio – something to hold in their hands.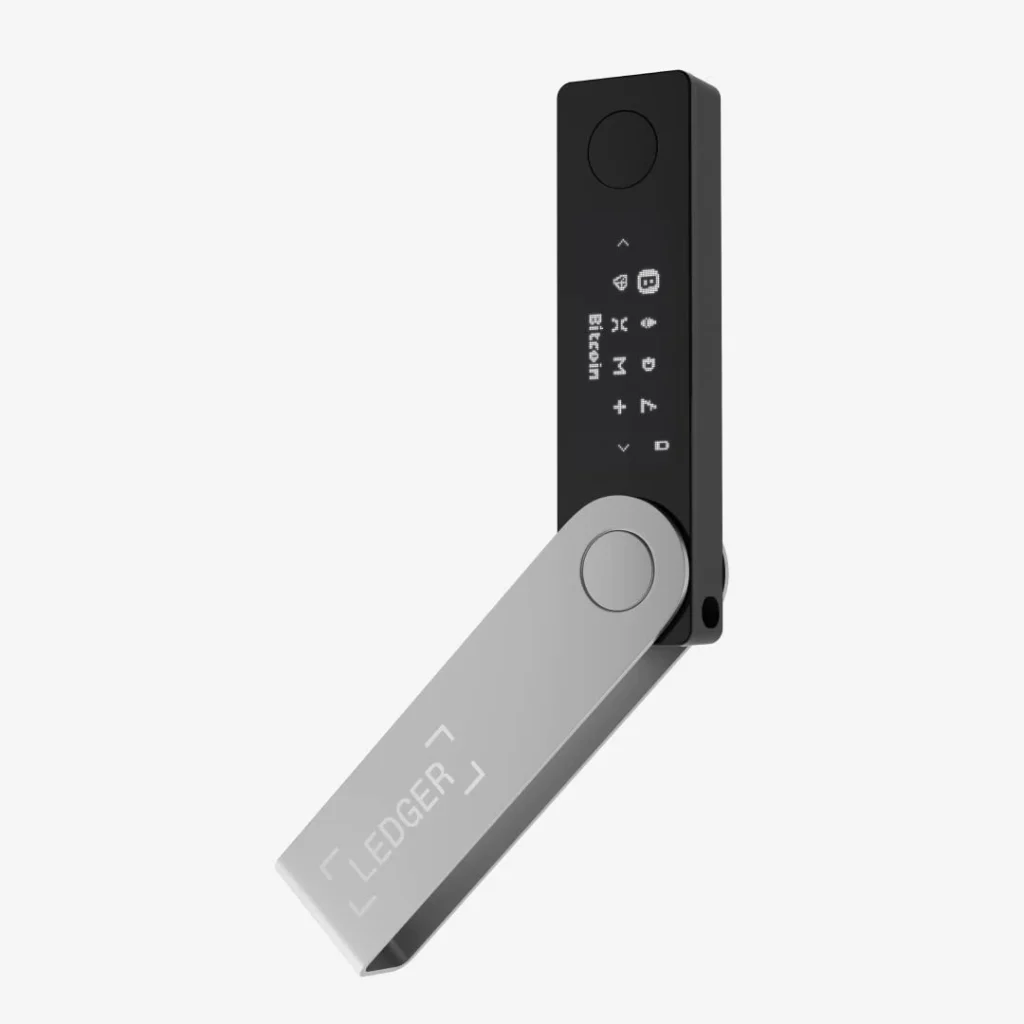 On the front of the device, you'll find one seamlessly integrated button into the cover made out of brushed stainless steel. And when you uncover the wallet, there you have a second button.
When it comes to connectivity, Ledger Nano X also comes with Bluetooth connectivity, which allows you to manage your portfolio also from a smartphone. The mobile app comes with all the functions of the desktop app, which you can connect to using a USB-C cable. But you can even set up the wallet from your mobile. However, in comparison to the SecuX wallet, you can't do much from the device itself.
You can use the device without any physical connection for several months, as the wallet comes with a 100mAH battery. Which, yes, is six times smaller than the one in the SecuX wallet, but since you don't have any huge touchscreen present, the battery time is comparable or even longer.
Now let's take a look at security features. Ledger Nano X comes with a very similar security chip as the other wallet does. This chip serves to protect your device from a range of different attacks, keeping your PIN and seed phrases safe.
Additionally, with Ledger Nano X (and any other Ledger wallet), you can hold, store, and manage now over 5000 coins.
Ledger Nano X User Interface & User Experience
Honestly, we are big fan of both these wallets. And the convenience that comes with buying a wallet that is only as big as a standard USB stick is over the top. Especially for those of you who travel a lot.
On the other hand, as the device and the display is fairly small, it can't fit a QR code. This is not that big of a deal, but for someone making a lot of transactions, it can really make a difference. Additionally, it also creates a risk of getting typos.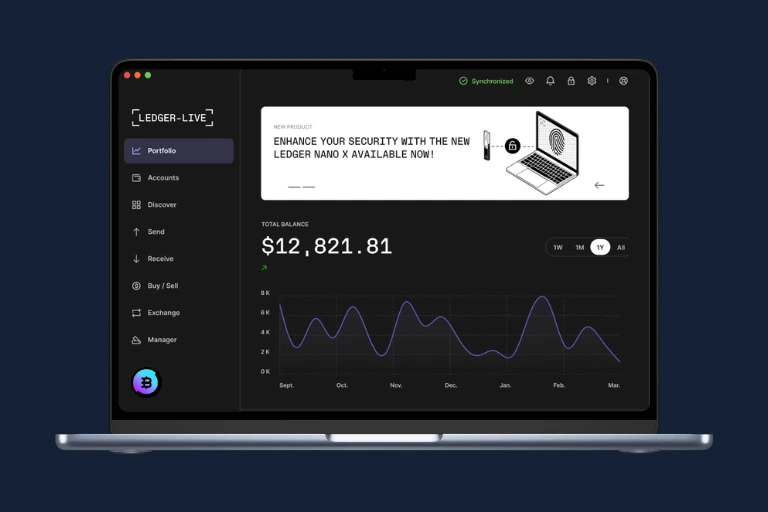 The whole controlling of your funds is quite intuitive, thanks to well-designed mobile and computer apps called Ledger Live. The app offers a lot more features than the competitors from SecuX, but since it's the only way to control the device, it's only good.
SecuX V20 VS Ledger Nano X: Final Comparison
Overall, the SecuX V20 can offer a more exclusive experience for most people – thanks to its robust construction, big touchscreen display, and quality of materials. But this really comes down to your personal preference, as some people may prefer a little crypto wallet that can easily slide into one's pocket.
Additionally, with a big crypto wallet comes a lot more possibilities. From the SecuX wallet itself, you can control your whole portfolio and get a QR code of your address and others.
But other than appearance, the wallets don't differ much. Both wallets come with a Bluetooth connection, both are built on a similar secure infrastructure containing a CC EAL5+ chip, and both wallets support a ton of coins and tokens.
And finally, both also come at a very similar price point. Ledger Nano X is $149, and SecuX V20 comes at the base at $139. However, we got a discounted link for you that will grant you a 10% discount on all SecuX products. With that, the SecuX V20 will cost you around $125.
| SecuX V20 | Ledger Nano X |
| --- | --- |
| Big touchscreen you can control everything from. | Small, compact wallet. Need an app to control. |
| Features Bluetooth connection. | Features Bluetooth connection. |
| If you prefer, wired has a USB-C connector. | Also contains a USB-C connector. |
| Great security features comparable to the competitor. | Great security features comparable to the competitor. |
| The computer app looks a bit outdated and has mainly basic features. | Great, intuitive computer app. |
| Supports wide list of different coins and tokens. | Also supports nearly every token and coin. |
| $139 or with our discount link around $125 | $149 |