Binance offers from time to time interesting crypto-related courses and activities with sweet rewards in the end. 
This time, Binance surprised us by introducing four crypto courses in one moment.
All four have a reward in the form of a fan token. If you love sport, you'll love this one!
This time you can earn ALPINE, PORTO, SANTOS, and LAZIO. In this quick quiz answer article, we'll look at Santos. But once you are done here, you can check the other ones by clicking the coin's name.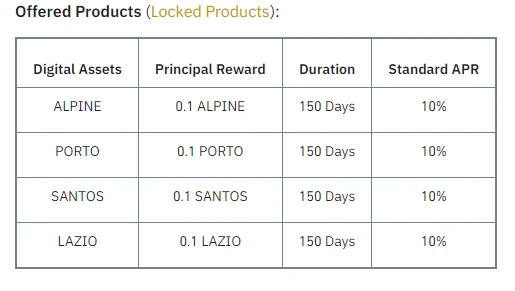 Santos is a fan token of the Santos Futebol Clube, a Brazilian sports club based in Vila Belmiro. And all you need to do to get it is to answer 7 simple questions. Then within a few hours, you will receive a free locked earning product.
This means that Binance will delegate a given amount of tokens to a staking pool, and once the period is over, you'll claim the reward + earned interest.
Please note that the reward is only available to new Binance users who completed KYC during   March of 2023.
You can open your account through this banner and get 5% off trading fees, for ever.

The Santos Quiz is accessible from the home page of your Binance application. You should see a banner pointing to a new activity in the Binance Academy, alternatively, you can access it through this link.
But without further ado, let's take a look at all the correct Santos Quiz answers!
Also, note that your questions might be in a different order.
---
Binance Fan Tokens are fungible.
Answer: True
To buy Binance Fan Tokens, you need to:
Answer: Log into Binance account – Click [Trade] – Buy Fan Token – Receive token via Spot Wallet.
Fans of which clubs can consider getting their team's corresponding Binance Fan Tokens?
Answer: All apply
Santos FC Fan Token is the first Binance Fan Token Launchpool project.
Answer: True
What is the maximum token supply of SANTOS?
Answer: 30,000,000
What perks do SANTOS token holders have?
Answer: Receiving signed merchandise
What is Santos FC's current digital fanbase?
Answer: More than 10 million followers across social networks.
---
Bottom Line
Once you submit the last answer to this Binance Santos Quiz, you will get a message saying that you have successfully completed the quiz.
After that, all you have to do is wait, and Binance will automatically subscribe you to Santos locked earnings. You won't be able to unlock this amount, but you will be distributed interest daily.
Don't forget that there are three other new quizzes with PORTO, ALPINE, and LAZIO as rewards. You can also visit our Learn & Earn programs archive to check other free crypto opportunities.