NFTs, or non-fungible tokens, have taken the cryptocurrency world by storm, offering a new way for artists to sell their digital creations in a unique and verifiable way.
NFTs are unique digital assets that are stored on a blockchain, providing a secure and verifiable way to own and trade unique digital items, from images, game-items to videos and voice recordings.
But with the rise of NFTs, one question has been on everyone's mind: Can NFTs be copied or duplicated? Or on the other hand, what is stopping others from simply copying your NFT and selling it as their unique art?
In this post, we'll answer that question and provide you with everything you need to know about the security and uniqueness of NFTs.
What are NFTs and How do they Work
NFTs are unique, non-fungible tokens stored on a blockchain. Although NFTs surely can be compared to cryptocurrencies, like Bitcoin or Ethereum, there are some key differences that will help you to understand NFTs further.
Most importantly, Bitcoin or Ethereum are fungible and interchangeable. Fungibility, in this case, means that each unit of the currency is the same as every other unit. For instance, if you have 1 BTC, it's equal in value to any other 1 BTC.
That is in contrast to NFT, which has unique attributes that distinguish it from all other tokens and are, therefore, not interchangeable. That's thanks to a piece of code that is connected to your artwork and written on the blockchain. But more to that in a moment.
Can NFTs be Copied or Duplicated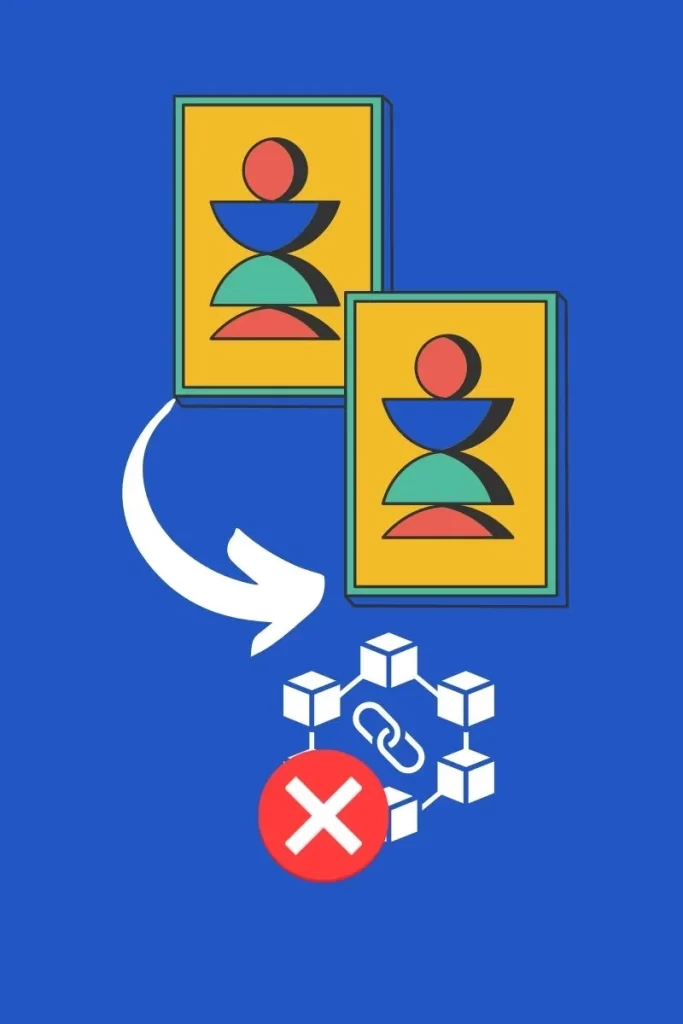 Once you create an NFT, the piece of code that is connected to the art is written to the blockchain. This piece of code, or identifier, is then used to verify the ownership and authenticity of the NFT, ensuring that the digital asset is truly one of a kind.
Apart from the details about the token, you, as the owner, are also inscribed into the blockchain. And you have that unique piece of art stored in your personal crypto wallet.
This is what makes NFTs valuable and desirable objects to own in the digital world. 
And to answer the question of whether NFTs can be copied or not, in theory, yes. Everyone can create a copy of an NFT, but won't be the same exact NFT. It might look the same, but if someone copies or duplicate an NFT, they would simply be creating a new token separate from the original.
Take it like this, if you were to buy a copy of DVinci's Mona Lisa, you, in fact, bought a Mona Lisa. But not the original, the original is safely stored in your wallet.
That's exactly what is stopping others from copying an NFT, it would not be the same token with the same price tag.
Are there Fake NFTs
As the popularity of NFTs has grown, so has the number of fraudulent NFTs that have been created and sold. This is mainly due to the prospect of quick money.
These fake NFTs are often made to look similar to genuine NFTs but do not have the same unique attributes and cannot be verified on the blockchain. Or even are the same visually but are completely separate tokens.
One example of fake NFT being sold is from the CryptoPunk collection. On June 29, 2021, Ryder Ripps put up for sale a nearly identical version of a rare punk NFT.
This "fake" was shortly after sold for 2.189 ETH. His defense for plagiarizing an artwork? He wanted to comment critically on NFTs and the crypto industry as a whole.
Is it Legal to Copy NFT
As it certainly is legal to screenshot an NFT or save it to your computer, it's illegal to claim that token to be the original one. Secondly, it's also illegal to resell it, as NFTs are protected by copyright laws, prohibiting the unauthorized duplication of original works.
So you can't do much if someone copies your NFT and place it as their profile picture on social media.
The fact that anyone can screenshot an NFT was a pretty big meme on the internet. Because why would anyone pay thousands for something that others can screenshot.
But it's important to understand that you are not copying the NFT without the code, just the visual of it.
However, in an effort to prevent this, Twitter has introduced a feature against copying NFTs. You can now connect your crypto wallet to Twitter and verify that you are the true owner of that token.
And other platforms are slowly following.
NFTs and Digital Ownership of the Work
Creators often spend hours making their artwork, and the buyer then spends thousands of dollars to own that specific NFT.
And the result? Both of these groups are often violated. But how does a copyright law treats duplicating NFTs?
Do Buyer Get Full Ownership (including copyright) of the NFT they Purchased
You, as a buyer of an NFT, do not automatically receive full ownership, including copyright, of the NFT you just purchased.
When you purchase an NFT, you are purchasing the rights to own and trade that specific digital asset, but the original creator of the work remains the copyright holder. This means that they retain the exclusive right to use, display, and reproduce the work.
This also resolves with the real world. Whenever you buy any artwork, you are buying that piece of art, not the right to put it on T-shirts and sell it.
This means that usually, even the buyer can't copy the NFT they just purchased. Like making merchandise with it, etc.
However, it is possible for the original creator to transfer the copyright of their work to the buyer of the NFT, either as part of the initial NFT sale or through a separate agreement. In this case, the buyer would have full ownership of the NFT they purchased, including the copyright.
The future of NFTs in Rea-life Duplication Issues
In all spheres of society, we can encounter counterfeiting issues. And NFTs and blockchain technology can prevent that.
So maybe we'll see the inclusion of NFTs in everyday life. 
The other day, one of our writers attended an accounting class with a presentation on digitalization took place. And the lecturer said that he sees the future in NFTs. Recording accounting records on the blockchain to prevent counterfeiting.
Similarly, NFTs could be implemented in every sphere of life to ensure the authenticity of documents, photos, illustrations, and so on. 
Conclusion
NFTs are unique digital assets that use blockchain technology to prove ownership and authenticity.
And although NFTs have gained popularity as a new and innovative way to own and trade digital art, they are not immune to duplication and fraud.
Anyone can copy an NFT, but only its visual. That's due to the code that is backing the whole technology up. You, as the owner, are written in the blockchain, and so does the unique attributes of that NFT.
The "written in the blockchain" part is highly controversial, as it consumes a lot of energy to write everything down into the huge network of computers. That's also why movements like Extremely Fungible Tokens are created.
Extremely fungible tokens, or EFTs, are pieces of art that oppose every key point that characterizes NFTs. To learn more, check out our article on Extremely Fungible Tokens, the Anti-NFT Movement.