The market for blockchain games has seen significant growth in recent years, but that growth has accelerated during the COVID-19 pandemic.
When the global pandemic of Covide-19 hit back in 2020, many people started trying new things. The cryptocurrency market was experiencing new heights every day, and with it, the market for Play-to-Earn games.
As people have spent more time at home during the pandemic, interest and participation in play-to-earn games have skyrocketed to an estimated worth of 777 million dollars in 2021. After all, many people were locked up at home without jobs, so why not try to make some extra money and have some fun simultaneously.
In this article, we'll explore Play-to-Earn games in detail. What are they, how do they work, and do play-to-earn games really mean a revolution in gaming for good? Let's dive in!
What are Play-to-Earn Games
Play-to-Earn or P2E refers to a gaming concept where players can earn real-world money by playing the game.
This contrasts traditional in-app purchases or microtransactions, in which players spend real-world money to acquire in-game items or currency. Because now, you can not only get the in-game items but also cash them out.
There are multiple ways in which players can earn money. This includes completing in-game tasks, winning tournaments, or trading virtual items with other players.
One of the key features of play-to-earn games is that they often have a highly developed virtual economy in which virtual items have real-world value.
These items can be anything from cosmetic items, such as skins or emotes, to functional items, like weapons or upgrades.
However, don't think of it like skins in Counterstrike or Dota and other games. In these types of games, the whole economy is controlled by developers.
The developer of Counterstrike can regulate the number of these items and everything around them, and the items are not original or unique. And also does not have any real value outside the game.
Whereas in play-to-earn games, the game items can be transferred out of the game and still maintain their value because they are minted on the blockchain.
For game developers, play-to-earn games can also be a more sustainable business model, as they can generate revenue through player engagement rather than through one-time purchases.
The downside of Blockchain games
The play-to-earn model has become popular among players, allowing them to earn money by doing something they enjoy.
It also allows for a more equitable monetization system, as players can earn money by playing the game rather than having to spend money to acquire in-game items.
However, on the other side, there is a really thin line between having fun and being addicted or developing a gambling problem. That's why Play-to-Earn games are also highly controversial.
The line between a game and gambling is often blurred, and it can be difficult for players to distinguish between the two. This is why some countries have started to regulate play-to-earn games, to protect the players from potential harm.
How does Play-to-Earn Even Work and How can Gamer Earn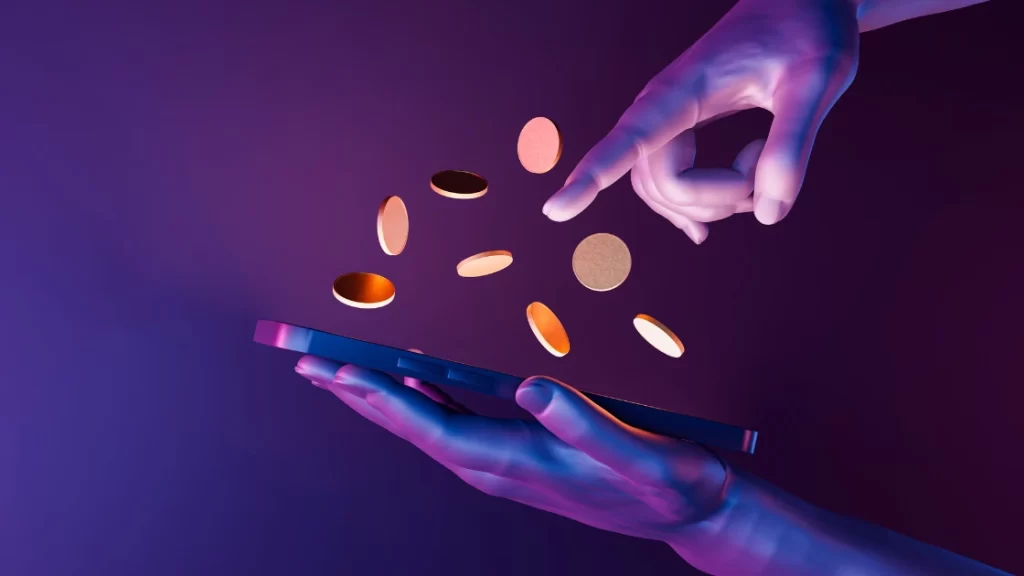 The mechanics of play-to-earn games vary depending on the specific game, but they generally involve a few essentials.
Firstly it's a virtual economy that can regulate itself based on the well-known law of supply and demand similarly, as the real-world market system does maintain itself.
And secondly, a way for players to earn real-world money through gameplay.
In a play-to-earn game, players can earn money by completing in-game tasks, winning tournaments, or trading virtual items with other players.
These virtual items can have real-world value and can be sold for real money through an in-game marketplace or trading platform.
The virtual economy of the game is often tied to the game's native cryptocurrency, which can be earned through gameplay or purchased with real money.
Native Cryptocurrencies
Developers can and often do create a game's own native cryptocurrency that is also used as the in-game currency.
These native cryptocurrencies are often tokens traded on Decentralized exchanges such as PancakeSwap or SushiSwap.
However, it's not rare that once a game becomes really popular, centralized exchanges are happy to include their tokens on their own exchange. Take AXS as an example, the native crypto token of Axie Infinity, which is tradable on every major exchange.
These native cryptocurrencies then power the entire economy of a given play-to-earn game.
Some games also include a way for players to earn money through staking, yield farming, or holding the game's native currency.
Staking, Yield Farming, and Holding
If you are unfamiliar with staking, it is a thing at Blockchains that uses the Proof-of-Stake mechanism.
You "stake" your coins, lock them for a specific time and earn rewards over time. Behind the scene, your coins are put to work, helping to verify transactions.
The POS mechanism is much more convenient than the POW (Proof-of-Work). More investors get the chance to earn without owning any special and powerful equipment.
However, the biggest downside is that as more tokens get staked and more people come in, the APY is progressively decreasing. That's because the reward stays the same, but it must be distributed between more people.
But even though staking is a very lucrative way to earn additional income. Instead of letting your money just sit in your wallet, you can put it to work and earn more money.
And play-to-earn games often offer really generous APYs. Take Axie Infinity Shards as an example, which offers 50% APY without the need to lock in your tokens. Or Splintershards with around the same 50% APY.
To wrap up this part about native cryptocurrencies, it's important to note that the value of the game's native currency is often tied to the success of the game and the size of the player base.
As such, it can be highly volatile, and its value can fluctuate significantly at any time. Developers can publish a new update, which can drive the popularity down significantly, or vice versa.
Play-to-Earn and NFTs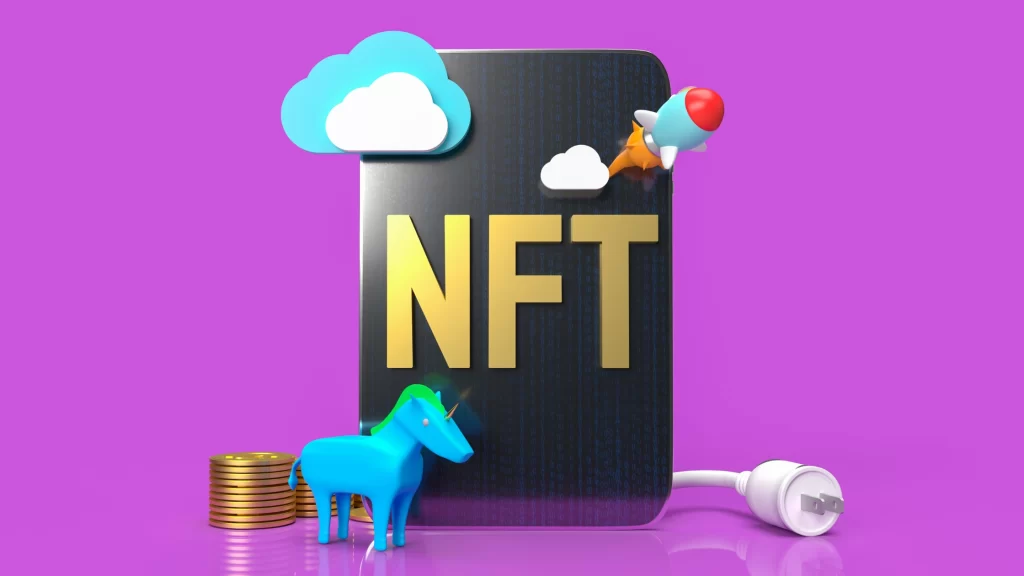 Players can also earn money by creating, collecting, and trading unique digital items, typically in a form of non-fungible tokens (NFTs).
NFTs are unique digital assets that are verified on the blockchain and can be bought, sold, and traded like physical collectibles.
The value of an NFT can be determined by its rarity, utility, and desirability, as well as the game's overall player engagement and demand.
In addition to that some games include in-game tools that allow players to create and customize their own digital assets, which can then be sold as NFTs. As you can probably tell, custom items like these can grow crazy in value, if they were created by someone influential.
But here comes a little catch regarding play-to-earn games. As NFTs are minted to the blockchain to become unique and uncopiable, this costs gas fees.
So in the end, there is nearly no play-to-earn game, that will give you the opportunity to earn real money without initial investment.
NFT ownership in Play-to-Earn Games
As NFTs are a relatively new technology and the market for them is still evolving, there are some concerns about their ownership.
But it's safe to say, that NFTs that were transferred to player's wallet are player's property. Not the developer's, not the game's, nor anyone else's.
Even if the game shuts down, they remain in the player's hands. Their value will probably drop close the zero, but you still physically own it.
And here comes the difference between in game assets in the form of NFTs and assets like skins from Counterstrike and similar games.
As was already disclosed, players can transfer these assets outside the game's ecosystem and offer them on different marketplaces. For instance, you can offer your epic weapon on OpenSea.
But you can't do that with Counterstrike skins. They are tied to your Steam inventory. Yes you can transfer them to another Steam inventory. But outside Steam the skin is worthless.
Traditional VS Play-to-Earn Games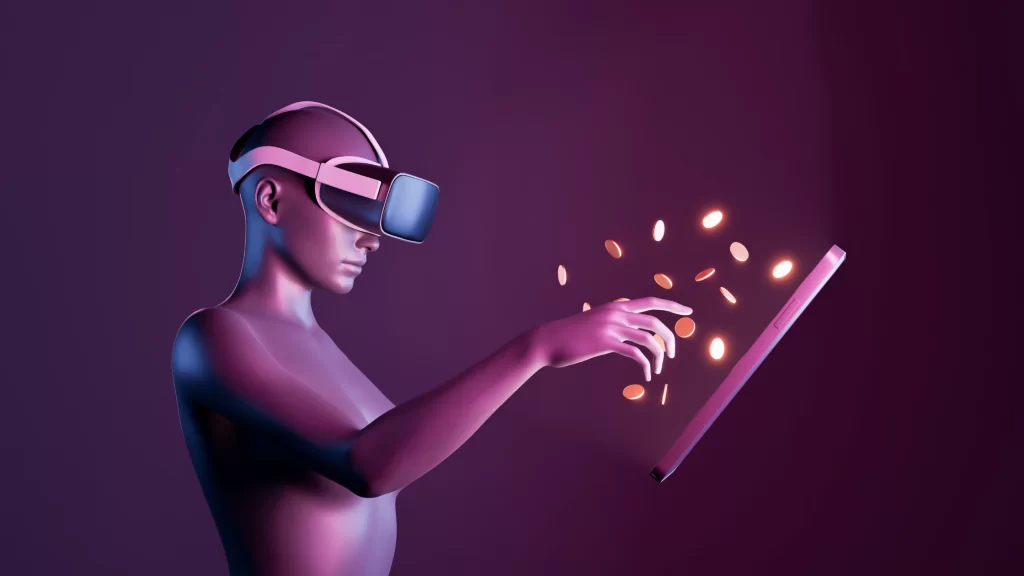 Traditional games, also known as pay-to-play games, are games that require players to pay a one-time or recurring fee to access the game or its content
You pay to access the game, spend dozens of hours playing and grinding to get the very best and advance. But in the end you are not allowed to transfer or sell these items you have spend hours getting.
Although they are some black-markets created outside these games, traditional games will usually ban your account for using these marketplaces to sell or buy in-game stuff.
On the other hand, play-to-earn games bring value back to players. Apart from spending dozens of hours playing and having fun you can earn something in exchange. That's already discussed native cryptocurrencies or NFTs.
Will Play-to-Earn Games Find their Place
It's difficult to predict with certainty whether play-to-earn games will become the new norm in the gaming industry.
Although many play-to-earn games are legit, as the technology behind these games is still in it's early days, there are a lot of projects created with the sole purpose of scamming others.
And we are not talking only about rug pull projects and like. But also many blockchain games includes practices, that resembles pyramid schemes. With higly rewarding affiliate programs or even by the fact, that you have to get people to play the game in order to drive the price of the native token up.
Another factor that is pulling play-to-earn games down is that not everyone can or want to spend lets of money on in-game NFTs to even start playing. And once you spend that amount of many, you are prompted to spend dozens of hours to get your investment back.
On the other hand many players like the shift towards more player-centric business models. Games become a lot more engaging if you know that your gaming session will have a real impact.
But what is safe to say, is that traditional pay-to-play games will still exists, and not all developers will adopt the play-to-earn model. It will depend on the specific game and the target audience, and some gamers may still prefer traditional pay-to-play games.
Play to Earn Games in Developing Countries
In some countries, play-to-earn games allow players to make a comfortable living. This naturally provokes a response from the government as it poses a direct threat to the country's economy.
Players might choose to spend more time earning money through games rather than participating in the traditional workforce. This can lead to a decrease in productivity and economic growth, as well as an increase in income inequality.
Play-to-Earn games can also have a negative impact on education system in these countries, as it would be more tempting to drop out of school to focus on earning more money through games. And this can also result in a lack of skilled workers and a decrease in the overall quality of the workforce, leading back to a decrease in economic growth.
So governments are working towards restricting these games. Whether overall ban, or higher income taxes, etc…
The Future of NFT-Powered P2E Games
It's hard to predict future. However, it's probably safe to say, that play-to-earn games will stay with us in one form or another even in the future.
Currently, many NFT-powered games are niche or only played by a small community, but as the technology becomes more mainstream, more popular games are likely to adopt NFTs as a way for players to earn money.
Whether they really become the new mainstream is hard to say. But currently it's a really fastly moving train, generating over $2.32 billion in 2021 revenue and probably even more in 2022.
One way or another play-to-earn games is an exciting and rapidly developing area with a lot of potential.
Are Play-to-Earn Games Worth Playing
Are play-to-earn games worth playing is a question that is debated among players and critics.
On one hand, these games can provide a new way for players to earn money through gameplay, which can be an exciting and rewarding experience.
On the other hand, play-to-earn games can be seen as a form of gambling, and some players may feel that the potential for earning money is outweighed by the risks involved. And there is a risk involved, always.
The virtual economy of games is often not regulated and with it a lot of fraudulent projects are created.
Also the constant pressure to earn more money through the gameplay can be stressful and lead to addiction.
Another advantage of play-to-earn games is that they can provide players with a sense of ownership and control over their in-game assets. Because your in-game items are truly yours, minted on the blockhain with you signed in as the owner.
Earning Potential of P2E Games
When it comes to earning potential through these P2E games, it depends. It depends on the project and on the investment you are able to put in the game prior earning.
But it also depends on your skills and time you are able to put in.
The difficulty of these games is not the biggest issue. However, players who invested more will always have a better gear, better items, better skillset, etc. This may represent a risk, as you might be losing over and over again, you could be tempted to quit, while loosing all your investment.
Will being a gamer to earn replace your standard nine to five job? Probably not.
However, if you would otherwise be at home watching Netflix, then you could consider investing your time to play-to-earn games.
Play-to-Earn Games you Should Know
While P2E concept is pretty straightforward, developers have come up with many different ways to implement the earning mechanic into their games.
Whe have decided to compile a list of a few play-to-earn games, that we really enjoyed testing, that you should also try. Spoiler alert, we also got one, that doesn't have any P2W mechanics, so you can enjoy the game completely for free.
CryptoKitties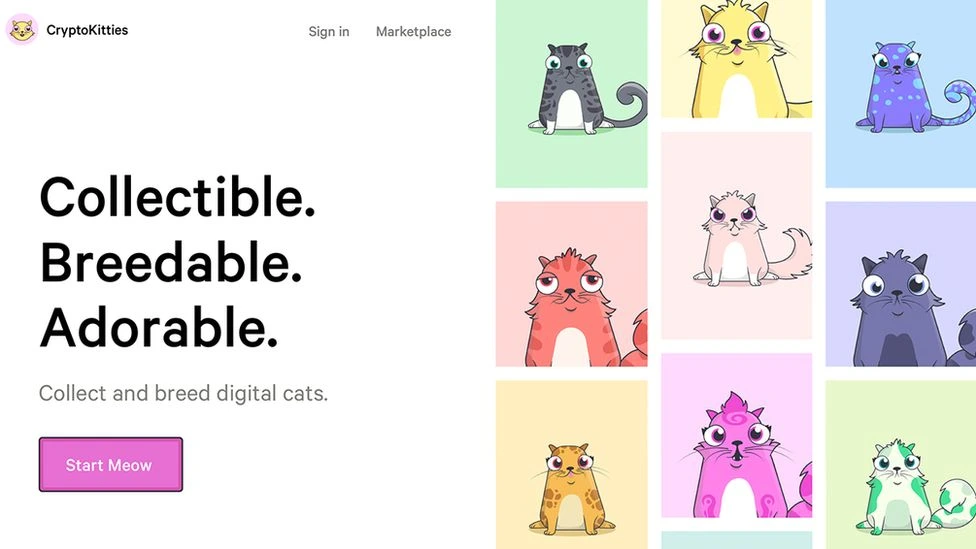 CryptoKitties was actually one of the first play-to-earn games you could ever play. Published by a Canadian studio Dapper Labs in 2017. And it has also caused MetaMask's huge growth that year.
In this game based on the Ethereum network you are taking care of your own virtual cat.
Each CryptoKitty is a unique NFT with different traits and rarity, that you can sell, buy and breed. You can breed different kitties to create new unique cats.
Nowadays, this game has over 100 thousand active users, who bred over two million CryptoKitties.
Gods Unchained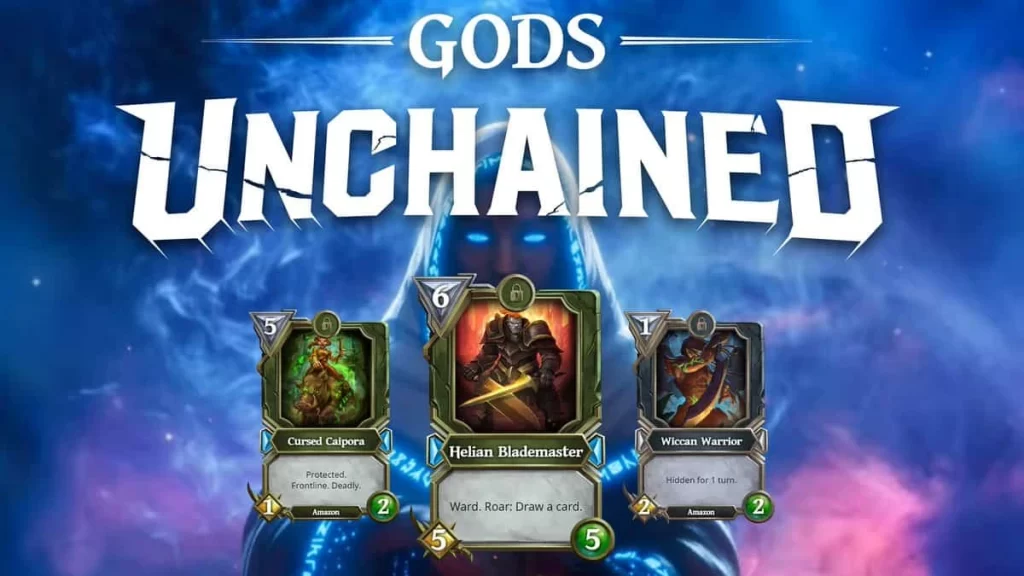 Gods Unchained is a blockchain-based collectible card game developed by Fuel Games.
In Gods Unchained you can purchase, trade, and play with unique digital collectible cards, which are stored on the Ethereum blockchain as non-fungible tokens (NFTs).
The game features a competitive multiplayer mode, in which players use their card decks to battle against each other.
Players can earn daily rewards and also earn by participating in in-game events and tournaments. In addition, the game has a marketplace where players can buy and sell the cards they own.
Axie Infinity
Axie Infinity is a bit similar to CryptoKitties, but instead of taking care of your little monsters called Axies, you make them battle against others.
Apart from collecting, breeding, and battling your fantasy creatures, you can also own and develop virtual land and build structures on them.
What sets this play-to-earn game apart is that it has some of the most impressive number of all P2E games with close to 3 million active daily players.
Axie Infinity also features really attractive staking system, with around 50% APR.
The Sandbox
The Sandbox is a blockchain-based virtual world game where players can create, share, and monetize their own 3D voxel creations.
We could compare The Sandbox to Roblox, as players can use their virtual land to build and create their own games, experiences, and virtual real estate in the Metaverse.
The game's economy is driven by the SAND token, which is used for in-game purchases, land ownership and governance.
Splinterlands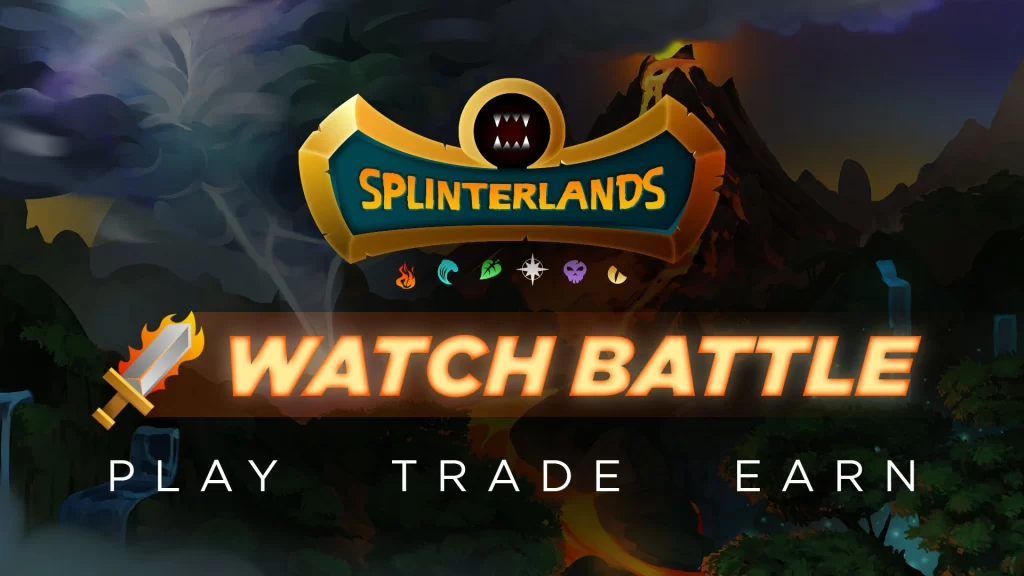 Splinterlands is a blockchain-based collectible card game where players can collect, trade, and battle with unique digital monster cards. Built on the Steem blockchain.
Although both Gods Unchained and Splinterlands are a trading card game, they slightly different in the playstyle.
Splinterlands battles are really quick. You line-up your monsters and watch them fight, earning Dark Energy Crystals as rewards.
Apart from DEC token, you can also earn Splintershard, which can be staked for around 50% APR.
Conclusion
Play-to-earn games have seen a significant growth in popularity during the pandemic to an estimated worth of 777 million dollars.
These games allow players to earn money through playing in various ways. This have been made possible through implementing native in-game currencies and NFTs.
P2E games have been seen as a new way of earning money for players, but have also been criticized as a form of gambling.
This new play-to-earn model represent a great challenge to the traditional business model of video games, where players purchase a game and then play it. If it will become the new norm in video-game industry is although a mystery.
However, apart from being a somewhat great investment of times, play-to-earn games can also have a significant impact on the economy in developing countries.
As players can earn a comfortable living from these games rather than participating in the workforce.
Ultimately, whether play-to-earn games are worth playing depends on you. On your free time and also on the initial investment you are willing to make.