Crypto Royale is a free-to-play game that provides you the best opportunity to earn a decent amount of money in a cryptocurrency called ROY, swappable to ONE. With an ever-growing player base.
I personally only rarely play any of the Play-to-Earn games. But the Crypto Royale game is different. We like this one and have supported this project since the beginning. And I think you will like this one too.
In this Crypto Royale review, you will find information on How to play Crypto Royale and start earning ROY for yourself. Finally, here is everything you need to know about the Crypto Royale game. Let's dive in!
What are Play to Earn games?
As you may have noticed in the first paragraph of this article, I used the term "Play-to-Earn" several times. But what even are Play to Earn games?
Play2Earn (Play to earn) refers to a game concept where players can make real, fiat money. Or rather, they can acquire any convertible asset into "real" cash. Play-to-Earn games are not usually free to earn. And if so, the person who plays as F2P can only get negligible amounts. But there are some exceptions. And Crypto Royale is one of them! You play and earn money.
What is the Crypto Royale game?
Crypto Royale is a browser-based Battle Royale where players compete for fame, glory, and a little profit. Last man standing wins crypto. And what's best is that no up-front investment is required and no downloads.
Crypto Royale profit is risk-free – as the game is free to play, without any investment up front.
The gaming community now numbers over 90,000 players. Of these, around 7 thousand are usually online and playing anytime during the day.
The community is very friendly and helpful. Thus If you are lost in all the features available, you can visit the community Discord. Discord can be found on the official Crypto Royale game Website. On the Crypto Royale Discord, you can find information about upcoming news, events, or tournaments.
Crypto royale gameplay
What Crypto Royale review would this be without critical information about the gameplay?
Do you know agar.io, and have you ever played it? You can find some similarities in Crypto Royale.
You spawn in an ever-shrinking arena along with others, up to 10 players. And you have one of three colors — yellow, green, or purple. Based on the principle from the game rock paper scissors, each color has an advantage over another color — wins any collision with it, as in the picture below.
And that's the only rule you need to know to win some Crypto Royale tokens.
Besides winning the game itself, an essential earning element is boxes located on the game field. Boxes can have the same three different colors as you. When you pick one of the boxes first, you gain health, and second, your game color changes.
But this article is not ending there. I will share with you some of my personal Crypto Royale tricks.
Crypto royale earnings
But good placement is not your only way to get ROY. For every kill, you get a box and the "shiny" boxes you pick up in the game. You can open these boxes or use them in the wheel of fortune. I recommend the wheel of fortune. The rewards vary depending on how many boxes you put into it. I don't think there's a limit — I've mostly spun 1,000 containers at a time. Your luck also plays a role in the reward in the wheel of fortune.
The rewards slowly decrease as hundreds of new players enter the game daily. When I discovered the game, I was getting 1 ROY for each game on average. Now you get 0.05ROY if you place second in a 7-man game.
In addition, I recommend participating in the daily tournaments and the big weekly tournament, which is always held on Sundays. If you decide not to sell your ROY immediately, you get a 20% APY staking reward for ROY. It is paid daily. How much ROY you held also increases your bonus multiplayer.
Skins are classified into two categories. Win-able skins can be won in the game and sold to another player for a certain amount of ROY. And Buyable skins — NFT skins. These can only be purchased, are limited in quantity, and are minted as NFT. You can also drop skins while you play…
If you have equipped skin, you participate in the Skin Wars, as other people with the same skin as you win throughout the day, and you get rewarded in Victory Points. Victory points can be converted into the Crypto Royale token.
Multiply your earnings
Here are some essential insights on how you can multiply your winnings:
Have the most popular skins equipped – To get more Victory Points.
Don't sell any of your holdings – a 20% APY staking reward is sweet.
Participate in daily tournaments.
Play low-stakes games.
How to withdraw from Crypto Royale
First, to be able to withdraw your winnings, you need to Add Crypto Royale to metamask.
How to add Crypto Royale token to Metamask
The easiest way to add the Crypto Royale Roy coin to Metamask is using CoinMarketCap. CoinMarketCap can be considered a reliable source for crypto token contract addresses.
Download and prepare your Metamask Wallet
The whole process of installing the Metamask Wallet is straightforward. Download the browser extension from the store or install the app on your mobile phone. Afterward, you must set your wallet password and rewrite your secret recovery phrase. And your wallet is all set.
Here you can access a complete guide on installing and setting up a MetaMask wallet.
Add Harmony Mainnet to Metamask
Now you will need to add a new network. The Crypto Royale token is based on a network called Harmony One.
Open your Metamask wallet, click on your profile picture, and hit "Add Network."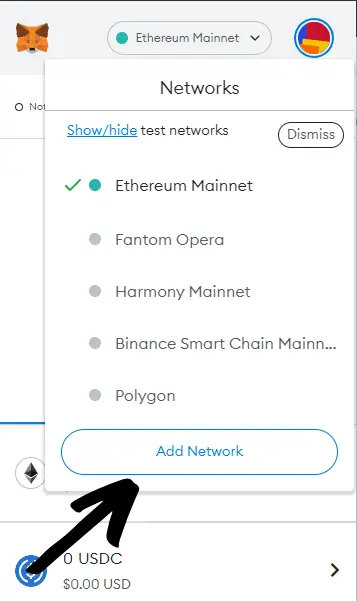 A small window will pop up asking for the network details. You will need to fill in this:
Network Name: Harmony Mainnet
New RPC URL: https://api.harmony.one
ChainID: 1666600000
Currency Symbol: ONE
Block Explorer URL: https://explorer.harmony.one/
These details can be found on the official page of the Harmony One chain here.
After you tap "Save," the Harmony chain should be successfully imported and can be accessed from the same menu you accessed the button "Add Network."
Add Crypto Royale Roy coin to Metamask
Now visit the CoinMarketCap website, and in the search bar in the upper right corner, search for ROY or CryptoRoyale. Select that. This is the page you should end up on.

On the page of the ROY token, find the contract address and copy that.

Open your Metamask wallet and click "Import Tokens." Also, you need to have the right network selected. Thus Harmony network we imported earlier.
A small window will pop up again, asking for some details. This time for the custom token details. This is where the earlier copied contract address will be posted.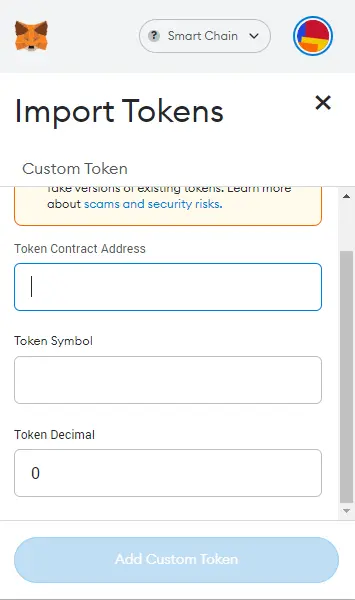 The token symbol should automatically fill to ROY, and the Token Decimal should be 18. Click "Add Custom Token" to finish the process.
Withdraw ROY
After you have added ROY to your MetaMask, you can proceed to withdraw. And that is the easiest part. In your game tab, click "Withdraw," fill in the amount you wish to withdraw, and click the option "Withdraw as ROY."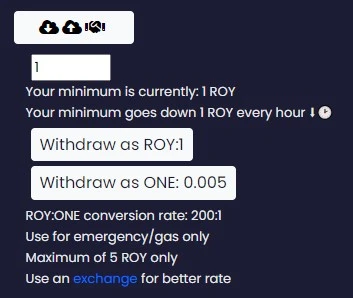 After that, you will need to fill in your Metamask address. Go to your Metamask wallet and copy the address you can find at the top of the window. However, if you have already started staking your ROY, your wallet address should be prefilled.
Your Crypto Royale ROY should be in your wallet in just seconds.
Swap and Sell ROY
You can't find ROY at any Centralized or Decentralized exchange at this moment. So your only option to cash out is to go to ViperSwap. On ViperSwap, you can swap to whatever coin you would like to. But you should exclusively swap ROY/ONE because of the best rates.
What can happen with a low market cap coin like this is that you will get an error because your slippage is too low. To handle this, you can follow this guide.
From there is all up to you. Most exchanges accept ONE. You will have to send it from your MetaMask to any Exchange that accepts ONE and that you use. After that, it is all up to you – sell it, swap it or hold it if you wish.
One of our team members recently withdrew his ROY, and along with that, he created a detailed step-by-step guide on How to withdraw and sell Crypto Royale tokens. If you are still wondering how to do that, you can check it out!
Is Crypto Royale legit?
Yes, Crypto Royale is legit. I have withdrawn at least ten times. Every payment was in my wallet in a matter of seconds. The only problem you may encounter is determining the correct Crypto Royale ROY price. Because the CoinMarket cap shows the price of WONE (as Wrapped ONE) instead of Crypto Royale ROY total price, thus always compare the price of ROY to the cost of ONE to get an idea of the actual value of your investment.
No need to worry about the legitimacy of Crypto Royale. As it is very much legit.
Conclusion
Crypto Royale may be one of the few free-to-play, play to Earn games you'll find. Its undeniable advantage is its simplicity and the fact that it is played directly from your browser. All these are huge advantages. No registration is required, and no knowledge of cryptocurrencies per se is needed.
On the other hand, the big downside is the ever-shrinking rewards – As more players come into the game, the tips are shrinking. So every day you can earn less and less, which doesn't have to stop you from having fun!
Crypto Royale: Free-to-Play Blockchain game
The final verdict is 7.5 out of 10 points.
The thing that this game is completely free to play, without any upfront investment, makes it really attractive. But the earning options look accordingly. There is no way to increase your earnings apart from having a high multiplier and staking. So the famous "The sky is the only limit" doesn't apply there.
The limit is ever-shrining rewards. As we disclosed, more people playing the game equals fewer rewards. And it's really noticeable.
However, the game is really fun. And we enjoyed our experience. I would probably play the game as a time filler, even without the rewards.
In conclusion, the gameplay, player experience, and features are great. But you won't make thousands of dollars out of this. But after all, it is free-to-play, so we can't be angry.
Investment to Reward ratio