When it comes to Play to Earn games, Splinterlands might be the first thing that comes to your mind, as one of the most popular Blockchain games, proudly occupying one of the places in the top 100 gaming tokens in terms of market cap.
SPS, or Splintershards, represents the governance token of the Splinterlands Universe. SPS can be earned in multiple ways, but most importantly, by playing the game itself. But the earning possibilities don't end there.
The staking program is one of the great ways to earn passive income on already-owned tokens while more or less doing nothing, just holding.
In this article, you'll learn about staking your SPS and where to stake your Splintershards to get maximum interest.
Can you Stake SPS
Yes, you can stake your SPS.
Splinterlands launched its official staking program back in August 2021, together with the launch of SPS tokens itself.
If you are unfamiliar with staking, staking takes place at blockchains that use the Proof-of-Stake mechanism. You "stake" your coins, lock them for a specific time (some pools are flexible), and earn rewards over time. Behind the scene, your coins are put to work, helping to verify transactions.
The POS mechanism is much more convenient than the POW (Proof-of-Work). More investors get the chance to earn without owning any special equipment.
Where can you Stake SPS
Splintershards, unlike Axie Infinity AXS, can be staked only in the official application, which is a really convenient way since you don't have to pay gas fees multiple times.
When it comes to APY, it can vary a lot during the year. The APY is progressively decreasing as more SPS get staked, and more people come in. But even today's APY is very generous, and you can expect around 50% interest.
How to Stake SPS
1. Buy Splintershards token
You can either stake only your game earnings or buy tokens for a few dollars to maximize rewards. We recommend spending a couple of dollars on tokens that you would use exclusively for staking since the unstaking process takes four weeks. During these four weeks, your tokens don't earn interest, nor you can't use them.
Splintershards token is offered on a few exchanges, including Gate.io and BiTrue. To trade cheaply as possible, make sure to send your tokens over to MetaMask (or another wallet you use on Splinterlands) using the Binance Smart Chain, not Ethereum. You'll pay far less in gas fees.
2. Transfer tokens to your Splinterlands Game Account
Splintershards can exist both in your wallet and in-game. However, SPS tokens held in your wallet do nothing. To start staking your SPS tokens, you need to transfer them into your in-game account.
To do so, click on your SPS balance in-game, located in the top right corner.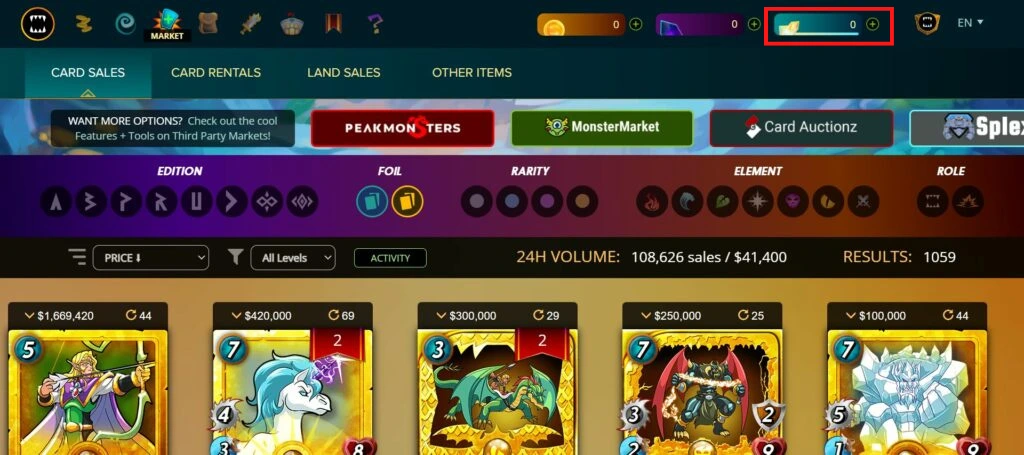 Once you get to the Splintershards dashboard, you'll see a few options. Including the button "Stake," which we'll use in just a second, and the "Transfer" button, which is used to transfer your SPS tokens in and out of your in-game wallet. Tap that.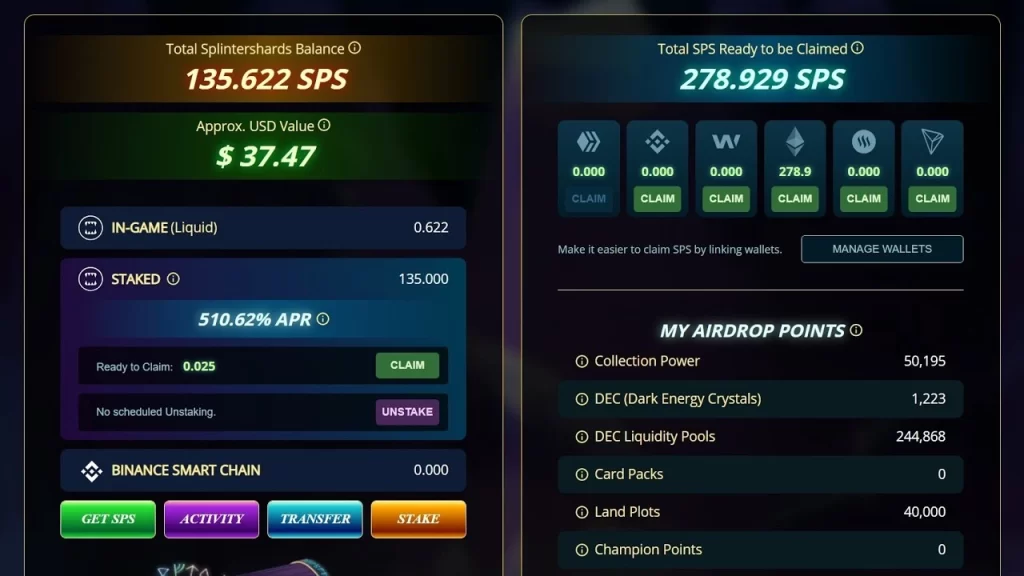 A new dialog window will open with two options; To transfer in or to transfer out. Since we want to put our Splintershards to work, to stake them, we need to transfer in.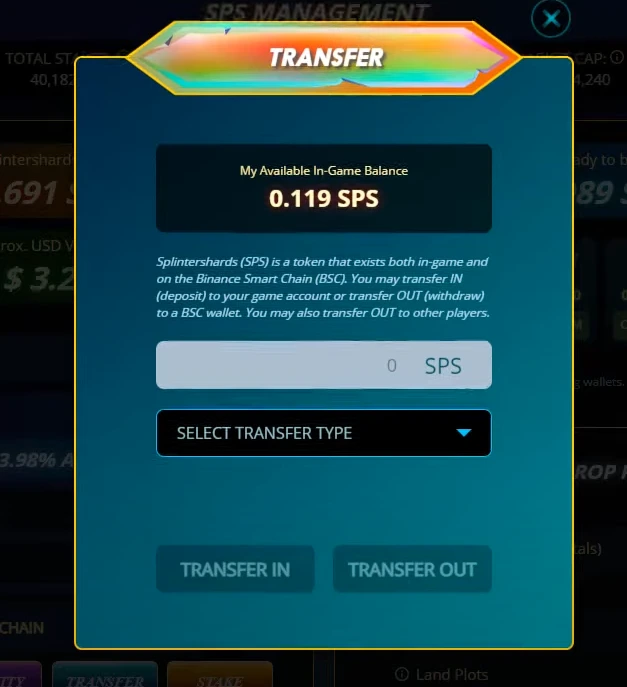 Now enter the amount of SPS tokens you wish to transfer to your in-game account. Make sure to leave room to pay for gas fees; don't transfer in the maximum amount of SPS you got available in your MetaMask.
Once you tap "Transfer In," you must confirm the transaction in MetaMask and wait a few minutes for it to be confirmed. Once the transaction is confirmed, your in-game balance will change, and you can start staking your Splintershards.
3. Stake your Splintershards
Now, go back to the SPS balance overview. Since you already have a balance ready, tap "Stake." Once you click that, a new dialog window will open with the information about your available tokens and tokens currently staked.
Enter the number of tokens you wish to stake and tap "Stake." A warning window will pop up where you need to confirm your choice.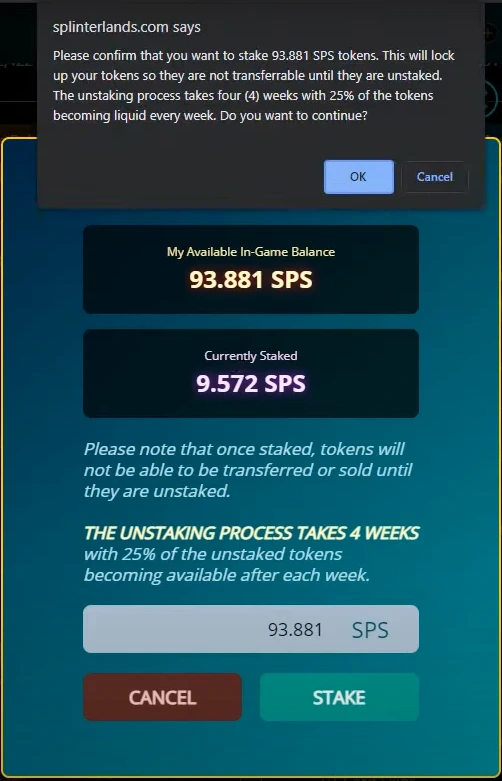 The confirmation is needed because, as we already disclosed, your staked Splintershards are subject to a 4-week unstaking period. You won't earn any interest in that period, nor can you use or sell your tokens. During that four weeks, 25% of your staked amount will be freed weekly.
How Often to Claim your SPS Staking Rewards
Since all the staking happens in-game, no additional gas fees are paid. So you don't need to overthink the claiming and restaking thing.
To maximalize your earnings, you could claim your rewards daily or even hourly. However, it won't make much difference if you don't have millions staked.
For instance, if you got 5,000 SPS staked with 50% APY, claiming once a day will give you an extra 741 tokens, whereas claiming weekly will earn you an additional 724 tokens in one year.
So the difference is just 17 tokens a year.
Also, the rewards ready to claim are automatically calculated into your liquid balance. Don't get upset if your claim balance "disappears" if you stake in new tokens.
If you want to calculate your estimated earnings, you can use this SPS Staking Calculator, which calculates with the current APR rates.
How to Unstake Splintershards and Cash Out
You might have already earned a decent interest on your tokens, so it might be time to unstake your tokens and spend your rewards.
To unstake Splintershards, go back to the SPS dashboard and tap "Unstake." A similar dialog window will open, but this time, you are not entering the amount you wish to stake but the amount to unstake. There are also quick access buttons available that will automatically fill in a certain percentage of your total stake.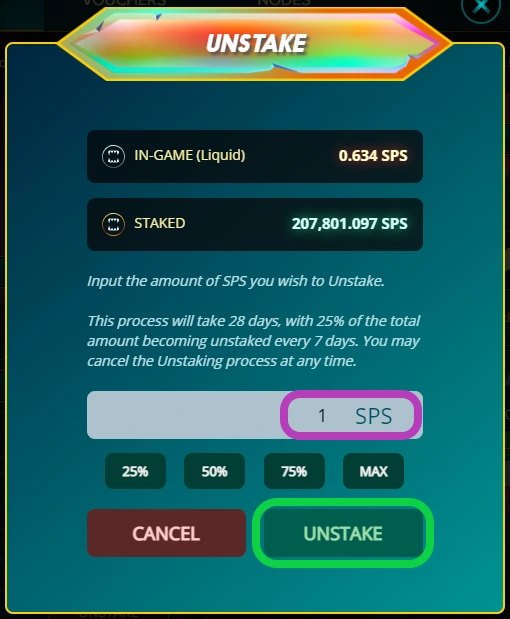 Once you confirm your unstaking, it will become a scheduled unstaking. Back on your dashboard, you'll see a date. This date is the final date when the four weeks are over, and your total balance is ready to be spent.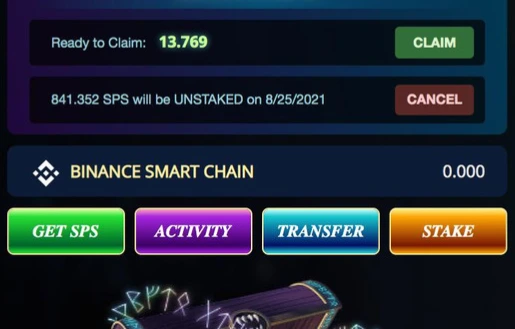 Then tap on "Transfer" and "Transfer out" to send your tokens to MetaMask. From there, you can send it to an exchange of your choice and sell it for FIAT.
Conclusion
Staking your Splintershard is easy since it happens directly on the Splinterland website. But keep in mind that once you send your SPS to the staking pool, they are subject to a four-week unstaking period, during which you can't manipulate with them in any way.
Once you delegate your Splintershards, you can also check out our guide on staking Axie Infinity Shards, which offers even higher APYs, without any unstaking periods.