We will all agree that starting as a new freelancer on the biggest freelancing platforms like Fiverr or Upwork is almost impossible due to the high competition. A very high competition can lead to weeks and months without a single project. And that's exactly the big issue beginning freelancers face.  
According to studies, most new freelancers don't even make enough money to cover their basic expenses. The reason is that their more experienced competitors typically receive the majority of gigs. This isn't helped by the fact that the most prominent freelance sites categorize freelancers based on the experience and reviews they've received from already completed projects. New freelancers with zero reviews thus stand against big experts with hundreds of positive reviews.
But is there a way to counteract this and get constituent earnings as a beginning freelancer? Yes, by choosing the right, low competition freelance site.
In this article, we will look not at the best freelance websites but the Best low competition freelance sites on which you can start earning right now, even as a beginner! 
Why choose Low competition freelance site?
As stated in the introduction, big freelancing platforms have the best of the best freelancers. So new and beginning freelancers are often neglected and left out.
But this isn't the only advantage of choosing a low competition freelance site. These big names usually know that the millions of users who use them won't just disappear. So they often increase their cut, even up to 20%.
However, after getting some projects on these low competition freelance sites and establishing expertise, you can join these big fish and an even bigger audience.
But these are the 10 Best Low Competition Freelance sites. Let's dive in!
Boonle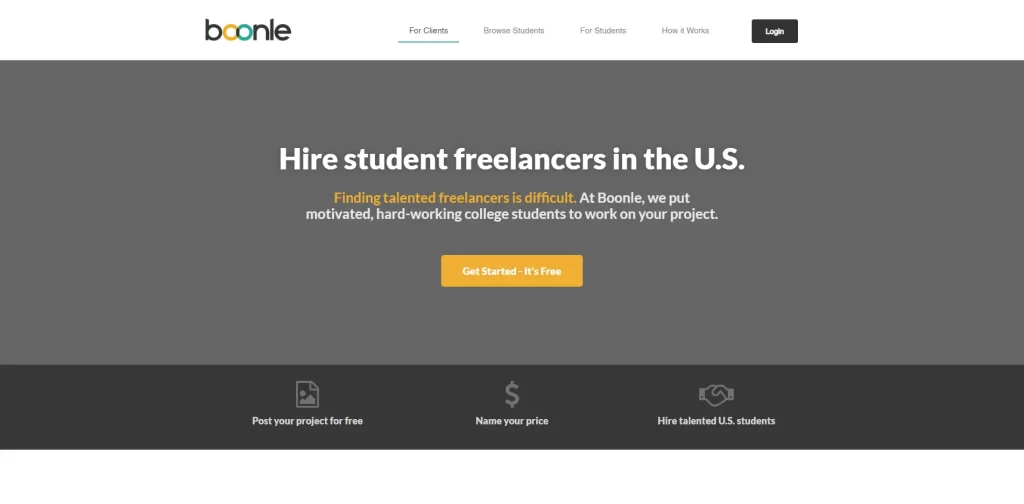 Boonle is a very unique, low, competitive freelance marketplace that businesses use to source talented students from various majors for their design projects.
Freelancers on Boonle can team up with others based on their interests to complete various design projects. According to the official website, other freelance niches like programming, marketing, data entry, copywriting, and video editing should join Boonle soon.
Key Boonle Takeaways
Pros
A significant advantage of Boonle and other sites on this list is its low competition since Boonle is formed by a closed community of only selected US college students.
On Boonle, you can post projects for free.
Cons
However, this is also a disadvantage. You cannot become a freelancer on Boonle unless you are a college student in the US.
The fee structure is a bit harsh—a thirty percent fee from each project payment.
Bottomline: Boonle is an excellent option for every business needing a basic design-based project. And a nice way to help freelance students earn a little money and gain new, valued experiences.
CloudPeeps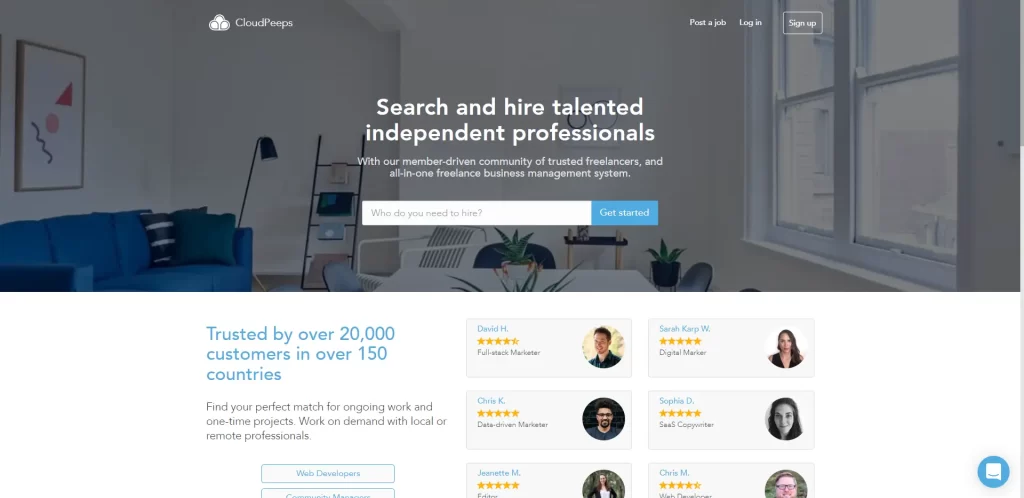 CloudPeeps is an Online freelance marketplace that connects businesses with local freelancers and professionals. Covering a wide range of skills from content creation to marketing, programming, design, and more. You can even find yourself an assistant on CloudPeeps.
This user-friendly platform with over 20 thousand customers and talented freelancers will give you a high chance of getting a project for yourself.
Businesses list a project on which you can propose. Tell the company why you are the best catch for the project. A business then connects and hires Peeps, and you can start working!
Key CloudPeeps Takeaways
Pros
Very user-friendly platform.
Job posting and inviting freelancers to work on a project are free.
Freelancers can craft a very detailed and easy-to-navigate profile. Including setting a time zone that you work in. Businesses can set a time zone that they prefer in the job post.
The live chat function makes it easy to settle on project details.
Cons
For more advanced features, you have to pay. The fee ranges from $9 to $29 a month. The better the plan you subscribe to, the lower the fees and the more features you have available.
The CloudPeeps cut on the free plan is 15%. However, once you have built your freelance business and subscribed to the highest $29 plan, the fee is only 5%.
2.9% + $0.30 withdrawal fee on every plan level.
Bottomline: CloudPeeps is a good option for beginning freelancers for its low competitiveness. However, be prepared to subscribe to at least the $9 plan to be able to scale your business.
GlassDoor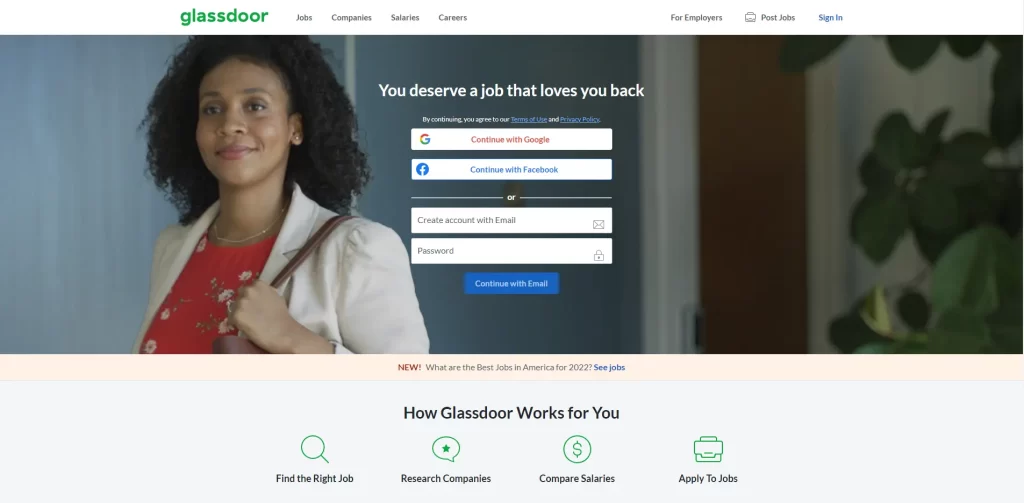 GlassDoor is a very different low competition freelance site from its competitors. That's due to employees' prominent role on this freelance platform. GlassDoor is not a freelancing marketplace but more like a job-seeking company.
Freelancers visiting this platform can see written reviews and salary information about companies before applying for a project or long-time job. Also, GlassDoor is widely used for the opportunity to review your current or ex-employers. Even if you are not currently seeking a new job or a remote job at all.
GlassDoor helps employees find remote jobs near them.
Key GlassDoor Takeaways
Pros
People can write company reviews and request, monitor, and respond to these reviews.
GlassDoor started working with Indeed, a popular free job posting site. Thus, paid job postings on Indeed are also listed on GlassDoor. This means more exposure to job offers and also more offers for the employees.
Advanced profile-editing features and comprehensive analytics tools.
Cons
There is not much I can say about the drawbacks of GlassDoor. That's because there is not much information available for people not using their platform.
Employers have to pay to post their job offers. The pricing is not publicly available on the website.
Bottomline: GlassDoor may not be your first choice as a freelance company. But it is worth a try, at least as a company, to get business reviews.
ServiceScape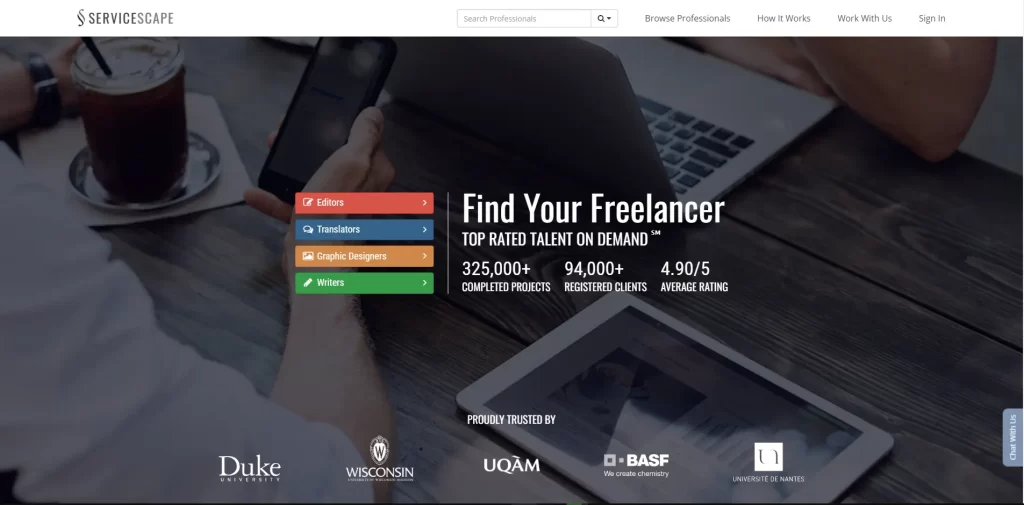 "Find Your Freelancer." That's the header of ServiceScape; a low competition freelance site focused on editors, translators, graphic designers, and writers. ServiceScape is simple and easy to use and, as the website indicates, trusted by more than 95,000 clients.
Key ServiceScape Takeaways
Pros
Clean and easy-to-navigate user interface.
Freelancers can create comprehensive profiles containing all career information, including samples of their work, client reviews, and graphs indicating their working layout, showing what and in what part they have worked.
Freelancers can set their pricing and different price levels.
Built-in chat and voice chat features make it easy to arrange project details.
Cons
For urgent site matters, there is no telephone number available. Thus you can wait for support's help for hours and days.
The biggest drawback is the fee. Freelancer and ServiceScape split the project fee 50/50.
Bottomline: The fee is something that may discourage a lot of users. But if you are looking for a clean, easy to use, low, competition freelance site, this is a good choice.
The Freelancer Club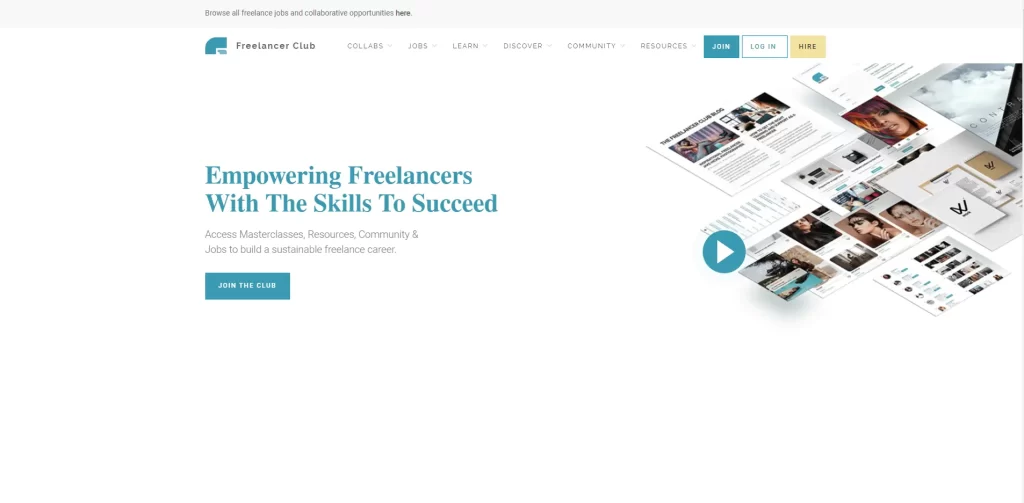 Another excellent low competition freelance site is The Freelancer Club, founded in 2014. Although the Freelancer Club is UK based, they accept Freelancers from worldwide.
When signing up for this platform, you can either start for free or go for one of the two subscription plans. One at $10.83/month and the second one at $15.99/month. Unfortunately, with the free plan, you cannot do much. You can offer your services but cannot bid on the projects of others.
The cheaper plan will allow you to apply for jobs under $250. You must go with the more expensive plan to access high-paying jobs.
But on the other hand, this site is entirely without commissions and fees.
Key Freelancer Club Takeaways
Pros
Easy to navigate and one of the low competition freelance sites.
Freelancer Club offers an extensive library with over 200 hours of courses and a lot of resources & tools which you can take to advance your freelancing career.
Cons
You have to pay to be able to bid on projects. But it's not that big of a deal since the Freelancer Club doesn't charge any commissions or fees.
Bottomline: Even though you have to subscribe to Freelancer Club to be able to use this site fully, it is worth it, considering there are no fees charged. Leaving you with a pure profit.
Picoworkers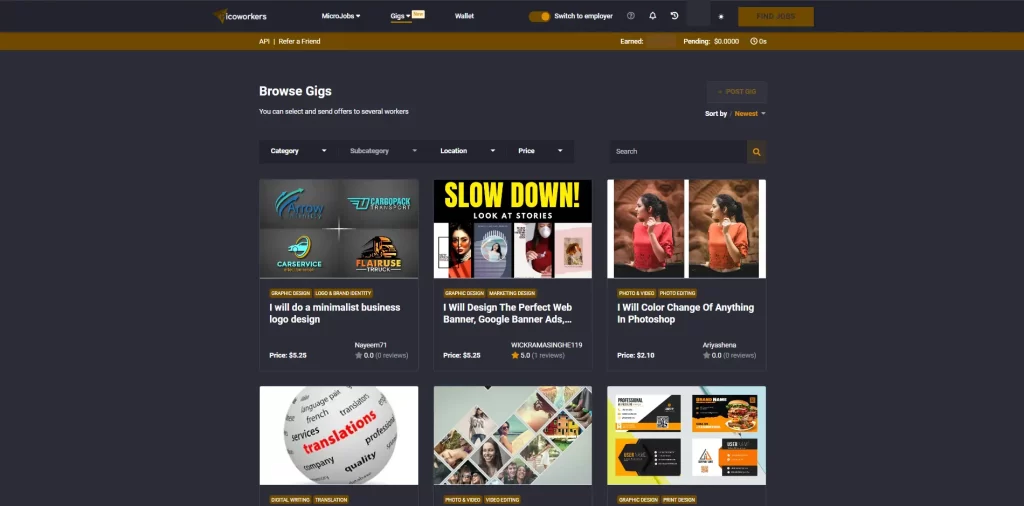 If you have heard about Picoworkers before, you might be thinking that this site is not a freelancer site. But the Picoworkers team recently updated the site and added "Gigs."
This feature is not even two months old, so that you can be one of the first freelancers offering their services there.
I can't tell if any companies are already waiting to complete their projects. But even if not, Picoworkers is free, and you don't pay anything to add your freelancing ability there now.
You can also find a comprehensive guide and review of Picoworkers on our site.
Key Picoworkers Takeaways
Pros
Leading company in micro job sites niche.
The freelance option is only about two months old. Thus you can be one of the first freelancers there getting lots of projects.
Cons
A 7% service fee is charged.
A lot of businesses don't know about this option yet.
Crackerjack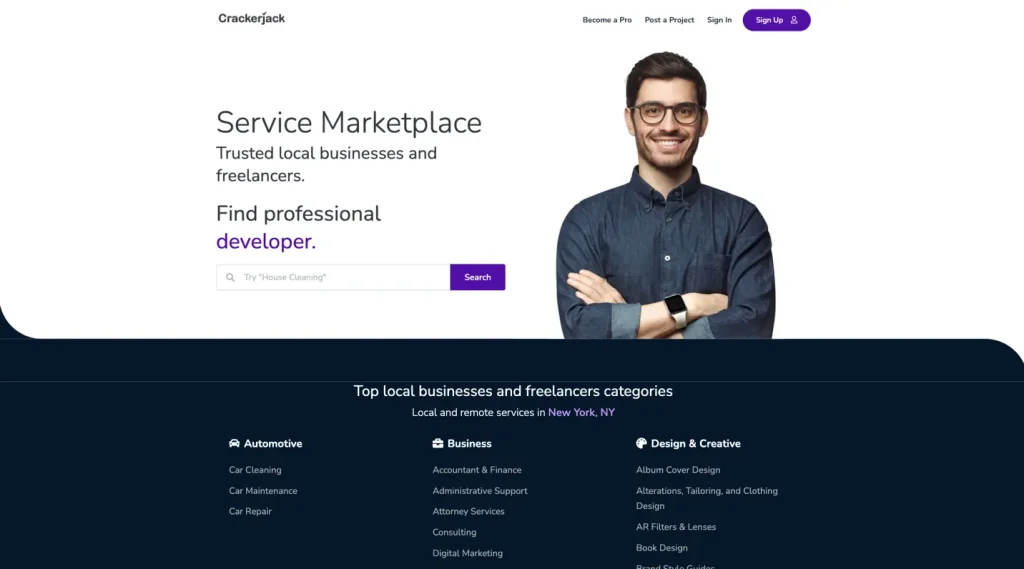 Crackerjack is a versatile online marketplace that seamlessly connects individuals and businesses with a diverse array of local freelancers and service providers across various categories.
Crackerjack offers a hassle-free experience in finding the right professional for your needs through its user-friendly interface and extensive selection. Unfortunately, this convenience is available exclusively to those located within the US.
Pros
Varied Categories: Crackerjack covers an extensive spectrum of categories, including Home Improvement, Events, IT, Pets, Automotive, Design, Personal, Tutoring, and more.
Transparency: The platform's review and rating system allows users to make informed decisions by reading genuine feedback from other customers, ensuring transparency and accountability.
Convenience: Crackerjack's intuitive interface simplifies the search for local service providers, streamlining the hiring process and saving valuable time.
Secure Payments: The platform's secure payment system offers peace of mind, as funds are held until the completion of the project, ensuring that both parties are satisfied with the transaction.
Cons
Limited to the US: Crackerjack's services are exclusively available to users within the United States, limiting its accessibility to an international audience.
Limited Provider Pool: Due to its relatively recent introduction, there might be an extensive list of service providers later. However, this could also benefit users, implying lower competition and the potential to build strong working relationships.
Contena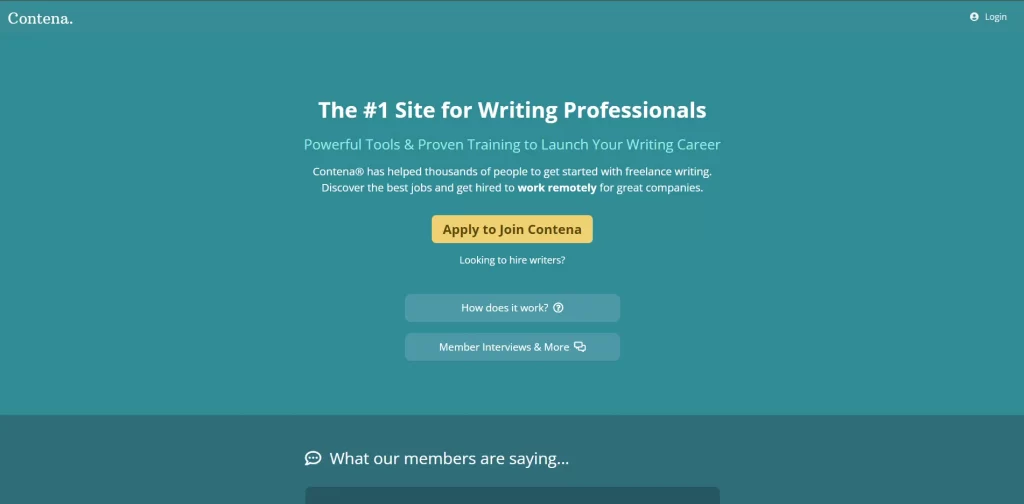 Contena is a new low-competition freelance platform for expert copywriters and writers with various focuses. Covering different freelance opportunities like blog articles writing, fictional writing, technical writing, and even writing resumes and cover letters.
Contena offers more full-time and part-time job offers than one-time gigs. Thus, if you want to write full or part-time, Contena is a good choice.
Key Contena Takeaways
Pros
Part-time and Full-time job opportunities.
A lot of writing job offers.
Easy and clean user interface.
Cons
You can't start immediately. Contena is invite-only; you must fill out a quick questionnaire and get accepted.
You will need to pay a membership subscription starting at $40 a month. So Contena may not be accessible to everyone.
Bottomline: Contena is made for those freelancers who are really serious about their writing and want to take it to the next level. The membership fee may be a drawback or a new big opportunity.
Periodix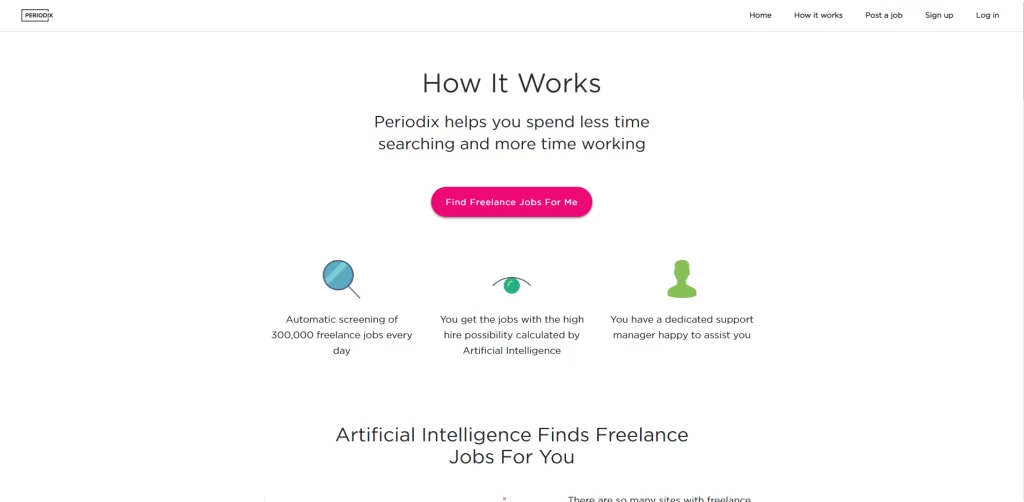 Periodix is more of a library of job and freelance gigs offers than a freelance platform. Even though you can post projects directly on Periodix. You can find up to 300,000 new freelance jobs daily from various platforms. From the biggest, like Upwork, to some low, competitive freelance sites like I mentioned in this article.
Key Contena Takeaways
Pros
A lot of new remote gigs every day.
Easy to use. Registration is a straightforward 1-minute process.
Cons
In the course of our research, we have not come across any negatives.
Speedlancer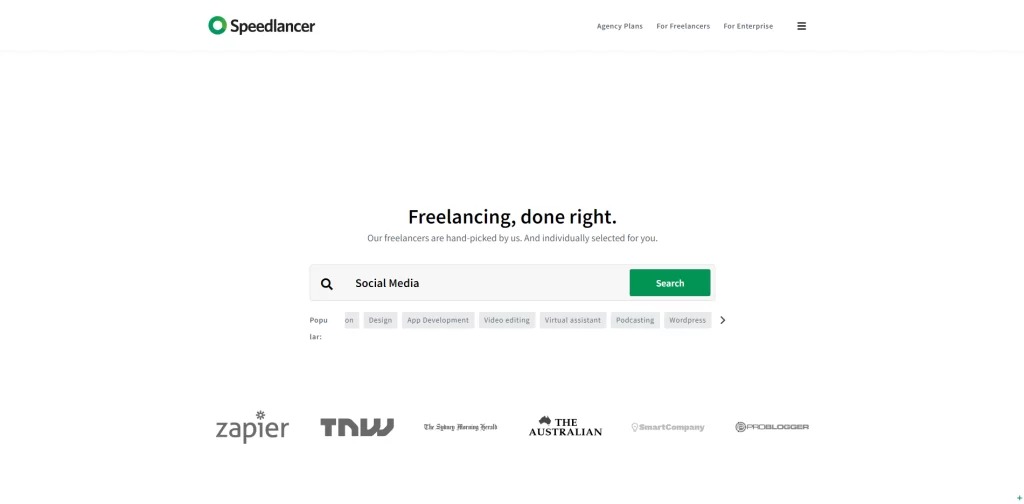 Speedlancer is very quickly gaining traction and attention from the freelance community. The application process is a bit hard, as Speedlancer is invite-only. You need to wait until a freelance position opens and apply for it.
What seems a bit weird to me are earnings. At the time of making this article, there was one position open – for English Content Writers. But the payment is only $0.04 per word. And I am sure you, as a copywriter, can do much better working with a blog owner directly. Of course, you are assured of earnings here, as there are plenty of projects on offer. But at what cost?
Key Speedlancer Takeaways
Pros
The invite-only program ensures that you are being employed for serious projects.
Cons
The earnings, at least for a content writer, seem a bit low to me.
The platform charges a 20% fee for every project.
Zeerk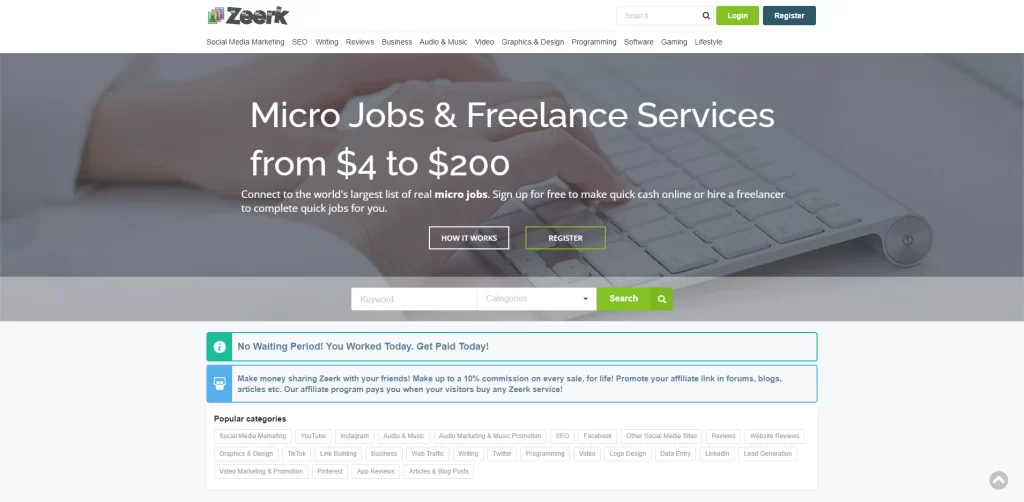 Another site on the list of low competition freelance sites is Zeerk. Zeerk is a freelancing platform that has already operating for over five years and growing every day.
As a freelancer, you can set your price ranging from $4 up to $200. The big advantage of this low competition freelance site is that it is really made for small freelancers. Low fees, low withdrawal threshold with instant withdrawals, and more…
Key Zeerk Takeaways
Pros
You can also post small, $4 offers.
Small withdrawal threshold – $4
Instant withdrawal to PayPal
Cons
10% fee. Which is not that much in comparison with other low competition freelance sites.
Revelo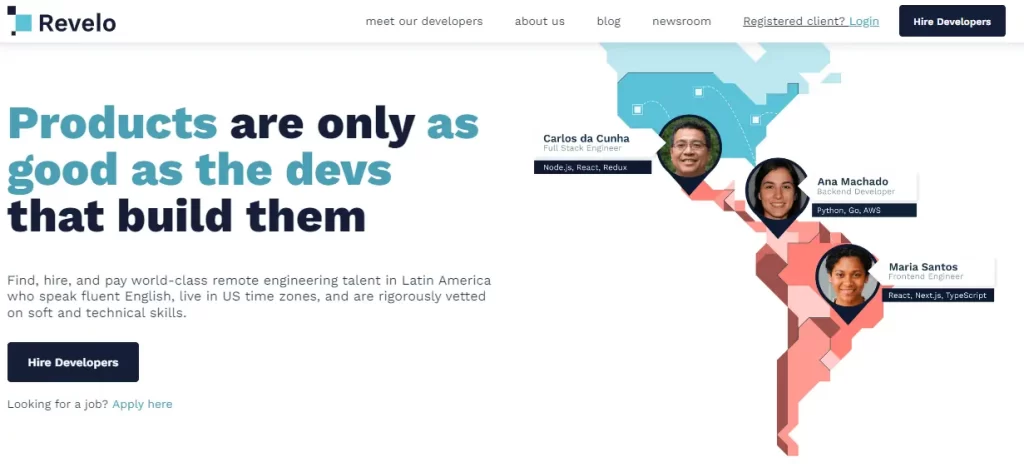 Revelo offers the largest online platform for US companies to hire remote software developers. Companies can hire and manage highly qualified, English-speaking, full-time remote tech talents from Latin America.
To become a freelancer for Revelo, you have to be a developer with at least 3 years of experience and apply via their site. Once you got hired, Revelo takes care of all the bureaucratic stuff for you so that you can focus on your career.
Key Revelo Takeaways
Pros
Fully remote high-end software development jobs.
Simple monthly fee structure.
14-day free trial.
Revelo takes care of everything besides picking the right developer/employer. You can choose what will suit you the best.
Cons
Geographically restricted to Latin America.
Conclusion
You can find a lot of low-competition freelance sites online. This list has only brought you the 10 most interesting ones.
Starting a freelancing career can be stressful and hard. You will probably struggle with weeks without any projects. I have personally been a freelancer for some time and know it can be hard to start without any experience and a fanbase. A starting point where you can get some projects and reviews before moving on to a more popular site, where you have even more freelance opportunities.
I hope you've found a platform you like in this article to kick-start your freelance career.