No one wants to experience the terrifying view of a zero balance in your crypto wallet again. Thankfully, there's a good probability that your cryptocurrencies haven't been stolen; instead, MetaMask is simply not updating your Balance.
Continue reading to find out what are possible fixes to this issue.
What is MetaMask
Metamask is a free-to-use browser extension and a mobile app wallet that allows users to interact with the Ethereum blockchain. On MetaMask you can send and receive coins from your cryptocurrency wallet and swap tokens.
But after all, MetaMask is a Decentralized Wallet. No authority is performing there, and you are responsible for your wallet's security.
That's why your first thought when you see a wrong balance in MetaMask may be that you have been hacked. In that case, it's almost impossible to recover your stolen crypto.
However, wallet hacks are not always the case, as MetaMask is not flawless and you might face different issues while using the Wallet.
But since you are reading this you've probably already encountered an issue.
Let's take a look at how to find out that MetaMask is not updating your balance and how to fix it.
Find out your real wallet balance
First thing first we need to check what the real balance on your wallet is. From this, we can see if indeed MetaMask is not updating your balance.
For almost every existing cryptocurrency chain there is a block explorer. Block Explorers can show you all transactions associated with a particular wallet address – your address.
The entire blockchain is transparent, so you can trace transactions related to any wallet even though you won't know who owns what address.
Now we're going to find out that there are actually funds in your wallet. It's also possible that you accidentally misspelled your address and sent cryptocurrency to someone else.
First, open your MetaMask Wallet and click on the three little dots beside your account name.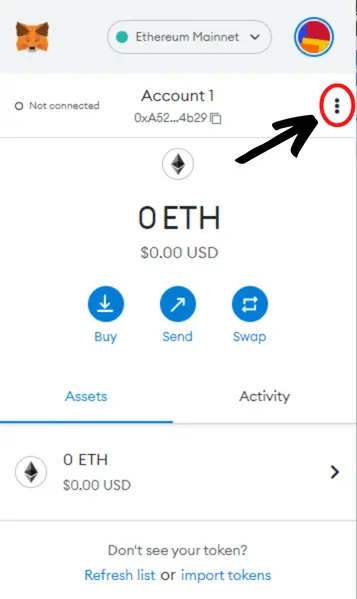 A little drop-down menu will appear from which select "View Account on Etherescan".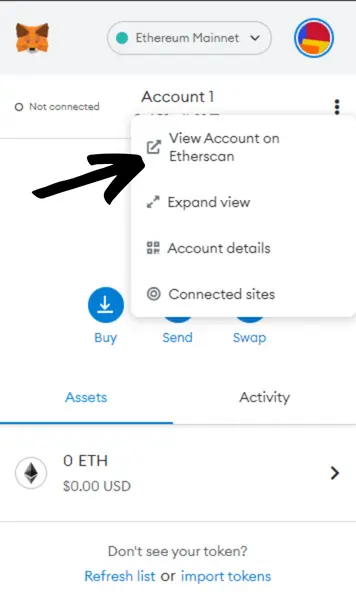 Or another way around is copying your wallet address and pasting it directly into Block Explorer.
Next to "Balance" and "Token" the true wallet balance is shown.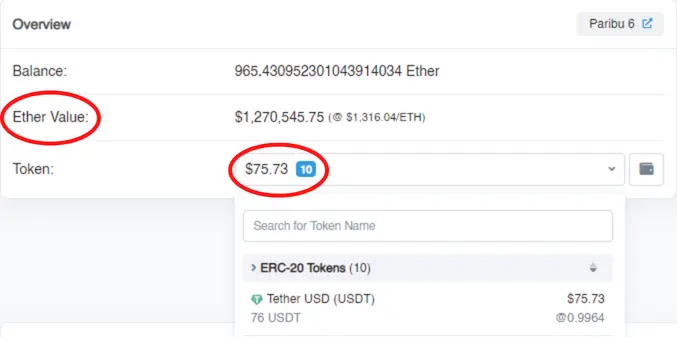 If your MetaMask balance and the balance that is displayed on Etherscan are different, then there is a problem with MetaMask not updating your balance.
How to fix MetaMask not Updating Balance
Solution 1: Restart Your Browser
Before diving into more invasive solutions you can try restarting your browser first. Your browser may have run into a temporary problem with loading third-party apps, and this can fix it.
Close all your browser windows and wait a few seconds. To make sure the browser is actually closed, you can go to Task Manager using the Ctrl+Shift+Escape keyboard shortcut. On the Processes tab, force end all tasks associated with your browser.
Solution 2: Restart Your Computer
If the issue persists after restarting your browser you can try restarting your entire system. This should resolve all temporary errors, including the one associated with your browser.
If your computer runs Windows 10 or later this could resolve your issue, as these Operating Systems have a Fast Startup feature. Which prevents the computer from shutting down completely. However, restarting the computer bypasses this. Leading to a whole computer reboot, including RAM restart.
Solution 3: Re-Login to Your MetaMask Wallet
Your wallet will automatically lock, when not used for a certain period of time. You can also manually lock it by clicking on your profile image.
And tapping "Lock".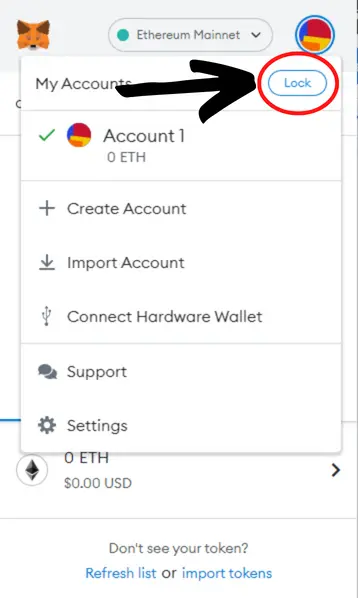 This will stop your current session. Now wait for a couple of seconds and re-login to your wallet. This should re-load any assets, including your MetaMask balance.
Solution 4: Clear your Browser Cache
You can also try clearing your Browser Cache if MetaMask is not updating, or displaying the wrong balance.
MetaMask or any other browser extension will then reload and possibly re-download any corrupted files.
The process of Clearing your Cache may vary depending on which browser you are using. But it'll be more or less the same.
Open your preferred browser and access the History tab. Either from the top right menu or by using the Ctrl+H shortcut.
Select the "Clear browsing data" option.
You can choose a custom time range, but because we are looking to solve browser issues select "All Time".
Tick all the boxes, including Site Cookies and Cached images and files.
Finally, press the Clear Data button.
This process is probably going to take a while, depending on how often you clear your browser.
When you are finished, log back into your MetaMask Wallet. It should now show the correct balance.
Solution 5: Reinstall MetaMask Extension
If none of the less invasive solutions have solved the problem, proceed to reinstall the entire MetaMask Wallet.
It could happen that MetaMask installed some updates incorrectly and it causes the balance updating issue.
Before reinstalling the MetaMask extension make sure, that you have your Seed Phrase written down. As this will be your only option to access your wallet.
Launch your browser and tap on the little puzzle icon in the top right corner.

From the drop-down menu find MetaMask and click the three dots next to it. Now select "Remove from Chrome".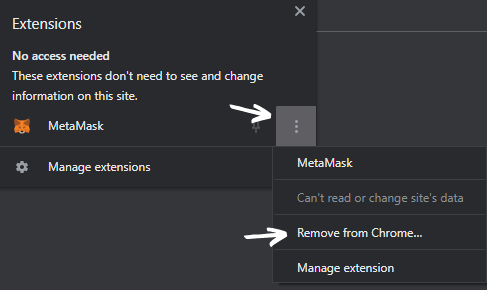 Now freshly install the extension just like you did, when you were starting with MetaMask.
Please note, that your wallet will probably be in its original state now and you will have to re-import all your custom tokens and custom networks.
This is the last direct option to fix the MetaMask balance displaying issue. So it probably should fix your issue. If not, there is one last resort.
Solution 6: Report the Issue
If none of the above solutions worked report this error to the MetaMask team.
Visit MetaMask's support page and contact their support team for assistance. Make sure to provide all necessary information about your issue. Including whether you've changed your browser or update anything. The support team will get back to you as soon as possible.
Conclusion
In every application, difficulties occasionally arise. Fortunately to fix MetaMask not Updating Balance is quite easy.
Hopefully one of these solutions resolved your MetaMask display issue. Or if you have successfully solved this problem with another solution, post it in the comments to help others!
Other very common issues are related to the Decentralized Exchange PancakeSwap. That's why we have made an entire series for troubleshooting PancakeSwap errors.
Or do you experience other errors we do not have a guide for? Let us know in the comments bellow!