Who wouldn't love free crypto, right? Especially when you can earn it completely passively with your favorite coin. And that's what we are going to check out today in this Shiba Inu staking guide.
Shiba Inu started as a meme coin in response to the huge popularity of Dogecoin. But nowadays, investors are taking SHIB very seriously. And developers are trying to keep its popularity on top with regular updates. One especially interesting update rolled out recently when SHIB started burning reserves to keep supply under control.
In this guide, we'll take a look at how to make the most out of your Shiba Inu by staking your excess coins using Trust Wallet.
How to Stake Shiba Inu on Trust Wallet
Before we start, it's important to note that you can't stake SHIB directly on Trust Wallet. Instead, we'll use Trust Wallet to connect to ShibaSwap, where we'll be staking.
That's because Trust Wallet doesn't run any of its own validations nodes, which facilitates the staking process.
This doesn't mean any difference to you, you'll only need to open an external webpage every time you want to claim your earned Shiba Inu reward.
Step 1. Open ShibaSwap and Connect your Wallet
First, head to ShibaSwap. Either type in the URL or search for "ShibaSwap" on Google. Alternatively, you can get there by using the link: https://shibaswap.com
Once there, connect your wallet using the button in the top right corner and approve the connection.
Trust Wallet is typically used on mobile devices – it doesn't have a desktop app yet. But there are at least 3 methods to use Trust Wallet on a PC. We prefer doing everything around cryptocurrencies from our computer, as it gives you more control over the whole process.
Step 2. Select "Bury" to Stake SHIB
After connecting your wallet, select the option named "Bury." Everything in the Shiba Inu ecosystem is named regarding the fact that Shiba is a dog. And bury is the name for staking.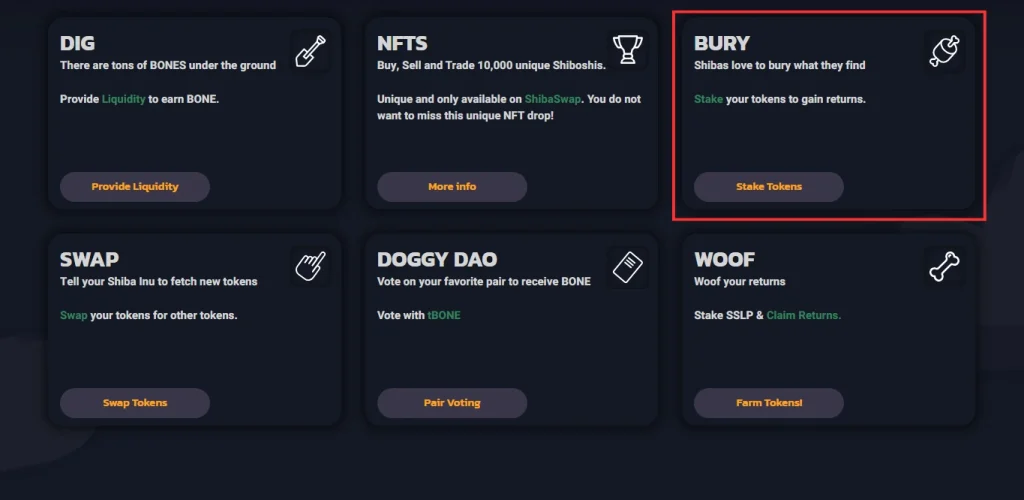 Step 3. Stake Shiba
In the Shiba ecosystem, there are three different important tokens – SHIB, LEASH, and BONE.
LEASH token (Doge Killer) is another token you can buy and stake besides Shiba. And BONE tokens are earned for providing liquidity.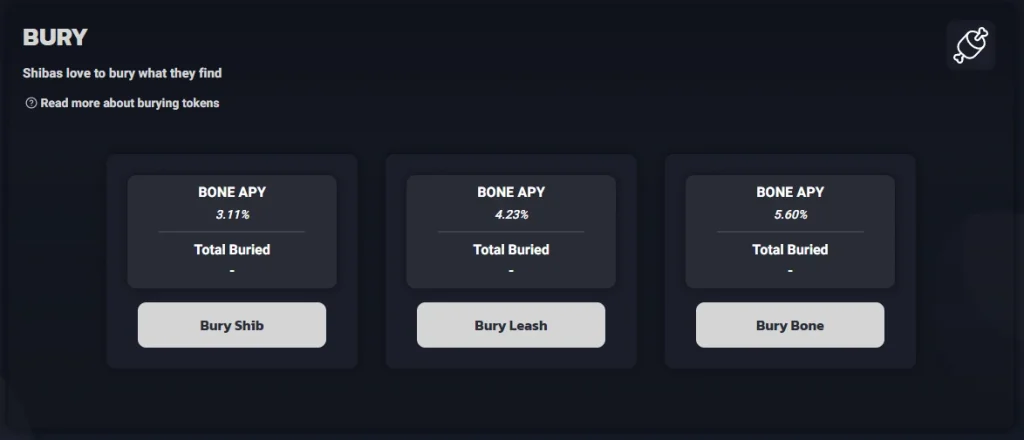 When you select to stake (or to Bury) SHIB, enter the number of tokens you want to stake. Then finally, approve the transaction in your Trust Wallet.
How are SHIB Rewards Distributed, and How to Withdraw Staked Tokens
There are a few things you need to be aware of before committing all your tokens to the staking process.
First, by staking SHIB tokens, you'll be rewarded with XSHIB tokens, which represent your stake. And the same works for staking LEASH or BONE.
To put it simply, your balance in the wallet will be swapped from having SHIB to having XSHIB. As the system essentially does not care who staked the token, but whoever has XSHIB owns an equal amount of SHIB.
And secondly – give it time. Staking is a time-consuming process. You probably paid a lot in gas fees at the beginning, and it will probably take you weeks to make that back (depending on the current APYs).
It's time-consuming also because you can't withdraw all your earnings at once. The rewards are distributed weekly, but you can claim only 33% of your returns, but the remaining 67% will be time-locked for 6 months. This means that once you decide to unstake your tokens, 67% of all your earnings will still be locked for another half a year.
To withdraw staked Shiba Inu, visit the staking page once again and switch to "Unstake."
Bottom Line
We hope this guide shed some light on the staking process of Shiba Inu on Trust Wallet.
In the end, staking is a relatively safe way to earn more money with your initial capital, at least compared to liquidity farming. One downside which you need to keep in mind, in this case, is the 6-month-long lock of 67% of your earnings.