The crypto market is known for its volatility, and prices can change rapidly, leaving you missing hundreds of opportunities. And as a trader or investor, it's essential to stay informed of any significant price changes. However, you can't keep an eye on the market 24/7.
This is where Binance, with its price alerts, comes in. Binance is dominating the crypto market with nearly 30 million active users. Many of them love advanced features like Launchpad, Dual Investments, or trading derivates with high leverage.
However, in this article, we'll talk about a much simpler feature. A handy tool that will be useful even to every beginner.
By setting up price alerts, you can receive notifications whenever the price of your chosen coins hits a specific level. With that, you won't miss any market trends and movements.
In this article, we'll provide a step by step guide on how to set up Binance price alerts on whichever device you need.
What are Price Alerts on Binance
A Binance price alert, also known as a price notification, is a function that allows you to be notified of specific price changes based on rules you set.
Unfortunately, the web version of Binance cannot be used to create a price alert. But if you mean it with crypto, you probably already use the desktop app.
But if you don't like the desktop version and still want to stay on top of the market, you can check our article mentioning the best apps offering price alerts.
But Binance price notifications have one huge advantage; it's always free.
How to Set Binance Price Alerts in the Desktop App
Firstly, you will need to have an account opened on Binance. This is quick and takes just a few minutes.
After your registration and verification process, download the Binance desktop application. To do so, scroll all the way down on the website to the footer. Here you'll see a "service" section with a "download" button. Once you tap that, you'll be redirected to the download page.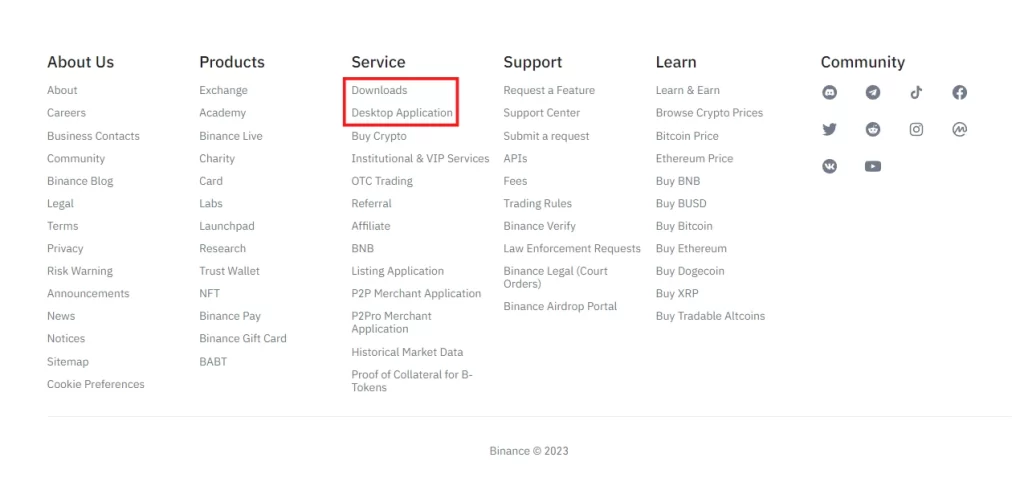 Once the installer is downloaded, install the application and log in to your account. You'll then find yourself on the main page of the application, from where we can set price alerts.
First, familiarize yourself with the app a bit since you'll probably be using it a lot from now.
Ready? Great, tap on the small icon located beside the bell.

A small window will pop up in which you can set your price alert rules.
We'll discuss the conditions later on in this article since they are the same in the mobile app. You can fast-forward to that section by clicking here.
After you set all the conditions under which you wish to be notified, your price alert was successfully created!
Like this, you can create an unlimited number of price alerts.
Once saved, your page will look something like this: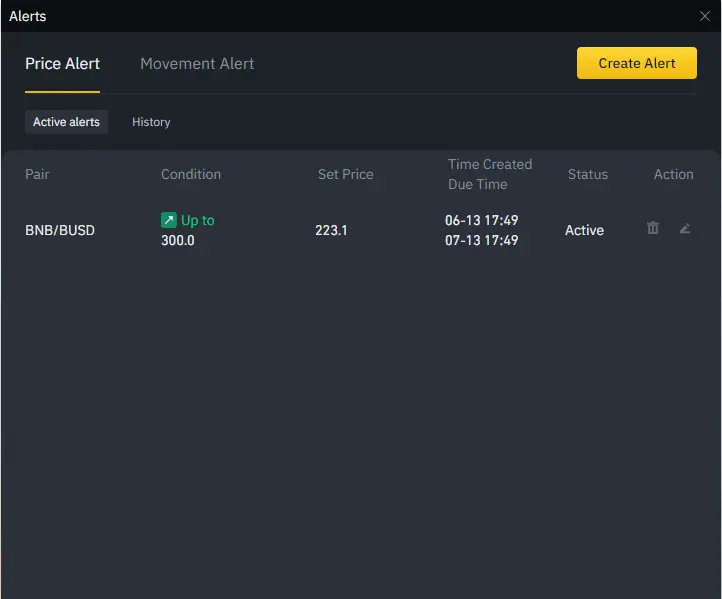 How to Set Binance Price Alerts in the Mobile App 
Firstly, log in to your account on Binance mobile.
But before we move onto creating a new price notification, there is one extra step you need to take. That's switching from Binance Line to Binance Pro.
Binance Lite offers only a handful of basic features that suite beginners the best. Once you advance, you can switch to the Pro version to enjoy all the features available, including Futures or Margin Trading. The interface will also look a little different and maybe a bit complicated at first.
To switch to the Binance Pro, tap on your profile icon in the top right corner and use the little switch to select the other version. The app will reload, and you're ready.
Unlike in the desktop version, you'll need to set price alerts separately for each trading pair. So start by selecting "markets" in the bottom bar and finding your favorite coin pair.
Once you open any trading pair, you'll see a little bell icon. Once you tap that, you can select the alert rules and finish it by clicking "create alert."
Your active price notification'll look something like this: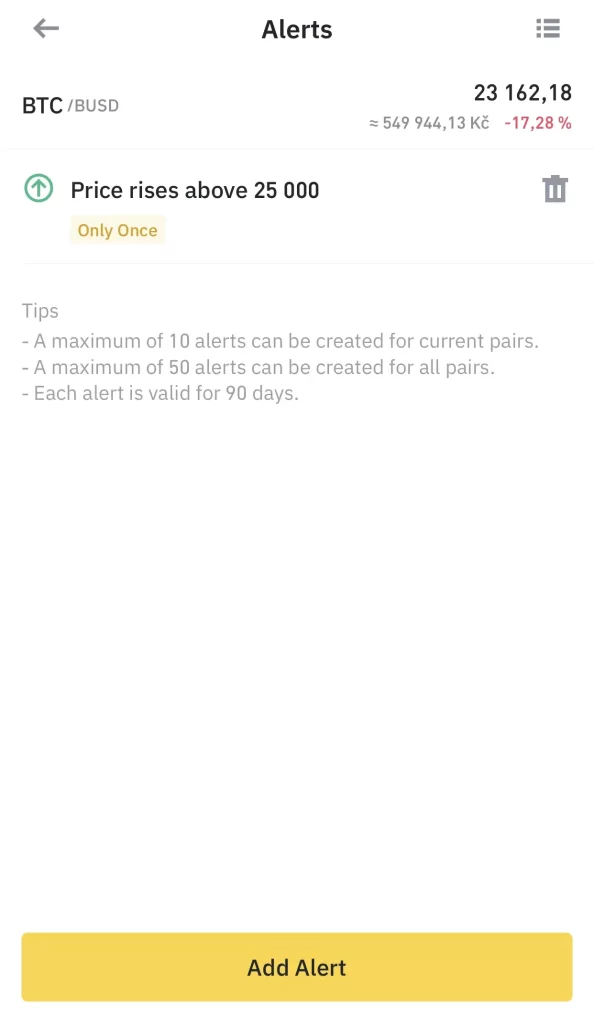 Also, unlike in the desktop version, where the number of alerts created is unlimited, in the mobile app, you can only create a maximum of 50 alerts.
Binance Price Alerts Conditions
The price alert comes with two different settings. You can either set a "price alert" that will trigger once the price of the given trading pair hits a threshold. Or you can set a "movement alert" that will monitor big market movements for you.
Both these forms have a wide variety of customizations you can use. Now let's look at them one by one.
Setting Price Alert
Once you get to the rules page, it'll look something like this. The market and pair will be automatically selected based on the trading pair you set in the first step.
Under the condition, you can select:
Last Price
Select this option if you'd like to be notified if the price has risen to a given level or fallen below a certain level. After that, write the price at which you'd like to be notified.
24H Volume
You can get notified whenever the 24H trading volume exceeds a certain threshold.
You can also select which coin from the pair you want to monitor.
24H Change
Receive notifications when the 24H price rises by a given percentage or falls by a given rate.
You can also specify whether the alarm should ring for 30 seconds or until manually deactivated.
And finally, you can also leave a note for yourself. For instance, "BUY!!!!!," to make sure you don't forget to buy right now.
Setting Movement Alert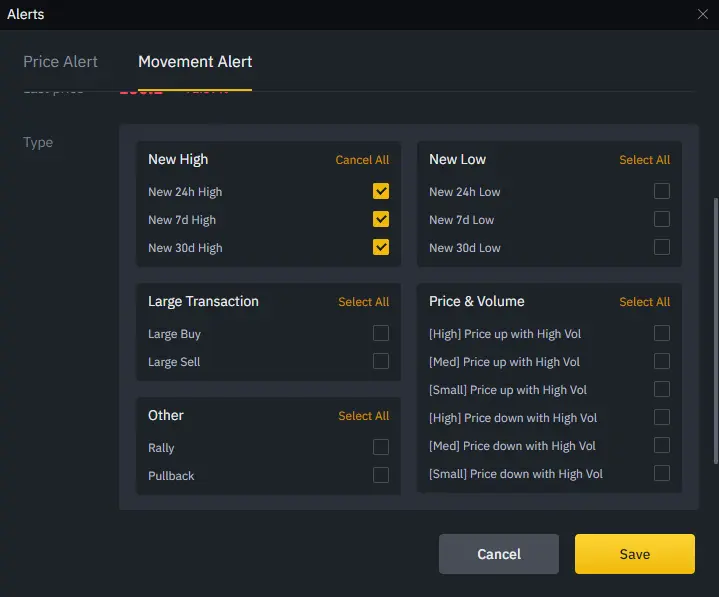 The movement settings look a bit more complicated.
There are numerous conditions you can pick, and all of them can be turned on simultaneously.
New Price High and Lows, in the timeframe of:

24 hours
Seven days
30 days
This means that you'll get notified if the coin does a new low or high in the given timeframe.
Thanks to this option, you can be notified about crypto whales and big transactions that can potentially highly influence the price.
Price UPs and DOWNs with High Volatility
A rally is a period of price increases that last for some not insignificant time. 
A Pullback is a moderate drop in the crypto market prices.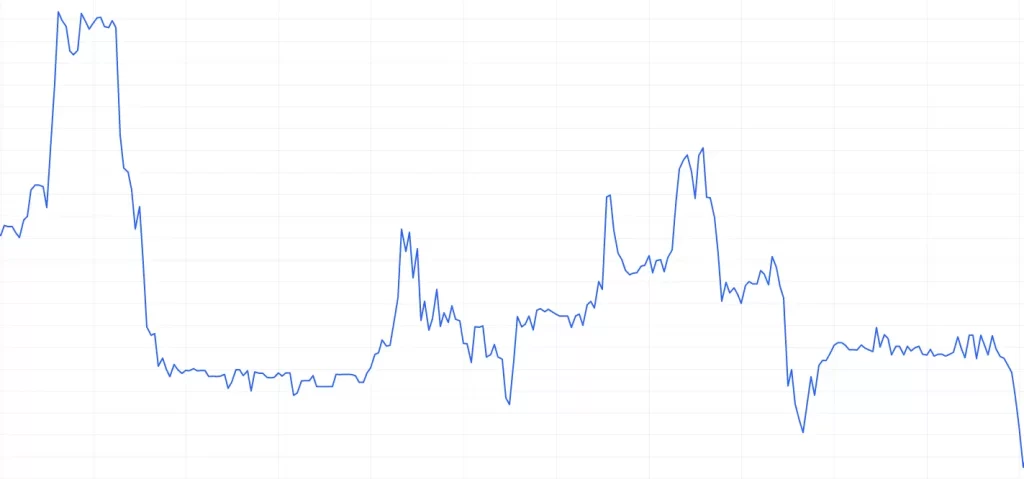 Like the price alert, you can set whenever the alarm should ring only for 30 seconds or until manually closed, or leave yourself a note. 
Binance Price Alert is not Working
You may find yourself in a situation where the Binance alert is not working. And Binance alerts not working is not an uncommon issue, to be honest.
And the reason and the fix are also quite easy.
When your alert is not working, it is usually because it has expired, and you need to set it up again.
All alerts have a one-month period for which they are valid. If the price alert is not triggered within this period, it is canceled. The movement alert also lasts for one month and then expires.
Also, price alerts can only be triggered once, while movement alerts keep active for the whole month.
Thus to fix that, easily set the price alert again, and it'll keep you notified for up to one more month.
Conclusion
Binance price alerts offer a simple way to stay on top of the market. It's fairly easy to set, all you need is a few minutes of time. But that minute can save you from missing out on a great investment opportunity.
What's is quite unfortunate is that there is no way to change the alert sound, which can be quite irritating since it's a basic bell sound.
If you need more complex price alerts, monitoring all the aspects of the crypto market, make sure to also check our list of best price alert apps.
Learn further with Binance How to's
How to Easily Switch Between Binance Pro and Binance Lite
How to Know When Binance will List a Coin
How to Change Your Email Address on Binance
How to Change Your Phone Number on Binance: Without Access