Cryptocurrency presale, also known as an initial coin offering (ICO), is a way for new projects to raise funds by selling tokens before the main token sale happens.
Presales usually offer a great investment opportunity, as you can support the project right from the start and expect higher returns. 
But how do you find and buy crypto presales that have the potential to 100x? That might be simpler than you think. So without further ado, let's dive in! 
What are Crypto Presales
Cryptocurrency presale is a practice performed by new crypto projects prior to the initial coin offering, in which tokens are offered to interested investors at a specific price. Thus you can buy new crypto before listing.  
The terms of each presale vary depending on the project. Coins can be offered at a private exchange or dApp only to a limited number, for instance, those who were involved with the project for a long time. Or the team behind the project can offer ICO publicly. The terms vary. 
But crypto presales usually involve purchasing tokens at a discounted price before they are available to the general public. During this time, tokens can be traded or used solely within the project's ecosystem. 
How to Find and Buy Crypto Presales
There are several ways you, as an investor, can find crypto presales and buy new crypto before listing.
Online Forums and Communities
The first way would be to join online forums and communities centered around cryptocurrency and blockchain technology. If you find communities focused on new, low market cap coins and raising opportunities, even better.
To start, you can browse different subreddits. You can choose from hundreds of subreddits that will give you a great market outlook.
r/CryptoCurrency

The biggest crypto sub, with over 6 million members. This extremely active sub is filled with discussions, breaking news, and market analysis. 

r/ico

This sub is geared towards the analysis of initial coin offerings. Is there a better place to find crypto presales than on a subreddit that focuses on that?

r/InitialCoinOfferings

Similar to the previous sub is r/InitialCoinOfferings, offering insights into all things related to ICOs. 
However, this is not where the use of Reddit ends. Essentially every single coin has its own sub. When you find an exciting crypto presale, there is no better place to learn more about the token than on a dedicated subreddit.
Listing Tracking Platforms
The best way to find crypto presales would be to combine online forums with websites that track and list upcoming ICOs and presales.
These platforms often provide details about the project, the team behind it, and also the terms of the presale. 
The often mentioned CoinMarketCap can also serve as a foundation. However, there is no function to see a list of tokens, that are currently in presale. But you can hover over "Cryptocurrencies" on the main page and tap "Recently added."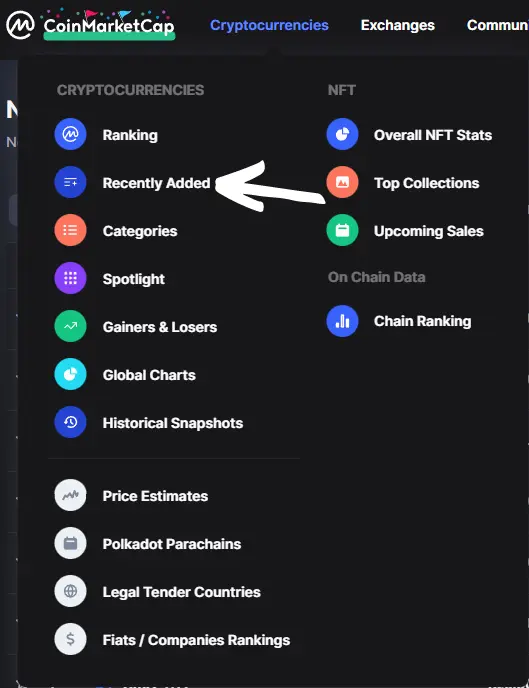 Here you can browse through tokens that were added just a few hours ago to CoinMarketCap. These coins are usually in ongoing presale. 
The second and more convenient option is to visit websites focused on small market cap coins. From this category, we recommend CoinSniper. CoinSniper is a platform where anyone can submit a cryptocurrency project, and others can view and vote for them. 
There is also an option to view only coins in ongoing presale. Just tap the "Presales" button in the top bar. There you can see a list of tokens in presale, including their chain, security features & countdown to launch.

How to Buy Crypto Presale
Once you find a token you fancy, you can invest in it and buy it in the presale, thus before its listing.
You need to find where the sale takes place first. To do that, you can use CoinMarketCap. The majority of tokens will be listed there. As CMC is the biggest crypto-listing website, with over 120 million monthly visits. 
Once you find your wanted token on CMC, scroll down till you see "Markets." All markets and trading pairs containing your token will be listed there. 
If the token is not on the CoinMarketCap, other ways exist to find where the crypto presale is taking place. By far, the best method is to visit the creator's official social media channels. They will be sure to mention where the presale takes place.
Tips for Evaluating Crypto Presale Opportunities
It is essential to carefully consider several critical factors before deciding whether or not to invest in a crypto presale. Some general tips can be applied not only to assess whether an investment opportunity is worth it or not but also whenever you need to determine whether it is a scam offer.
Research the Team Behind the Project
A team page will be usually included on the project's page.
A strong, experienced team with a proven track record of success can be a good indicator of the project's potential for success. Learn more about their backgrounds and past experiences. 
It is also helpful to read interviews with the team members and learn more about their vision for the project.
It is probably a bad sign when the team is not transparent at all, and there is no info whatsoever about them on the internet. A good and legit team will engage with the community and be as transparent as possible. 
Understand the Project's Goal and Potential Uses
Even though it's not the primary goal of all investors, you should focus on the project's goals and potential uses at first. No project can survive solely on investors when there is no actual usage for the coin.
Although there are a lot of shit coins in the market, you shouldn't support any new ones.
Consider whether the project's goals and potential use align with your investment goals. For instance, if you are looking for a long-term investment with the potential for high returns, you may want to look for a project with a strong foundation and potential for growth.
It is also a good idea to research any project's competitor and consider whether the project's unique features and capabilities are that better and give it that much of a competitive advantage.
Review the Project's Technology and Security Measures
Before participating in the crypto presale, it is important to review the project's technology and security measures. 
Look for projects that are built on strong and secure technology with robust security measures to protect investors' funds. 
This includes researching encryption methods and security protocols to ensure your investment is protected.   
Security should be the first priority of any project. So invest only in projects that take security seriously. 
Understand the Potential Risks and Rewards and Market Potential
It is important to consider whether there is a real demand for the project. 
For instance, are there enough players who are willing to play this game? Does the game offer anything new and unique?
And also consider the project's potential for growth. Long-term goals or roadmap is a great indication.  
But remember, nothing is certain in investing. That's why it is important to review all those points and consider whether the potential risk is worth the reward. 
Benefits of Crypto Presale
Discounted Token Sales
Many crypto presales offer discounted prices for early investors, which can get you even higher returns on your investments. 
It's important to acknowledge that all tokens are in the creator's hands at first. So the project's team can offer, for example, a 20% discount to early investors. But as the creators drive the price at this point, they will offer it slightly more expensive at the public launch.
Potential for Higher Returns
We can all agree that a 20% discount, thus 20% profit at the launch, isn't that interesting. But if you carefully review the project by the points we gave you, there is a high potential you can squeeze a lot more profits from it. 
On the other hand, presale gives the creators more capital to use for marketing and other practices, which can drive the price even higher.
Conclusion
Crypto Presale is a great way to invest in interesting projects with high potential at its earliest. This gives you the opportunity to support and contribute to the growth of a project and participate in higher profits.
However, this comes with its own risks, and the amount of good projects is highly diluted by make money quick schemes and scams. That's why it is important to carefully review the project and consider if it is worth it investing in.