Nami Wallet is a popular Cardano wallet with over 250 thousand users worldwide. It's created with simplicity but high functionality in mind.
It allows you to send and receive all tokens on the Cardano blockchain, including NFTs. Nami also allows users to stake ADA directly using the wallet.
The list of features doesn't end there. In this article, we'll show you how to set up your first Nami Wallet and how to use most of its interesting features. It'll be a long list, so buckle up and let's dive in!
How to Set Up Nami Wallet
Nami provides an efficient and easy way to connect to the Cardano blockchain and use all the interesting features it can offer. You can connect to dApps, receive and send crypto tokens, and even get NFTs.
For that to work, you'll have to download Nami and set up a new wallet. The process is very intuitive; the only thing that can surprise you is the 24-word seed phrase, which is longer than a standard recovery phrase.
Download Nami
Nami Wallet comes only with a browser extension, which is, unfortunately, not available for all browsers.
You can get the extension for all browsers based on Chromium – to put it simply, all browsers that allow you to use the Chrome Web Store. That's, for instance, Brave or Vivaldi. And you can also get it for Microsoft Edge.
Safari usually doesn't have the same extensions as other browsers because all major browsers adopted a protocol known as "WebExtensions." Thank's to this, developers can create one code and get it to all of these browsers. But Safari decided to take its own route and didn't adopt this standard, so developers must work specifically for Safari to make it work, which is not worth it when there's not enough audience.
Simply visit Nami's official website and select your browser to download the extension.

Create a New Nami Wallet
Once you run the extension for the first time, you'll be given two options – to either create a new wallet or import your existing one.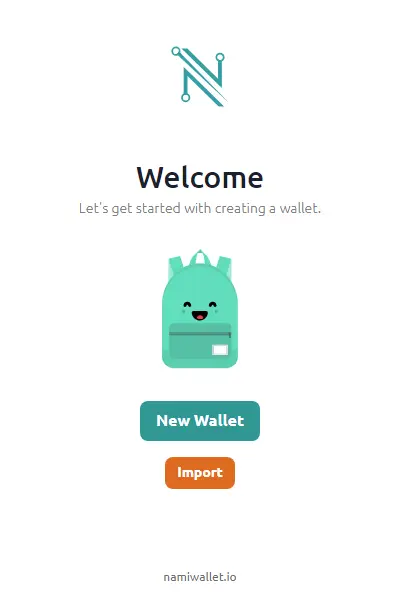 The way crypto wallet works is that they connect to your wallet address. The address exists on the blockchain and will be there forever. And basically, when you give the wallet your seed phrase, you're giving it a way to interact with that wallet.
With that in mind, you can import any of your Cardano wallets to Nami now. Even if you created one with another wallet, like Yoroi.
But you're probably looking to create a new one. So select "New wallet."
Then the creation process consists of three steps:
First, you need to accept the Terms of Use
Then properly write down your seed phrase.
This is the gateway to your assets. The seed phrase needs to stay in the order you see it! That's what the numbers are for. You'll then be asked to fill in some missing words from the seed phrase to make sure you properly wrote it down.
And lastly, enter your account name and set a password.
The account name will only show inside your extension, and it should describe the wallet – for instance, if you want to have 2 wallets, one as your personal and the second one for play-to-earn games, describe it there.
The password is again only to access your wallet locally and is used as a spending password – whenever you want to send your assets, you'll enter it. For that reason, it doesn't have to be extremely strong but rather make sure to remember it. If you forget it, you can always reset your Nami wallet and set a new password.
And you are set and ready to start using your Nami Wallet!
How to Use Nami Wallet
In this section of the article, we'll take a look at some of the base, but also more advanced, features and how to make the most out of them. If you are looking for a specific function that you want to explain, you can use the table of content at the beginning of the article.
How to Receive Assets and Fund your Wallet
The most basic feature of every crypto wallet is serving as a proper crypto wallet and accepting coins and tokens.
To fund your wallet, open the extension and tap the receive button you can find on the overview page.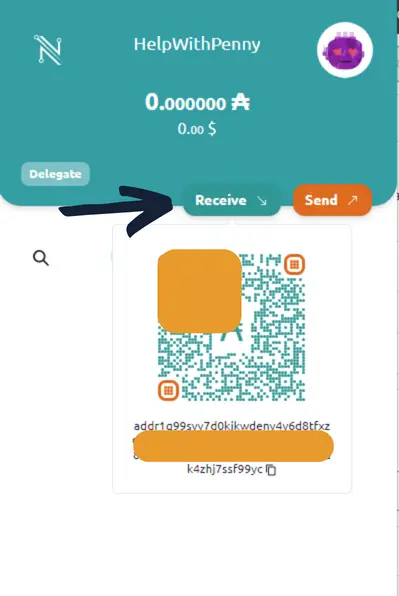 It will give you your address in both textual and QR code form. You can give that address to your friend or copy it and fund it yourself from an exchange of your choice.
How to Withdraw from Nami Wallet
Withdrawing from your wallet is as easy as funding it. Simply open the extension, but instead of clicking "Receive," tap "Send."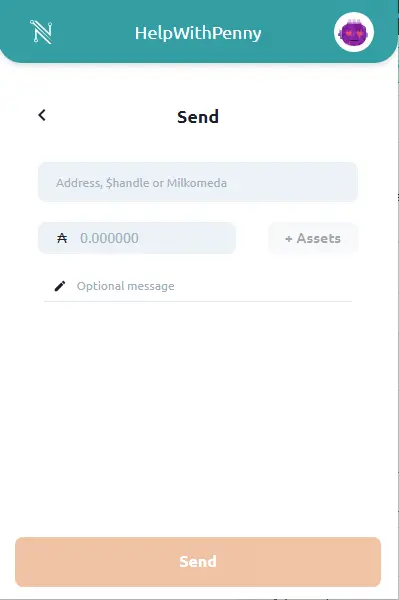 This will give you a simple table to fill. You need to enter the address of the wallet you are sending to and the amount of ADA (Cardano) you want to send out.
When sending out tokens from any wallet, make sure not to enter your whole balance. You have to pay gas fees, and in this case, the transaction would fail.
How to Connect Nami to dApps
dApps or decentralized applications are applications that operate completely autonomously on a blockchain network – so there's no authority controlling the process.
You can imagine a decentralized exchange like SundaeSwap (a decentralized exchange on Cardano) or an NFT marketplace like OpenSea (for Ethereum, Polygon, AVAX, and other networks) or jpg.store, which operates on the ADA network and which we'll use to demonstrate the process.
To connect Nami Wallet to dApps, you simply need to find an application that accepts Nami as a connection point. Cardano is not usually used for deploying dApps, so this is also not the usual use case of the wallet.
Open the website of your chosen app and find a "Connect Wallet" button somewhere, usually in the upper-right section of the screen. You'll be given a list of options from which you want to select Nami.

You'll then need to approve the connection in your wallet. Do not just headlessly click "Approve." Some websites can be compromised, and you may give them permission to do whatever they want with your balance.
Usually, apps will just want to see your balance. That's pretty harmless, as, after all, everyone can see your balance on the blockchain. While others can ask for permission to spend or transfer your tokens.
How to Stake ADA on Nami Wallet
ADA users can delegate part of their belongings to the Cardano Stake Pool to secure the network operations and help validate blocks. Newly validated blocks then produce rewards that are shared between every ADA user who has delegated their stake to the stake pool.
Unlike Yoroi, which gives you a long list of pools to choose from, Nami gives you only one option – that's to delegate to Berry Pool with a stable 5% APR.
If you wish to stake with that pool, open your wallet, and on the dashboard, you can find a "Delegate" button. Tap that and enter your password. In the next step, choose how many ADA you want to stake and confirm the transaction.
Note that even this costs gas fees, so be sure you want to commit to it. It might take time to break-even.
What Cryptocurrencies does Nami Wallet Support?
Nami Wallet, as a Cardano Wallet, is able to use all the tokens built on the Cardano blockchain.
When any token built on ADA is sent to your wallet, Nami will automatically recognize it and add the token to your balance.
Is Nami Wallet Secure?
Nami Wallet is on the market since late 2021, and the developers are to this day making sure the wallet runs like a Swiss watch.
Since the wallet is open-sourced, we can consider it very safe – as it seems there aren't any malicious pieces of code that could harm you.
So the main security concern comes to the users themselves. Yes, Nami Wallet is a hot wallet – so it's connected to the internet, which comes with greater risks. However, it's also a non-custodial wallet, which means that all your private keys are in your own hands. They are not stored on any servers. So as it goes, your crypto wallet is only as secure as your device.
As we didn't audit the code, we can't tell for sure. But it probably works in a very similar way as a MetaMask wallet when it comes to private keys and data. So if you want to find out more about the topic, you should check out our article on How MetaMask Stores your Data, Keys, and Seed Phrases.
How to Connect Hardware Wallet to Nami
To higher the security of your wallet, you can always use a hardware wallet. These are a bit inconvenient – it's literally a (USB) brick that is hard to control.
To make it a bit more convenient, you can connect your hardware wallet to Nami without compromising much of security. Nami supports both Trezor and Ledger wallets.
Open the extension and tap on your profile picture – the adorable robot in the top right corner. In the pop-up menu, you can see an option to "Connect Hardware Wallet." Select that.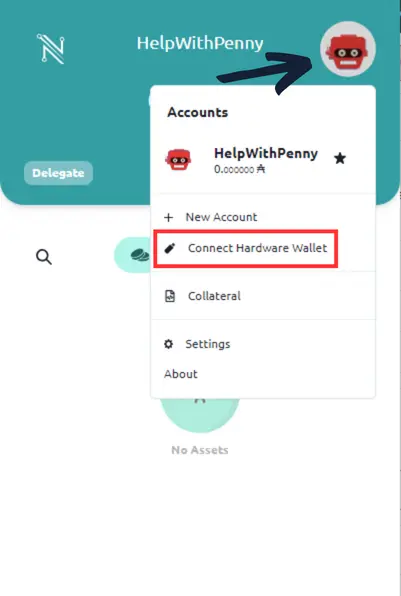 Then select the wallet you have and continue as the instructions say. The process is fairly simple, you'll just have to approve the connection in your Trezor or Ledger wallet.
Conclusion
Setting up and using Nami Wallet are both very easy. We really liked how the developers had simplicity in mind when creating their product.
And now you know how to send and receive Cardano and also how to transform your spare tokens into extra profit with staking directly in your Nami wallet.