Wrapped Ethereum (WETH) is a wrapped version of one of the most popular crypto coins – Ethereum. That means that the WETH price is pegged to ETH 1:1, and it exists to make it easier to trade within various decentralized applications on different networks since WETH can be used not only on the ETH chain but also on BNB Smart Chain. So wrapped ETH is not the same ETH but can be swapped one to one.
Once you make your trades, you can unwrap your wrapped Ether and exchange it for the same quantity of Ethereum. But you have to add WETH to MetaMask first.
This article will show you how to quickly add Wrapped Ether (WETH) to your MetaMask wallet on two different chains. Let's dive in!
How to Add WETH to MetaMask
Add WETH to MetaMask on the Ethereum Network
There is no extra step needed to add WETH to MetaMask on the Ethereum Network since the Ethereum chain comes pre-configured with your MetaMask installation. Let's take a look!
Set up your MetaMask wallet and Unlock it
The first step is to create a MetaMask wallet or unlock it if you already own one.
Download the browser extension from the official website and follow the instructions. If you need help, we have a step-by-step guide on our website to set up your MetaMask wallet.
Once you have your wallet installed and configured, you can unlock it using your password. If you have forgotten your password, you can reset it as long as you know your seed recovery phrase. 
Ensure you are Using the Right Network
What chain you need depends on what you want to use your WETH tokens for. If you got the BNB chain imported, you can also add WETH using these steps. Otherwise, we will guide you through adding the Smart Chain to MetaMask in just a moment.
But now, to ensure you are using the Ethereum Network on MetaMask, open the network selector drop-down menu and switch your network to Ethereum.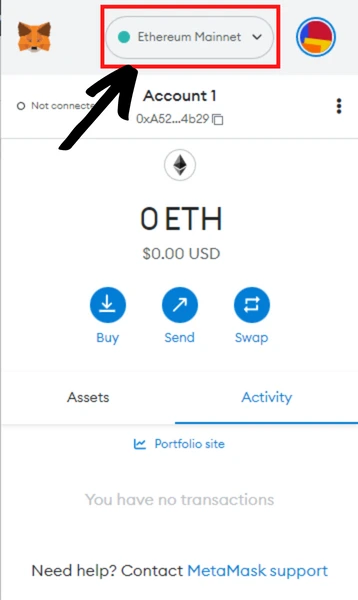 Select "Import Tokens" and then "Import Custom Token"
Once Ethereum Network is selected, scroll down in the Assets list and select "Import Tokens."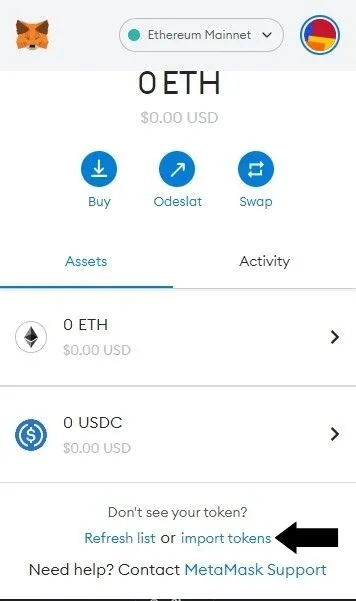 Then switch to the "Import custom tokens" view.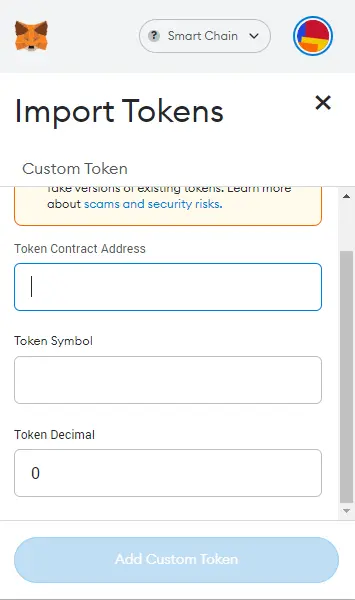 Copy the WETH token Contract Address
Now head to the WETH (Wrapped Ether) page on CoinMarketCap. It is crucial to ensure that you get Token information from a credible source. And doing it through CoinMarketCap is one of the easiest and most reliable ways to obtain the contract address.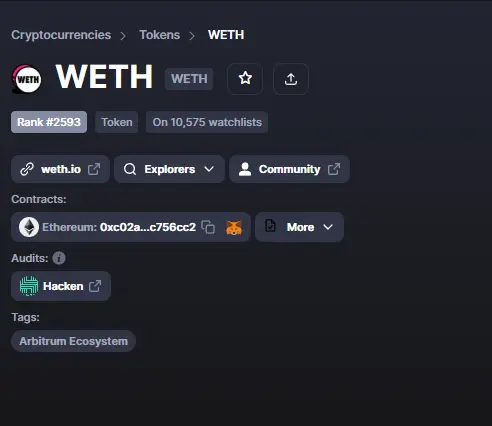 Find the section called "Contracts." Here you can either copy the Contract address and paste it into Metamask or have WETH imported to Metamask automatically by clicking the little MetaMask logo.
Import WETH to MetaMask as Custom Token
Once you've copied the WETH contract address, open the MetaMask extension again and paste it into the "Token Contract Address" field.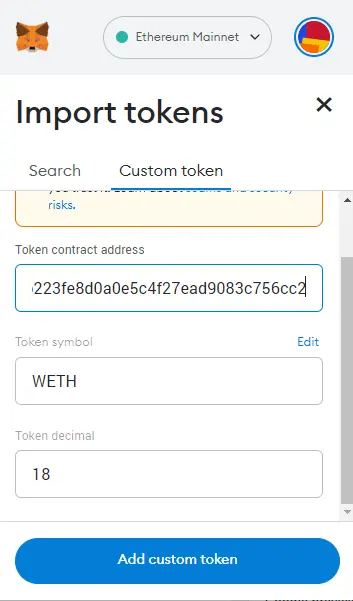 If you've pasted the correct contract address, other windows should be auto-filled, and WETH should appear as a token symbol.
Finish by pressing the "Add custom token" button. Once you've successfully imported WETH to your MetaMask wallet, it should appear as one of your tokens under the Ethereum network.
Add WETH to MetaMask on the Binance Smart Chain
Since most of the steps are the same as when importing WETH on the Ethereum Network, it would be pointless to repeat ourselves. But there, you need to add BNB Chain first.
Add BNB Smart Chain as Custom Network
First thing first, it is time to add the Binance Smart Chain to Metamask. BNB chain doesn't come prepacked with your wallet. That's why we need to do it manually. To do so, open your Metamask extension, click on your profile picture, and tap "Add network".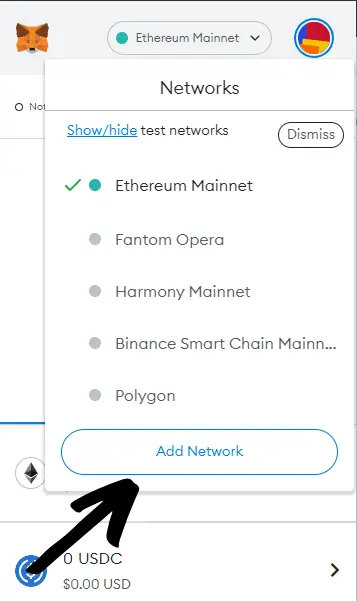 A new window will pop up where you need to fill in the network details. Fill in: 
Network Name: Smart Chain
New RPC URL: https://bsc-dataseed.binance.org/
ChainID: 56
Currency Symbol: BNB
Block Explorer URL: https://bscscan.com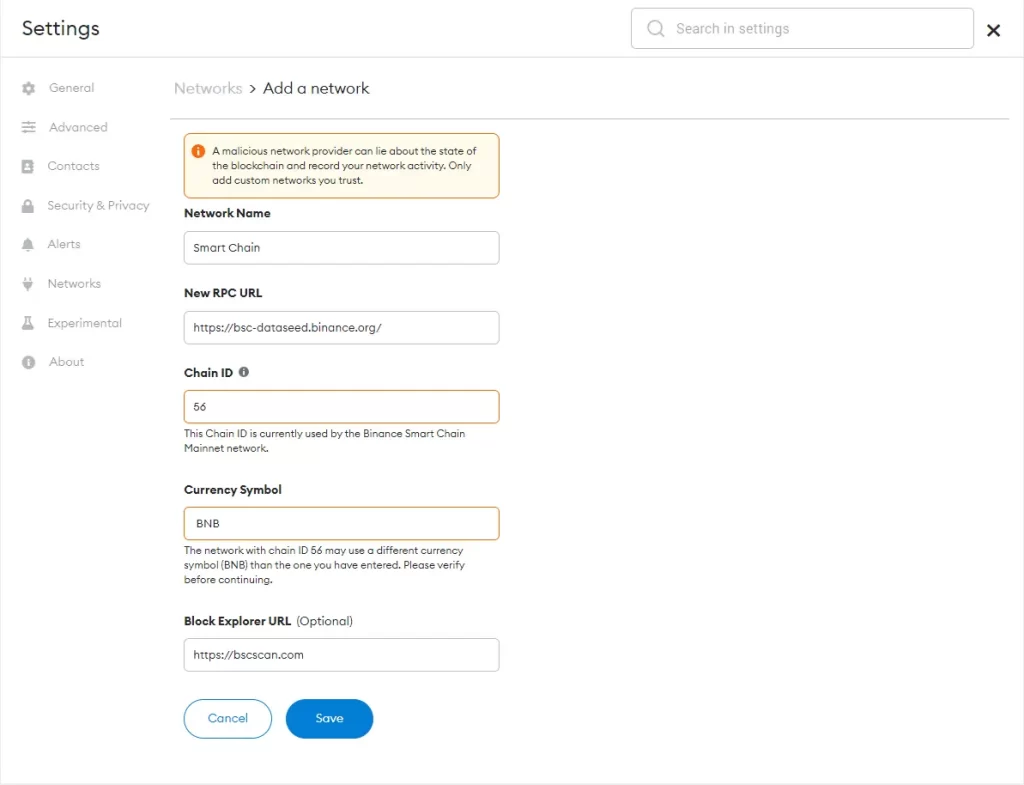 These details can be found in the official Binance guide, here.
After hitting Save BNB chain was successfully imported. Now what is left to do is to add AVAX itself to Metamask.
Add WETH as Custom Token
To add wrapped ether on the BNB Smart Chain, the steps are the same as on Ethereum Network.
Select BNB Chain in your Wallet
Tap "Import Tokens", then "Import Custom Token"
Once again, visit the WETH page on CoinMarketCap. But instead of copying the Ethereum contract address, click on the button "more" and copy the BNB Smart Chain address
Paste the contract address into your wallet and finish importing WETH
Conclusion
Congratulation! You've successfully added the WETH token to your MetaMask wallet. By following the few steps outlined in our article, you can now quickly start using the WETH, or wrapped ethereum on multiple chains. Once you are done doing your stuff, you can unwrap your tokens and exchange them one to one for Ethereum.
Now go ahead and start exploring all the possibilities that WETH token has to offer, or visit one of our other articles to become a crypto pro!