Maybe you are one of the Crypto users that urgently need a few cents worth of Cardano to complete your transaction. Because as you know, when doing any transaction on the Cardano network, you need ADA tokens to pay for gas fees. 
Or you might just be looking for a way to grow your crypto portfolio by adding ADA.
Either way, there are many options on how to Earn free Cardano. And in today's article, we're not going to focus on staking but on finding the best Cardano Faucet. Let's dive in! 
What is ADA Faucet
ADA Faucet, or any faucet, is a site that will give you small amounts of Cardano. Enough to cover your gas fees or to slowly grow your portfolio. 
Usually, the reward condition is just a simple task. Such as viewing ads, completing quizzes, or completing a captcha.
Token creators usually run faucet sites or apps to help distribute and market their Tokens to as many people as possible. People will start talking about this new fantastic opportunity. They'll start using it, and maybe they'll stick with it. 
Crypto Faucets are also often run by generous people and companies who want to help the community. 
Either way, the key takeaways about Cardano Faucets are:
You will get a small amount of ADA instantly or after completing a simple task.
Crypto Faucets can pay for your gas fees on cheaper networks.
Faucets are usually created by token creators to help with marketing. Thus a lot of them should be safe. But you can find exceptions – scams.
How to Get Free Cardano 
Get a Crypto Wallet of your Choice Ready
First thing first, you will need to prepare your crypto wallet. You can use any wallet of your choice, but you must remember that each wallet has a different minimum deposit amount. And since you only get a fraction of the token, make sure your wallet will accept it. 
For instance, Binance has a minimum deposit amount of 0.00000001 ADA (Every faucet will probably give you more than that, but not every wallet has such a low threshold).  
I would say that a safe bet here is a well-known browser wallet Metamask. Metamask doesn't have any deposit requirements and can hold many different tokens. You can follow our step-by-step guide if you haven't yet created a Metamask wallet.
But by default, your MetaMask wallet is connected to the Ethereum Mainnet. However, you can also connect MetaMask to other networks that share some similarities. And that's the case with Cardano.
You can't add the Cardano network to MetaMask, but you can add Binance Smart Chain and add Binance-peg ADA to MetaMask.
However, keep in mind that there is quite a high probability that your ADA faucet will send tokens only via the Cardano chain. But if you find an ADA faucet built on the BNB chain, you can use MetaMask as your to-go wallet.
But always make sure to check the network. Otherwise, your fund will be lost.
FreeCardano
If you already have some experience with faucet sites, you will be familiar with how FreeCardano works. 
You can roll a dice once an hour to win an amount of ADA ranging from $0.0003 to 300 dollars. Of course, your chances of winning $300 are small, precisely one to ten thousand. But why not push your luck every hour?
You can also higher your chance using Promo Codes. Regularly check their Twitter account to get an extra roll twice a day.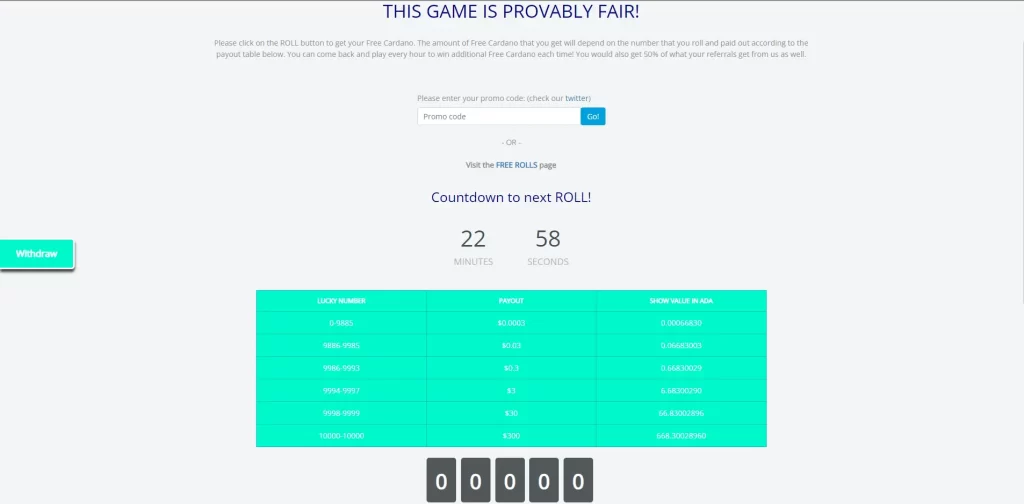 Rolling the dice is not the only way to get free Cardano. You can also watch ads and earn ADA.  
Withdrawal is free from fees. The minimum withdrawal on FreeCardano is 5 ADA. This company also offers other crypto faucets like Ethereum, Litecoin, or Doge.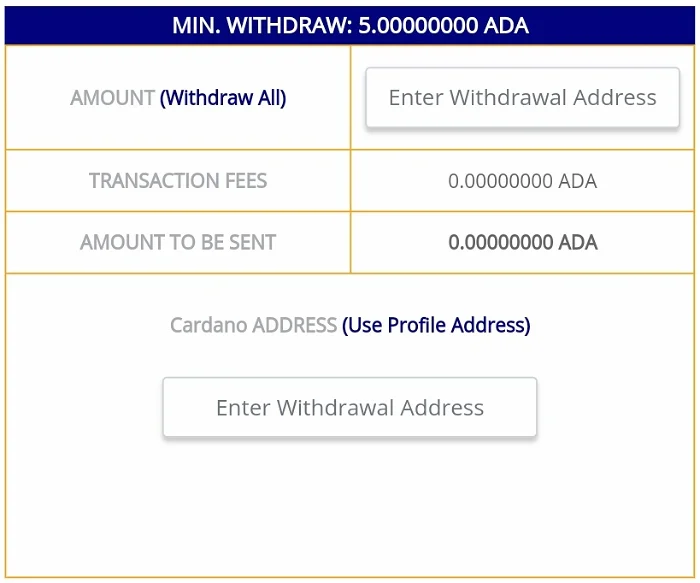 Final Autoclaim (Dutchy Corp)
Final Autoclaim is one of the best multicoin faucets out here. Multicoin faucet means that you can earn more than one coin simultaneously.
And trust me when I say that Dutchy Corp has a lot to offer. You can choose from 70 different coins and tokens, including ADA. 

Also, the earning opportunities are pretty broad. You can:
Complete OfferWalls
Go through short links
Watch ads on the PTC Wall or Surf websites
Earn staking interest up to 50% APY
Roll the Dice
Earn up to a 100% Loyalty Bonus for keeping a continuous streak  
Final AutoClaim can be a bit confusing initially, but getting the hang of it pays off. 
You can choose to withdraw either on-chain or to the FaucetPay wallet.
CoinPayU
CoinPayU is my favorite multicoin faucet. It pays the best in comparison to other similar sites. You can expect to earn up to 9 Satoshi for watching a 60 second ad. You can then withdraw your balance on-chain to over 30 coins.
To pile up your balance, you can either surf website ads, read articles, or watch videos. Or also complete the offer wall or claim free Cardano in the faucet every 60 minutes. 
The minimum withdrawal ranges depending on the coin you choose. For Cardano minimal withdrawal is 4,000 Satoshi. 
BitHub
BitHub is another great Multicoin faucet with the possibility to claim every minute. This site is exciting for its visual design. The whole site is designed in a cute cartoon style that will make you feel comfortable.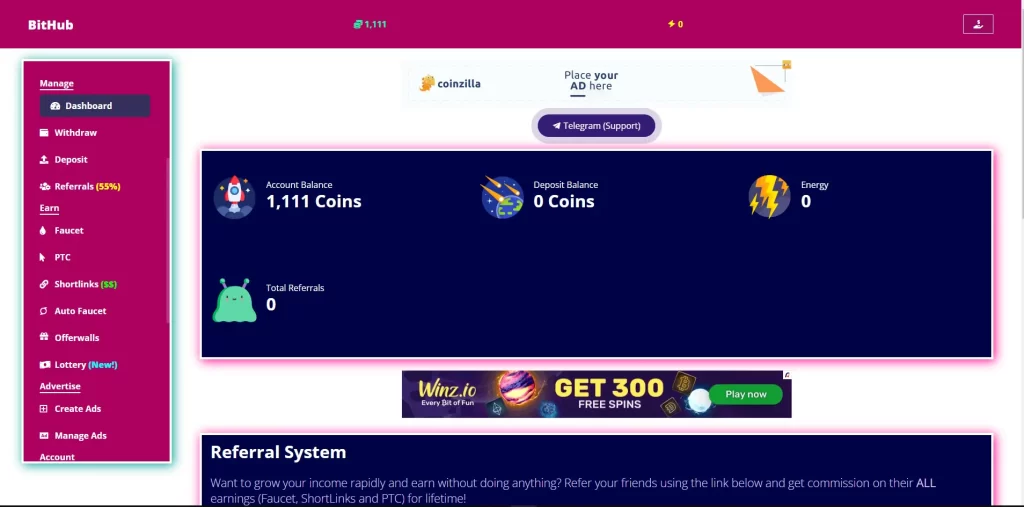 Apart from claiming coins from the faucet every minute, you can also surf ads or win a lottery.
BitHub offers over 45 different coins and six different withdrawal methods. Including Binance, Coinbase, and FaucetPay. 
Earn Crypto
Earn Crypto Right now on Earn Crypto. Watch entertaining videos, Answer surveys, Download apps, Complete tasks, and find great deals to earn free crypto.
At first glance, the site appears to be a kind of internet forum. But don't be fooled.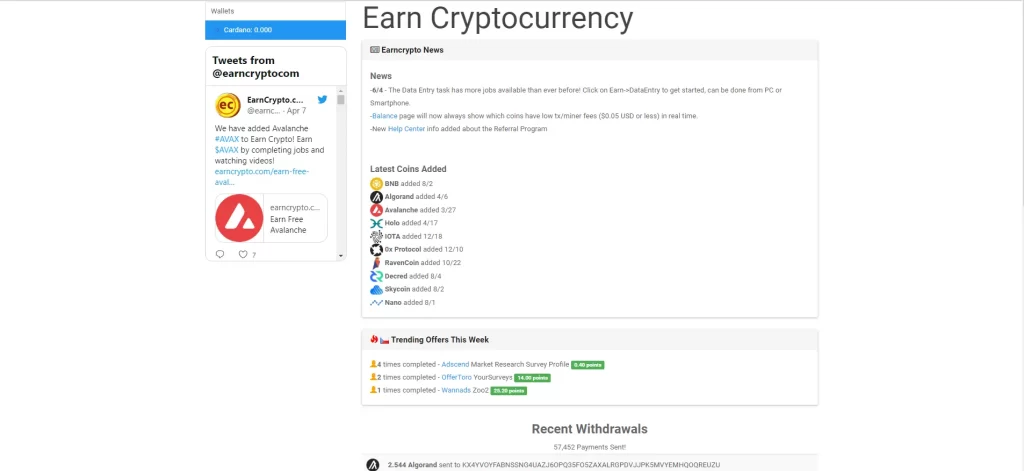 In this case, it is not a MultiCoin faucet like the previous ones. The site offers many different coins, but you always get one coin of your choice for completing a task. Not some kind of in-house coins as in the previous examples.
After you complete the registration, bitcoin will be set as your main coin. Change this to Cardano by clicking on "Wallets" on the left side of the page, and under "View All Balances," find ADA and set it as your main coin.
The transaction fee is set at 1 ADA, and the Minimum withdrawal is 11 ADA. No fee is charged if you withdraw more than 100 Cardano at a time. 
Conclusion
Earning free Cardano from ADA Faucets will certainly not make you wealthy. But it is an excellent gateway to the world of crypto. 
All you need to do is to copy your wallet address and paste it into the faucet. You don't need to be afraid of scams since no one can steal your funds just by knowing your wallet address.
From these five faucets, you will get enough ADA to cover your transaction fees for thousands of transactions. And a little something extra to expand your portfolio. 
If you are looking for ways to utilize your ADA coins and put them to work somehow, you can check out our guide on providing liquidity on SundaeSwap, the biggest decentralized exchange for Cardano.
We hope these faucets will help you get started on Cardano Network quickly. Or you can also begin on Polygon Network with these MATIC faucets.