Last week's Binance WODL was special. In the previous couple of weeks, all users that made 5 correct answers during the active period of the activity got an equal share of $10,000. Then Binance let us wait for a week, thinking crypto WODL is over, before introducing a special themed WODL in partnership with Cristiano Ronaldo and his own NFT collection and CR7 mystery box as a reward.
The free CR7 mystery box is already in your Binance profile if you got at least five correct answers. But many users are desperately trying to access it without much success.
This article will teach you how to access, claim and open or sell the free CR7 mystery box on both desktop and mobile app.
How to Claim the CR7 Mystery Box on the Web Version of Binance
1. Log in to Binance
First, head to the Binance website. Either type in the URL or search for "Binance" on google. Alternatively, you can get there by using this link: https://www.binance.com.
Now log in to your Binance account. You can enter your email or mobile number in combination with your password. Alternatively, if you have Binance mobile app, you can scan the QR code to log in automatically.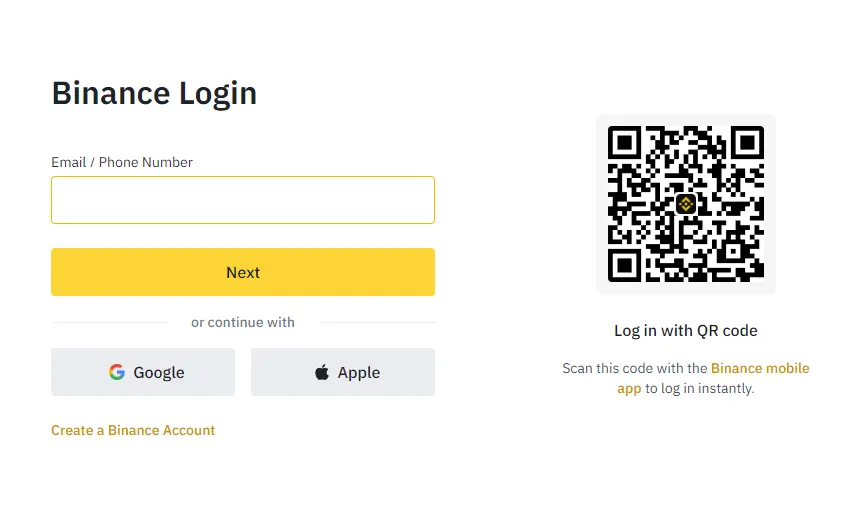 Make sure to enter the correct details in any way you choose so you don't lock your account. 
2. Head to Binance NFT
As you are on the main page of Binance, you can see a bar with various options on the top part of your screen. One of the last options is NFT. Tap on that.

3. Visit "My NFTs"
Once you are in the NFT section of Binance, move your cursor over your profile icon in the top right corner. A drop-down menu with various options will open. The first option you'll see is "My NFTs," tap on that.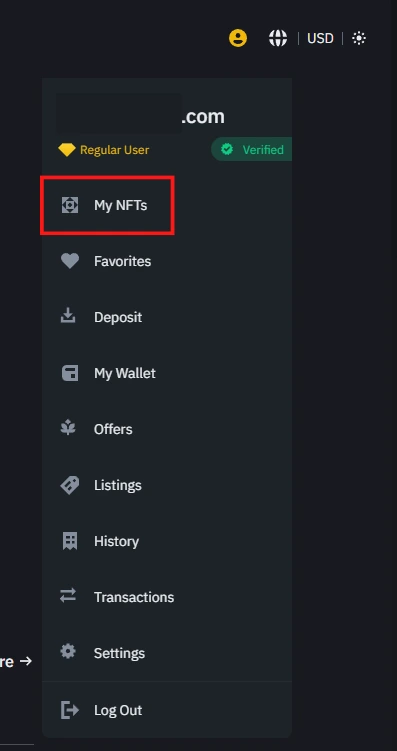 4. Sell or Open Your CR7 Mystery Box
Once you visit your profile, you can see a list of your NFTs and Mystery Boxes, including the CR7 mystery box you got for free from Binance WODL.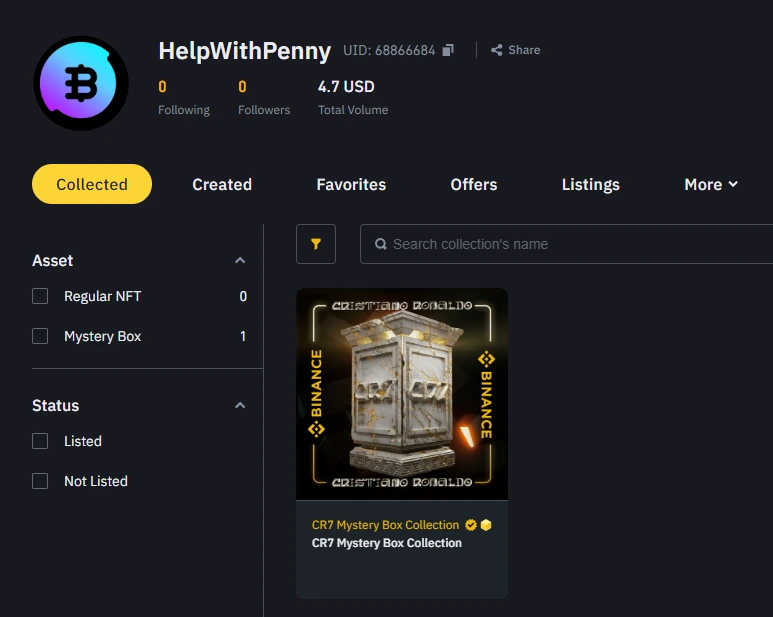 Tap on the mystery box to bring out other options. Here you'll instantly see two options; either to reveal (open) your mystery box or to list it for sale.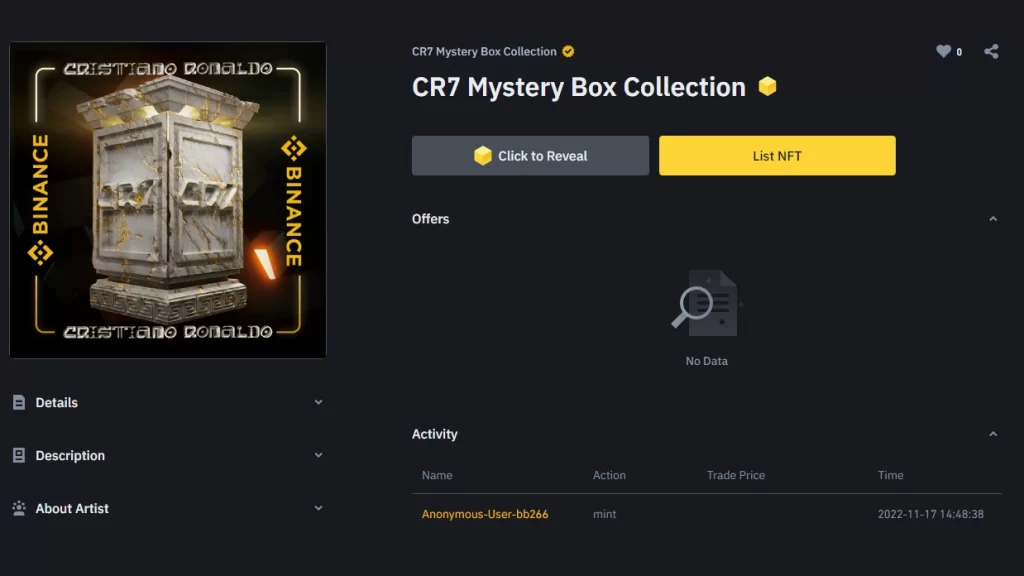 At the bottom of the screen, you can also see what you can get if you choose to open the mystery box. This mystery box contains one of two mystery box-exclusive Ronaldo NFTs. "The First Step" or "The Breakout."

How to Get the CR7 Mystery Box in the Mobile App
To list or open your free mystery box in the mobile app, you should log in first to your Binance account. Next, tap on "More," located on the Home screen. In the screenshot below, the PRO version of Binance is activated. If you have the Lite version, your home screen will look slightly different, but the "More" button should be located somewhere.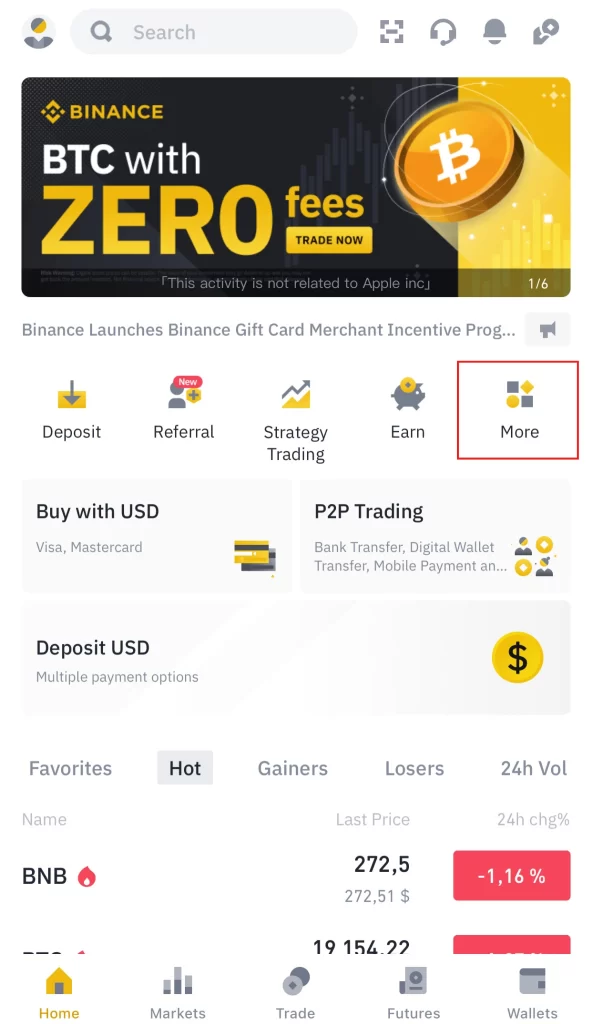 Scroll until you find "Binance NFT," located under the "Trade" section of the services screen, and tap on it.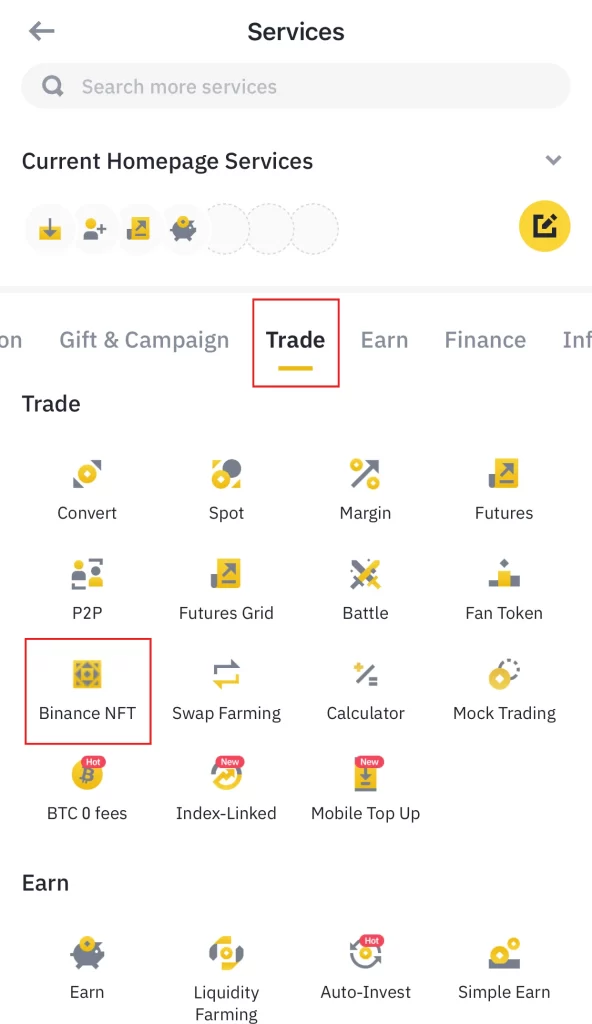 You'll be redirected to Binance NFT. You can find five navigation buttons on the bottom bar. Press "My NFTs."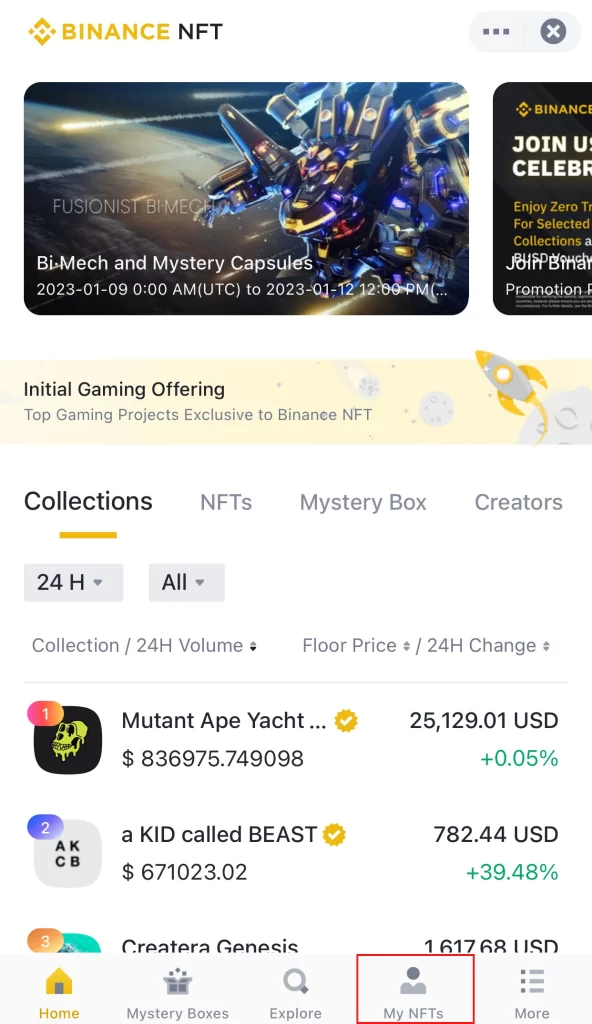 You can click on the CR7 Mystery box on your profile page to bring up other options. Once you click "Details," you'll be presented with the option to either reveal your mystery box's content or list and sell it.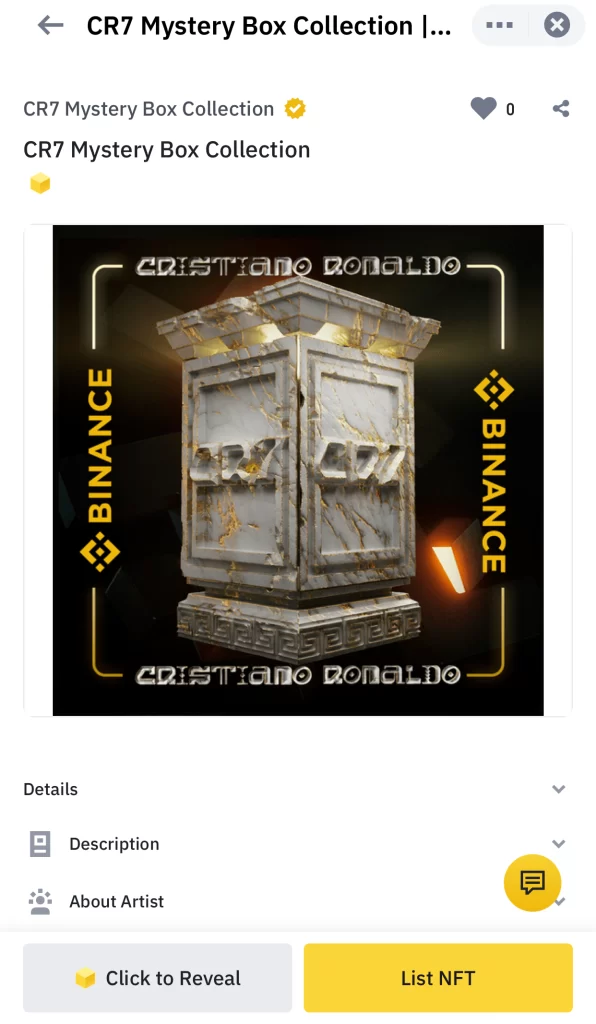 Conclusion
To open or sell the CR7 Mystery box you got from last week's Binance WODL, visit the NFT section of Binance. Once there, click on "My NFTs" to bring a list of all your NFTs and mystery boxes. Then you can easily open your mystery box to get one of two exclusive NFTs or sell your box unopened.
Frequently Asked Questions
Should you Open or Sell the free CR7 Mystery Box?
It's solely up to you. Since the box contains only one of two different NFTs, both of which are issued in the same quantity and rarity, the price of the unopened mystery box or the NFTs is similar.
What is the price of the CR7 Mystery Box?
The unopened CR7 Mystery box's price is around $0.5 right now. The price of both individual NFTs you can get from this mystery box is on a similar level.
Can the CR7 Mystery Box become expensive?
Since this mystery box was issued in the quantity of 1.5 million, it is unlikely that the price will rise too high. From our point of view, you can expect the price to rise up to $10 in a year or two. The chances of this mystery box becoming a rarity are unlikely.

The situation is the same with the NFTs themselves, which are the contents of this mystery box. Because none of them are rare, and both come with a 50% chance of getting them, it's unlikely that the price will rise too far.