Have you enjoyed playing Axie Infinity and earning SLP and AXS tokens? Now comes the most fun part; cashing out your hard-earned tokens and turning them into real money that you can send to your bank account!
But maybe you're not quite sure how to do it yet. Then you came to the right place.
In this step-by-step guide, we'll show you exactly how to withdraw your tokens from the game to your Ronin wallet and sell them for cash. We'll cover everything from linking your Metamask wallet to Ronin to exchanging your SLP and AXS for your preferred currency. Buckle up, and let's make our time worth it.
Key Takeaways
To cash out your SLP and AXS tokens, you first need to send them to your Ronin Wallet;
Bridge your tokens to any Ethereum-based digital wallet;
Send tokens to an exchange;
Exchange for your favorite currency;
And most importantly, enjoy your spending spree!
How to Cash Out SLP & AXS from Axie Infinity
1. Transfer Tokens from In-game Wallet to Ronin Wallet
We'll need to get the tokens out of the game first. That's because Axie Infinity keeps your tokens in an in-game wallet. It's a bit unconventional approach, but it doesn't hurt anything.
To do so, open the Ronin Wallet extension and log in using your password.
Now, visit the Axie Infinity marketplace and log in using the button in the bottom left corner. It will connect your wallet so you can access your profile tab. Accessing your holdings through the marketplace is the easiest way for some reason.
From the profile page, access the fourth tab called "Claim Tokens."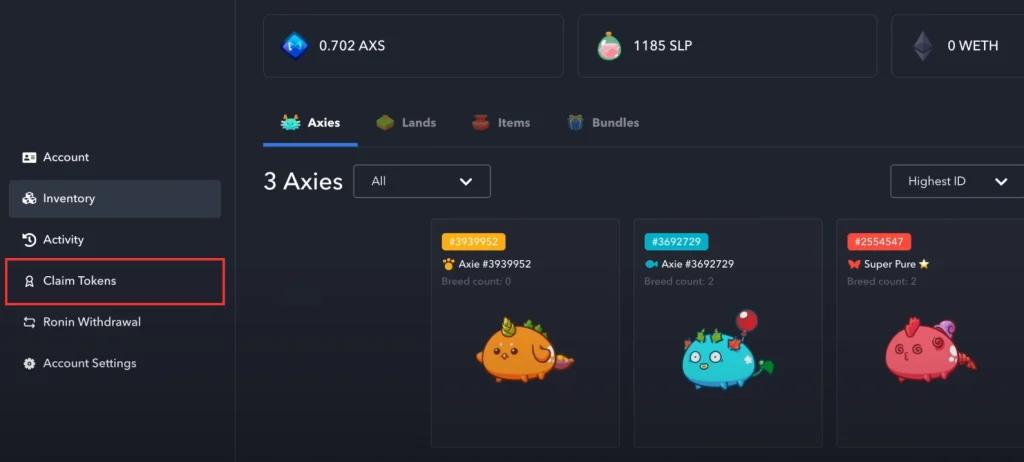 If you wish to check your holdings first, or for instance, sell some additional Axies, you can do that from the inventory tab. You can see that in the screenshot above. It's better to batch your cashouts since you'll have to pay gas fees for every single one.
Once on the withdrawal page, tap either "Claim SLP" or "Claim AXS," depending on which token you wish to withdraw.

To finish this step, enter the number of tokens you wish to withdraw from the in-game wallet and confirm the transaction.
2. Withdraw from Ronin Wallet
This step will vary a bit depending on whether your exchange of choice supports Axie Infinity tokens or not.
For instance, Binance has recently listed SLP and AXS in their innovative zone. Because of that, we can skip one step completely and save on gas fees. However, if these tokens are not available on your exchange of choice, we'll show you the longer route as well.
Hot Tip: As of today, many exchanges has already added SLP and AXS tokens to their trading 
pairs. You can check our deals page to choose the right one and get the biggest sign-up bonus possible! 
2.1. Withdraw SLP & AXS from Ronin to MetaMask Wallet
If your exchange doesn't support Axie Infinity tokens, you'll need to swap them for a more widely accepted token like Ethereum.
First, open your MetaMask wallet and copy your wallet address. Your whole wallet shares one address, so don't worry about having the wrong network selected.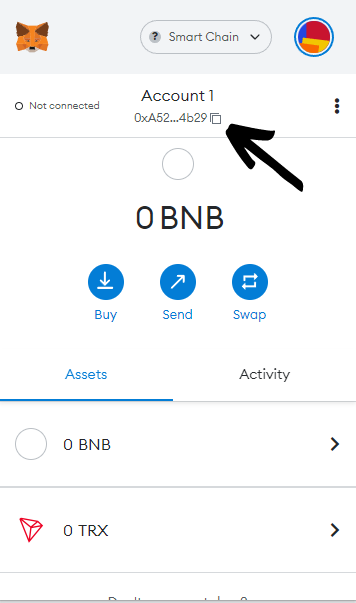 With the address copied, go to Ronin Bridge and select "Withdraw." We need to use a bridge because MetaMask is an Ethereum-based wallet, and your tokens are on the Ronin network at the moment.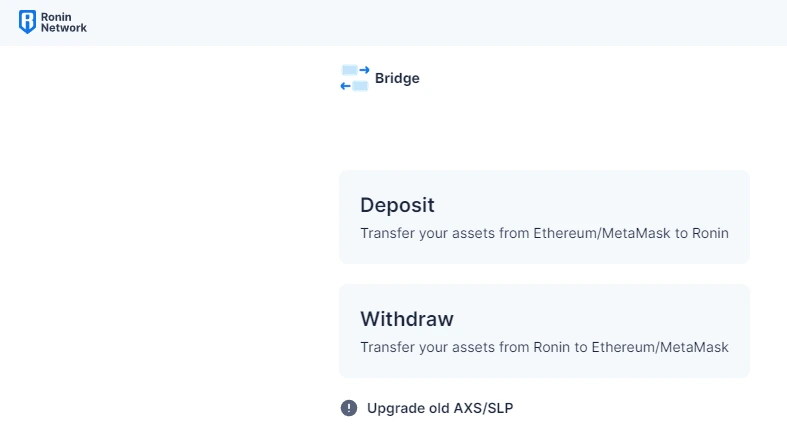 Then, paste in the MetaMask wallet address you copied earlier, select the number of tokens to withdraw, and confirm the transaction.
The withdrawal from Ronin Wallet should be completed in just a few minutes.
After that, you should see the tokens in your wallet. If you don't, make sure you have them imported to MetaMask. You can check our guide on How to Import SLP to MetaMask for more information.
Now, if you can't or do not want to withdraw AXS or SLP to an exchange, you'll need to swap your tokens for anything else. We'd recommend using PancakeSwap for that purpose.
2.2. Withdraw from Ronin Wallet Directly to an Exchange
It's a lot easier if you want, and your exchange does support the Ronin network and both tokens. In this case, you will make one less transaction in total. Which means you can save a buck or two on gas fees.
We'll be withdrawing directly to Binance in our case.
Open your exchange and go to the deposit page. On Binance, this page is accessible through the wallet overview. Tap on the little wallet icon in the top right corner and go to overview.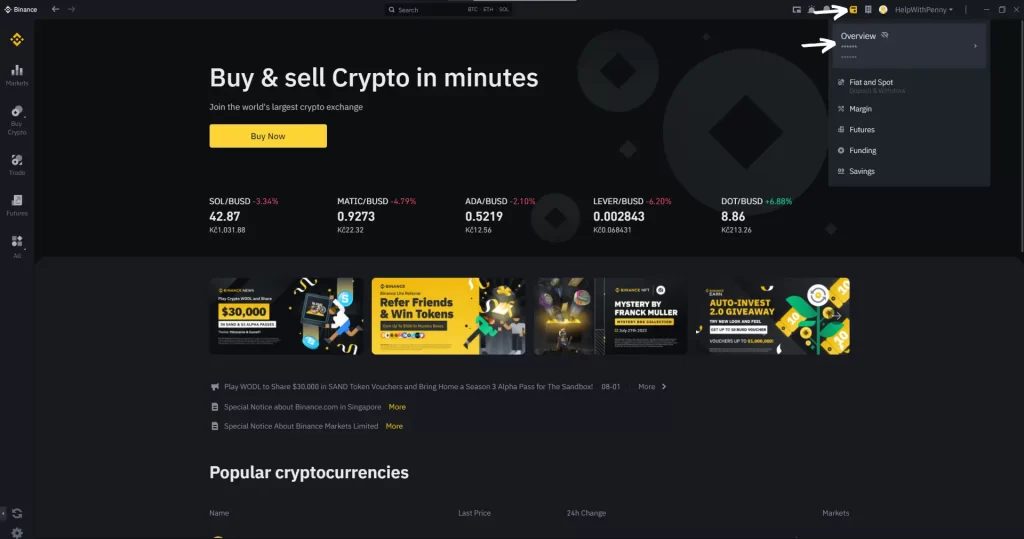 On the page that will load, you will see a large "deposit" button. Click that. And then, from the token selector, choose SLP (or AXS if you are depositing that from Axie).
And here comes the crucial part. If you are withdrawing directly from Ronin Wallet, you have to select Ronin as the network. However, if you have your tokens stored on MetaMask, you have to select Ethereum.
There is also a third option. Both AXS and SLP tokens are also accessible on the Binance Smart Chain. if that's where you have your tokens, select that. Unfortunately, if you fail to choose the right network, your tokens will be irreversibly lost.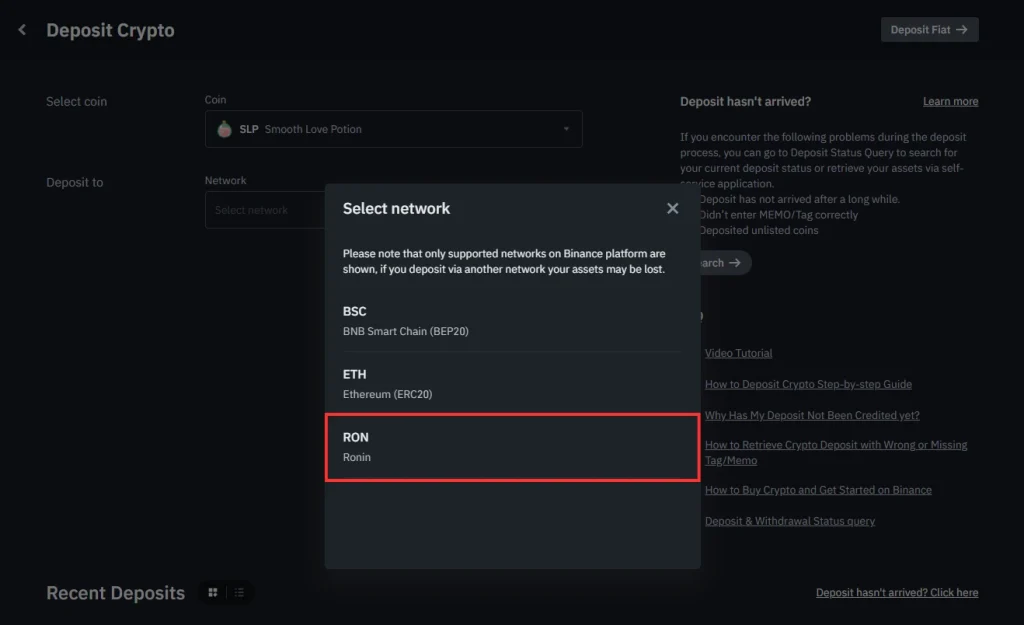 Now, return back to Ronin Wallet and click "Send." On the next screen, paste the address you got from Binance under the "To" field, and select the appropriate token.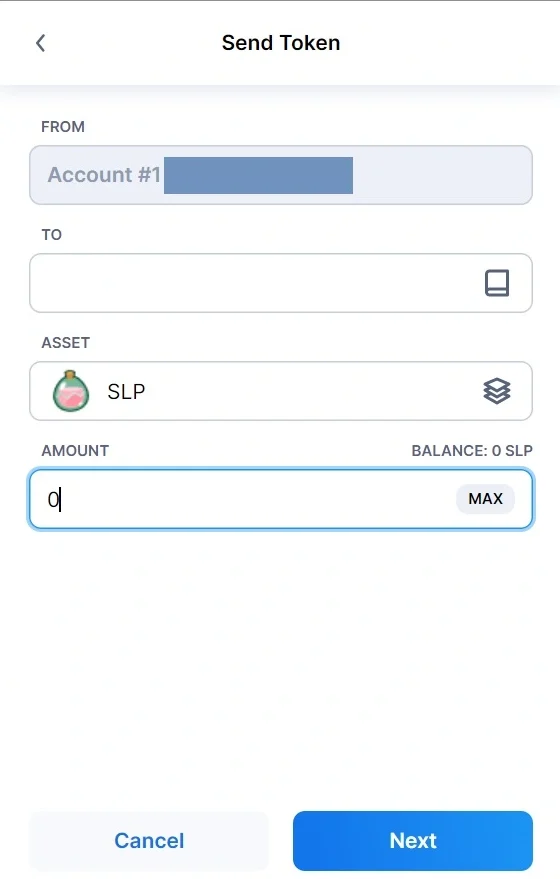 Confirm the transaction on the next screen and wait for your SLP or AXS to be deposited to Binance.
Binance requires quite a few confirmations, so depending on the network load, it might take a few minutes.
3. Cash Out SLP & AXS to your Favorite Coin or to Fiat
Now it's time to finish the process by exchanging the tokens for something withdrawable – in most cases, to USDT, which is a stablecoin directly exchangeable 1:1 to the US dollar.
Use the search bar in the upper part of the Binance Interface to search for all available SLP and AXS pairs.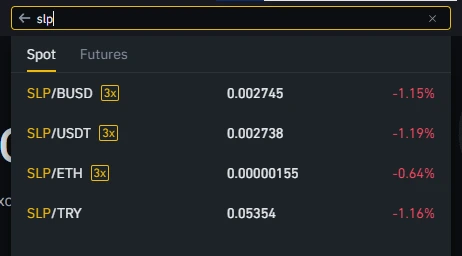 Select the one you like and simply go to the market screen. Switch to "sell," type in the number of tokens you'd like to sell, and confirm it by clicking "Sell SLP."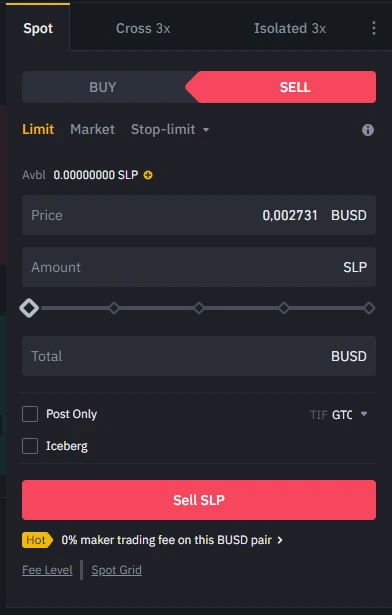 We recommend using the limit order instead of the market. It can save you some money and protects you from a loss in case of insufficient liquidity. Check out our article about the difference between maker and taker fees, which explains these two market modes.
Also, keep in mind that the minimum exchange amount is $10 on Binance.
4. Deposit Money into your Bank Account
The last step is pretty easy, all you need to do is to find a withdrawal tab on your exchange and choose to withdraw FIAT.
Since USDT, BUSD, and some other stablecoins are directly interchangeable 1:1 to a dollar, exchanges can send you these stablecoins directly to your bank account.
Simply follow the instructions provided by the exchange. You'll likely need to either fill in your bank account details or connect your bank card.
Conclusion
Congratulations! You have completed the cycle; you earned some SLP and AXS tokens by playing Axie Infinity, and you can also spend the money now.
First, you need to transfer your tokens to your Ronin wallet, then withdraw them to your MetaMask wallet or an exchange. Once you've sold your tokens, you can withdraw the proceeds to your bank account. With a little effort, you can turn your gaming experience into cash and enjoy the rewards of your hard work. So why wait?
And to stop leaving money on the table, you should check out our guide on How to sell Axies on the Marketplace, which contains some useful tips on pricing your Axies.